Do you love game day??  Do you love football??
I absolutely LOVE football & game day is what we all look forward to all week long in our house.   Whether it's college or NFL  we REALLY LOVE watching our favorite teams each weekend.  I spend all week planning out just what we will make for snacks.  Appetizers & munchy, snacky foods are in full spread here.  I like to spend my Fridays preparing the house.  That means washing the pillows & throw blankets on the sofa to freshen them up,  decorating with our favorite team colors & inviting guests over for the game.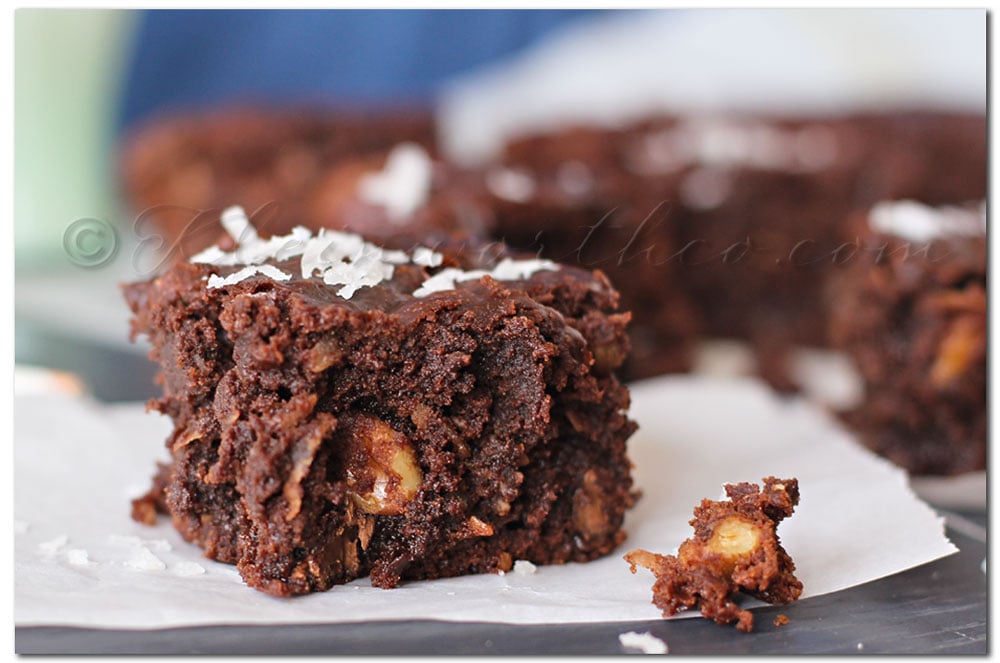 What's on the menu this coming Game Day??
These Crock Pot Brownies. So simple- I can whip up the batter- pop them in the crock pot & let them cook while I work on the rest of the goodies.
I love that they cook in the crock pot so I have my oven available for the other things I'm preparing.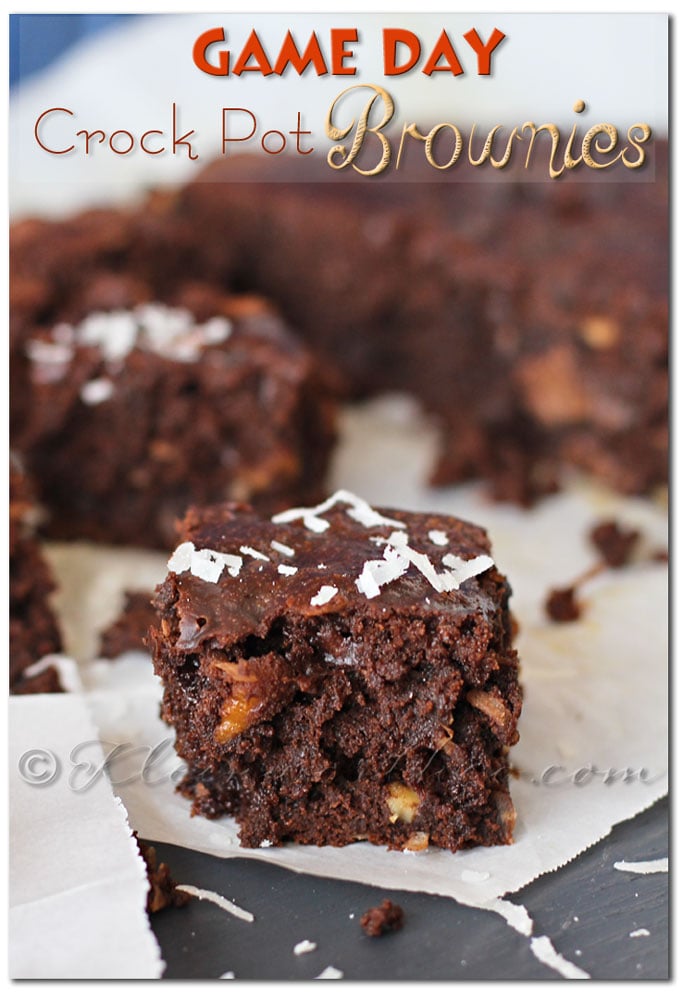 Game Day Crock Pot Brownies
Ingredients
1-1/4 cup all-purpose flour
1/4 cup unsweetened cocoa powder (not Dutch processed)
3/4 tsp baking powder
1/2 tsp salt
4 medium eggs (or 3 large)
1 cup granulated sugar
1 cup semi-sweet chocolate chips
1/2 cup (1 stick) salted butter -cubed
1/2 cup walnuts (opt)
3/4 cup semi-sweet chocolate chunks (roughly chopped)
1/2 cup sweetened coconut
Instructions
Line crock pot with parchment paper- spray with cooking spray
In medium bowl- whisk flour, cocoa, baking powder & salt. Set aside.
Place chocolate chips & butter in double boiler & heat & stir until melted.
Remove from heat- stir in sugar until combined.
Add eggs- whisk well.
Pour into dry mixture & whisk until well combined.
Fold in walnuts, coconut & chocolate chunks.
Transfer to crock pot & smooth. (try to avoid pressing it right up against the sides of the cooker. It's okay to allow the parchment to keep it slightly pulled away from the edges. (this keeps the sides from over-cooking while the center cooks to done)
Cook for 1 hour 45 min to about 2 hours. Check frequently at this point. Once it gets to a certain point (done in the middle) - burning can happen quickly around the edges.
Pull out by the parchment & cool on wire rack at least 45 minutes. If you want to serve warm with a scoop of vanilla ice cream- it will still be warm enough in the center to do this. You just want to avoid it being too hot & falling apart when you try to cut into pieces.
http://www.kleinworthco.com/2013/08/game-day-crock-pot-brownies.html
Recipe Source: www.kleinworthco.com | (c) Kleinworth & Co All images & content are copyright protected. Please do not use my images without my permission. If you wish to republish my recipe, please re-write it in your own words or link back to this recipe.
*Note – Start cooking on high but reduce to low when you start seeing the sides looking more cooked. They will burn before the center has a chance to finish cooking if you leave it on high the whole time. Since all slow cookers cook a little different it's hard to say exactly how long this will take or when you should do this. Just keep an eye on it – checking them periodically throughout the process.
When the guests show up I like the house smells to smell fresh & clean.  I'm super excited about the new Tide Plus Febreze Freshness Sport.  I used it on the pillows & blankets in the family room & it made the house smell fresh.  It's also perfect for the dog's pillow cover.  That really needs freshening before guests can arrive.   I have mentioned before just how much I love using Tide products.  All the varieties smell so amazing & I really do feel like I'm taking the best care of my fabrics by using it.  I truly believe that it's the best I can buy & my fabrics will last longer because of it.
As everyone is arriving  I prepare the snacks while we chat & watch kick off.  I like to put the brownies in the crock pot around kick off time.   OMG-the smell through the house is heavenly & by the time we reach the really heated part of the game- the brownies are done & everyone is happy.  You have got to give them a try.  No one will believe they were cooked in your crock pot.
So that's how we spend our weekends in the fall.
What's a creative way you prepare for game day??
**Disclosure: This post was sponsored by Tide through their partnership with Circle of Moms.  
While I was compensated to write a post about Tide Plus Febreze Freshness Sport, all opinions are my own. 
To see where I am linking today- visit HERE
{"error":"Not Found"}