We have this thing. Every time we make a ham we always be sure to save the hock & use our food saver to freeze it. Then when we are ready we thaw it for a day & then make Split Pea soup in the slow cooker. It's so easy & a great way to be sure we are not wasting any food. Since we already had the ham for another meal & most of the ingredients we keep on hand at all times, the only thing it really costs us is the bag of split peas which is less than $1. It's great because we eat this for a couple days, then we bust out the food saver again & freeze the rest. It works out great because the frozen amount is just perfect for when we want to do soup & sandwiches for a quick & easy dinner. So really- we are able to stretch a $15 ham into at least 6 meals for our family of 5 when you count the initial meal, a dinner of leftovers & the random ham sandwich along with the soup for 2 days & then the leftovers. Not too bad. Like I mentioned before- this year I will be all about how I can stretch my dollar at the store & learning to get more creative with our meals. This is a great way to do that.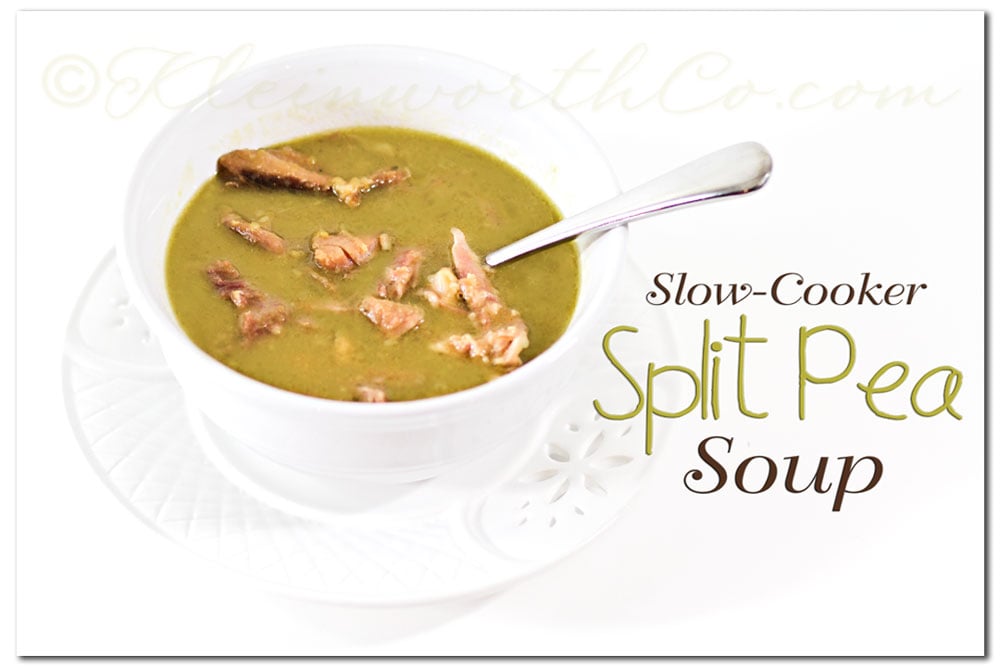 Slow-Cooker Split Pea Soup
Ingredients
Ham Chunks (or ham hock with remaining ham)
1 bag dried split peas
1 stick butter
Seasonings to taste (salt, pepper, garlic powder)
1/2 tbsp minced garlic
1 tbsp minced onion flakes
1 cup water
32 oz chicken stock
Instructions
Put all ingredients in your slow-cooker on high heat & let sit for 5-6 hours.
Stir occasionally.
About an hour before it's ready- remove ham bone & make sure the ham pieces are bite size. Pulling apart any chunks that are too large.
It's ready when peas are tender & soup is thick.
Serve with oyster crackers if desired.
http://www.kleinworthco.com/2013/01/slow-cooker-split-pea-soup.html
Recipe Source: www.kleinworthco.com | (c) Kleinworth & Co All images & content are copyright protected. Please do not use my images without my permission. If you wish to republish my recipe, please re-write it in your own words or link back to this recipe.
Hi! I'm Gina- the creative mind & photographer behind Kleinworth & Co. I'm a mom to 3, wife to a Fire Chief & homeschooler who is bursting at the seams with project & recipe ideas. I love the share simple & cost effective ways to decorate your home, create fun projects for the kids & feed your family well.
Latest posts by Gina Kleinworth (see all)