Need an easy family dinner idea that preps in about 20 minutes. Tomato Tortellini Alfredo is tortellini, tomatoes & homemade Alfredo sauce that's amazing! You won't believe how easy this is!
Tomato Tortellini Alfredo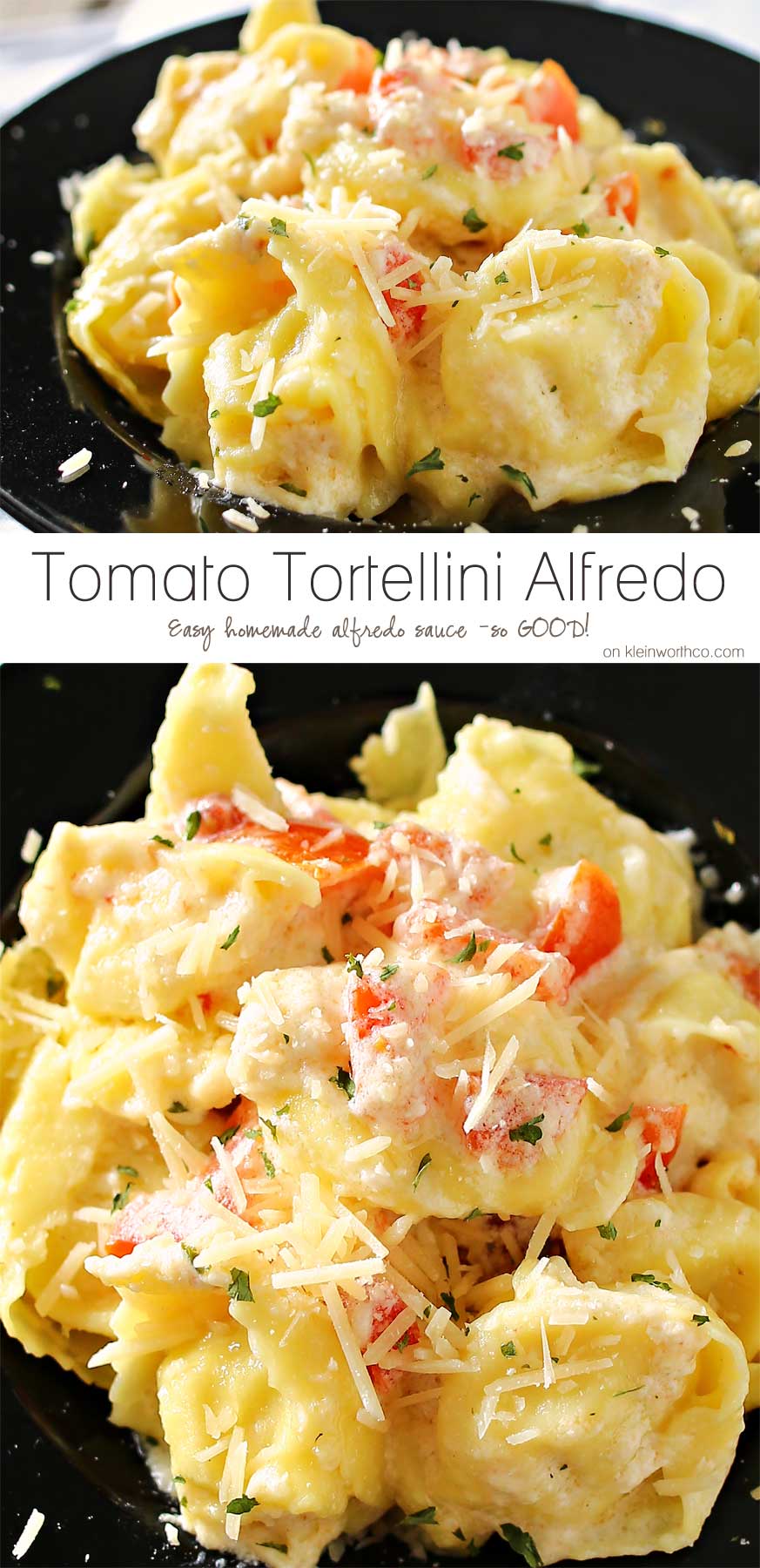 Do you love a quick dinner idea? I know I do. With schedules being so full these days it's all I can do to get my son dropped off at work, get home & make something for dinner & then get back to the office for a little wrap up before I head back to pick up my son later on.
The days fly on by & the last thing I have is a ton of time to spend working on dinner. Because as you all know, it's not just the dinner prep that takes so long.
Then there's the dining part- which is the best. We visit & discuss over our meal & have some quality time together. But then there is the clean up. Boooo- that's no fun.
So when I can keep prep & clean up to a minimum I feel a little less stress & I can relax while we eat.
I don't have that timeline hanging over my head thinking I need to rush so I can get back to the office. So when I create easy family dinner recipes that are quick & simple, that makes me so happy.
This one is so easy I'm thinking I might pass the dinner duties on to my daughters.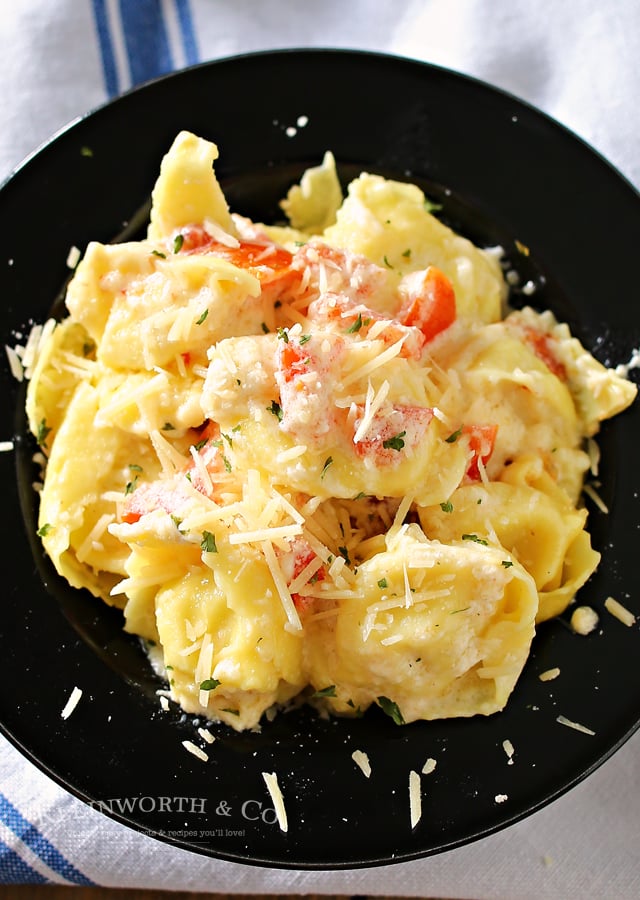 I absolutely love alfredo & definitely more so when it's homemade. Have you ever made some from scratch? It's so delicious & much more tasty than the stuff from the store. You know what- it's as simple as heat, stir & serve. Really – I promise & it's so worth it!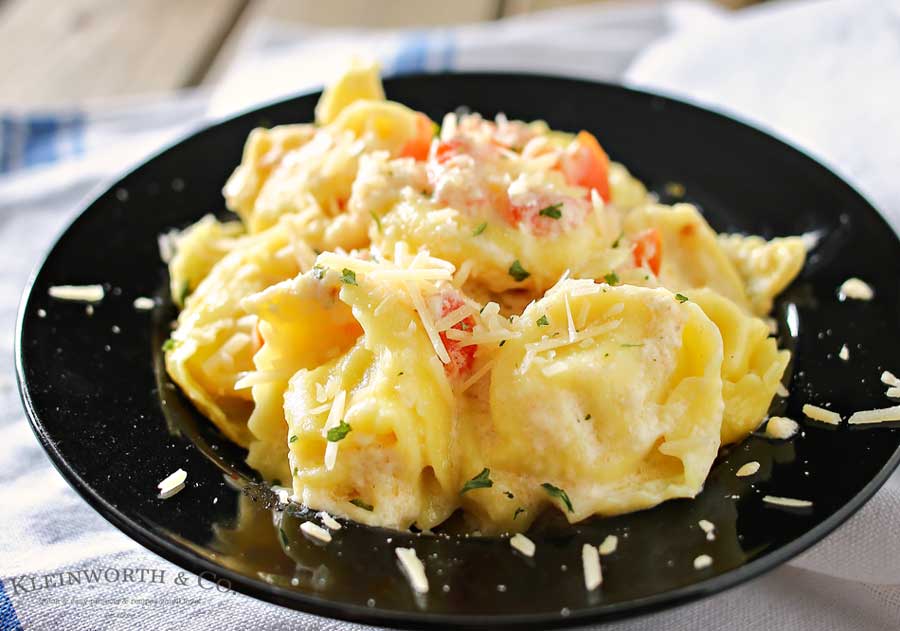 I like to dice up my tomatoes while I wait for the water to boil. I prefer the refrigerated tortellini because they cook a little faster & taste fresher than the dry version.
These particular ones I found at Costco – all they needed was a 2-minute blanch & they were done.
2 minutes – I was thrilled with that. Then just mix the sauce & stir it all together. The kids swoon & I'm happy with just a handful of dishes before I'm back to the office for the evening.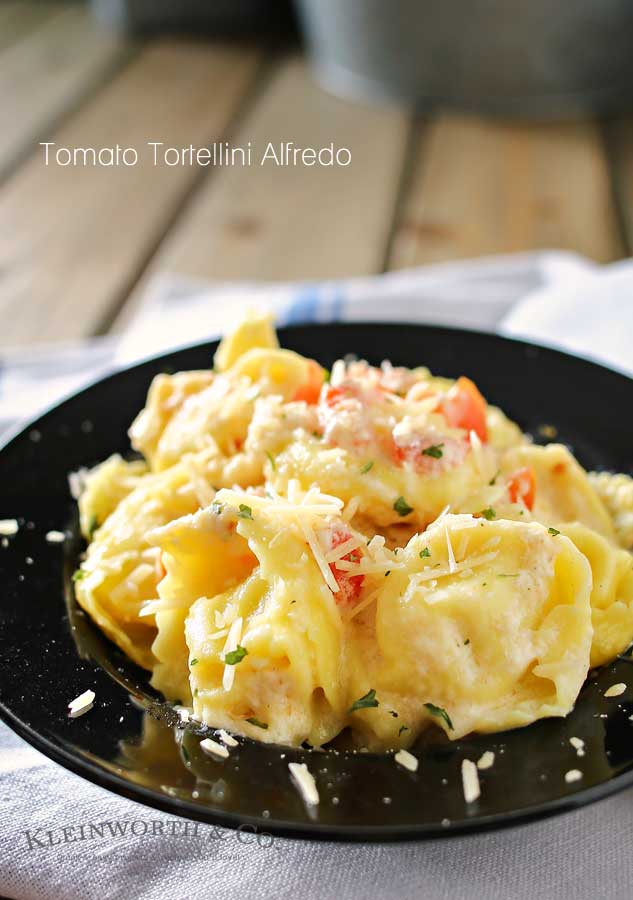 So easy – you have to make it! So delicious too!
*This post contains affiliate links. If you purchase something from a link shown here, it helps to maintain the free content that I share.
Looking for more of our favorite easy family dinner ideas that prep in 30 minutes or less?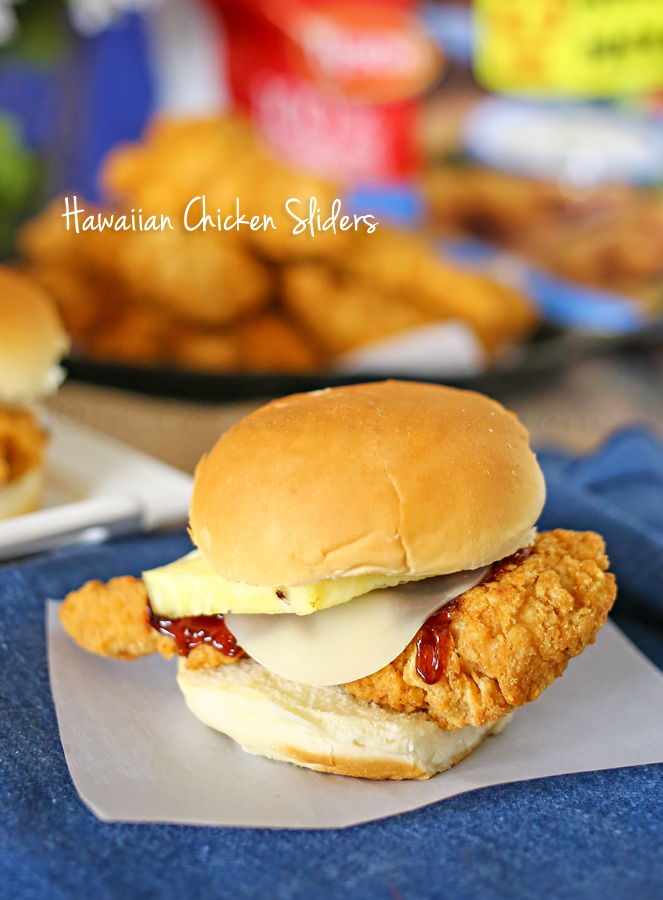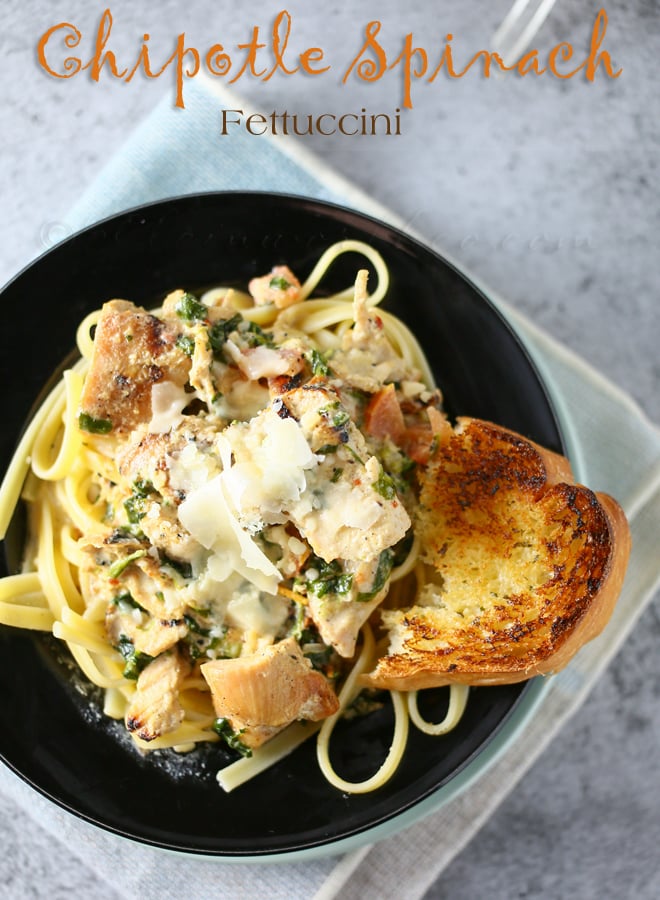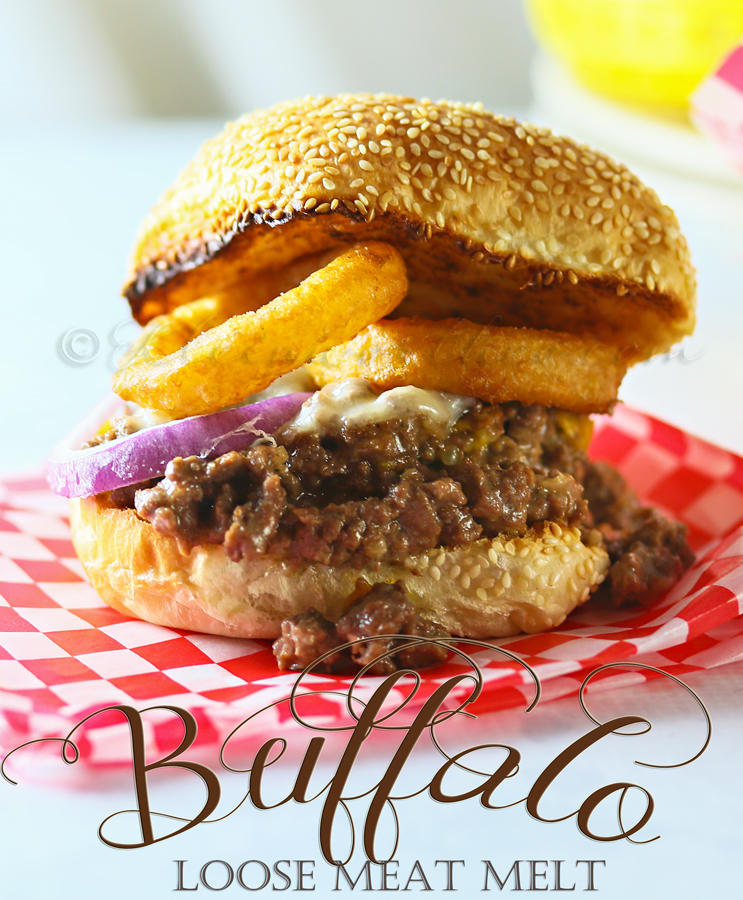 Tomato Tortellini Alfredo
Tomato Tortellini Alfredo is tortellini, tomatoes & homemade Alfredo sauce that's amazing!
Ingredients
1 cup butter 2 sticks
4 cups half & half
1 tbsp garlic powder
1/2 tsp pepper
1/2 tsp salt
3 cups grated Parmesan cheese
2-3 to matoes - diced
1 large or 2 small packages refrigerated tortellini
Instructions
In a medium saucepan over medium heat, melt the butter

Add in garlic powder, half & half, salt & pepper

Bring to a boil, reduce heat & simmer 6-8 minutes

While simmering - boil tortellini to package directions - drain & set aside

Remove sauce from heat & stir in cheese

Return to heat 2-3 minutes to thicken

Remove & add to cooked tortellini, add in tomatoes

Stir to combine - serve immediately
Don't miss these great ideas from these bloggers….
Gal on a Mission – 20-Minute Tuscan Chicken with Penne Pasta
Lil' Luna – Three Cheese Pasta Bake