Perfect Oven Cooked Bacon is absolutely foolproof and clean up is a breeze. This is by far the easiest way to cook bacon. Delicious and simple perfection!
So remember a couple of days ago I announced that I was joining an AWESOME group of bloggers to bring you BACON MONTH?
Well, today I'm kicking it all off with the absolute easiest way to cook bacon perfectly every single time. In the oven.
Scroll to the bottom for the Printable Recipe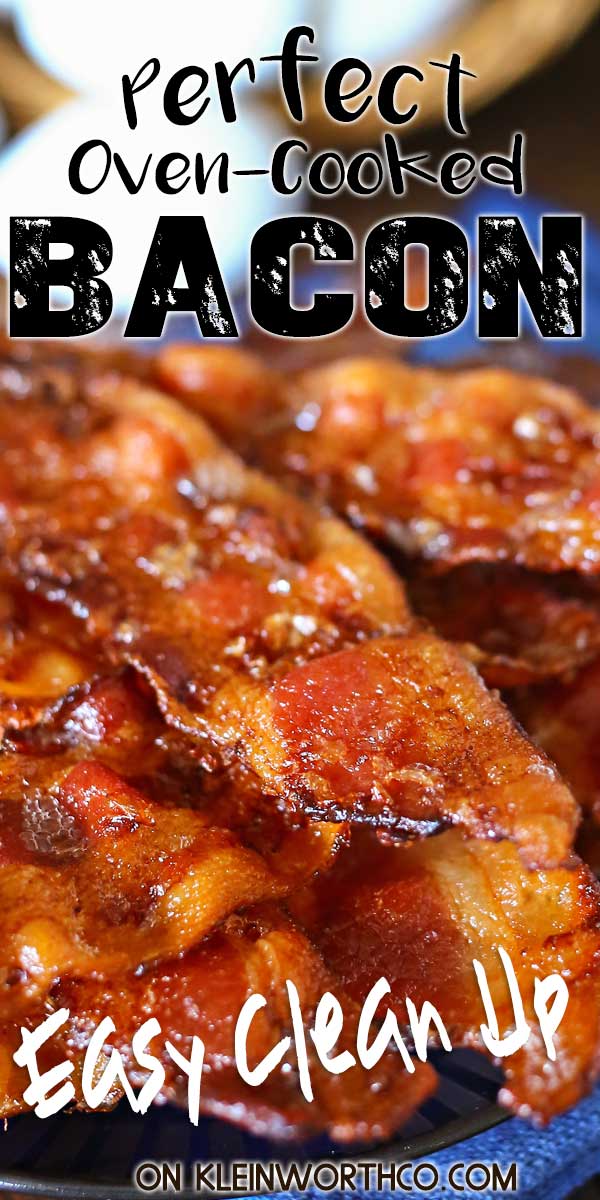 best way to cook bacon in the oven
We have been preparing our bacon this way for so many years. I can't imagine ever going back to cooking it in the skillet.
Using this method we can prep it on the baking sheet, pop it in the oven and bakes while we have our hands full with pancakes, eggs, mac and cheese or whatever else we are planning on enjoying with our scrumptious bacon.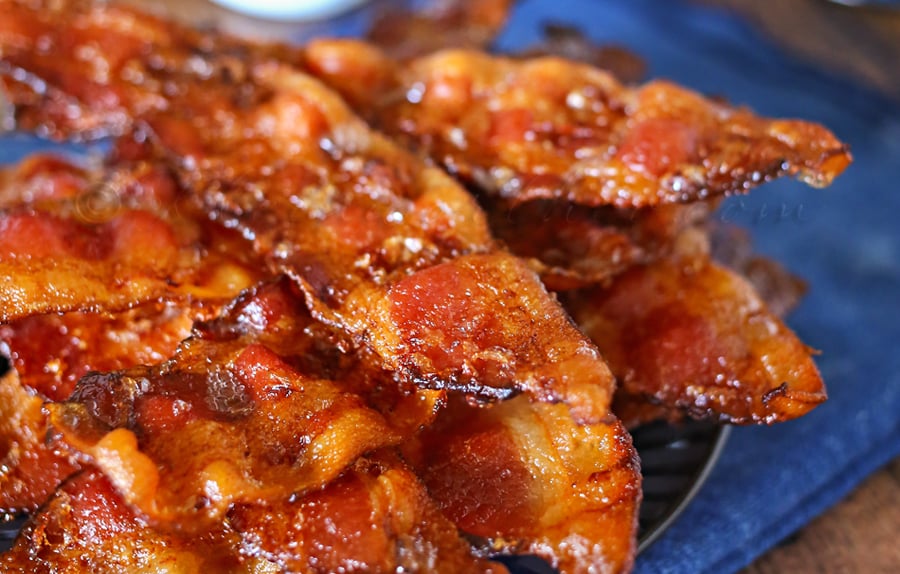 Seriously – it's just so incredibly simple. When it's done we transfer it to a plate lined with paper towels to drain.
Then after the grease cools I put it in a little container in the fridge for future recipes. Then the rest is balled up in the foil – simple and easy to clean up. Lickity split!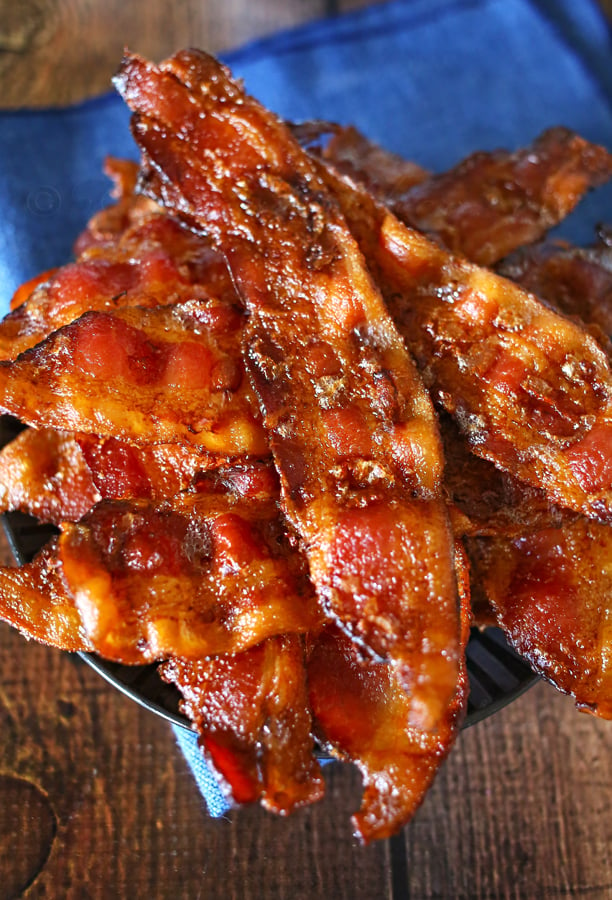 You really can't go wrong with this method. This is why I decided to start here by sharing this before jumping into all the DELICIOUS recipes I have planned for you during bacon month.
Because before I create each and every one of those – I'm doing this one first. You will love how it takes the stress out of bacon prep.
making bacon in the oven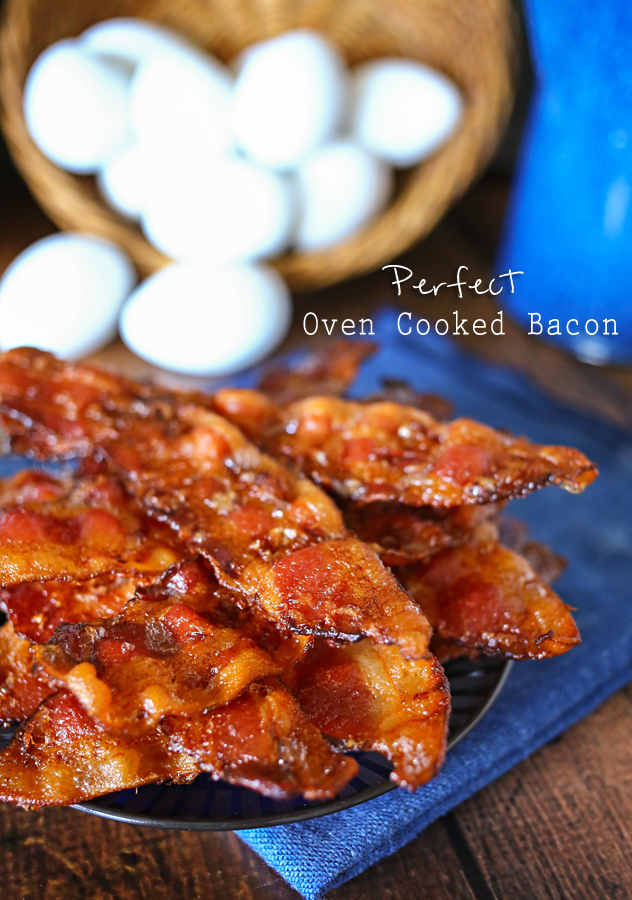 Here are some commonly asked questions
Can I use frozen bacon?
It would be difficult to separate the slices from frozen. But you can definitely thaw previously frozen bacon and cook it the same as you would fresh.
Can I use a toaster oven?
I have not personally tried it. But if you like this method better, just set the temperature to 400°F, and lay the bacon slices flat on the toaster oven pan. Bake, for about 12-15 minutes, or until the bacon is done to your liking.
recipe for oven cooked bacon
Can this recipe be doubled?
You can, and we do it often. It might take a bit longer to bake to the desired crispness, but doubling works fine as long as the slices aren't overlapping too much. I like to use a 3/4 sheet pans to fit 2 pounds of bacon.
How many can this serve?
This recipe makes 1 pound of bacon, so it will depend on what you are using it for. This is the perfect amount for crumbling into mac and cheese or to feed our family of 5 adult appetites with some eggs and toast for breakfast.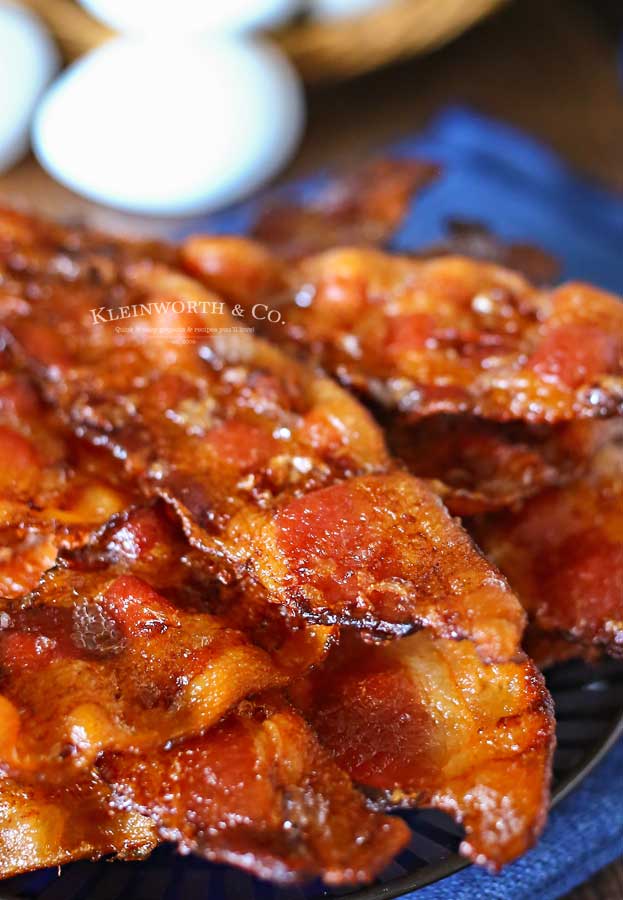 HOW DO YOU MAKE Oven Cooked Bacon?
Preheat the oven to 400 degrees.
Line a large baking sheet with heavy-duty foil.
Layout the strips of bacon – try not to overlap. (it's okay to let them curl up a bit- they don't have to be completely flat)
Bake for 20-30 minutes or until it reaches desired crispness. I like mine at about 25 minutes, but this depends on the brand and thickness of the cut.
**Quick clean up tip in the cooler months – stick the pan full of grease outside for a couple minutes. The cold air will solidify the grease quickly so you can easily remove the foil without dribbles.
What is the best way to store leftover bacon?
Just keep it refrigerated in an airtight container for up to 3 days. As long as you don't let it sit out at room temperature for too long, this should keep well when chilled.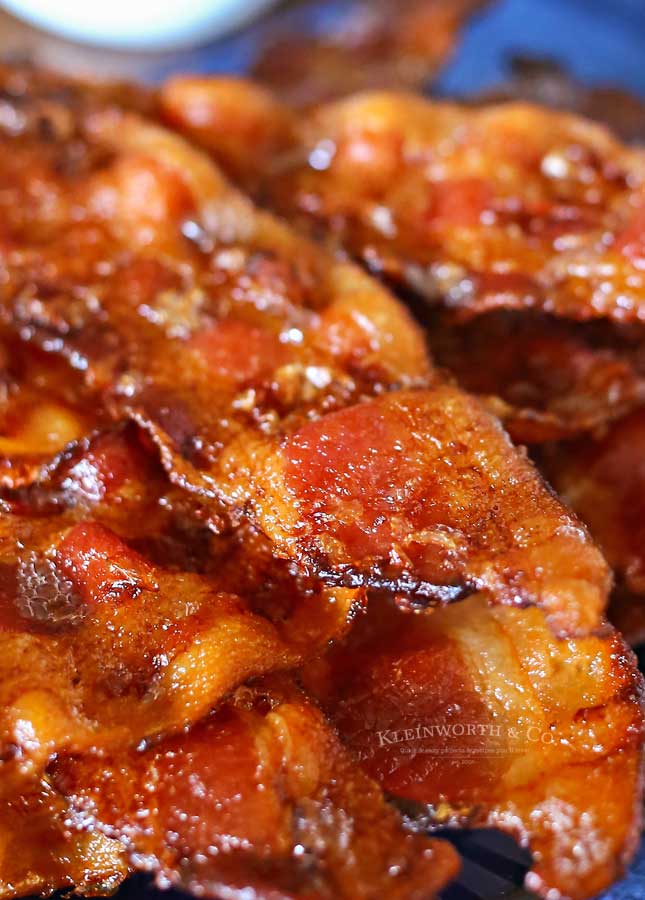 Can I use an air fryer?
Sure, you can use an air fryer. I know a lot or people love this method. I personally think it creates a lot more mess than I would want to clean up.
But if you want to use this method, set the air fryer to 400° and cook until crispy, about 10 minutes. (You can check halfway through and rearrange slices with a fork or tongs.).
To make Perfect Oven Cooked Bacon you will need…
bacon
foil
baking sheet
oven
Be sure to check out all the INCREDIBLE recipes being shared today for bacon month!
Maple Bacon Chocolate Chip Cookies
Bourbon Bacon Bread Pudding Muffins with Spiced Bourbon Syrup
If you love this Easy Oven Cooked Bacon recipe, you're going to love these other bacon recipes too. Please click each link below to find the easy, printable recipe!
bacon in the oven
If you love this recipe for Perfect Oven Cooked Bacon as much as I do, please write a five-star review, and be sure to help me share on Facebook and Pinterest!
CONNECT WITH KLEINWORTH & CO!
Be sure to follow me on my social media, so you never miss a post!
FB, Pinterest, IG, Email Subscription