Needing more Easy Family Dinner Ideas? Pasta Carbonara, a classic 'bacon' spaghetti dish is loaded with cheese which makes a creamy sauce that's delicious.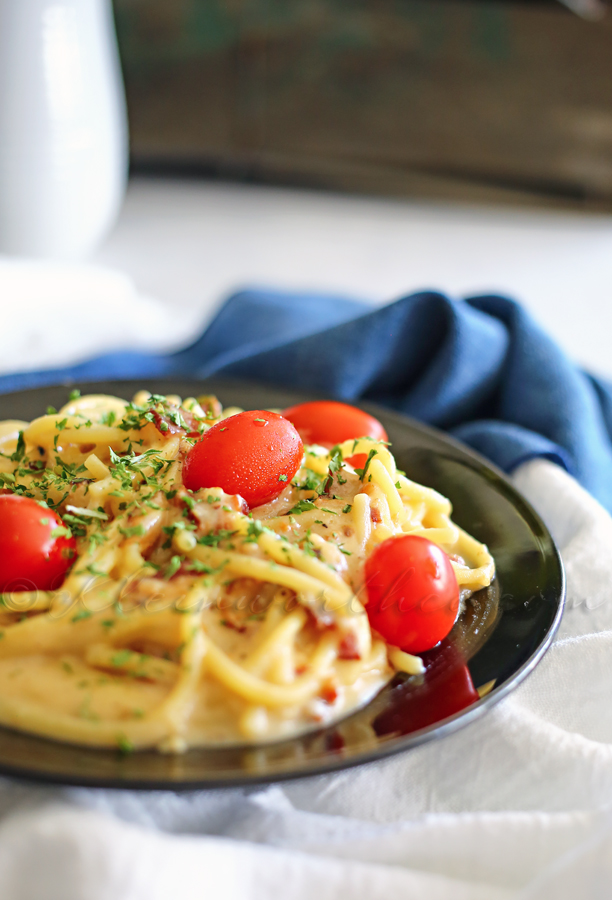 I love easy family dinner ideas, which is why I post so many recipes on that topic. It seems that especially in the summer the last thing I want to do is be in the kitchen – but we all still have to eat (preferably together). So I am always working on new recipes to get me in & out of there quick so we can have as much family time as possible. Things like a hearty pasta dish like this pasta carbonara are great because it comes together fast & it fills all these hungry teens easily.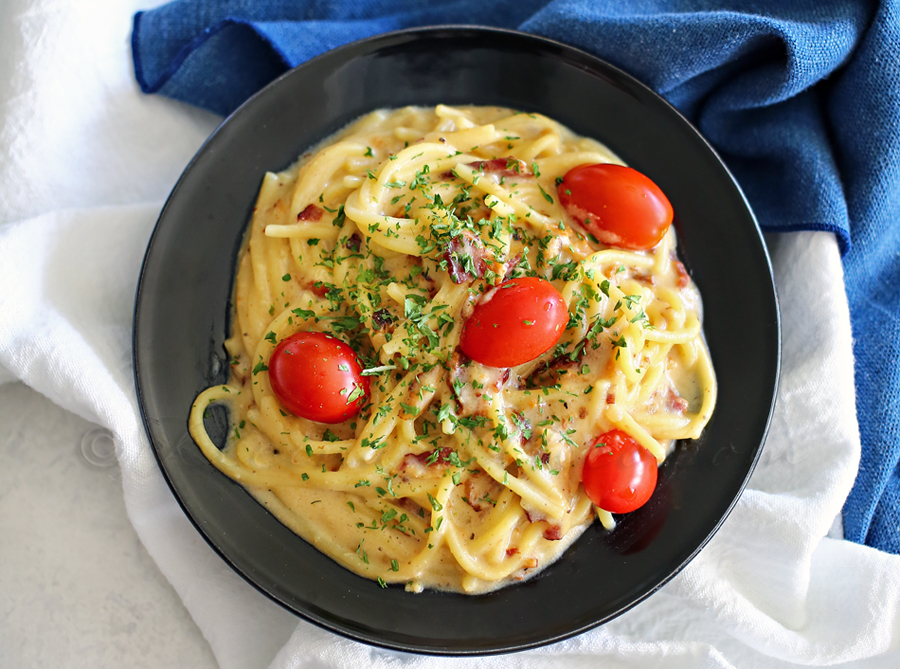 With the hectic schedules of everyday families it's so important to still try to enjoy dinner together whenever possible. This is becoming less & less easy as my son's work schedule has him missing so often at dinner time. So the quicker I can get dinner on the table, the easier it is for us all to find those openings in the schedules for that short amount of time & dine together as a family. I miss that time where we eat & laugh & enjoy. So these quick & easy family dinner ideas are what I seek all the time.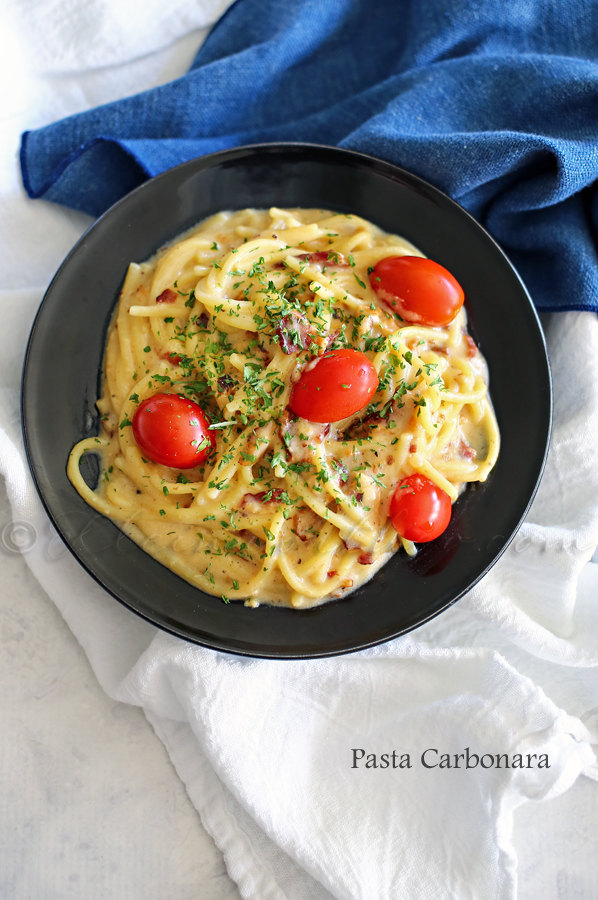 I like to pair this with some easy garlic toast to help sop up the remaining sauce on the plate.
The kids can't get enough, which is great!
Pasta Carbonara : Easy Family Dinner Ideas
Ingredients
8 oz spaghetti - uncooked
1 pkg bacon - cooked
1-1/2 tbsp minced garlic
3 cups milk
3 tbsp cornstarch
3/4 cup Parmesan cheese
salt pepper, granulated garlic & mined onions to taste
Grape tomatoes & parsley for garnish
Instructions
Start with preparing your bacon as you normally would- either bake or pan fry to crisp

Allow to cool slightly & then rough chop or crumble into large skillet

In a large pot bring water to boiling & cook spaghetti to package directions (usually around 11 minutes)

Add garlic & seasonings to skillet with bacon & heat over low about 2 minutes - stirring frequently

In a medium bowl combine milk & cornstarch - whisk

Add milk mixture to skillet with bacon & cook on medium until thickened

Add Parmesan & cook until melted

Add cooked pasta to skillet & toss to coat

Season with salt & pepper & garnish with tomatoes & parsley before serving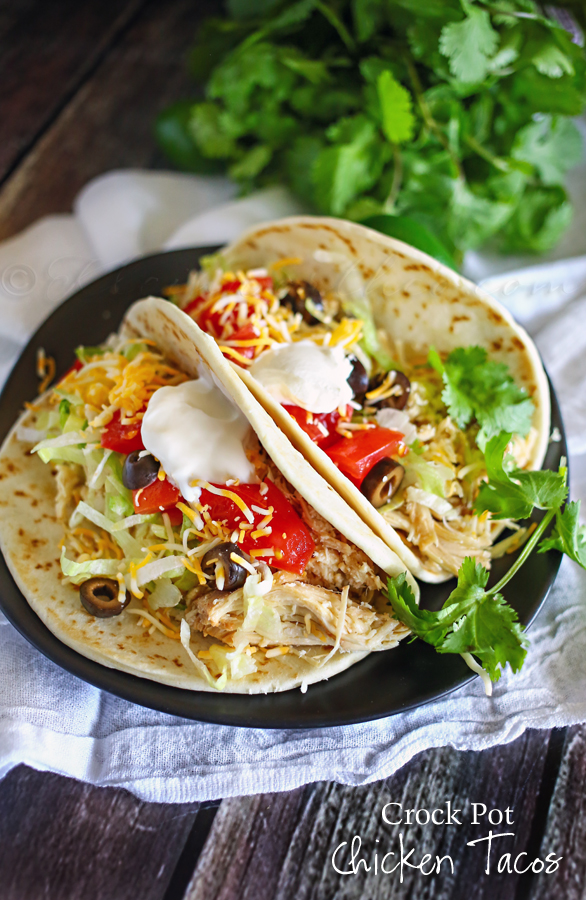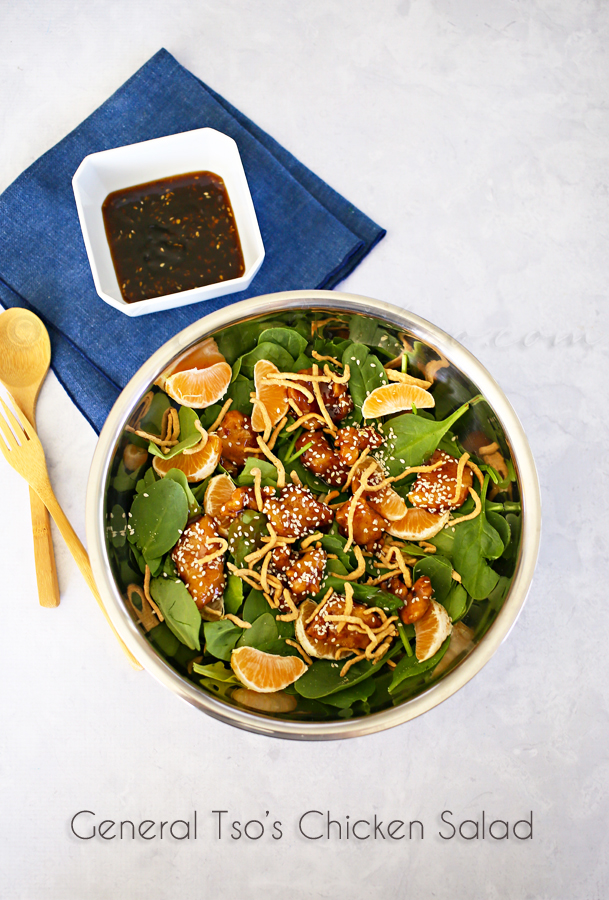 General Tso's Chicken Salad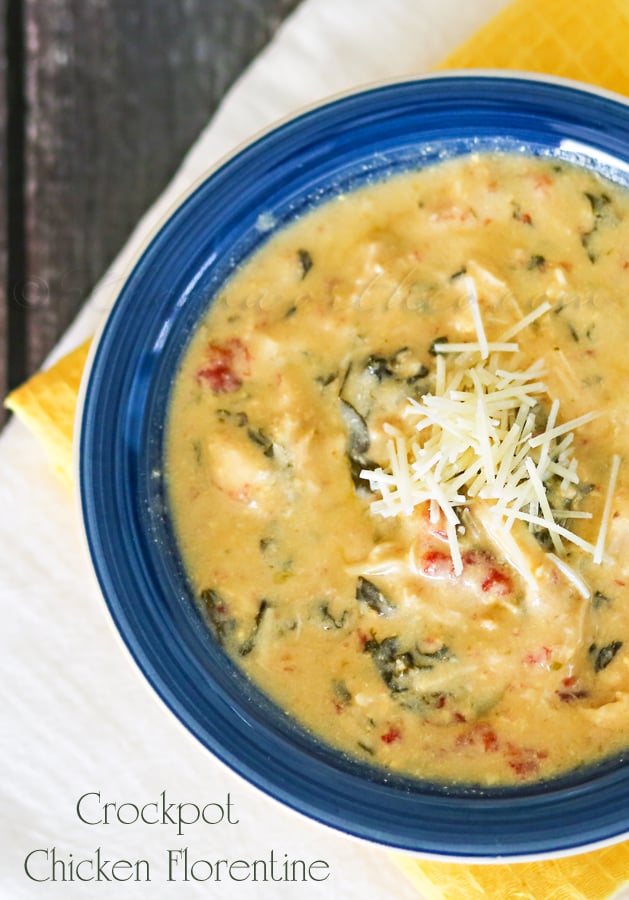 To see where I am linking today- visit HERE