Idaho Potato Soup is an easy loaded potato soup recipe the whole family will love. Packed full of veggies & topped with bacon & cheddar makes this a favorite dinner!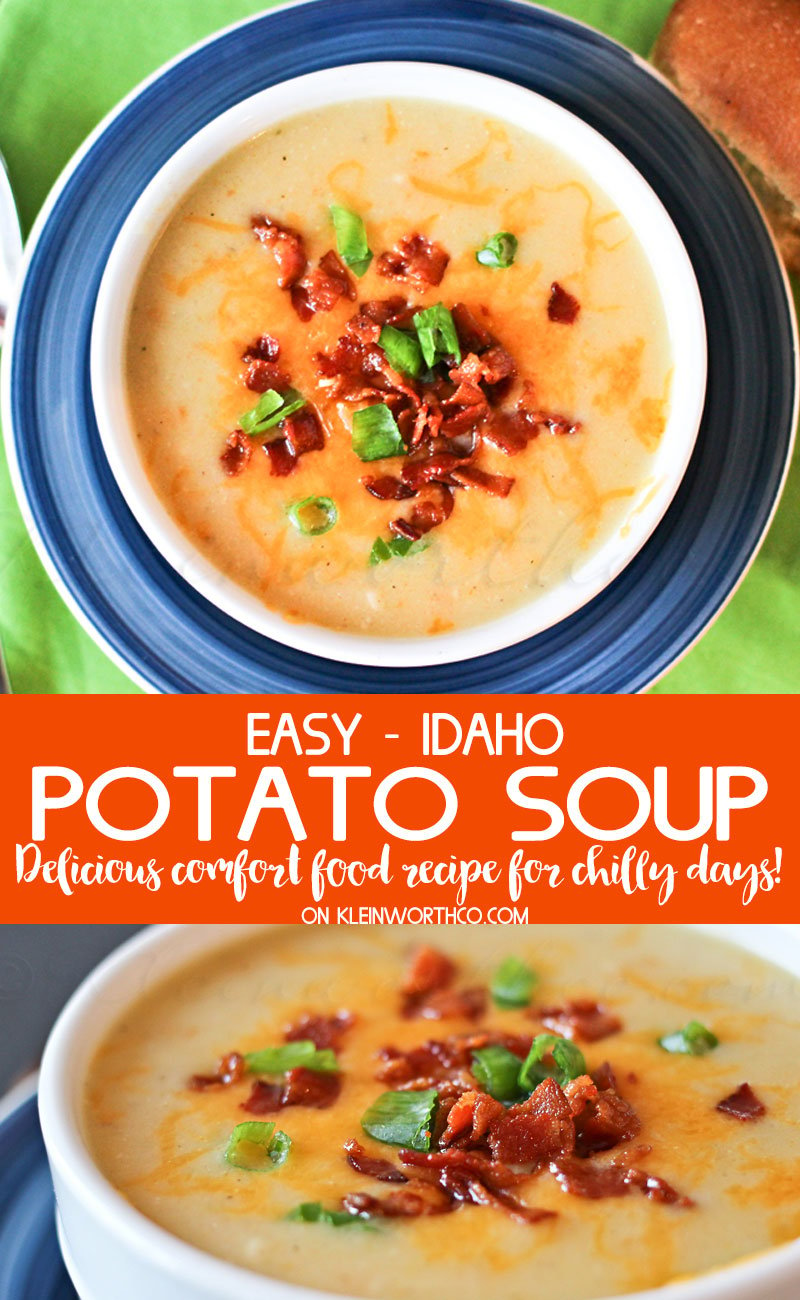 Good Morning everyone! How was your week? If you follow me on Instagram then you know that we spent this past week sick. Boooo! I needed some Easy Family Dinner Ideas to help me out.
It started with going to the store & they were out of the disinfectant wipes for the cart. Low & behold- the person who pushed the cart was the person who started with the sore throat & by the time he was on to the sneezing & coughing & all that lovely stuff- it had made it's way to the girls & then to me.
That was a rarity though- I usually skate through without it touching me- but not this time. Oh what a pain it is. I really can't stand being slowed down – but I really have a hard time being slowed by something that is almost entirely preventable. So then we headed home to let the kids curl up on the couch while we made some serious comfort food.
HOW DO YOU MAKE Idaho Potato Soup
Boil potatoes
saute onion, zucchini & chilis for about 8 minutes.
Add garlic
Stor in flour & cook
Add in broth
Add cheese.
Drain potatoes & rough mash with handheld potato masher or fork.
Add potatoes to soup mixture.
Add half and half & then salt and pepper to taste
Simmer about 5 minutes.
Stir in half the crumbled bacon.
Serve with additional bacon & more grated cheese
potato soup recipe
This post contains some affiliate links. Click here to read my full disclosure policy.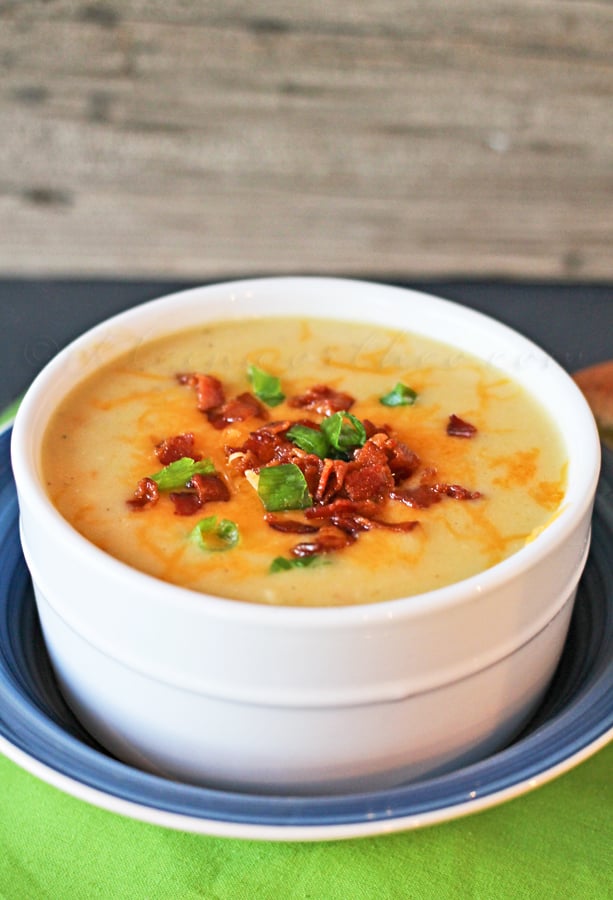 I worked on this soup that was just what I needed.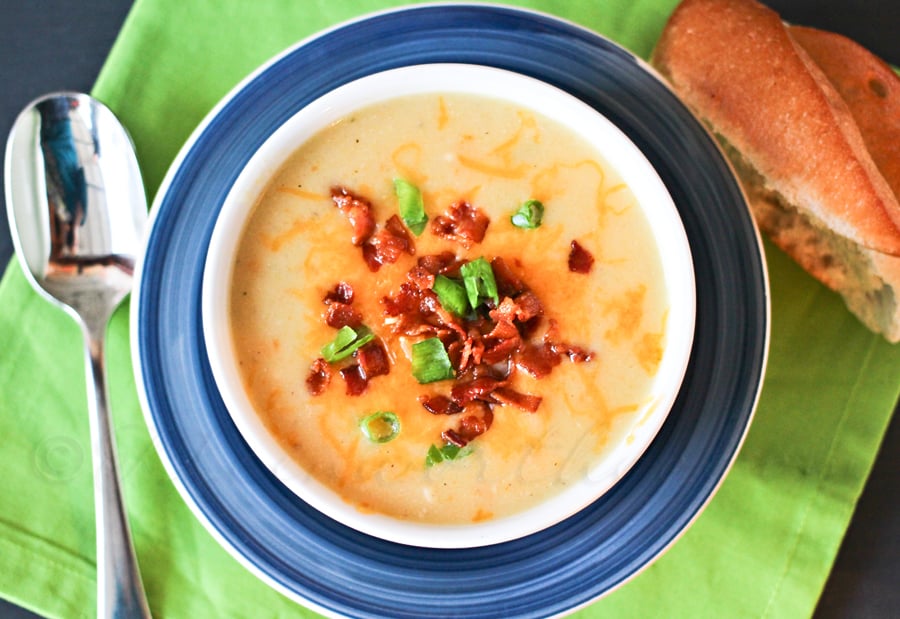 Loaded with all sorts of veggies & nutrients which was what we all were needing. A good shot of veggies & a little protein.
Idaho Potato Soup
One of the things about living in Idaho is that we have the freshest & most affordable potatoes I have ever had. Probably not as fresh as the people who live in the Boise area- but really, we are only 6 hours from where these are grown. I think when one lives in Idaho- they have to like an abundance of potatoes.
To make this recipe you will need…
bacon
minced garlic
zucchini
dried onions
Anaheim chili
all-purpose flour
russet potatoes
broth
half & half
cheese shredded
salt & pepper to taste
chives to garnish
Looking for more great recipes?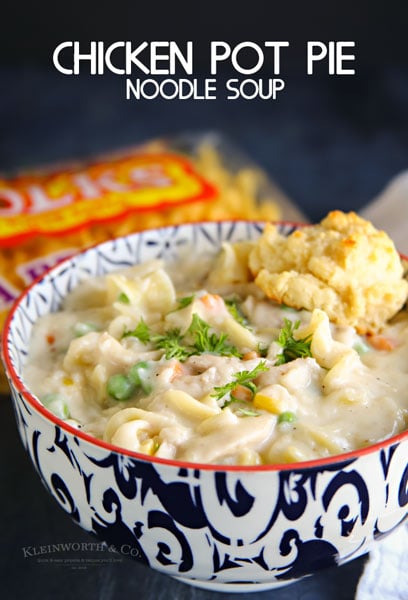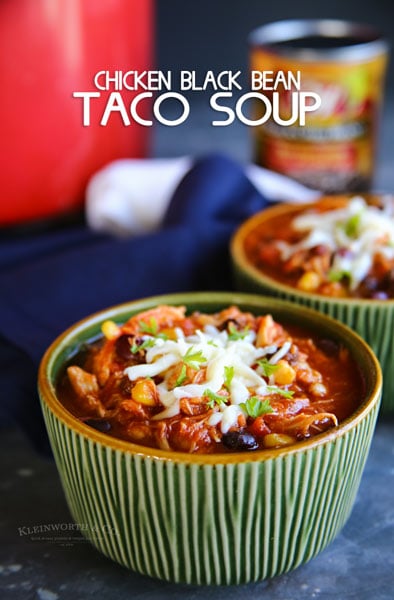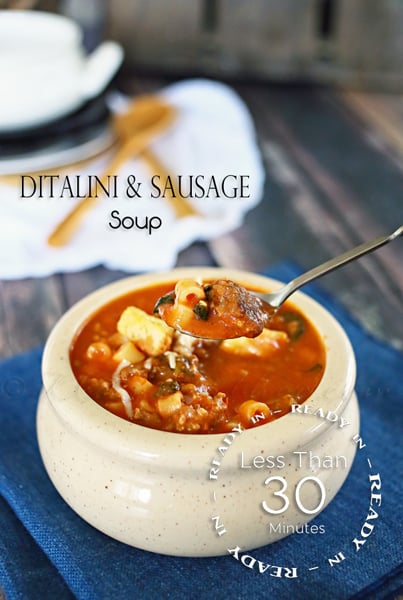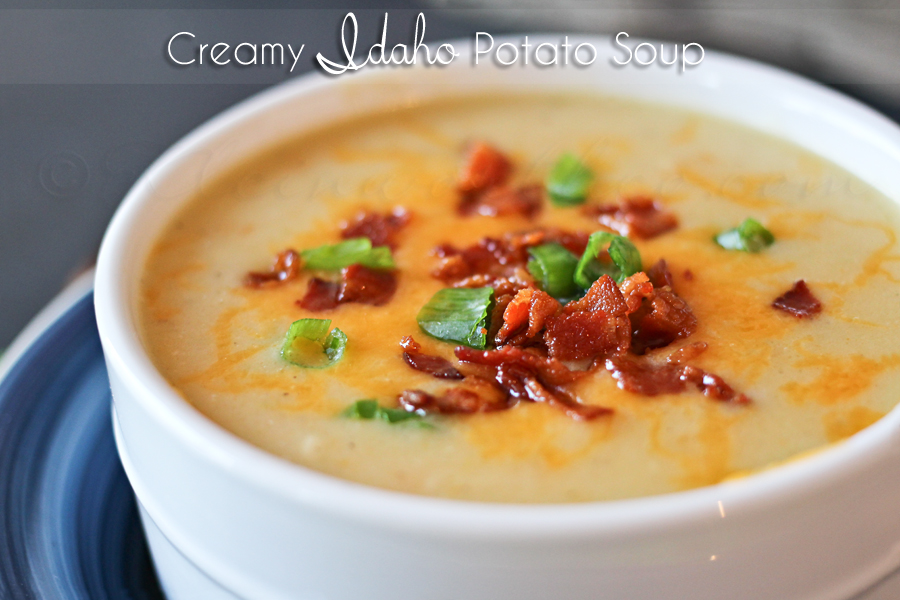 I know it sounds like a lot of prep work & it can feel like that if you are starting from complete scratch. But what I like to do is prep & freeze a lot of these things ahead of time. Like the zucchini, & Anaheim chili were things we received in our co-op basket this past summer.
I prepped them & stuck them in the freezer for occasions just like these. I love having these ingredients ready to go right when I need them & it's a huge time saver.
Idaho Potato Soup
Ingredients
1 pack bacon cooked & chopped
2 tbsp minced garlic
2 cups zucchini finely grated
2 tbsp dried onions
1 large Anaheim chili diced
2 tbsp all-purpose flour
8 large Idaho russet potatoes peeled & diced
4 cups vegetable or chicken broth
1/2 cup half & half
2 cups cheese shredded
salt & pepper to taste
chives to garnish
Instructions
Boil potatoes in a large pot until tender

While potatoes & boiling, saute onion, zucchini & chilis for about 8 minutes. Add garlic & continue to saute for a couple more minutes

Add flour & cook for 1 minute.

Slowly add in 1 cup broth & scrape the sides of the pan.

Add in remaining broth & simmer.

Add cheese into the soup mixture.

Once potatoes are done, drain & rough mash with handheld potato masher or fork.

Add potatoes to soup mixture.

Add half and half & then salt and pepper to taste

Let simmer about 5 minutes.

Stir in half the crumbled bacon. Serve with additional bacon & more grated cheese
Don't miss these great ideas from these bloggers….
Cowboy Supper | Mandy's Recipe Box
slow cooker sausage and potatoes | slow cooker kitchen