Homemade Onion Bagels are an easy breakfast recipe. With only 5-ingredients and no yeast needed, these are ready to enjoy in less than 30 minutes.
I love making homemade breakfasts for the family. I challenged myself once to see how long I could go without buying breakfast items at the store. If I remember right we ended up making it several years with only having homemade breakfasts.
It meant that stretched my abilities & I learned how to make things like homemade bagels and even better, homemade onion bagels. They are a favorite in this house.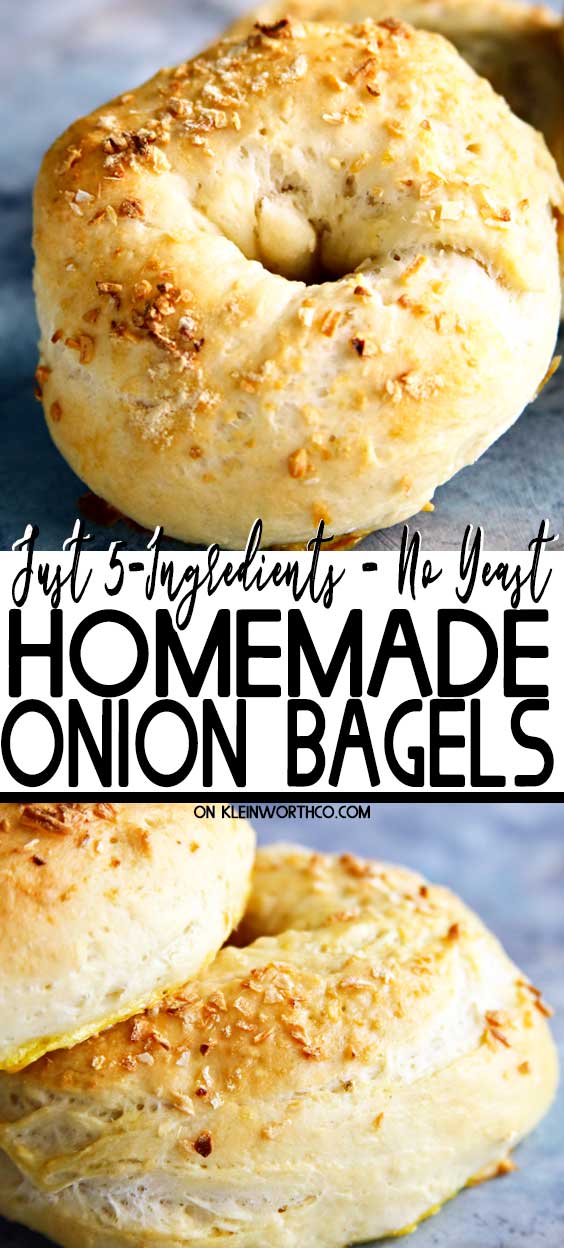 We have 2 camps in our house. The ones that like a good plain bagel, then those that like them with all of the stuff on them.
It doesn't matter what the stuff is, they just like to have stuff on their bagels. Which is fine. I got to experiment and make these, which I have to admit, are oh so good.
onion bagel recipe
This post contains some affiliate links. Click here to read my full disclosure policy.
What I love about this recipe is how simple it is. No proofing yeast or waiting for the dough to rise.
It takes just a couple ingredients for the dough and the rest are for the toppings. Which is just awesome in my opinion.
The easier the recipe, the more likely it is that I can hand the duties off to my kids. They are all young adults or almost adults, so it's all about making sure they are comfortable grabbing a recipe & getting in the kitchen to make it happen.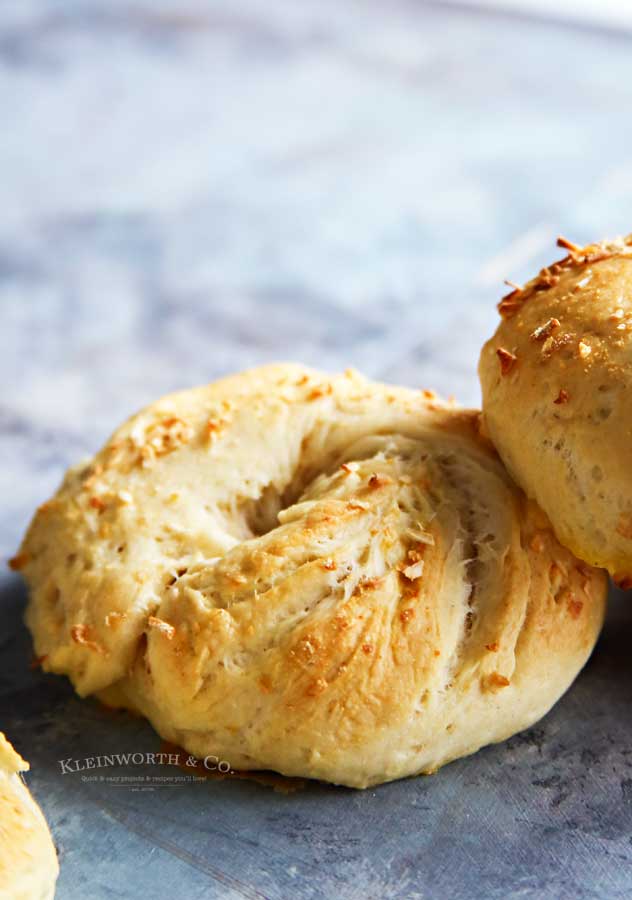 These are a hit not only here but we love to make them to take to the firehouse or for breakfast potlucks too. Serve with some cream cheese or avocado or anything else you love on a bagel.
Here are some commonly asked questions
Are these like the Weight Watcher bagels?
Yes, these are commonly known as the Weight Watcher bagel because they are a "skinny" version of a typical bagel. I am not at all affiliated with WW and I don't know how many points this would equal to, especially since they have so many programs and their point system is ever changing. It's hard to keep up with it, especially since I don't use their program.
Can I use all-purpose flour instead?
Unfortunately, no. The self-rising flour is what makes these bagels rise without the addition of yeast to the dough. Self-rising flour is essential.
What is the best way to store leftover bagels?
So, this one is tricky. I think that airtight containers cause them to sweat and get too moist. But you don't want them to dry out either. So my method is to store them in a closed paper bag at room temperature. It allows just enough air to get to them to keep the texture just right.
That being said, if you live in an overly humid, dry or overall hot climate, you might want to keep these in the refrigerator to maintain an even climate so they don't go bad prematurely.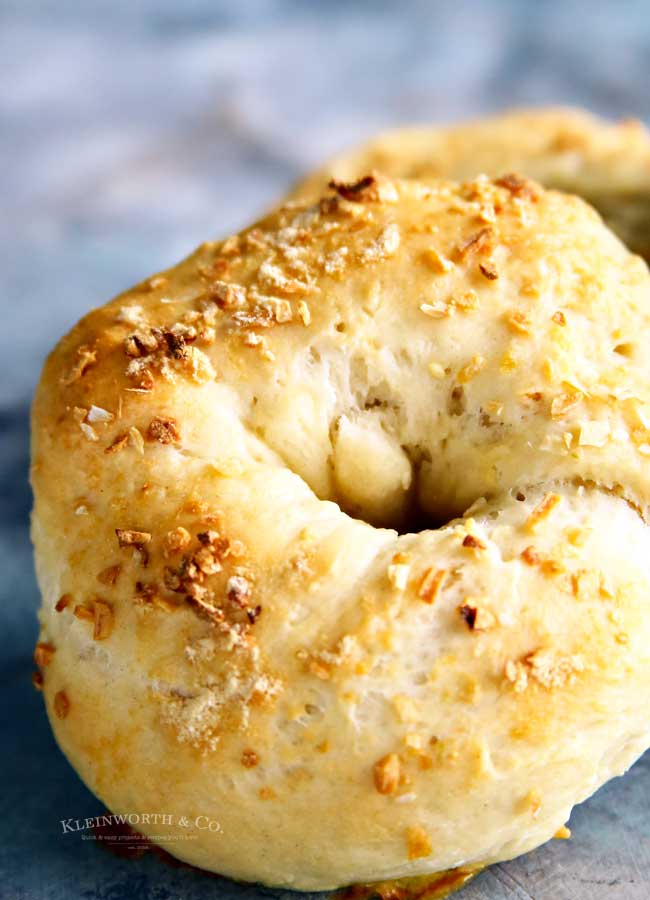 Can I use regular yogurt for this recipe?
Unfortunately, this one is a no too. This recipe needs the Greek yogurt because it is different from regular yogurt. You can sub in sour cream, but they won't be as "skinny" as they are when using Greek yogurt.
How many can this serve?
It depends on how large you make them, of course. I was able to make about 4-5 bagels with this recipe.
Homemade Onion Bagels Recipe
Can this recipe be doubled?
Yes, you can double this recipe. When I am making these in preparation for the weekend I always increase the recipe by at least double & sometimes more.
HOW DO YOU MAKE HOMEMADE ONION BAGELS?
Preheat oven to 400 degrees.
Line a baking sheet with parchment & set aside.
In a large bowl, combine flour & yogurt & mix well until it forms a smooth ball-you can also use a stand mixer with the dough hook attachment.
Transfer dough to a lightly floured surface & work dough into a large 8-10″ disk.
Using a bench scraper or butter knife, cut dough into 4 equal parts.
Roll each piece into a long log – approx 8-10″ long.
Shape into a ring & transfer to the prepared baking sheet.
Brush with egg wash.
Sprinkle with onion powder & dried minced onions.
Bake 20-25 minutes or until golden brown.
Brush with melted butter immediately after removing from the oven – optional.
Store in a closed paper bag (an airtight container will make them sweat & become too doughy)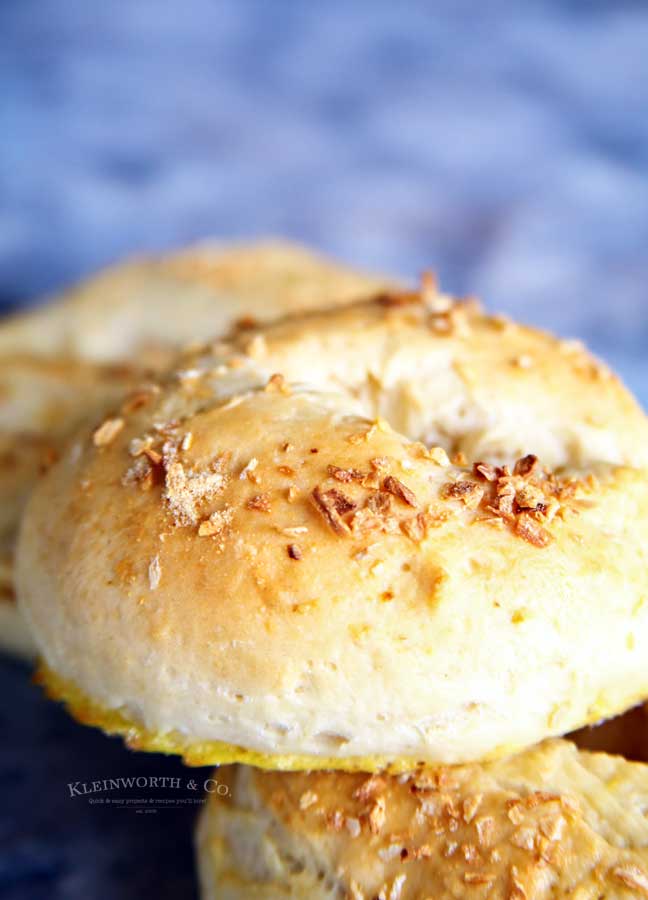 Can these bagels be frozen?
Yes, you can freeze these bagels. Just wrap tightly with plastic wrap and mark them with the date. Keep for up to 1 month.
weight watchers bagel recipe
To make this recipe you will need…
self-rising flour
greek yogurt
egg
onion powder
dried minced onions
melted butter- optional
Products I love when making these onion bagels…
This onion bagel recipe is so EASY and incredibly delicious – and if you're like me, then you probably already have many of these items on hand OR maybe you have never made bagels before, & you might be a bit nervous – but you're going to love the how simple this recipe is. I have made a list below of the things I absolutely can't live without when it comes to making this easy breakfast.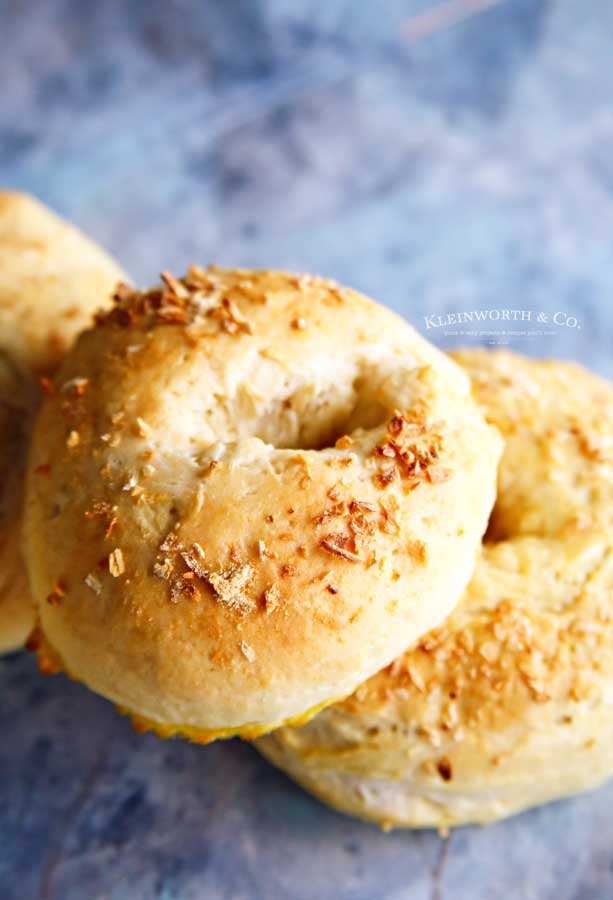 Look at that! You'll love it!!
Scroll to the bottom for the Printable Recipe
Greek Yogurt Bagels
If you love this easy bagel recipe, you're going to love these other delicious recipes too. Please click each link below to find the easy, printable recipe!

Homemade Bagels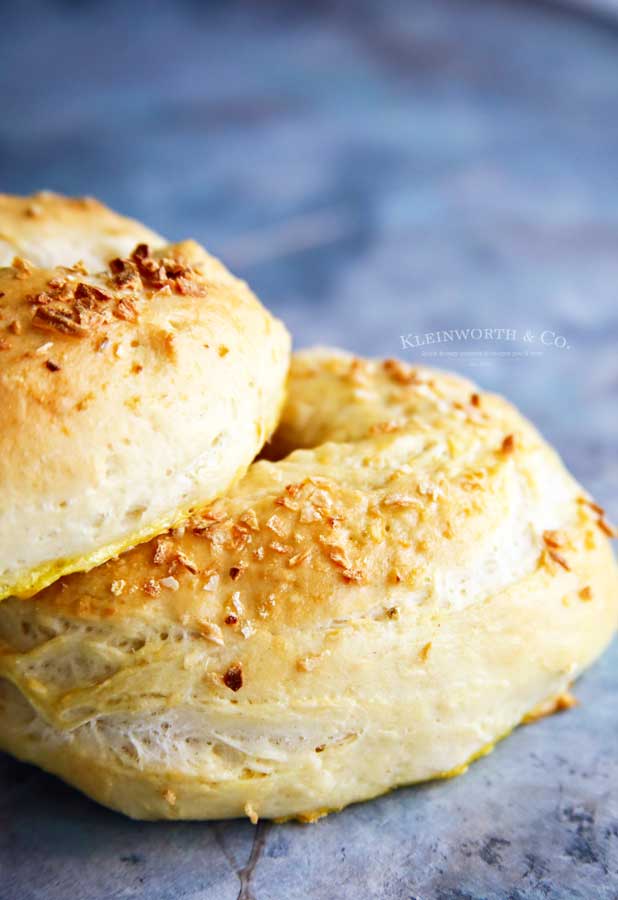 If you love this easy onion bagel recipe as much as I do, please write a five star review, and be sure to help me share on facebook and pinterest!

CONNECT WITH KLEINWORTH & CO!
Be sure to follow me on my social media, so you never miss a post!
FB, Pinterest, IG, Email Subscription

Homemade Bagels Recipe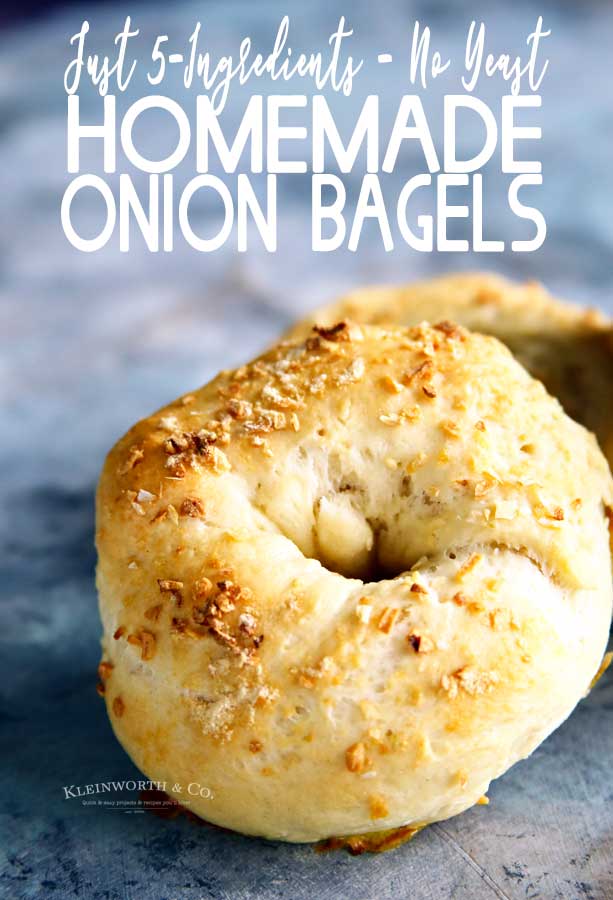 Reader Interactions