Cheesy Spinach Wontons made quick & easy in about 15 minutes. This simple air fryer recipe makes this delicious appetizer effortless for game day, holidays & parties!
My friends, I think I have found my new favorite thing. We make wontons a lot for game day & they are over the top delicious.
But then this weekend I created these Cheesy Spinach Wontons in the AirFryer & I'm head over heels in love.
Scroll to the bottom for the Printable Recipe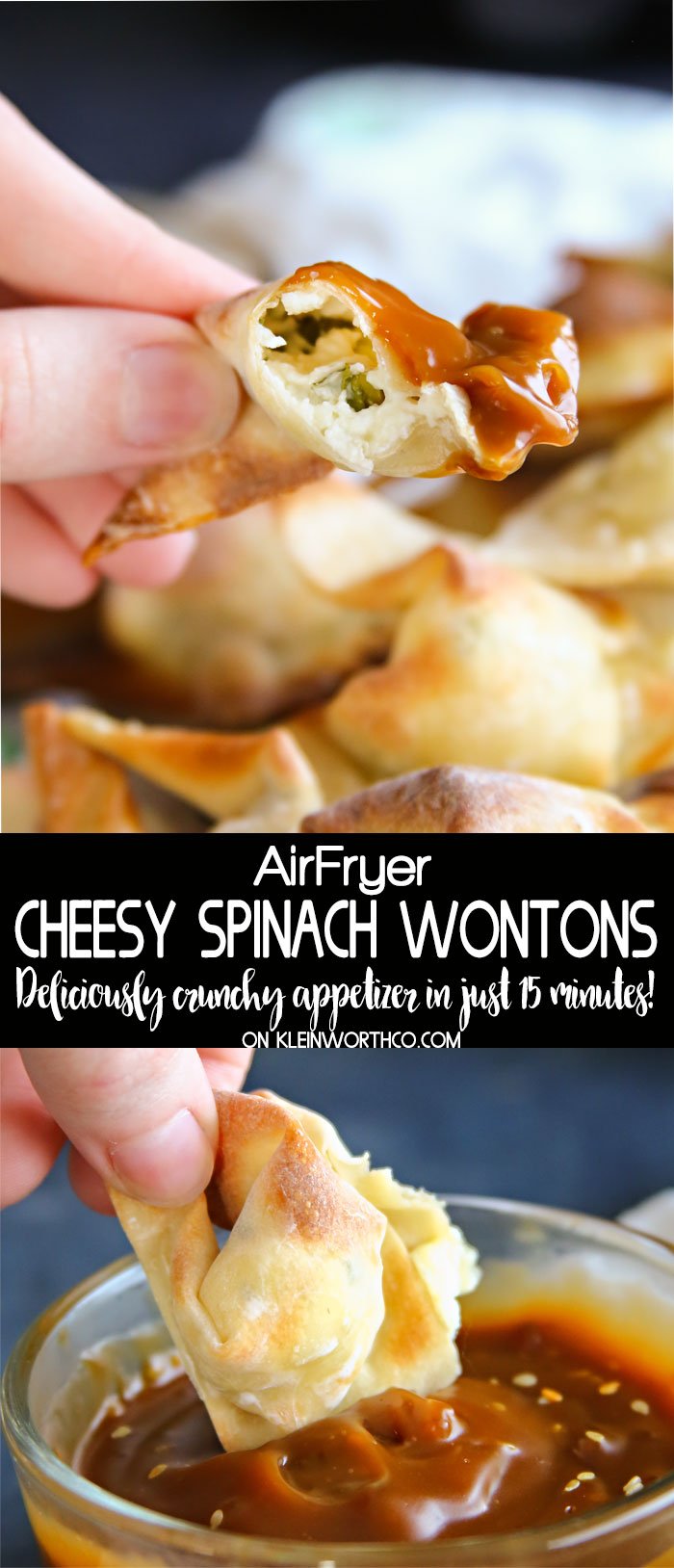 This post was sponsored by Philips Kitchen Appliances as part of an Influencer Activation for Influence Central and all opinions expressed in my post are my own.
They only take about 15 minutes to make – You have to try them!
AirFryer Recipes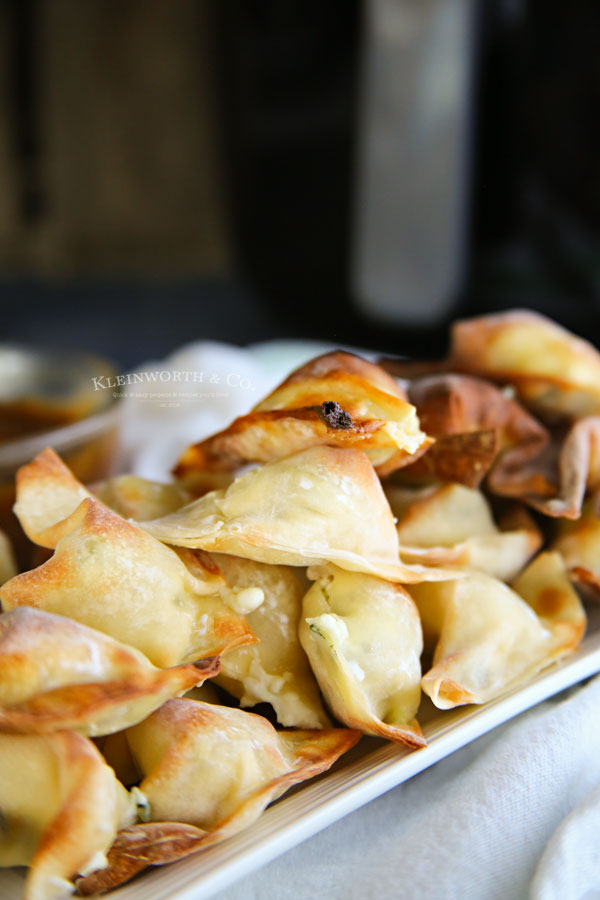 Have you ever made wontons before? The awesome folks over at Philips sent me this Philips AirFryer to try out & I have to say, I'm head over heels in love with it.
Philips Kitchen Appliances are convenient & fast, no mess, no smoke, which is great because I like things that make my life easier.
Plus, all the great taste of fried foods that I love with a tablespoon or less of oil, that makes it healthier while still being delicious.
I just prepared my wontons by adding my filling, moistening the edges & folding over to seal. Then I shaped them before placing into the fryer basket.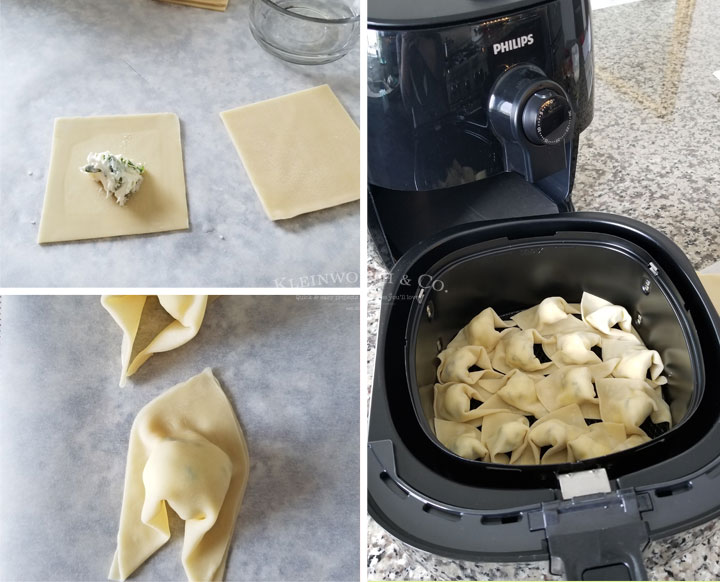 Then it was as easy as setting the dial to the temperature I wanted & then setting the timer. In just 6 minutes they were done – crispy & crunchy with that delicious melted cheesy goodness on the inside.
Did you know that Philips Airfryer is the world's #1 Airfryer with over 7 Million units sold? It's because they offer a wide range of AirFryers that allow families, big and small, to enjoy healthier, delicious, homemade food every day.
Honestly, with the Twin TurboStar technology, that is the healthiest way to fry because it actually removes fat from the food you cook, reduces fat by 75%, and delivers crispier results than a deep fryer and other AirFryer competitors – it is truly remarkable.
Cheesy Spinach Wontons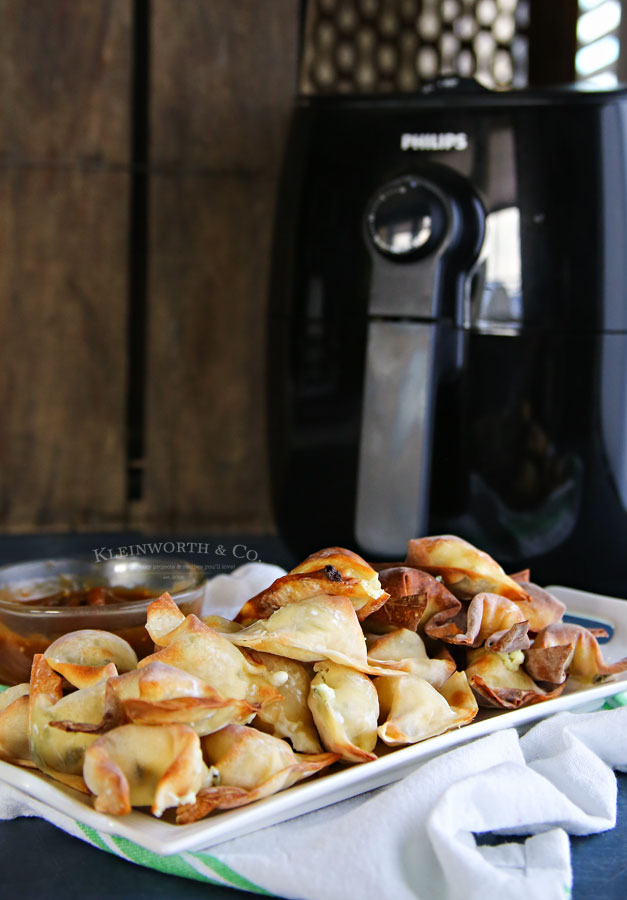 I'm tell you, this is my new obsession. I will be using it to make EVERYTHING!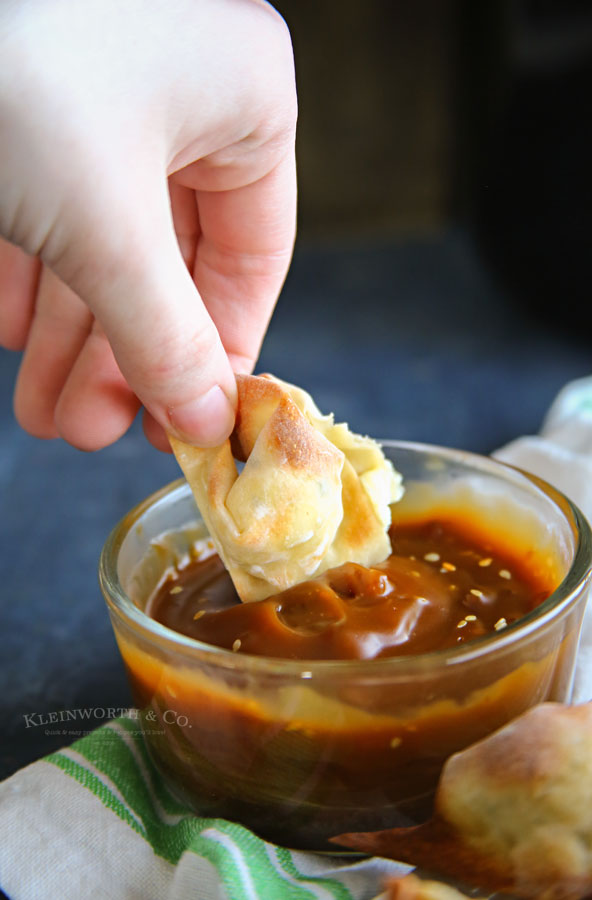 Just look at that! Add a little teriyaki or sweet & sour dipping sauce & your party guests will be swooning!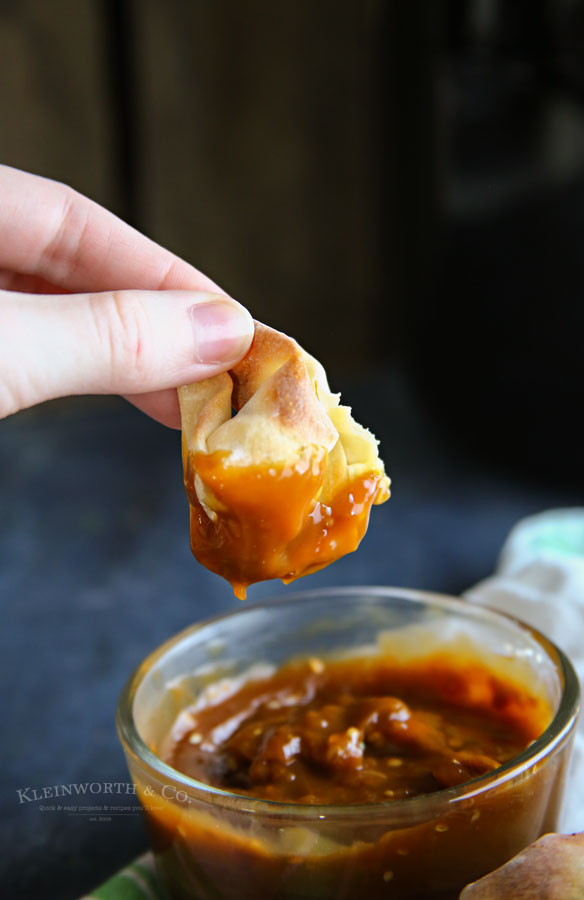 They are the perfect quick & easy snack that you MUST make for game day! Everyone here was RAVING & asking for more.
Fortunately, it is so simple to make these I was able to keep the tray full for most of the party.
I can't wait to share with you all the other recipes we have been making since this awesome AirFryer arrived. Stay tuned for that!
If you love this recipe – you can find it AND 100+ MORE like it in my LATEST cookbook.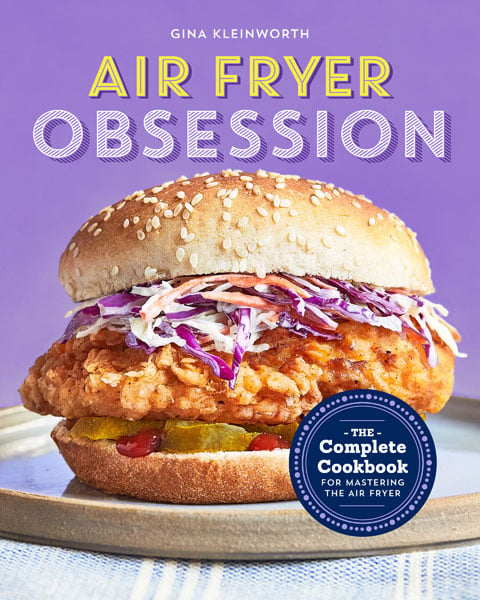 120+ Recipes to take your love of air frying to new heights
If you're a fan of air frying, you already know that it's an easy way to whip up tasty, crispy favorites that are healthier than deep-fried foods. This air fryer cookbook helps you take your air-frying skills up a notch with 129 recipes that range from fresh takes on the classics to more adventurous fare.
From Jalapeño Poppers to Everything Bagel Brussels Sprouts, the recipes in this air fryer cookbook can be made quickly using ingredients found at your local supermarket. Get the most out of your air fryer with fun and simple recipes the whole family will love.
This ultimate air fryer cookbook offers:
Can you air fry that?―Discover an air fryer cookbook full of foods you might never imagine air frying―like pancakes or lobster tails.
Get creative―Find charts to determine the cooking time for dozens of ingredients, plus air-frying tips and hacks so you can try out recipes of your own.
Helpful recipe labels―This air fryer cookbook helps you easily locate recipes that are vegetarian, extra fast, or perfect for a group.
Take air frying to the next level with Air Fryer Obsession.
You might also love my first air frying cookbook too!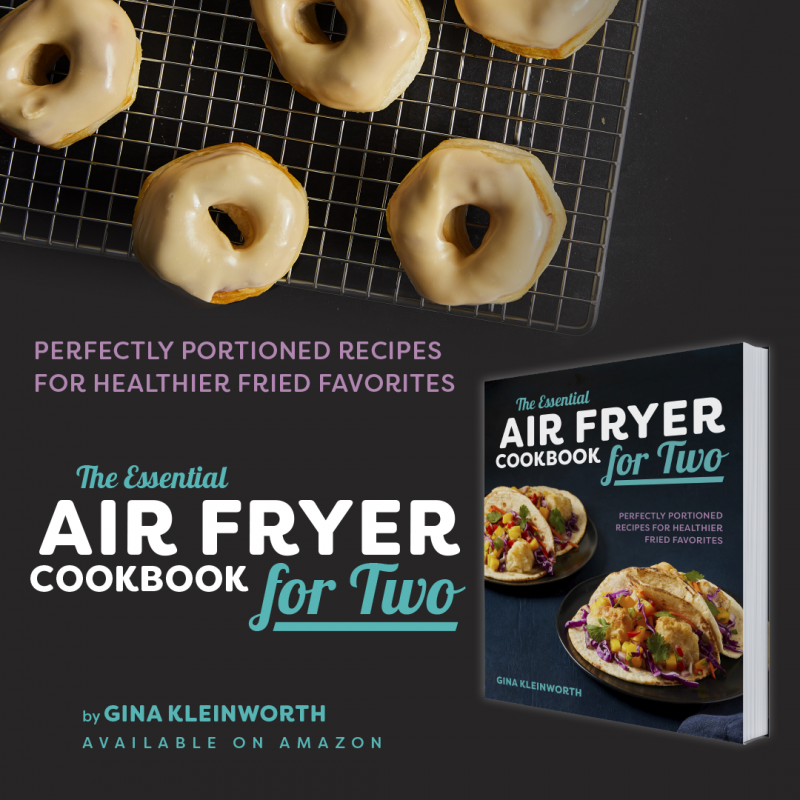 The Essential Air Fryer Cookbook for Two
Perfectly Portioned Recipes for Healthier Fried Favorites
The Essential Air Fryer Cookbook for Two also makes everything fast and easy. Most recipes take 30 minutes or less and they're designed with simple prep and minimal clean-up in mind. Nutritional information, serving size descriptions, and recipes for vegetarians, vegans and the gluten-free are also included. There's so much to savor.
Looking for more awesome snacks?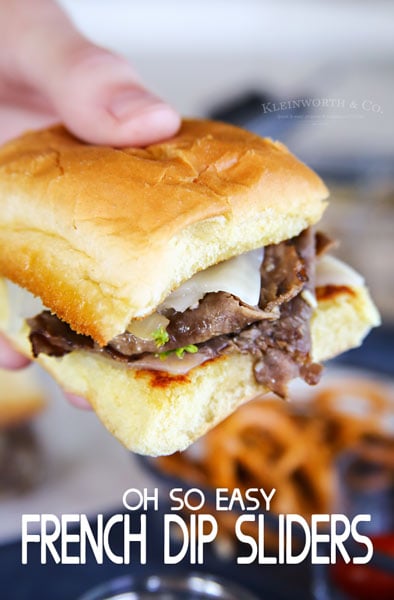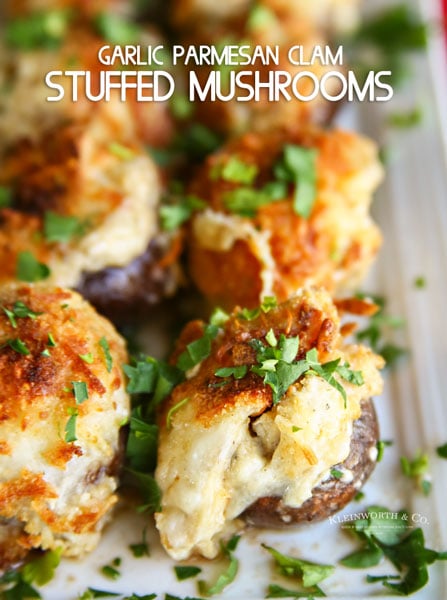 Garlic Parmesan Clam Stuffed Mushrooms

CONNECT WITH KLEINWORTH & CO!
Be sure to follow me on my social media, so you never miss a post!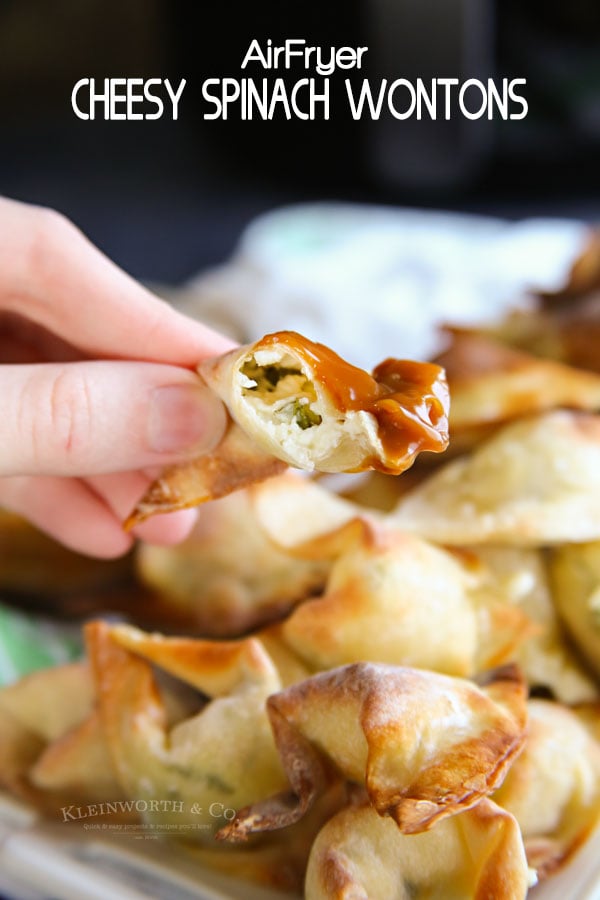 Cheesy Spinach Wontons
Cheesy Spinach Wontons made quick & easy in about 15 minutes. This simple air fryer recipe makes this delicious appetizer effortless for game day, holidays & parties!
Ingredients
16-20 wonton wrappers
8 oz cream cheese – softened
1-1/2 cups baby spinach – chopped
Instructions
Combine spinach & cream cheese in a small bowl & mix well

Lay out your wonton wrappers & place 1 tsp of the cream cheese mixture in the center

Dip your finger in water & rub along the outer edge of the wrapper to moisten

Fold over opposite corners to make a triangle & press the edges together

Pinch the sides to pull the corners of the triangle back to form the wonton shape

Place about 8 at a time in the air fryer basket – you can do more if you have the double rack accessory

Set the air fryer for 400 degrees & the time for 6 minutes

Carefully remove & place on serving platter & serve with any dipping sauce you like