Ha- I bet you thought I forgot to make more Yummy Bar Recipes to share with you all this week. I did not forget – I just saved these Blueberry Cheesecake Bars to help kick off your weekend. My family is nuts for blueberry recipes – where I tend to lean more towards blackberries or cherries when it comes to adding fruit to my desserts. But I have to say – the blueberries added to these cheesecake bars was a fabulous choice. I love that these are thicker than a no-bake cheesecake bar. More like a New York style cheesecake – then all the blueberries – holy YUM! You will LOVE these!!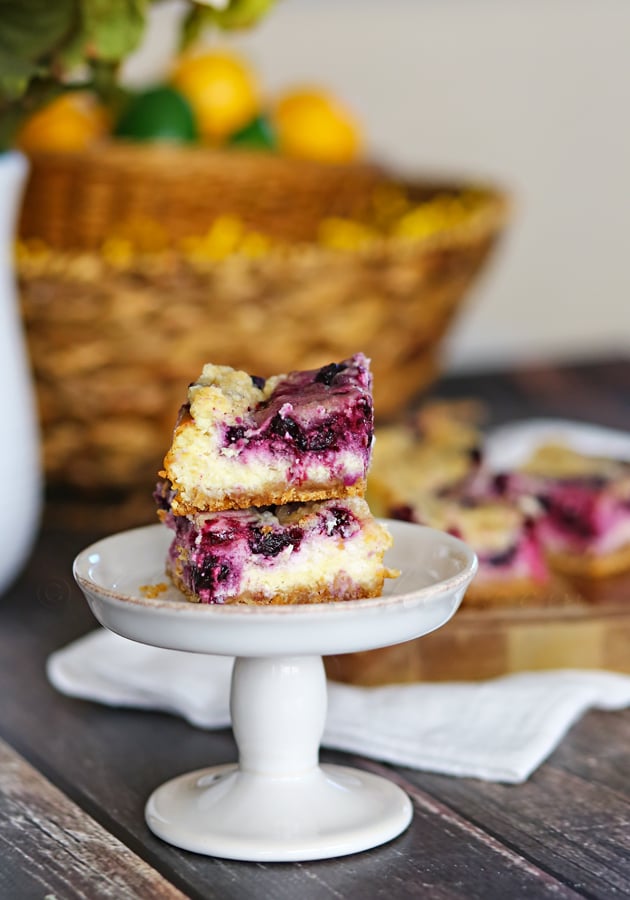 For an added special treat – I changed up the crust. I went to pull out my box of graham crackers & realized that they were not as fresh as they should be. Bummer – I thought I was going to have to scrap my cheesecake plans. Until I found my box of vanilla wafers. Oh my friends – vanilla wafer crust is my new favorite.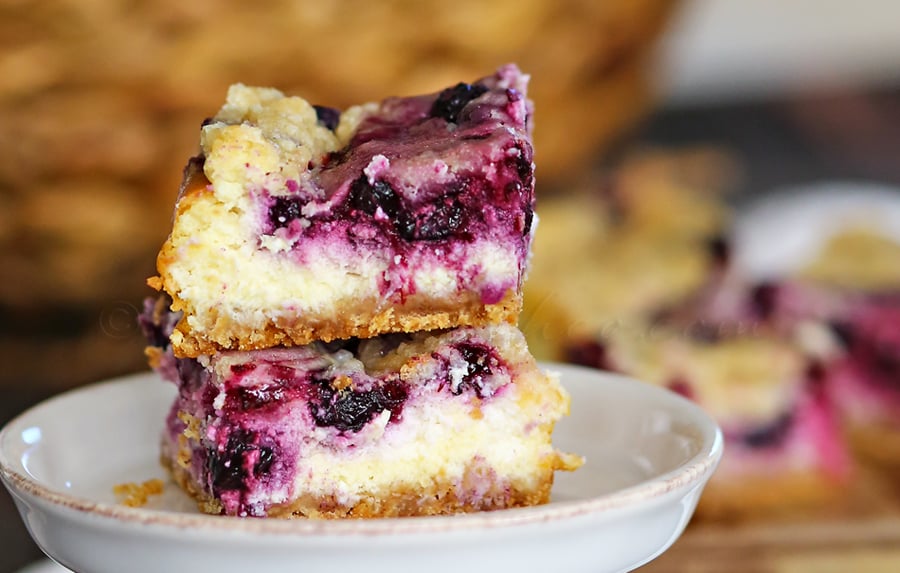 The family was LOVING the crust – just a subtle twist but oh so yummy.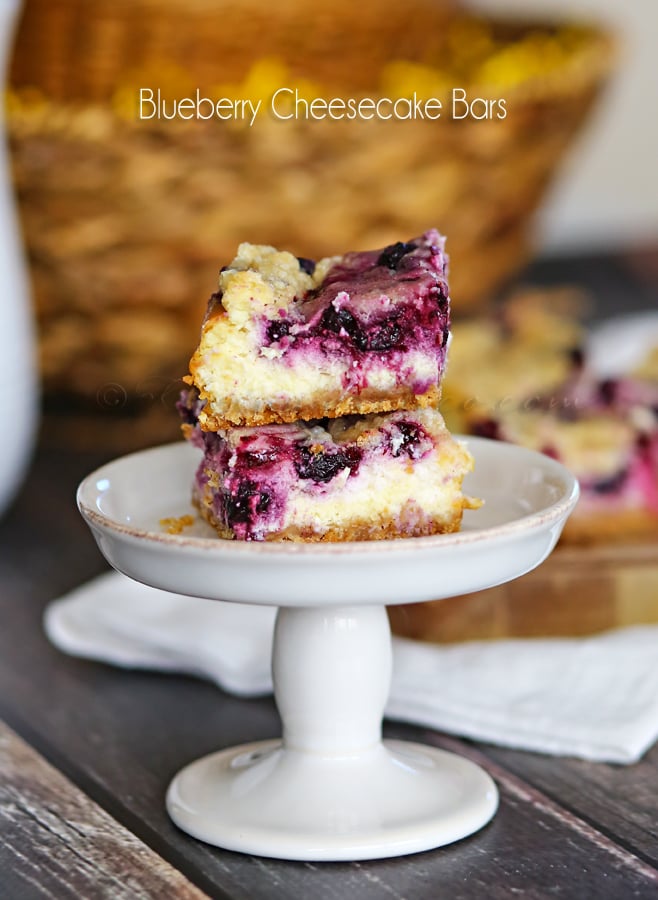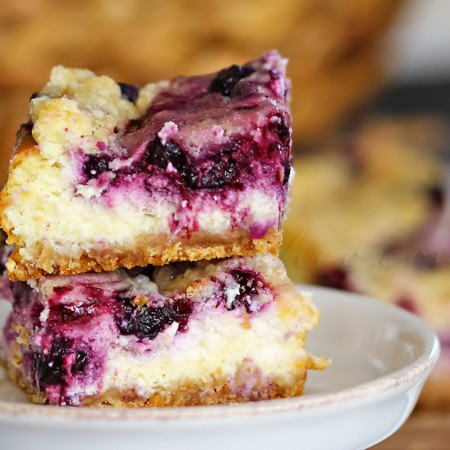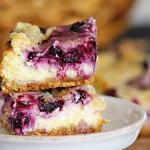 Blueberry Cheesecake Bars : Yummy Bar Recipes
Ingredients
12 oz. cream cheese
½ c. sour cream
½ c. sugar
2 eggs
½ tsp. salt
1½ tsp. vanilla
Blueberry Mixture
2 cups blueberries
2 tsp. sugar
2 tsp. all-purpose flour
1 tbsp. fresh lemon juice
Vanilla Wafer Crust:
2-2/3 cups Vanilla Wafer cookies finely crushed
1 tbsp. sugar
1-1/2 tsp vanilla extract
4 tbsp. ½ stick butter, melted & cooled
Instructions
Preheat oven to 325 degrees.

Line an 8×8 square baking pan with parchment paper

In a medium size mixing bowl combine crust ingredients & mix until combined, then press into prepared pan, creating an even layer.

Place in oven and bake for 10-12 minutes.

Remove and allow to cool while preparing the remaining components.

In a small mixing bowl, combine all blueberry ingredients, toss gently to combine, set aside.

In mixer bowl, beat together cream cheese, sour cream and sugar until smooth. NOTE: it's imperative that the cream cheese, sour cream and eggs are at room temperature,to avoid clumpy batter

On low, add vanilla, salt and eggs.

Mix until just combined

Pour the cheesecake batter over the baked crust.

Spread evenly with a spatula.

Carefully top with blueberry mixture

Place in oven and bake for 40-50 minutes or until the cheesecake has set and the crumble is lightly golden brown in color. (use the toothpick test - when it's almost completely clean - it's done)

Remove from oven and allow to cool until it reaches room temperature.

Place in refrigerator and chill for at least 3-5 hours before removing, cutting and serving.
Looking for more Yummy Bar Recipes? How about some more with blueberries?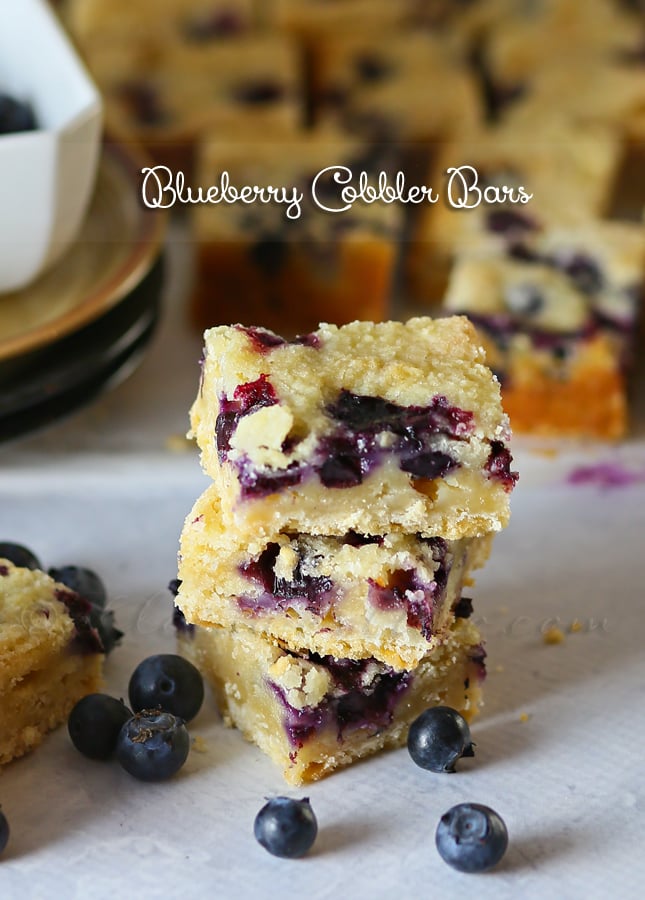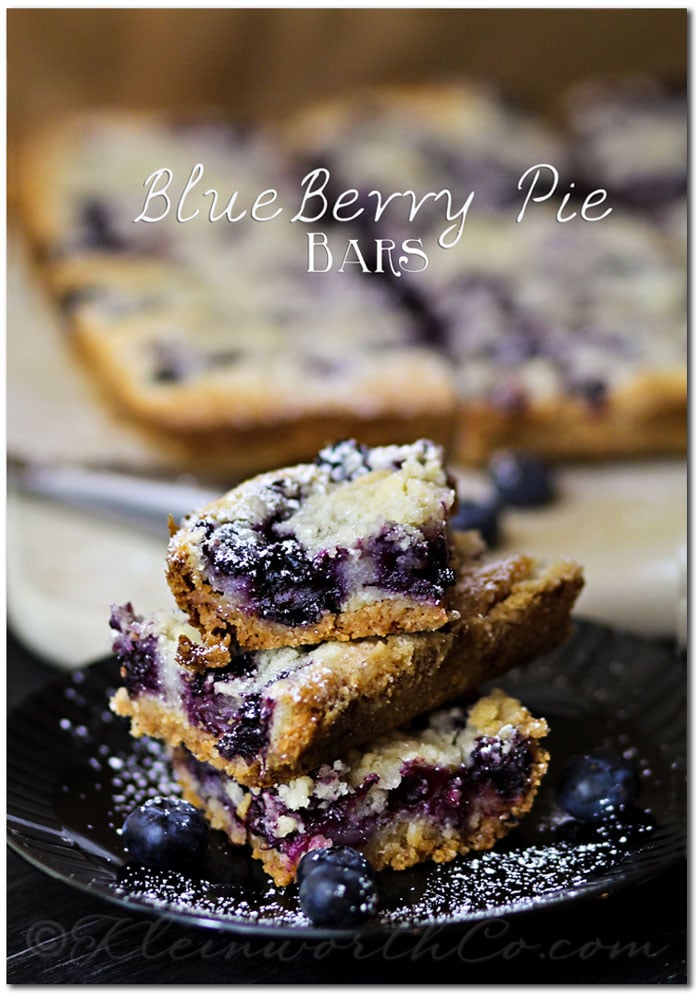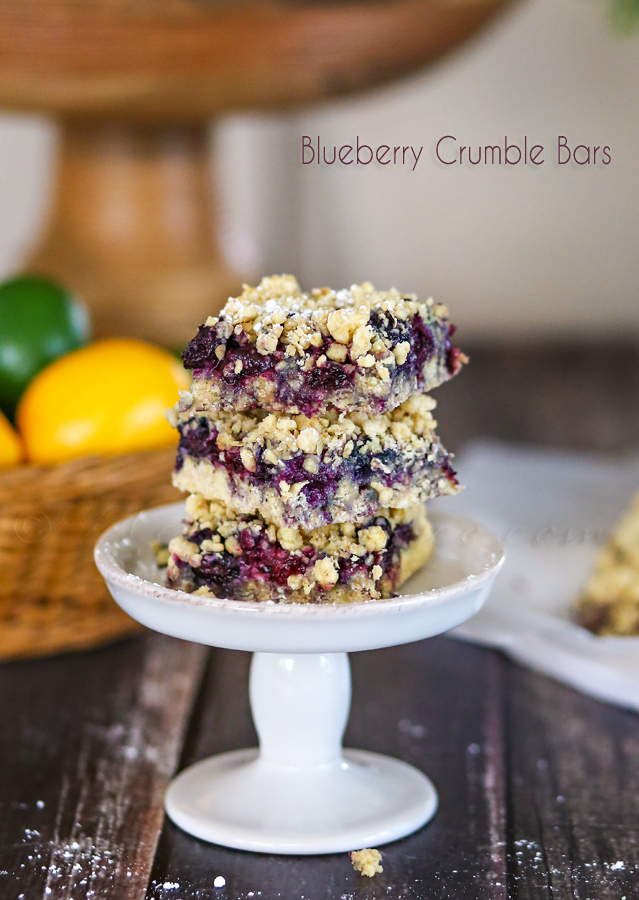 To see where I am linking today- visit HERE