White Chocolate Macadamia Nut Blondies are a yummy bar recipe that is so simple to make. Soft & chewy like your favorite cookie only in an easy bar recipe.
Oh it's been so long since I made blondies.
Yummy Bar Recipes have been my "go-to" treat around here lately – just not blondies yet.
Most nights I sift through my recipes to pull out the ones I would like to make & share with you all.
These White Chocolate Macadamia Nut Blondies topped the list.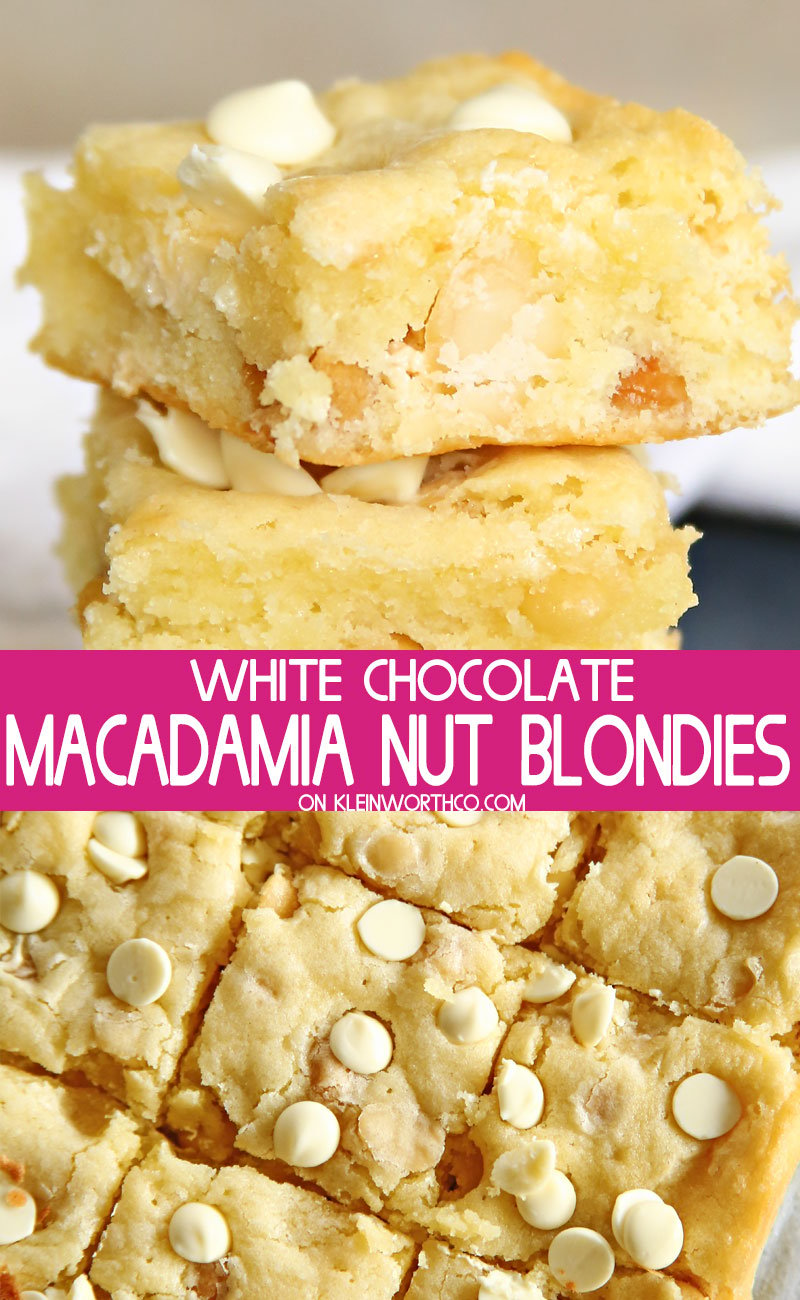 I usually have a pile for just regular weekly recipes to keep us all nourished & then the ones I want to share here. Sometimes they mix together – sometimes not.
It's just how it goes sometimes.
Blondies Recipe
This post contains some affiliate links. Click here to read my full disclosure policy.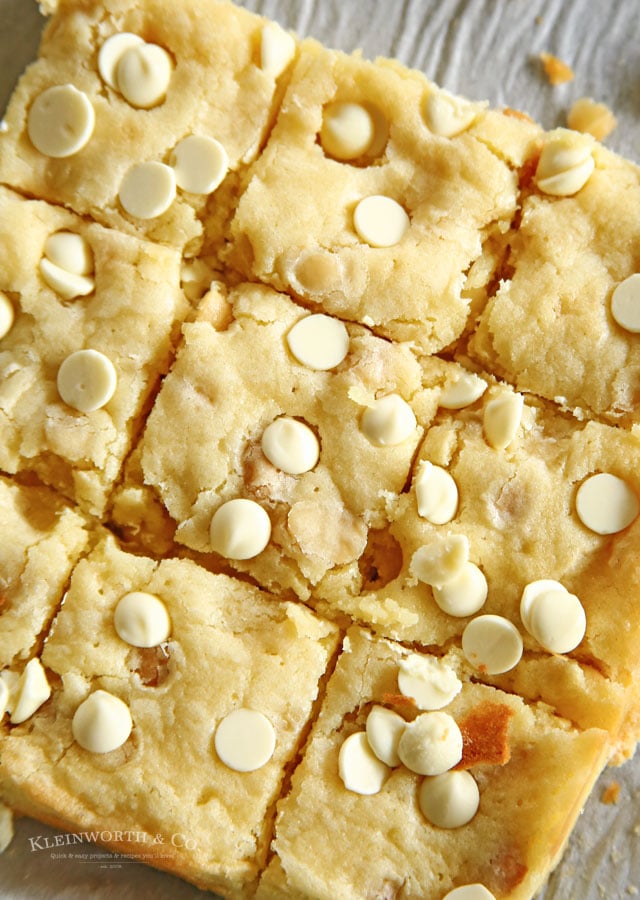 But I came across my old recipe for blondies & knew I really wanted to make some – but I wanted them to have something more exciting about them than just the standard blondie recipe.
So I decided to add my favorite cookie combo to the mix & create these White Chocolate Macadamia Nut Blondies.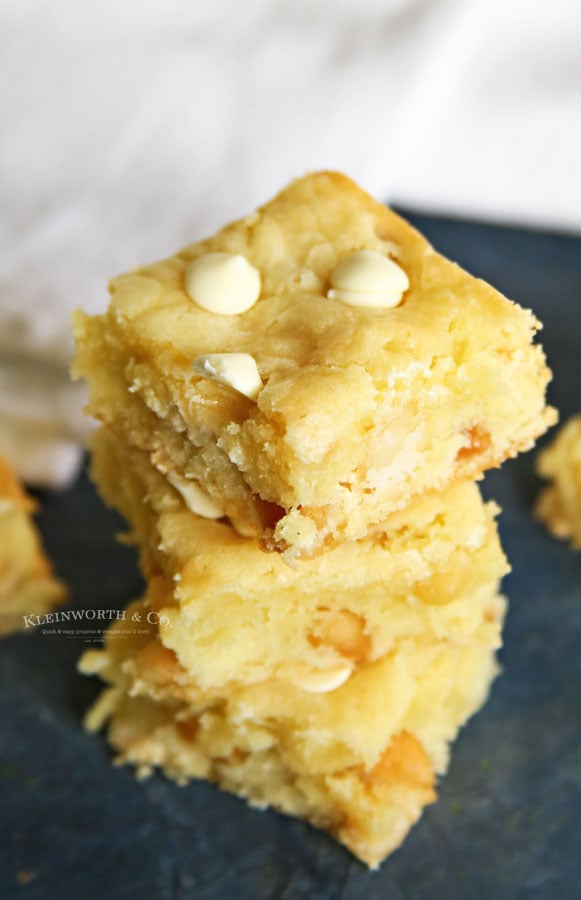 Here are some commonly asked questions
Why does this recipe call for white chocolate candy melts and white chocolate chips?
I personally like to have a larger piece of melty white chocolate when I bite into the blondie. So I find that the candy melts not only offer that, but they also do exactly what they are intended to do- melt.
Unlike a chocolate chips, which are intended to keep their shape, the melts actually melt nicely when heated & leave little pockets of white chocolate deliciousness in each bite.
Can I add toasted coconut to this recipe?
I have seen many recipes that do include coconut or toasted coconut. You can absolutely do that.
I would suggest either mixing it into the batter before baking or adding to the top in the last 5 minutes of the baking process so that the coconut doesn't get overly toasty.
HOW DO YOU MAKE White Chocolate Macadamia Nut Blondies
Preheat oven to 350 degrees.
Line 8×8 pan with parchment.
Add butter & sugar to a mixer bowl & mix until creamy.
Add eggs & almond extract, mixing well.
Mix in flour & salt slowly.
Fold in white chocolate candy melts & nuts.
Spoon the mixture into prepared pan & spread into an even layer.
Bake.
Top with white chocolate chips immediately after removing from oven.
Cool completely at least 1 hour before cutting.
Store in an airtight container at room temperature.
White Chocolate Macadamia Nut Blondies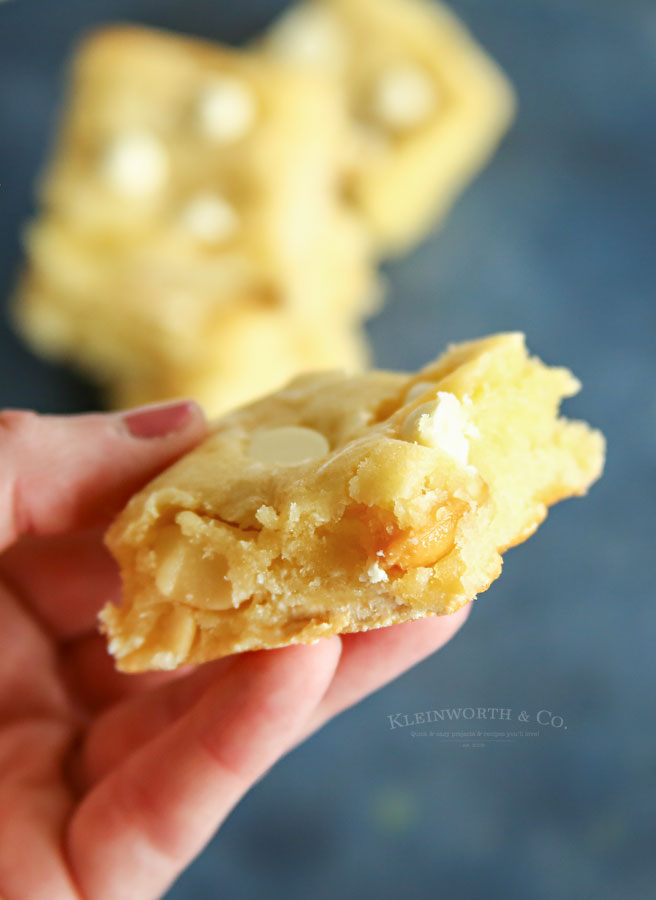 To make this recipe you will need…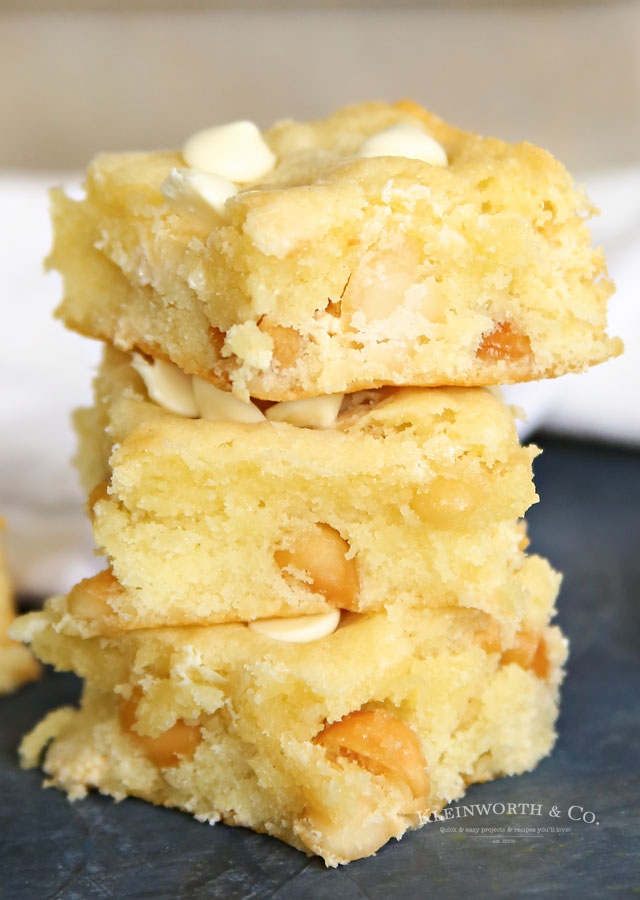 Anything white chocolate macadania nut is a big hit in this house. We all go nuts for the combo. So these were definitely one of those treats that didn't last long.
I can't blame them – they are pretty darn good. I mean white chocolate & macadamia nut anything is delicious.
The best blondie recipe – ever!
Scroll to the bottom for the Printable Recipe
Best White Chocolate Macadamia Nut Recipe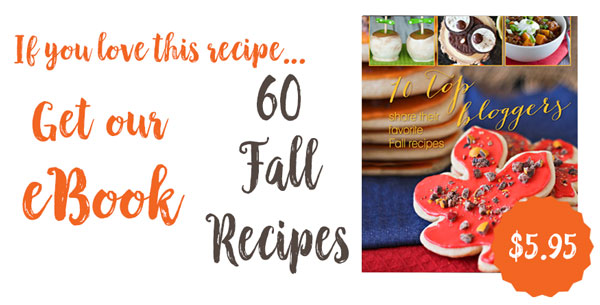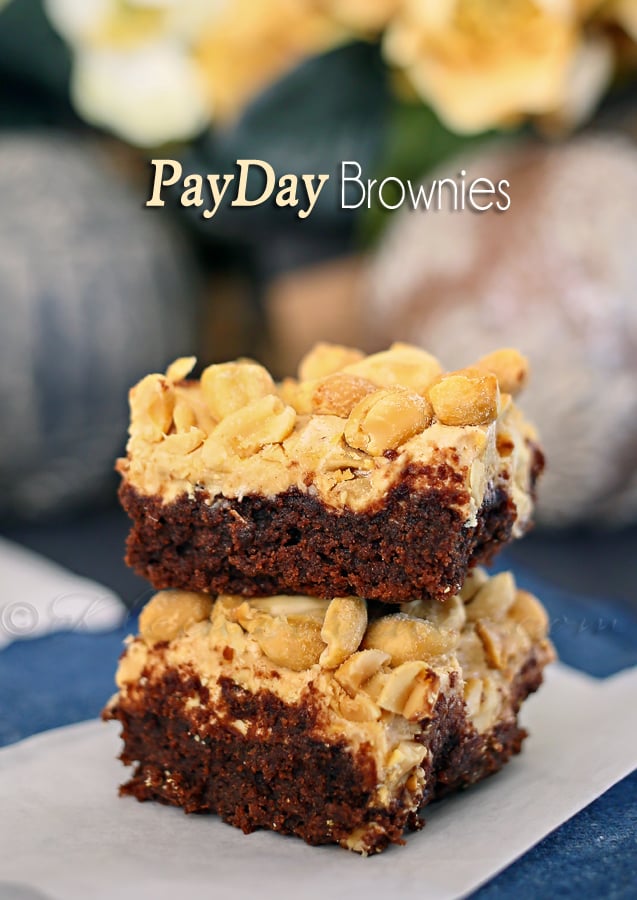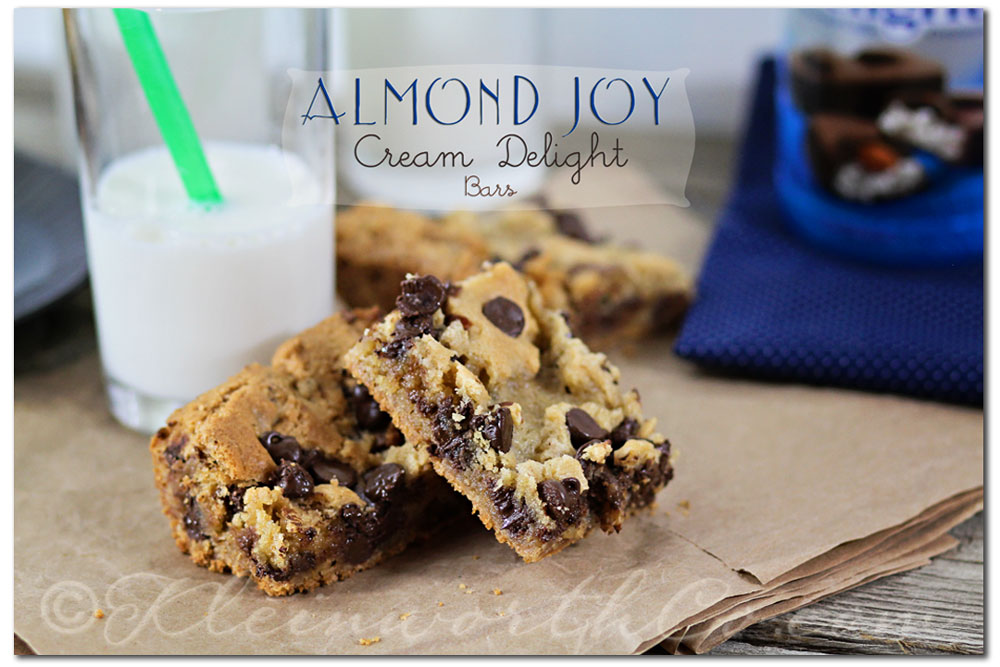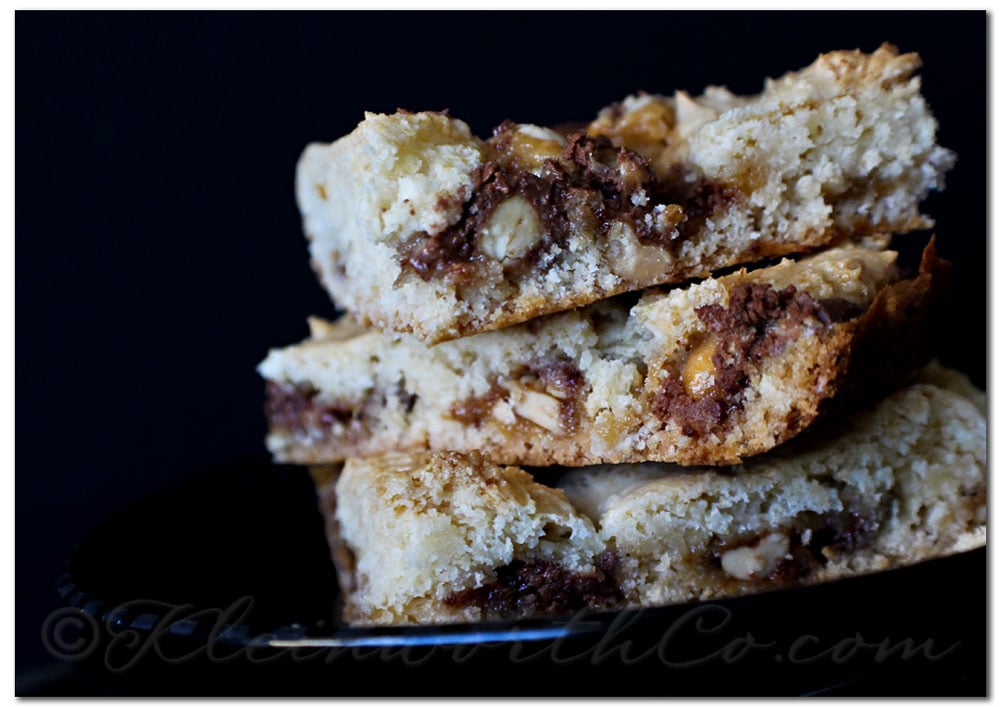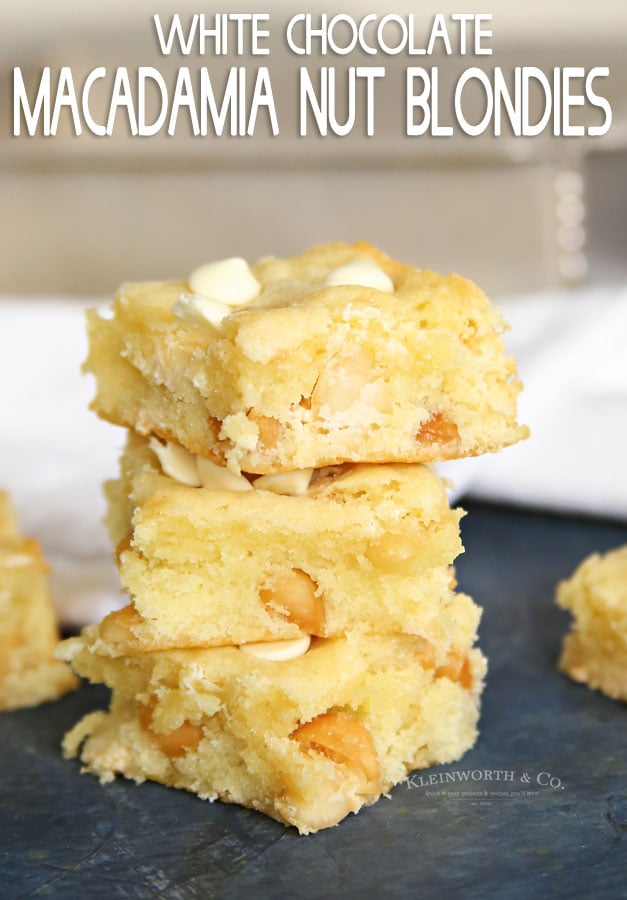 White Chocolate Macadamia Nut Blondies
White Chocolate Macadamia Nut Blondies are a soft & chewy bar recipe loaded with white chocolate melts, macadamia nuts & white chocolate chips. You can't go wrong with these.
Servings: 16
Ingredients
1/2 cup butter 1 stick- room temperature
3/4 cup granulated sugar
2 large eggs
1/4 tsp almond extract
1 cup all-purpose flour
1/4 tsp salt
1/2 cup white chocolate candy melts
1/4 cup white chocolate chips
1 cup macadamia nuts chopped
Instructions
Preheat oven to 350 degrees

Line 8x8 pan with parchment - set aside

In mixer bowl - add butter & sugar & mix until creamy

Add eggs & almond extract, mixing well - scrape down bowl as needed

Mix in flour & salt slowly

Fold in white chocolate candy melts & nuts

Spoon the mixture into prepared pan & spread into an even layer

Bake 25-30 minutes or until toothpick test is clean

Top with white chocolate chips immediately after removing from oven.

Cool completely at least 1 hour before cutting

Store in an airtight container at room temperature
Don't miss these great ideas from these bloggers….
Brookies | Baker by Nature
Super soft and chewy brown sugar cookies | Sally's Baking Addiction