At our house we'll put our smoker to good use at any opportunity we get, from making brisket or turkey to veggies. But since we have an avid hunter or two in our family, we've really come to love making smoked venison.
Venison is an extremely lean meat so preparing it well can sometimes require some skill. However, smoking it is probably the easiest way to get the best results — especially for a crowd.
PIN NOW TO SAVE FOR LATER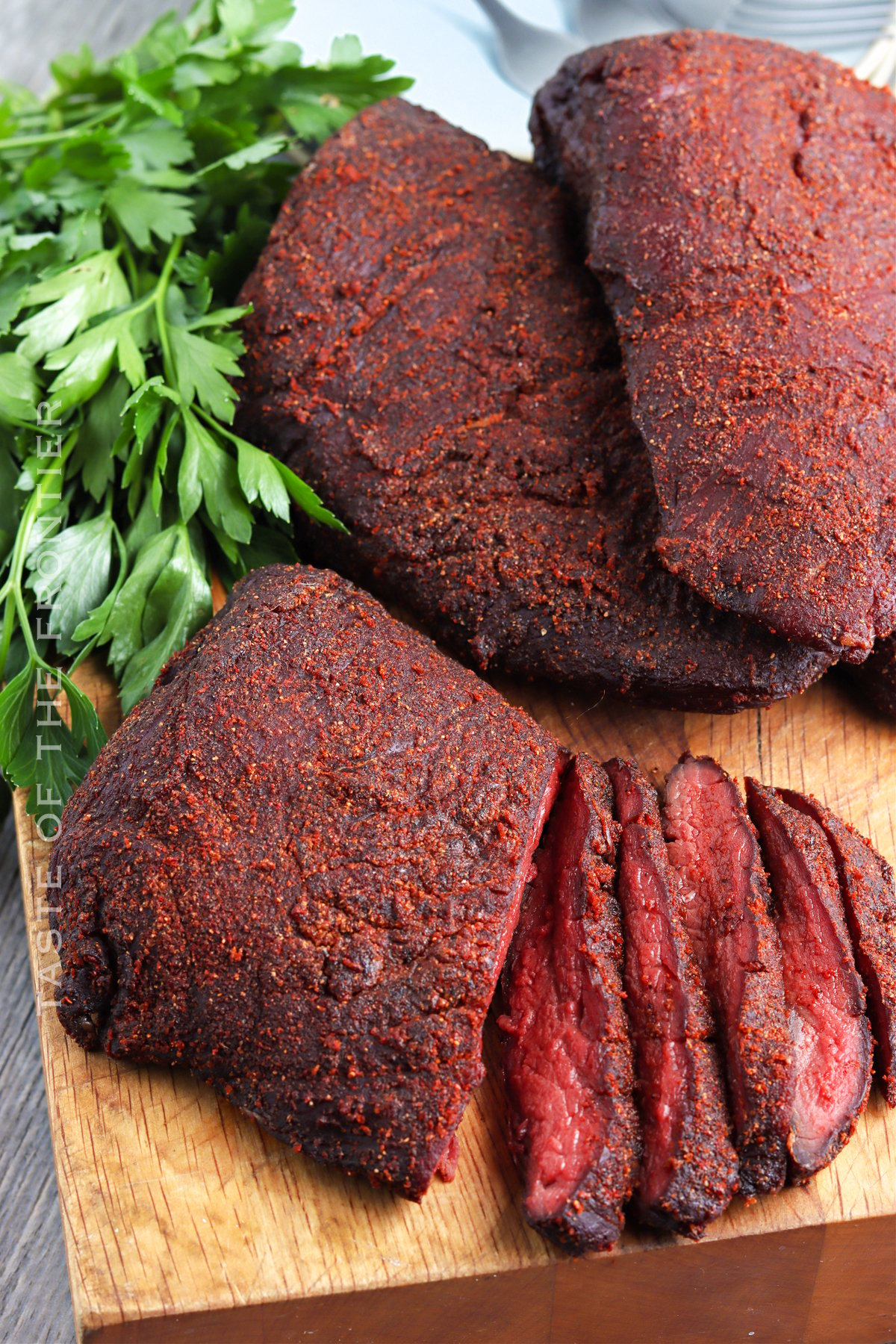 There are lots of tips and tricks people may share (we have a few ourselves, below) for making the best venison, but when you're smoking it, one of the top things to remember is to use the best wood. Fortunately, when you're smoking deer meat you have a few options — oak, walnut, and hickory wood are all great but you can also impart some sweetness with apple or cherry wood.
If this is your first time preparing venison, this is an easy recipe that will have you excited to start preparing wild game regularly. Meanwhile, if you've cooked wild game before but haven't smoked it, you're in for a treat.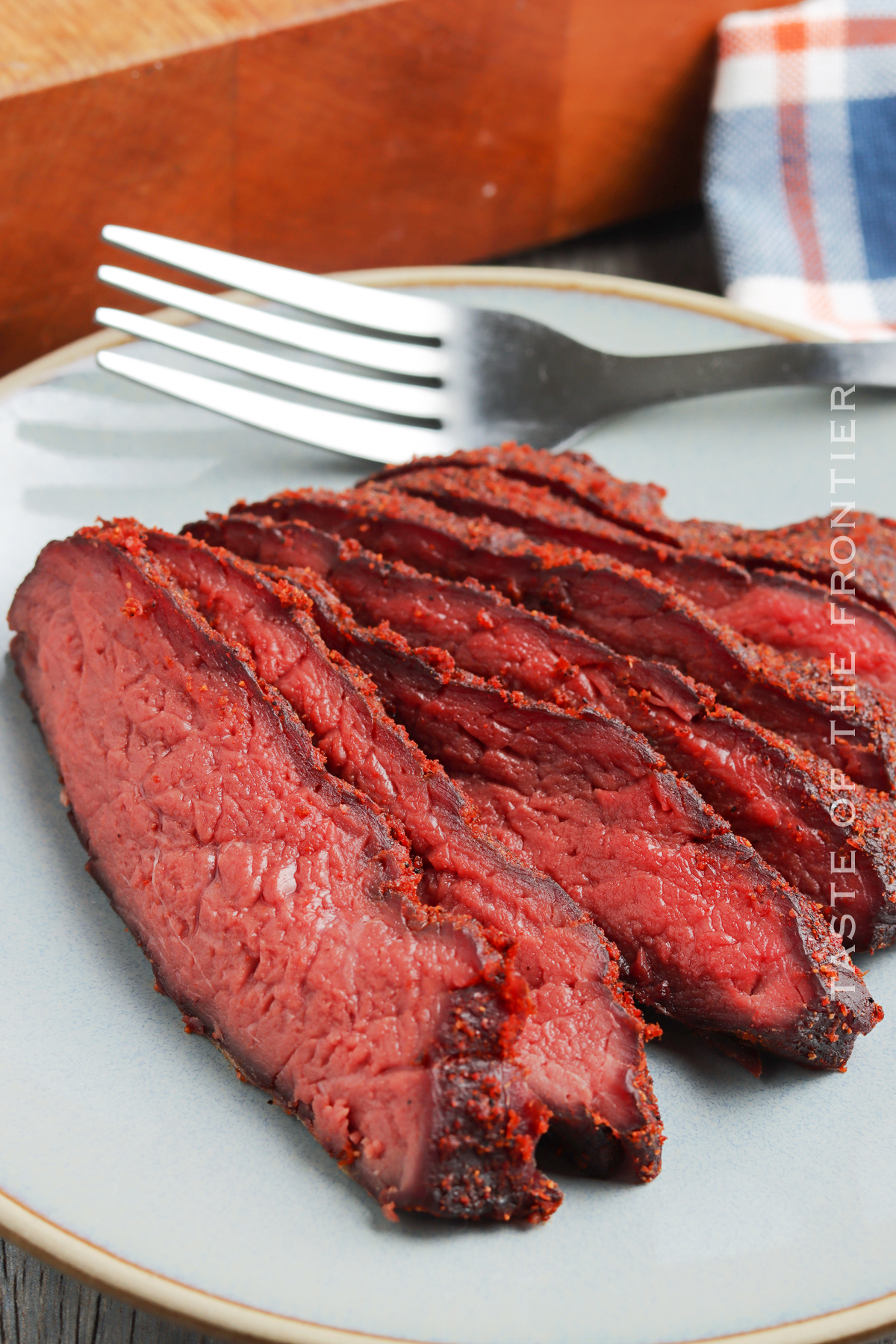 Common Questions about Smoked Venison
How long should I smoke venison?
Whether you're making a roast, venison sausages, or venison steaks, the meat should generally be smoked, overall, for about 2 hours or more but the length does depend on the weight of the meat. The best way to judge if venison is finished is using a meat thermometer to ensure the meat does not cook beyond a 140 degree Fahrenheit internal temperature.
Is venison good when it's smoked?
You can prepare venison in a variety of ways from roasting to making deer jerky. However, smoking is a great way of preparing it. Just like any meat, the low and slow cooking brings out its flavors while the smoker imparts all of that delicious smokiness.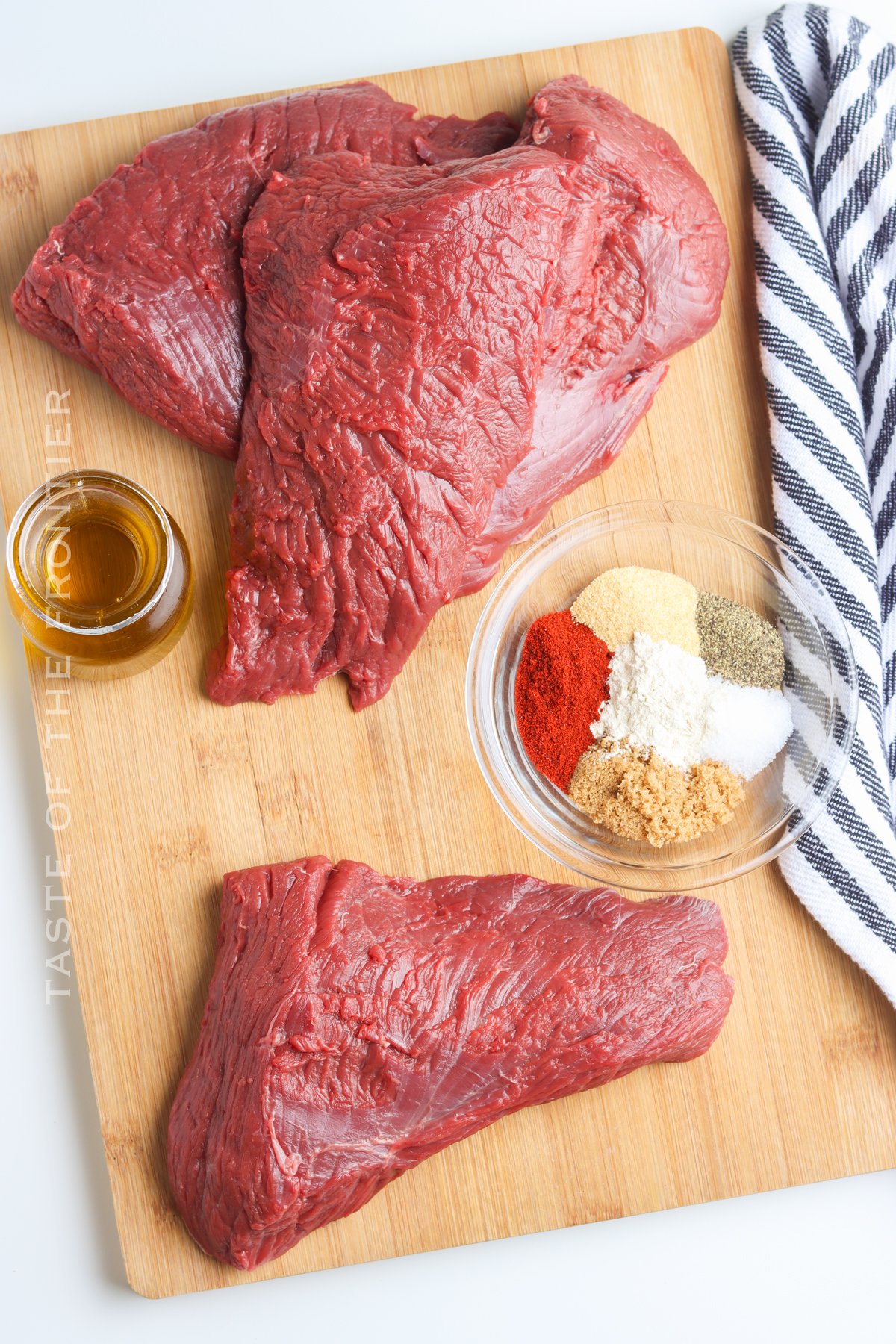 Can venison be overcooked?
Venison can absolutely be easily overcooked and it's important to avoid that since it will become rubbery. Keeping a careful eye on the temperature of the meat, ensuring the internal temperature does not exceed 140 degrees Fahrenheit, is crucial.
Making Smoked Venison Ahead of Time
You can prepare the roast for smoking up to 24 hours ahead of time by applying the oil and seasonings and then refrigerating.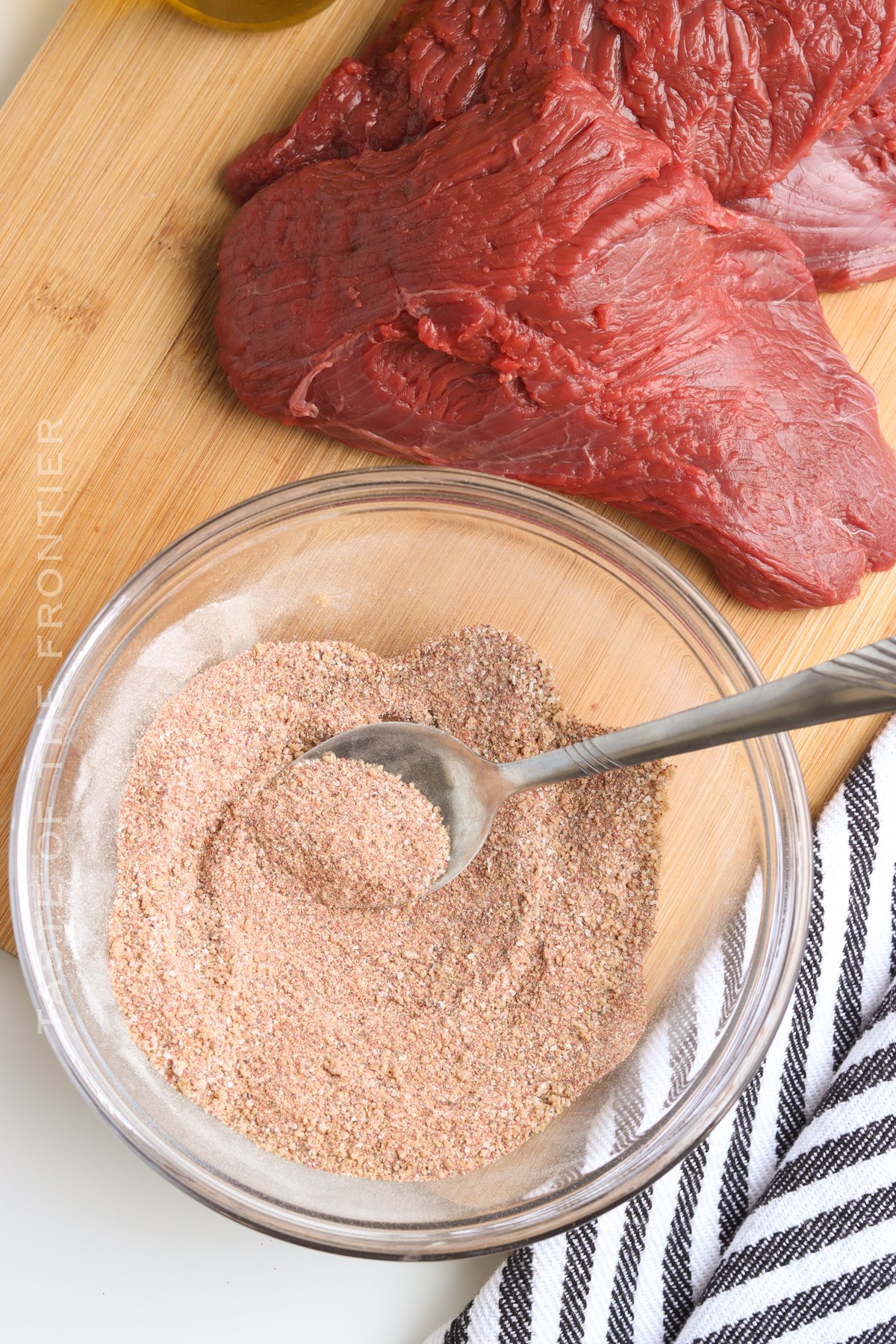 Storage
Storing smoked venison is as easy as any other meat whether you choose the fridge or freezer.
Refrigerator: Keep smoked venison stored in the refrigerator for up to 4 days. You can either slice it and package it in individual ziploc bags or in an airtight container.
Freezing: Freeze venison for up to 3 months. You can wrap the entire roast in plastic wrap or store slices in a freezer-safe container.
Tips For The Best Smoked Venison
While this recipe is guaranteed to get you fantastic results, there are a few things to keep in mind when smoking venison.
If you have a built-in water pan in your smoker, or a way to introduce one, it can help to keep meat moist while smoking.
While it may be tempting to dig right into a piece of meat when it comes off the smoker, it's important to let it rest before slicing. Tent the roast with aluminum foil and allow at least 15 minutes to let the juices settle — this results in the most tender slices of venison.
Removing the fat and silver skin from venison meat will help retain the natural taste of the venison. Leaving it on can result in a gamey flavor and even risk a flare-up in your smoker.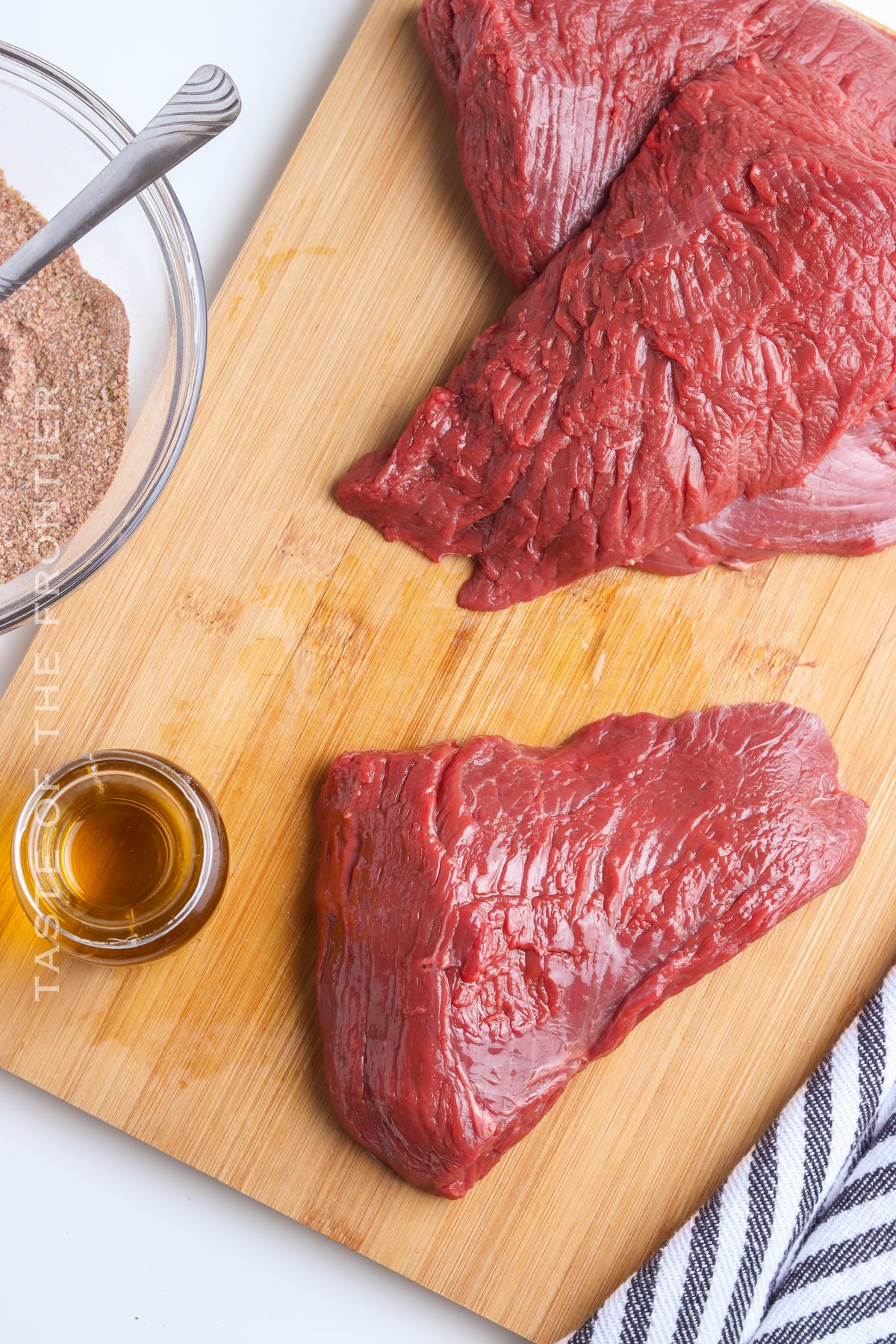 Ingredients
One of the best things about smoked venison is how few simple ingredients are necessary to make a delicious roast.
Venison roast of your choice (we used tri-tip)
Sea salt (fine)
Garlic powder
Onion powder
Paprika
Black pepper
Olive oil
Kitchen Supplies You'll Need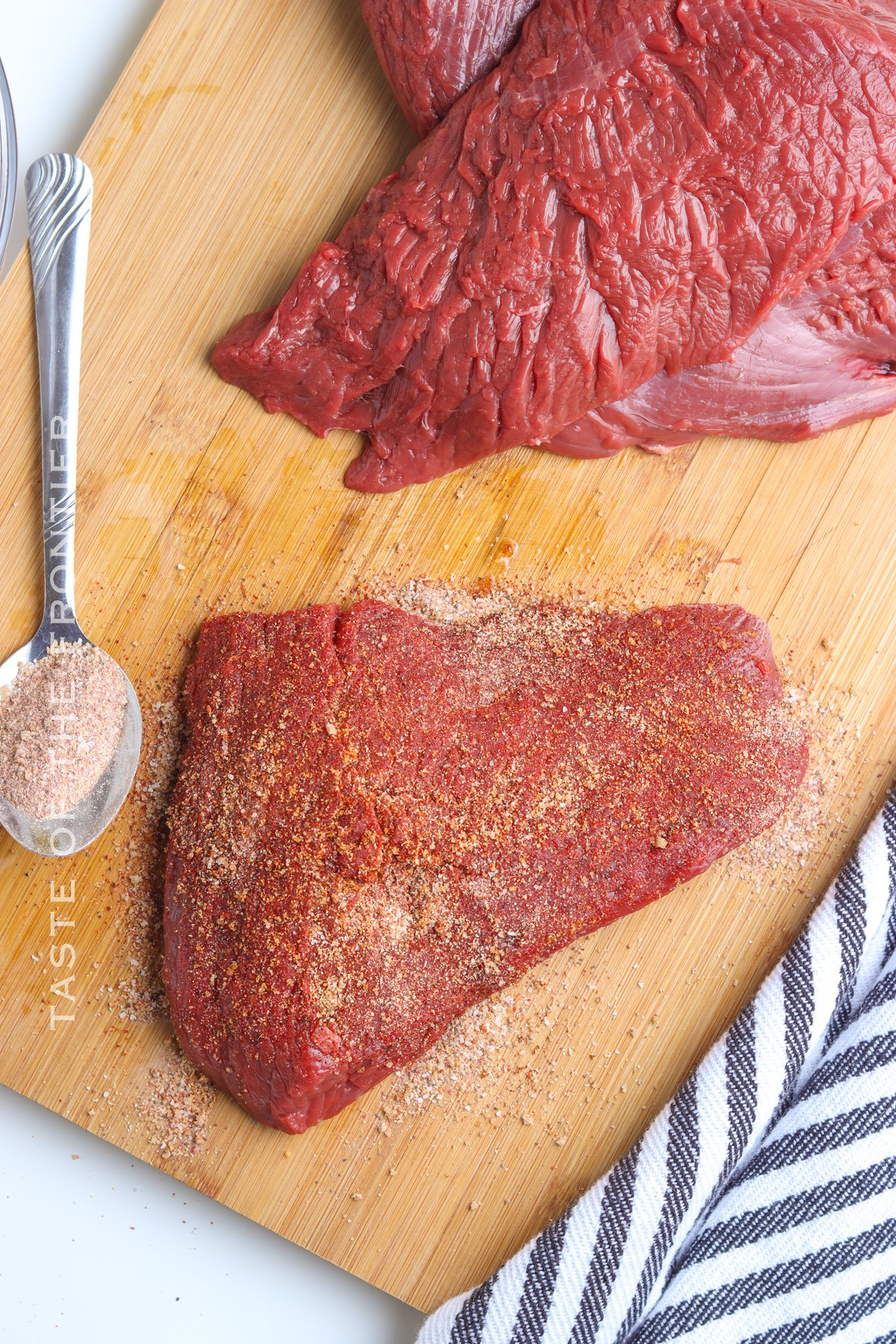 How to Make Smoked Venison
Making smoked venison requires only a few brief steps to prepare before smoking.
Before doing any other prep work, the first thing you'll want to do is use a sharp knife to remove the excess fat and silver skin from the venison roast.
Then, pour the brown sugar, garlic powder, paprika, salt, onion powder, and pepper into a small bowl.
Using a fork or a small whisk, mix the dry ingredients together thoroughly until completely combined.
Use your hands to cover all sides of the roast with a light coating of olive oil.
Then, press the dry rub into the olive oil-coated roast, ensuring that all sides are covered.
Allow the meat to absorb the oil and seasonings in the refrigerator.
Using tongs, place the roast directly on the grill grates of the preheated smoker.
Allow the roast to cook until it reaches the desired initial internal temperature.
Adjust the smoker temperature from the high heat to a low temperature and continue to smoke.
Once it reaches the final upper threshold of medium-rare doneness, remove the venison roast from the smoker.
Place the roast on a cutting board to come closer to room temperature.
Once you've let the meat rest, cut into thin slices and serve.
What to Serve With Smoked Venison
Smoked venison is a treat as the main dish, but you'll likely want to add some sides that go well with all of that smoky flavor. Here are a few ideas of what to serve with your venison recipes.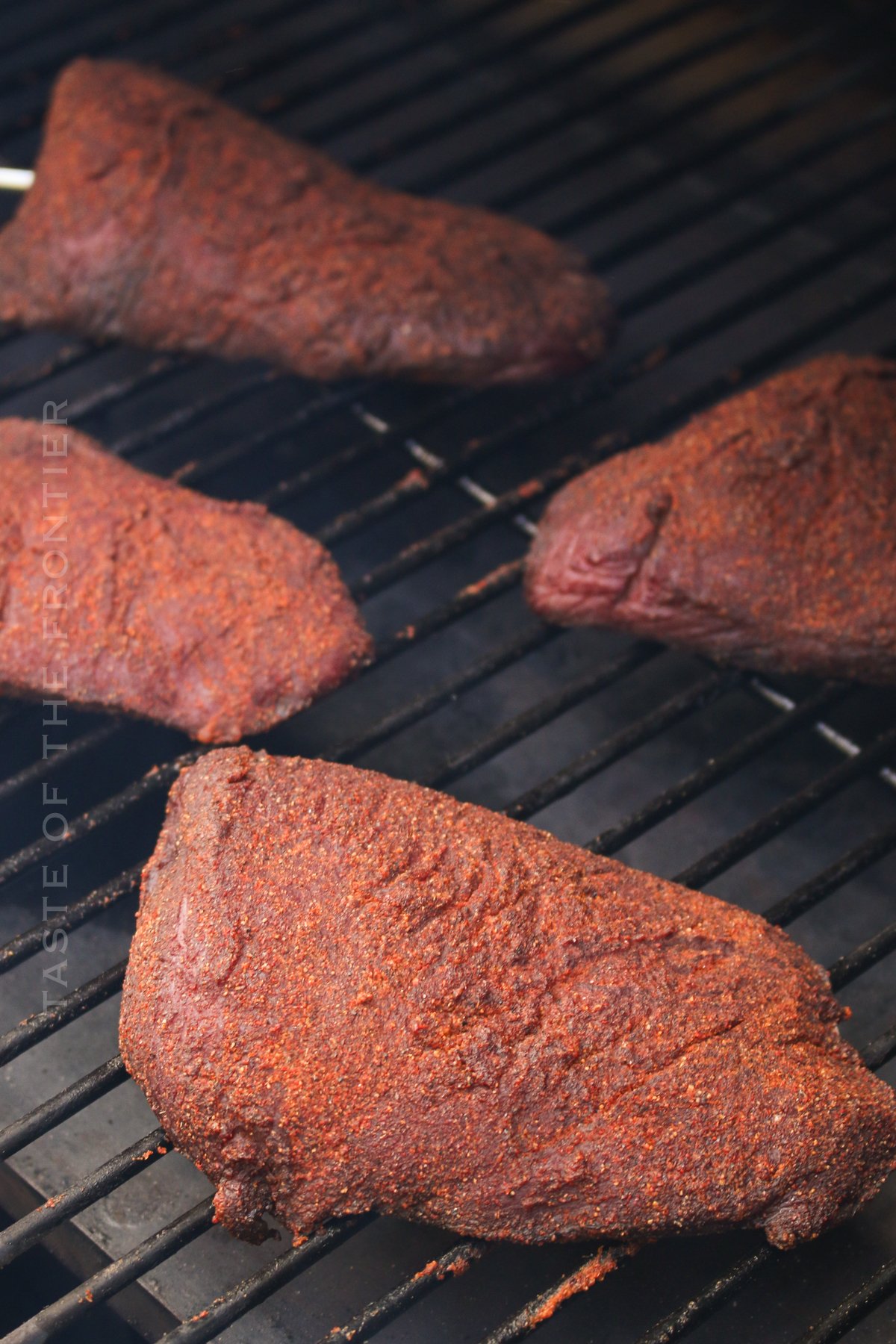 Why You Should Make This Recipe
Convenient – All of the spices (and the oil) are likely already in your pantry. Plus, the vast majority of total time invested in this dish is in the refrigeration and the smoking so you have all the time to prepare other dishes to go with it.
Simple – It takes just a few steps to prepare this easy dish.
Fast prep– While it takes a couple of hours to refrigerate the venison, and then the smoking process takes a bit too, it requires only a few minutes to prepare it. The fast prep time makes it as perfect for a party as it is for a casual family meal.
Different – Beef, pork, and chicken are commonplace main dishes. Venison is a little less prevalent so it's a treat for family dinners or social gatherings.
Variations and Add-ins
While this is a simple recipe you can dress it up however you like!
Umami – Add some earthy flavor by using soy sauce or Worcestershire to the rub before smoking.
Heat – Try crushed red pepper flakes, cayenne, or your favorite hot sauce to bring some heat to the roast.
Spices – Experiment with other spices that work well with meat like cumin or curry powder.
Herbs – Incorporate rosemary, thyme, or sage into the rub for an aromatic flavor.
Vinegar – Add balsamic vinegar to the rub — the vinegar will help to tenderize the meat but using balsamic means adding a little sweetness too.
Bacon – Everything tastes better with bacon! Use bacon fat to coat the roast for added moisture and flavor.
Buttermilk – Soaking the venison in buttermilk for 24 hours can help to make it moist and eliminate elements of gaminess.
Citrus marinade – Try spreading lemon or other citrus fruit juice on the surface of the meat, along with accompanying flavors, to help tenderize the meat and bring a brightness of flavor.
Wine – Mix the seasonings with the red wine and pour over the roast for a marinade that will tenderize and add rich flavor.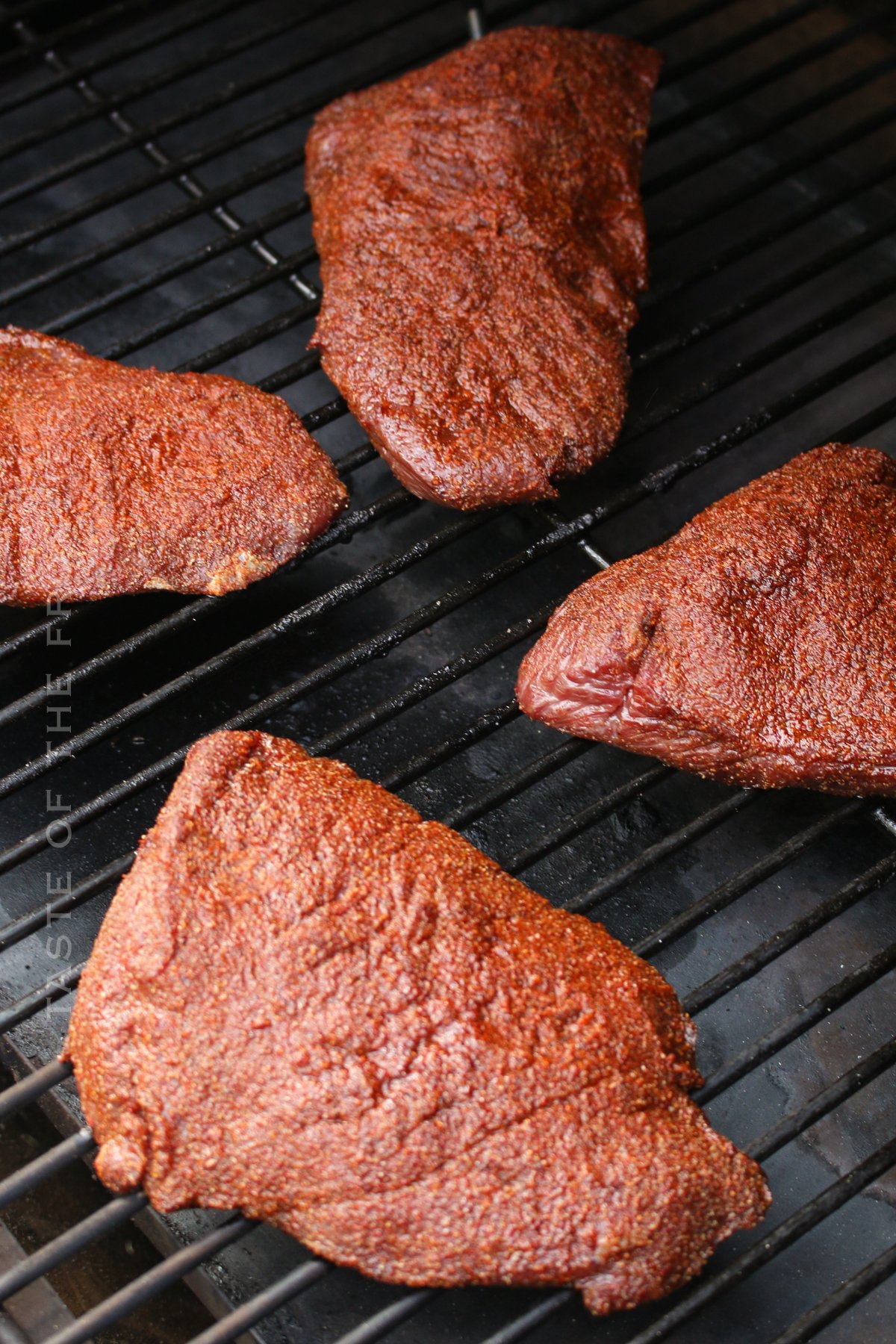 ---
If you love this easy smoked venison recipe, you're going to love these other smoker recipes too. Please click each link below to find the easy, printable recipe!
Smoked Olives
Up your appetizer game and serve Smoked Olives. They're easy to make and with that delectable smoky flavor, they are a real crowd pleaser! Great for holiday parties, game days, and so much more.
Check out this recipe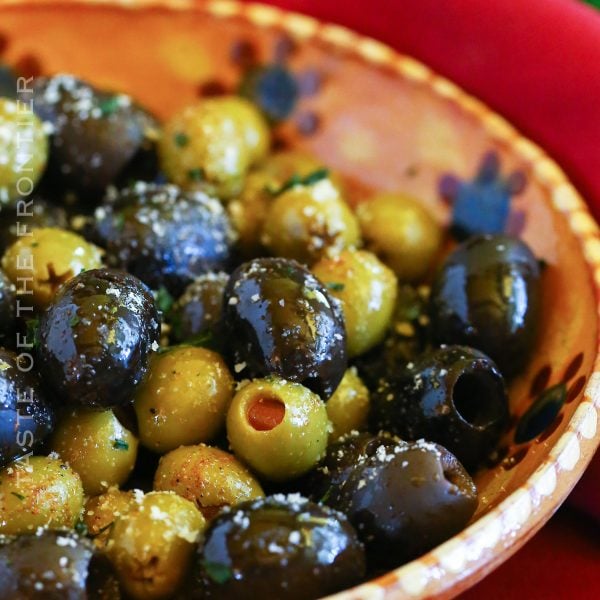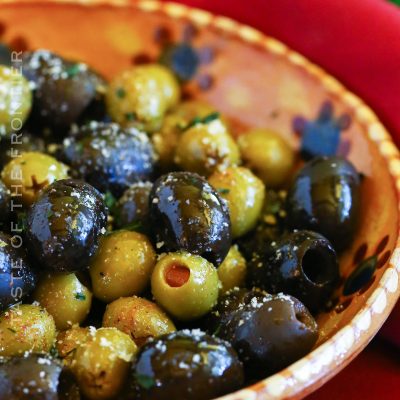 Smoked Queso Dip
Break out the Traeger for this easy, cheesy party snack – Smoked Queso Dip. It's simple to make and the smoky flavor is INCREDIBLE.
Check out this recipe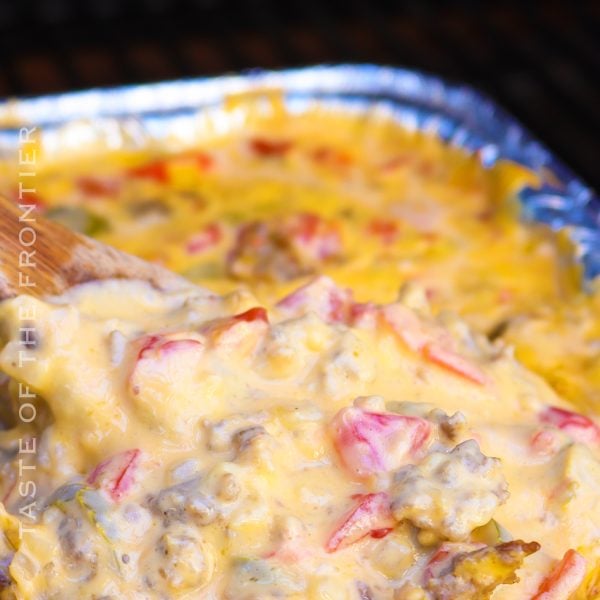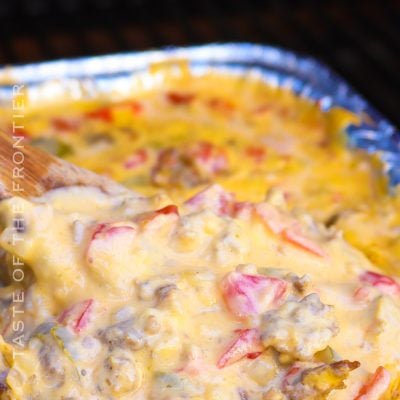 Smoked Beef Brisket
Smoked Beef Brisket is a classic barbecue dish that is perfect for summer cookouts. Traeger pellet grills make it easy to get the perfect smoke flavor, and the results are juicy and delicious. Here's how to make smoked beef brisket on your Traeger grill.
Check out this recipe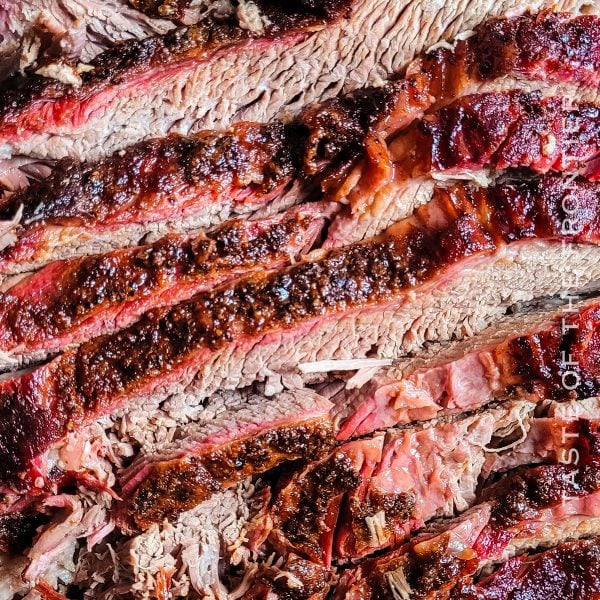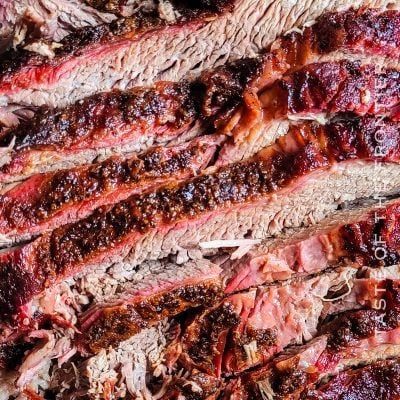 Smoked Cream Cheese
Smoked Cream Cheese is perfectly seasoned, and smoked over low heat with a touch of applewood. It's the perfect addition to any hors d'oeuvre tray, or it can be used as a dip for chips or fresh vegetables.
Check out this recipe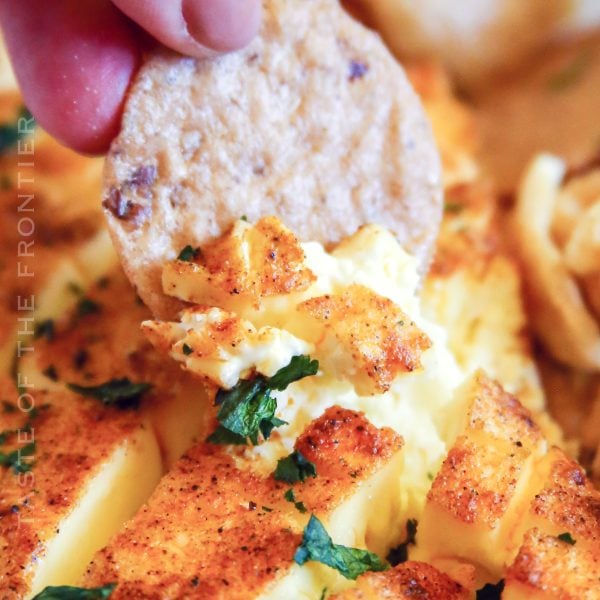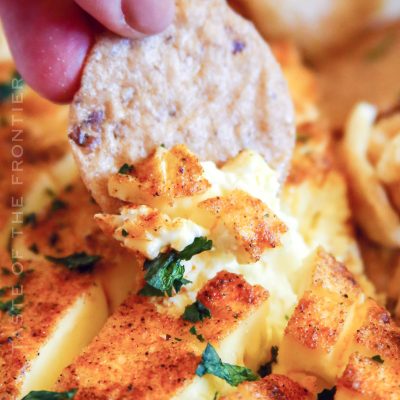 Traeger Smoked Chicken Thighs
Traeger Smoked Chicken Thighs are the perfect summertime BBQ dish. They're juicy, flavorful, and easy to make. Everyone loves them!
Check out this recipe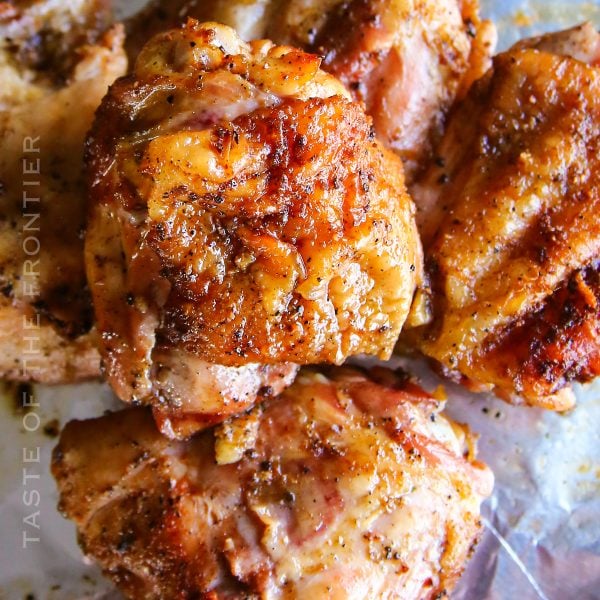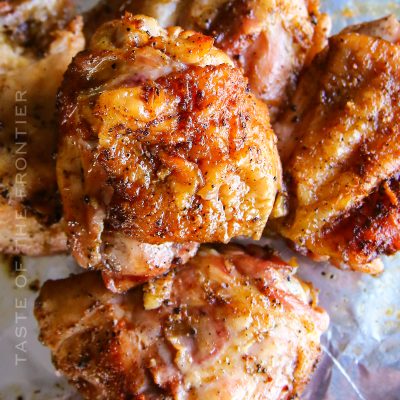 Smoked Tri-Tip Roast
Smoked Tri-Tip Roast is flavorful, tender, and juicy and is perfect for the Traeger. Great for backyard BBQs, summer gatherings, and more!
Check out this recipe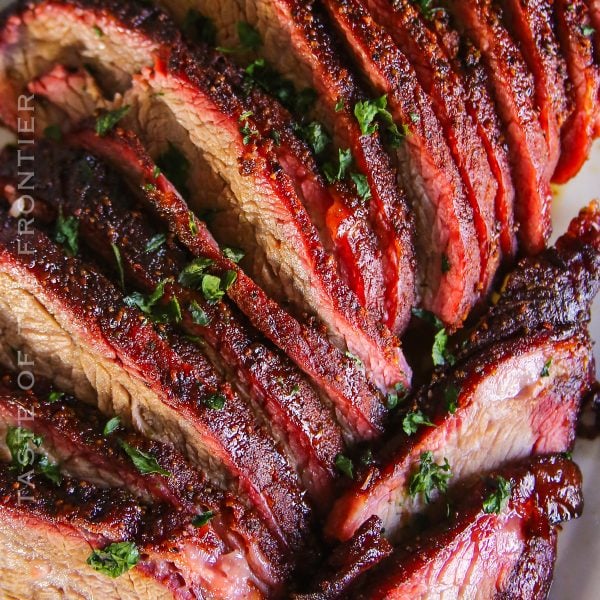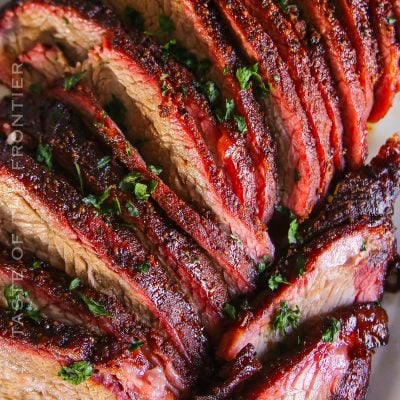 Other Smoked Dishes
Traeger Smoked Spatchcock Turkey
---
If you love this recipe for Homemade Smoked Venison as much as I do, please write a five-star review, and be sure to help me share on Facebook and Pinterest!
---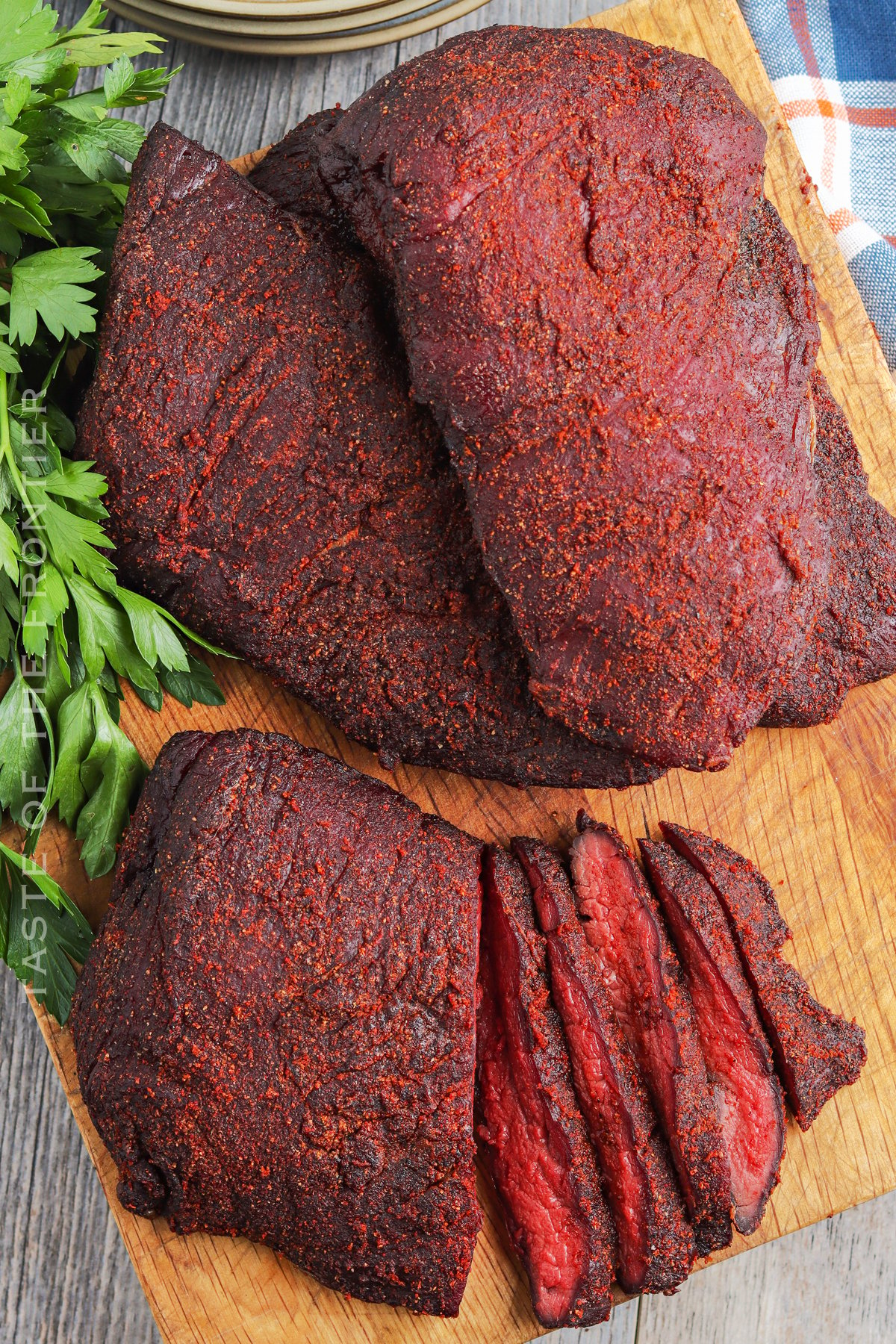 ---
CONNECT WITH TASTE OF THE FRONTIER!
Be sure to follow me on my social media, so you never miss a post!
---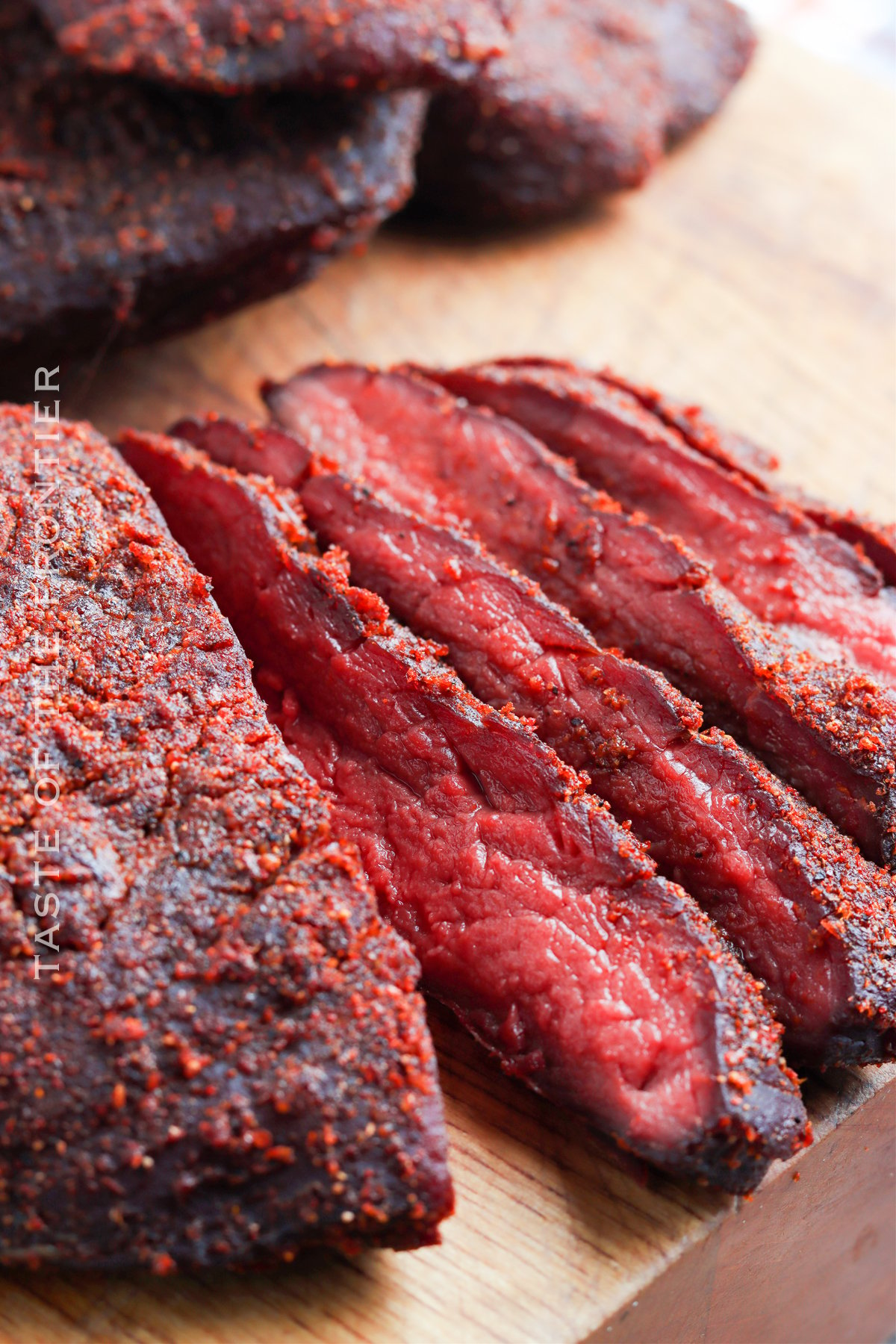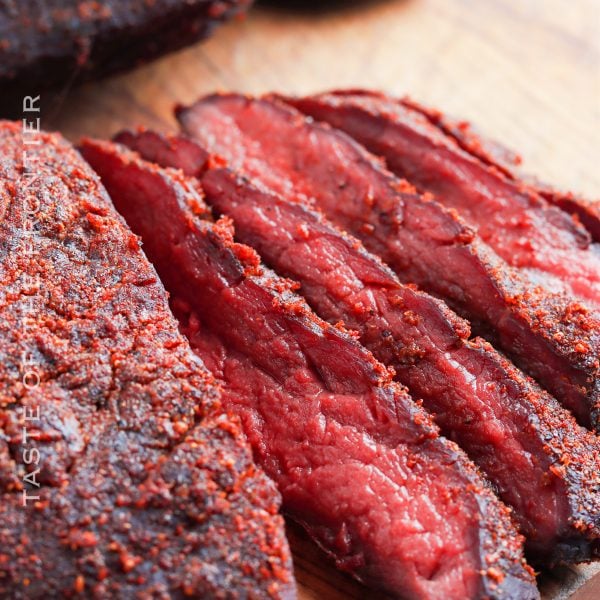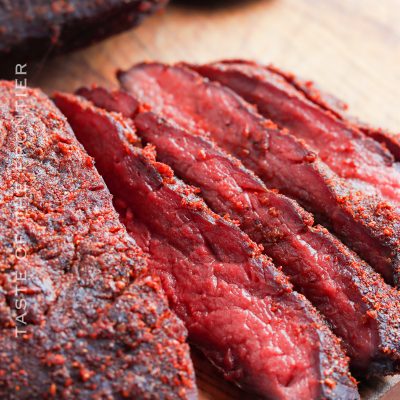 Rate this Recipe
Smoked Venison Roast
If you're looking for an easy family dinner or a way to please a crowd with a fairly unique and flavorful dish, this smoked venison is it.
Ingredients
8

pounds

venison roast

of your choice – We used Tri-tip

5

teaspoons

brown sugar

3

teaspoons

sea salt

fine

2

teaspoons

garlic powder

2

teaspoons

onion powder

2

teaspoons

paprika

1

teaspoon

black pepper

1

tablespoon

olive oil
Instructions
Remove any silver skin or excess fat from the roast.

Combine the spice rub ingredients, (brown sugar, salt, garlic, powder, onion powder, paprika, and pepper) in a small bowl. Mix.

Lightly coat the roast with olive oil and sprinkle the dry rub on all sides of the roast.

Place it in the refrigerator for at least 2 hours.

Preheat the smoker to 225° F.

Place the seasoned roast into the smoker directly onto the grates.

Close the lid and smoke until the internal temperature reaches to 130° F.

Turn the smoker temperature down to 180°F and smoke for an additional ½ to 1 hour.

Do not let the internal temperature go over 140°F.

Remove and allow it to rest for 15 minutes before slicing.

Serve immediately after slicing.

Store any leftovers in the refrigerator.
Nutrition
Serving:
1
serving
|
Calories:
91
kcal
|
Carbohydrates:
4
g
|
Protein:
12
g
|
Fat:
3
g
|
Saturated Fat:
0.2
g
|
Cholesterol:
36
mg
|
Sodium:
959
mg
|
Potassium:
23
mg
|
Fiber:
0.2
g
|
Sugar:
3
g
|
Vitamin C:
2
mg
|
Calcium:
6
mg
|
Iron:
0.1
mg
|
Net Carbohydrates:
3
g
Nutritional information for the recipe is provided as a courtesy and is approximate. Please double-check with your own dietary calculator for the best accuracy. We at Taste of the Frontier cannot guarantee the accuracy of the nutritional information given for any recipe on this site. Erythritol carbs are not included in carb counts as it has been shown not to impact blood sugar. Net carbs are the total carbs minus fiber.
Love this recipe?
Follow @KleinworthCo for even more tasty recipes!
Reader Interactions