This delicious fig butter couldn't be easier to make with the help of the slow cooker. Just toss all the ingredients in and let it cook for several hours. This easy fig jam is perfect for any breakfast meal.
For the longest time I have been craving fig butter. I have searched the stores high and low for figs – never resulting in what I was after.
Must not have been the season. When the hubs came home from Costco the other day he surprised me with a huge container of figs. I was so thrilled.
Scroll to the bottom for the Printable Recipe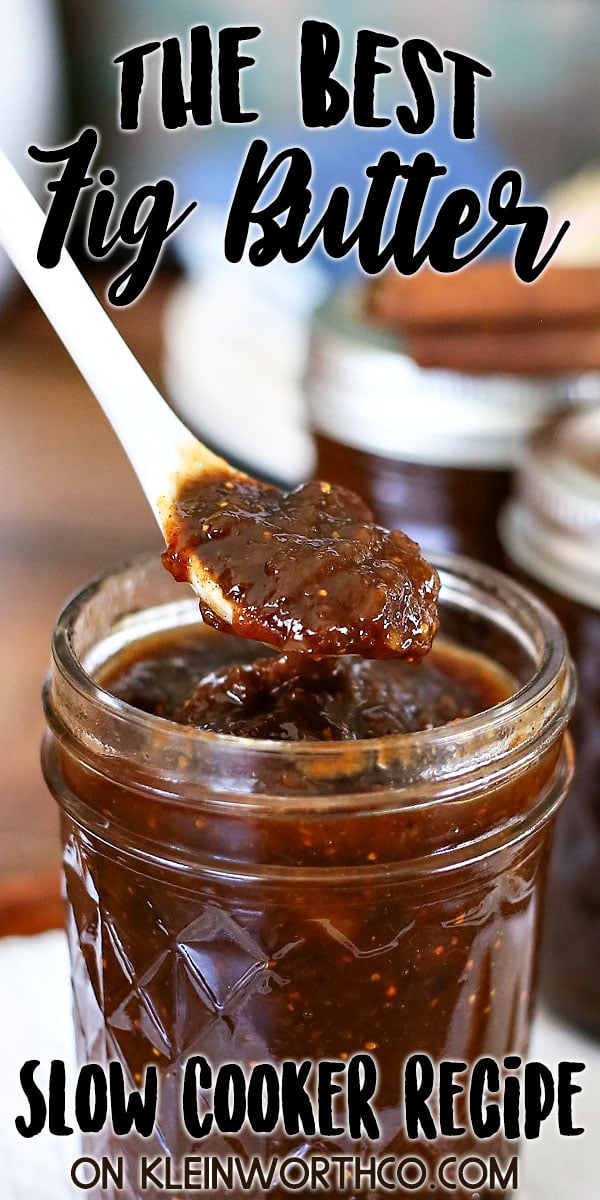 I knew exactly what I would do with them. They went straight into the slow cooker and in a few short hours, I had jars and jars of Slow Cooker Fig Butter. I'm a happy girl. Let me show you just how easy it was to make so you can do it too.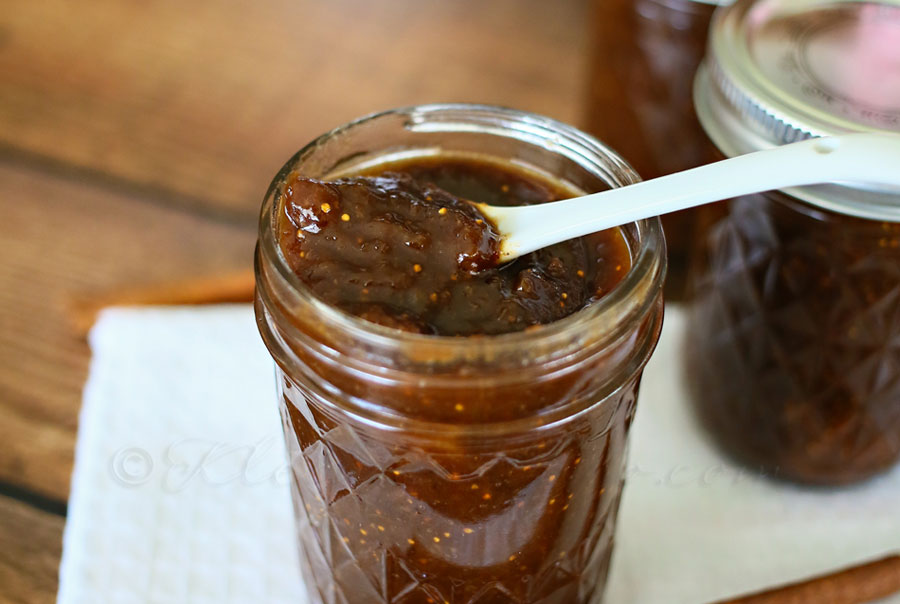 This is so tasty on my morning English muffin. The kids are so excited that it's what they call "butter season".
I guess that means that I'm always making some sort of butter- apple, pear, pumpkin or now figs. I can't help it – it's so yummy.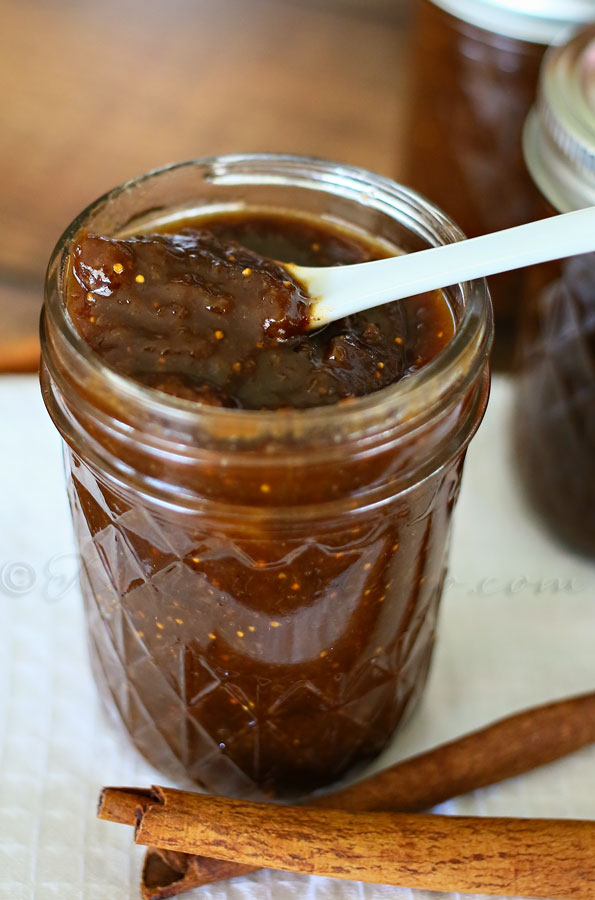 I'm happy that I was able to make enough to have some not only for spread but for also using in recipes. Stay tuned for that.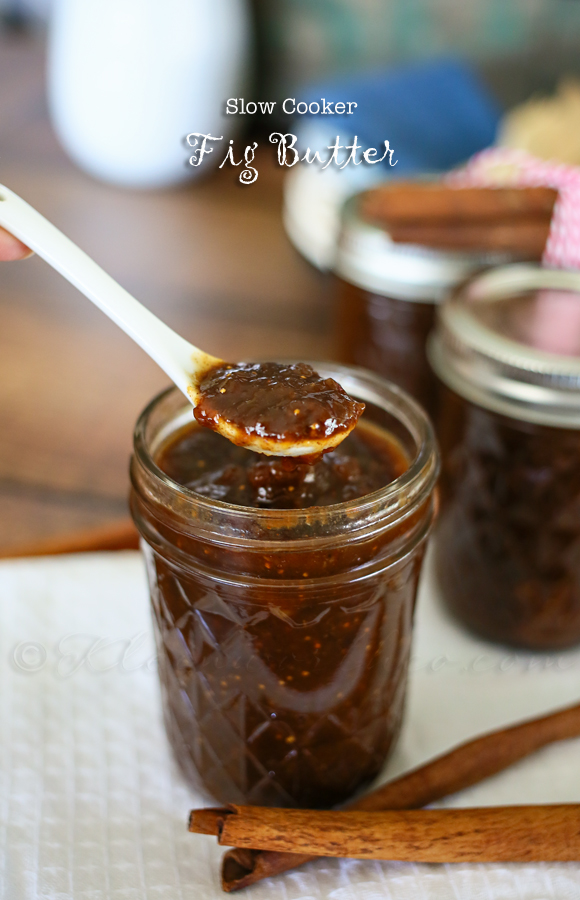 Here are some commonly asked questions
What can I use fig butter for?
Because we love fig butter so much, we use it as we would any other jam or spread. It is great on toast or bagels. Add a dollop to your oatmeal, or on your pancakes or waffles. I really love it mixed into cookies, cake, pancakes, or muffin batter.
Can I use a sugar substitute?
I have not personally tried it, so I can't say how that would turn out. Because jam relies on how the sugar melts to help with the consistency and texture, the end result might not be quite the same with an artificial sweetener. But if you would like to try it, I suggest a product that offers a 1:1 swap. Please let me know how it turns out.
Can this easy fig jam be frozen?
Yes, I do it often. I like to make several batches of this and store it in freezer-safe containers so we can enjoy it all year long.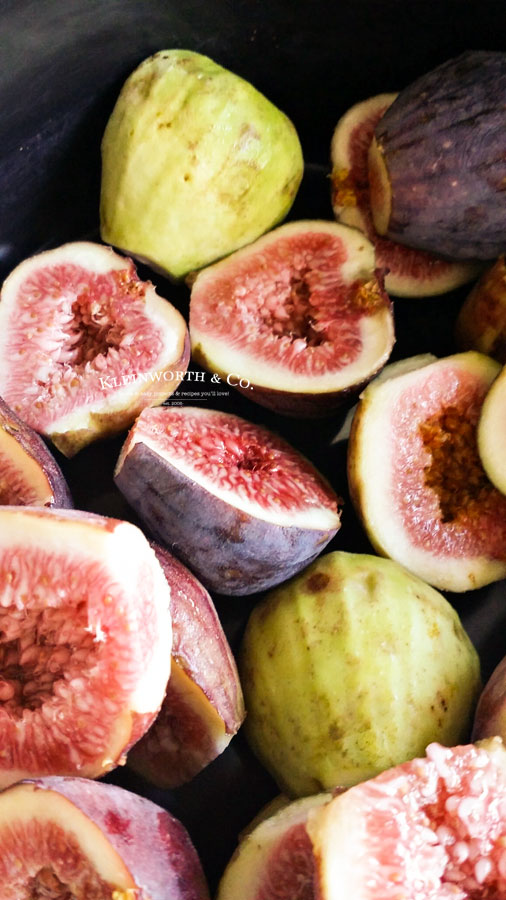 How many can this serve?
This recipe makes about 32 ounces. I was able to fill 4 of my 8 ounce jars with this batch.
fig butter
Can this recipe be doubled?
You can, if you have 2 slow cookers. This recipe fills my large slow cooker when all those figs are fresh.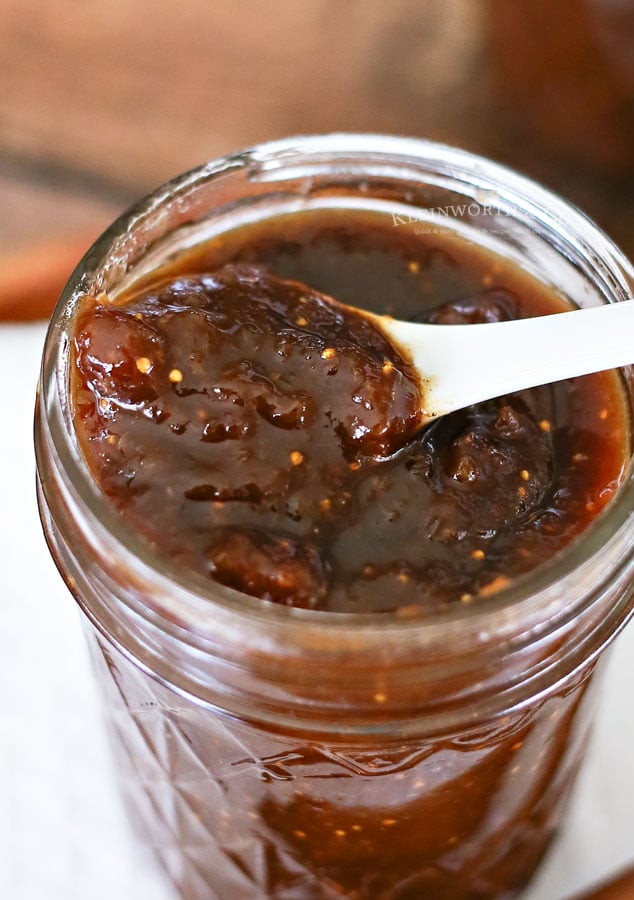 HOW DO YOU MAKE Slow Cooker Fig Butter?
Cut the stems off the figs & slice them in half. Place figs in the slow cooker.
Add sugar, brown sugar, molasses, vanilla, cinnamon, nutmeg, and pumpkin spice – cover.
Cook on high approx 3-4 hours- stirring occasionally. If it looks like the figs are breaking down faster or it is getting too thick, you can reduce the heat, shorten the cooking time or add a splash of water to thin it out.
Once figs are falling apart- use an immersion blender to break up any large pieces.
Transfer to sterilized jars. Allow to cool at room temperature & then store in the freezer or up to 3 months.
NOTE- all slow cookers will cook a bit differently, some much hotter than others. So if you need to reduce the time because it is cooking too quickly, or add some water to thin it out, that is okay to reach the desired result.
What is the best way to store leftover fig butter?
I don't can my fig butter as I prefer to store it in the freezer. Once the jars have cooled to room temperature, I place one jar in the refrigerator for immediate use and label the rest with the date and put them in the deep freezer. I use the one in the refrigerator within 10 days.
Can this recipe be canned?
I have not personally tried it. But you can fill sterilized jars with the mixture, leaving 1/2″ headspace. Wipe the sealing edge of the jar with a clean, damp paper towel. Adjust lids & process in a boiling water bath or pressure canner for the proper amount of time for your elevation.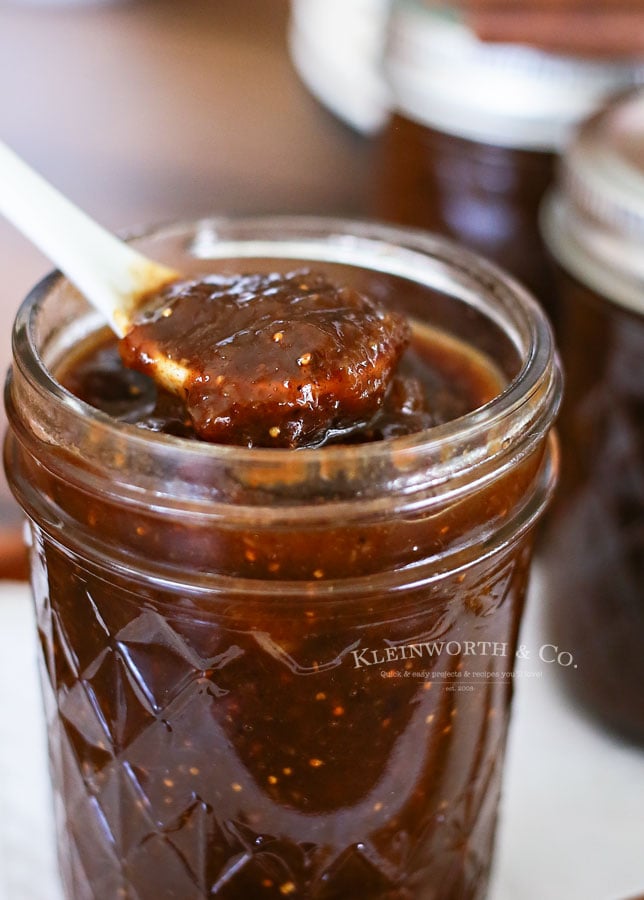 To make Homemade Slow Cooker Fig Butter you will need…
whole figs
granulated sugar
brown sugar
molasses
vanilla extract
cinnamon
nutmeg
pumpkin spice
fig butter recipe
Products I love when making fig butter…
This fig butter recipe is SUPER EASY and delicious – and if you're like me this time of year, then you maybe already have some of these items on hand OR maybe you have never made homemade fruit butters before, & you might be a bit nervous – but you're going to love this. I have made a list below of the things I absolutely can't live without when it comes to making this fig butter recipe.
If you love this Easy Slow Cooker Fig Butter recipe, you're going to love these other spreads too. Please click each link below to find the easy, printable recipe!
easy fig preserves recipe
If you love this recipe for Slow Cooker Fig Butter as much as I do, please write a five-star review, and be sure to help me share on Facebook and Pinterest!
CONNECT WITH KLEINWORTH & CO!
Be sure to follow me on my social media, so you never miss a post!
FB, Pinterest, IG, Email Subscription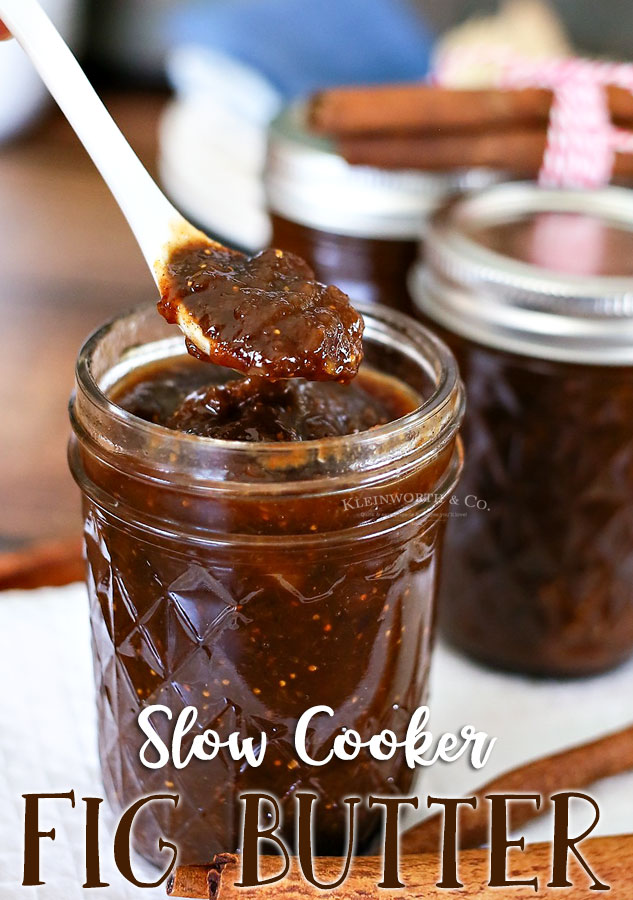 Reader Interactions