I have a very special person I would love you all to meet today. I have known Melissa from Serendipity is Sweet for many years. We met through our photo blogs long before we started our businesses & were just moms learning our craft while capturing our children in their everyday. We share the bond of homeschooling & so much more as well. We have grown close over the years- exchanging Christmas cards, helping each other in times of need & giving a supportive shoulder. Melissa is kind, generous & an amazing friend. Her photography is captivating. I love her & her children so very much. Please give her a nice warm welcome as she shares some great tips for capturing your Christmas.
Most of us look forward to the holiday season in anticipation of the wonder and splendor of it all. We look forward to spending quality time with our families and to filling our hearts to the brim with memories of all the sweet moments we share. We picture ourselves wrapped in cozy blankets, sitting around the tree, or Menorah, sipping cocoa and eating Pinterest-worthy treats amidst the twinkling lights. Of course, our smiling families are filled with gratitude, as they sing carols and share stories of holidays past. And we, the memory keepers, record it all in beautiful photographs to cherish for years to come. Well, I don't know about you, but that's not how it usually goes down at my house.
My house is small and filled to the brim with 4 kids. At 11, 8, 6 and 3, it is a rare occasion when they all sit in one place for more than a moment or two without squirming, whining, or arguing. All the beautiful holiday decorations, while I love them, can get lost among the daily clutter. I used to love baking, but I am working full time now in addition to homeschooling and I have yet to bake a Christmas cookie this year. So much for Pinterest-worthy treats. Furthermore, not a one of us could carry a tune in a bucket. Despite the fact that I run a business as a portrait and event photographer, most of my holiday family photos look like they were taken by a toddler on a shooting spree with mommy's phone – half of them probably were. But, over the years I have learned a thing or two about how to improve those photos without losing my mind, or putting my family through agony to "get the perfect shot." I thought I'd share a few quick tips for better holiday photos. We all want to capture those priceless memories, but picture perfect often goes out the window in the frenzy of holiday celebrations. A little preparation and forethought can go a long way toward getting the shots WE love, without spoiling the moment for our loved ones.
1. Set it up first. This one is a no-brainer but I have still forgotten a time or two. Check your exposure and adjust your camera settings before you announce that you are taking photos. Nothing elicits groans like getting everyone in front of the tree and then having to fiddle with your camera, change memory cards or grab a flash to get the shot. Be ready, then get their attention. This will force you to think about the shot before hand and you are more likely to get creative exposures if you have time to plan – think starbursts on tree lights, creative framing, etc. Go through the set up before adding your subjects and they are much more likely to cooperate.
2. Use it or lose it. Think of creative ways to incorporate the clutter or remove it before you shoot.
3. Get high, get low, get creative with compositions. I crouch, lay on the floor or stand on chairs to get a better perspective and eliminate distractions.
4. Get reflective. Look for reflections in windows, ornaments, mirrors, etc. I love a mirror shot that peeks in on a family moment. It adds much more of a storytelling feel to an image.
5. Speaking of peeping, use your environment for framing. Tree branches, doorways, windows, even drink ware or gift boxes, they all add an element of interest to your photos (and they can block unwanted mess from view).
6. Get close to get those details and back up….back way up, to get the whole scene. Even the clutter of toy boxes and wrapping paper tell the story of the day.
7. Peek out and peer in. Don't forget to get a shot through the window of everyone playing out in the snow, or go outside at dusk and capture a shot peeking in at your family through the window or door.
8. Focus on what you want, and lose the rest. Use a wide aperture and selective focus to capture small details while the background melts away. Bring your subject away from your background for the best result.
Here is one example of what I've discussed:
I wanted a shot of my kids in front of our tree and I knew giving them a book to read would keep them busy for a moment. I'm not crazy about our carpet, so I grabbed a fuzzy throw for the floor and another for them to cuddle up in (bonus: I didn't have to ask them to change clothes). Our house is tiny, and our furniture is packed in next to the tree, so I also moved a couch and checked my camera settings before getting the kids in place. I added a flashlight for a bit of extra glow and fill light on their faces. Then, I put the kids in place and tried my shot. My three year old has become Mrs. Crankypants lately, so I knew I'd have to be quick, but my chances were much better with just a few minutes of prep.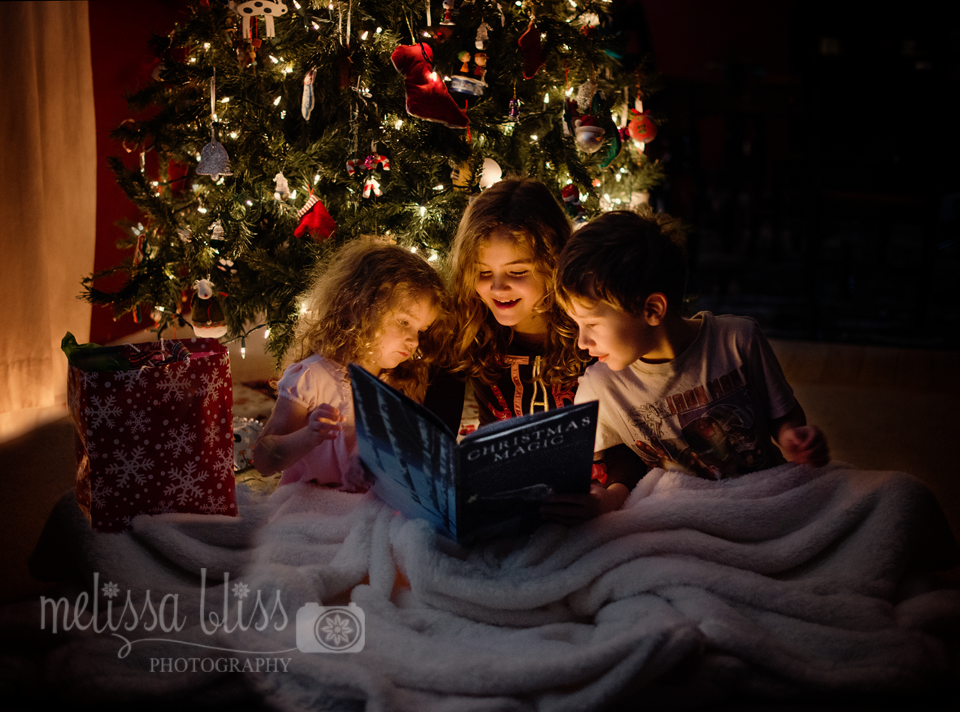 I fired off several shots and managed to get one I like.
I also got this – typical real life version: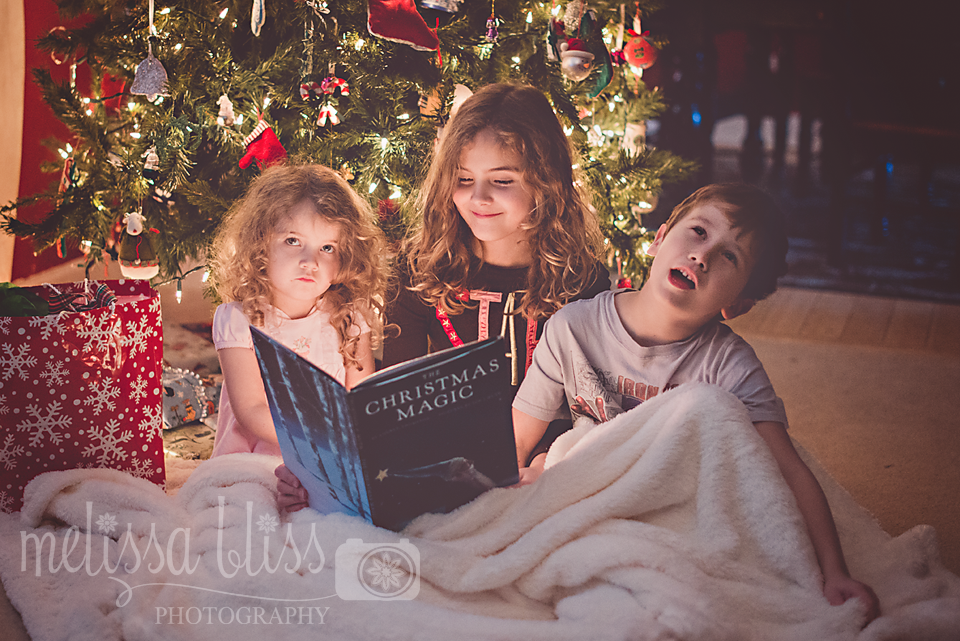 Of course, the photographer in me wishes I had set up a backdrop to remove more of the clutter, used a wider lens and bought a bigger house, fixed their hair, put them in jammies and pulled them farther away from the tree. But, I didn't have that much time, or energy, or money on hand, so I got what I could get and that will have to be good enough for this year. The end.
These are just a few tips to get you thinking about simple ways to get creative with those holiday shots. Have fun and when all else fails, capture the real deal and just embrace the chaos.
Thank you so much Melissa for sharing here today. It was such a pleasure to have you.
If you are in the Virginia Beach, Norfolk, Chesapeake, Portsmouth, Williamsburg, Virginia areas- connect with Melissa & book a session.
She does AMAZING work! Visit: Melissa Bliss Photography
To see where I am linking today- visit HERE