Hey there!! Do you have little ones at home who like to help in the kitchen? Looking for Easy Family Dinner Ideas? I know that for us it was super important to get the kids comfortable in the kitchen early on. Now that they are teens – they help immensely in the kitchen. I love having them in there with me through the whole prep, cooking & clean up too. So I was super happy when the wonderful Carrie from Kenarry: Ideas for the Home decided to share this awesome recipe for Personal Patriotic Pepperoni Pizza for An All-American Lunch & showed the process with her kids.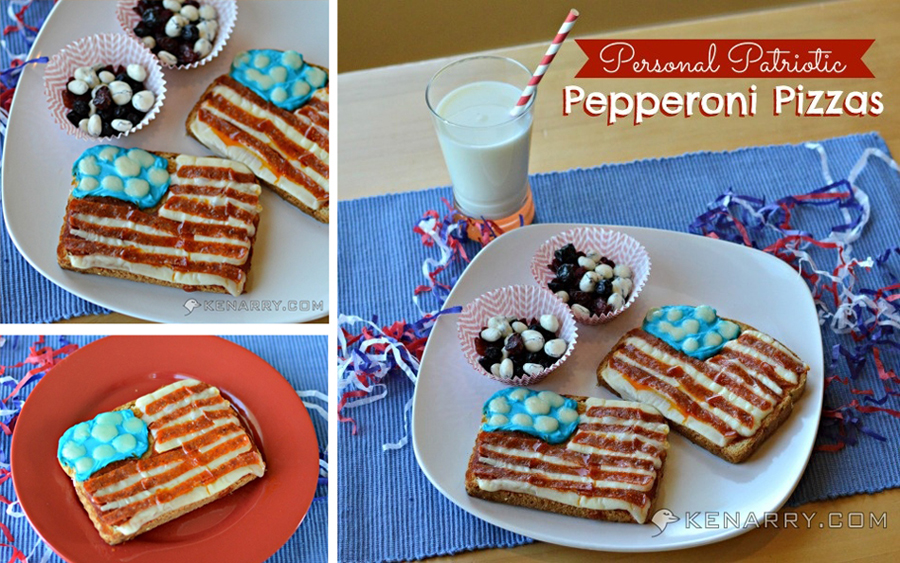 Hi, I'm Carrie from Kenarry: Ideas for the Home sharing a fun lunch idea for you and your kids to try this summer. As you know, Memorial Day is just around the corner, kicking off the summer holiday season full of American flags, apple pie, fireworks and backyard barbecues. What could be more festive to add to your celebrations than Personal Patriotic Pepperoni Pizza? Red, white and blue foods are a wonderfully fun way to celebrate Memorial Day, Independence Day and Labor Day. Personal Patriotic Pepperoni Pizza is so easy to make, even a three year old can do it!
My sons and I love to get creative with our lunches. The boys are toddlers, so we usually only venture as far as using assorted cookie cutters on peanut, butter and jelly sandwiches. However, with all the summer flag holidays coming up, we decided it would be really fun to try making a red, white and blue lunch one day. We gave it some thought and came up with making our own pizzas into little American flags. With these simple instructions, your child will love making his or her own Personal Patriotic Pepperoni Pizza for lunch too!
How to Make Personal Patriotic Pepperoni Pizza
What you need:
Bread
1 small can of pizza sauce
Mozzarella string cheese
Pepperoni
Cream cheese
Blue food coloring
Instructions:
1. Preheat the oven to 375 degrees. Lightly grease a cookie sheet with cooking spray. 2. Put the bread in the toaster on a medium-low heat setting. You want the bread to just be lightly toasted to act as the crust for your Personal Patriotic Pepperoni Pizza. 3. Spread pizza sauce on 3/4 of each bread slice leaving the upper left quadrant empty.
4. Cut the string cheese in half. Tear each half into little strips, approximately 2 inches long. Place these shorter pieces horizontally on top of the pizza sauce on the upper right of the Personal Patriotic Pepperoni Pizza flag. Use full length strips of string cheese to be the longer white stripes at the bottom of the flag.
5. Combine 2-3 tablespoons of cream cheese with drops of blue food coloring in a small bowl. We used 7 drops of blue food coloring for our Personal Patriotic Pepperoni Pizzas. You could use more if you'd like a darker or more vibrant blue. Next time, I might try adding just a touch of red food coloring to create a darker blue that's more like an actual American flag.
Carefully spread the cream cheese on the upper left quadrant of the bread. Try not to run your knife through the pizza sauce, like my son did!
6. Cut the pepperoni into long thin strips using a sharp knife or kitchen shears. Place them horizontally between the white string cheese pieces to act as the red stripes on the flag. If you're a vegetarian, you can leave the pepperoni off completely and have the pizza sauce be the red stripes. You could also replace the pepperoni with long strips of red pepper.
7. Tear any string cheese remaining from step 4 into small dots. Place them on top of the blue cream cheese corner to be the stars on your Personal Patriotic Pepperoni Pizza flag.
8. Bake the pizzas at 375 degrees for 10 minutes or until the cheese is melted. While the pizzas were baking, we created a little red, white and blue side dish by combining dried cranberries, dried blueberries and yogurt covered raisins in small cups.
The dried fruit cups looked great alongside the Personal Patriotic Pepperoni Pizza, though I wish you could differentiate better between the cranberries and the blueberries.
Your children will enjoy making this lunch for the 4th of July, Memorial Day or Labor Day. I know my three year old son loved making his own Personal Patriotic Pepperoni Pizza for lunch. I'm not sure how pleased Betsy Ross would be with his American flag, but he certainly was!
Enjoy this festive lunch — and have a wonderful Memorial Day remembering the men and women who've fought so hard to preserve the American flag and our freedom!
You can connect with Carrie via Blog, Google+, Pinterest, Facebook & Twitter.
Want some other ideas for red, white and blue treats your kids will love?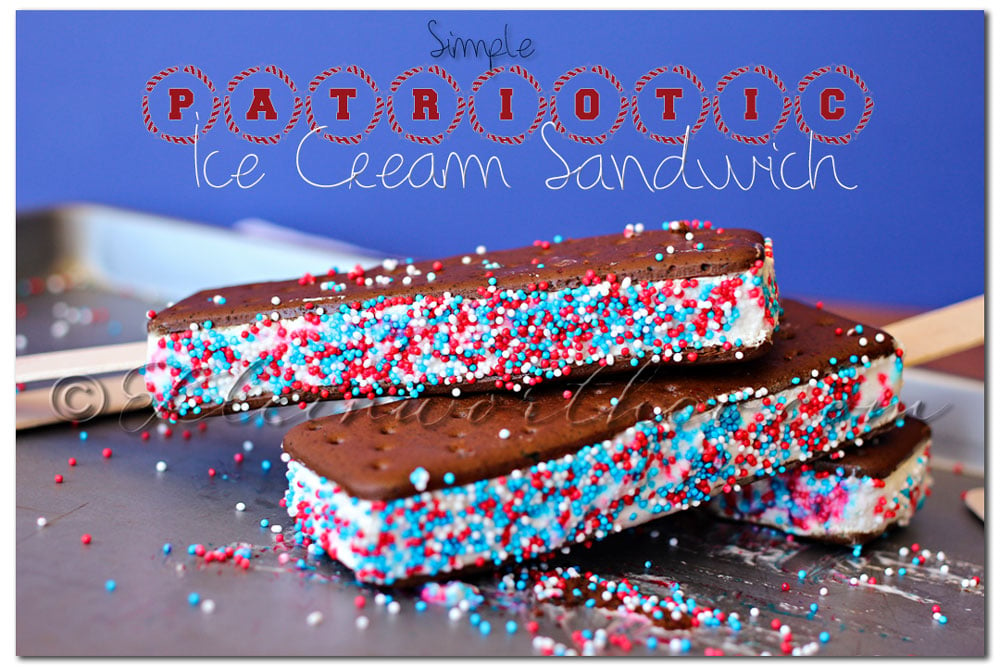 Simple Patriotic Ice Cream Sandwich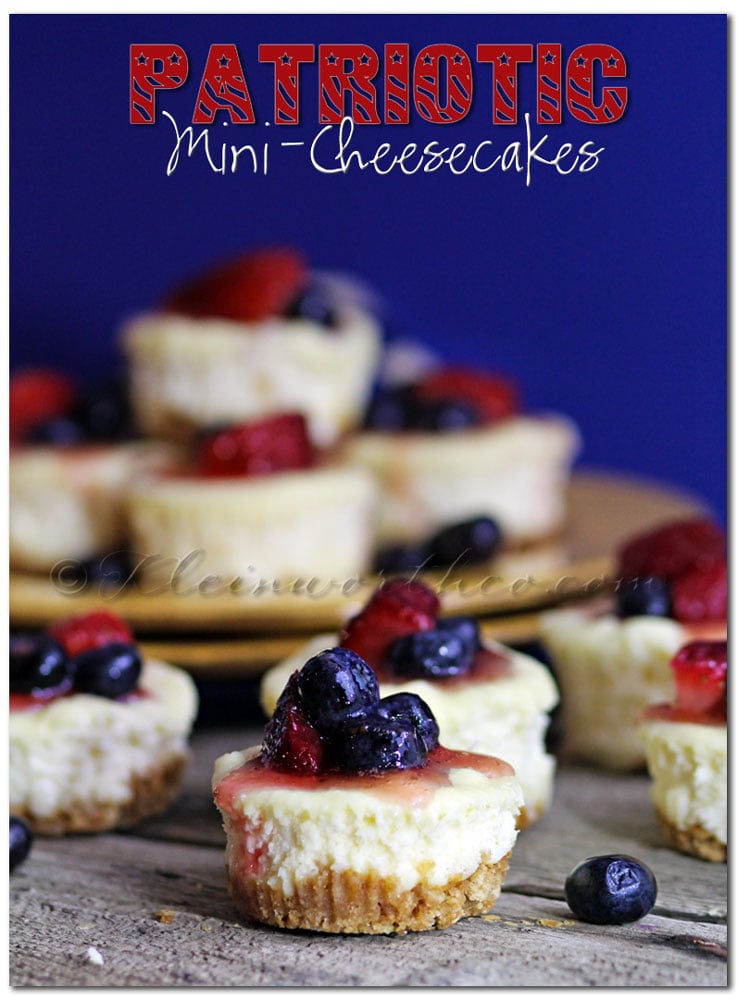 Thank you SO MUCH Carrie!! What a FUN recipe to make with the kids!!
Be sure to head on over & see all the other great ideas shared by Carrie on Kenarry: Ideas for the Home
To see where I am linking today- visit HERE
[include id="1″ title="Footer Ad"]