Most of you know that I'm married to a fire chief. This means that I'm a stickler for not only safety (especially on holidays) but super cautious when it comes to fire. I love luminaries & the fun feel they give when decorating. But I get really nervous when it comes to sticking that tea light in there & lighting it. I worry about it getting kicked over, or a costume brushing against it & catching fire or the wind blowing it over. Sooooooo- I decided to use some of the fun paints & products I have been given through some past campaigns & create some safer luminaries for Halloween decorating.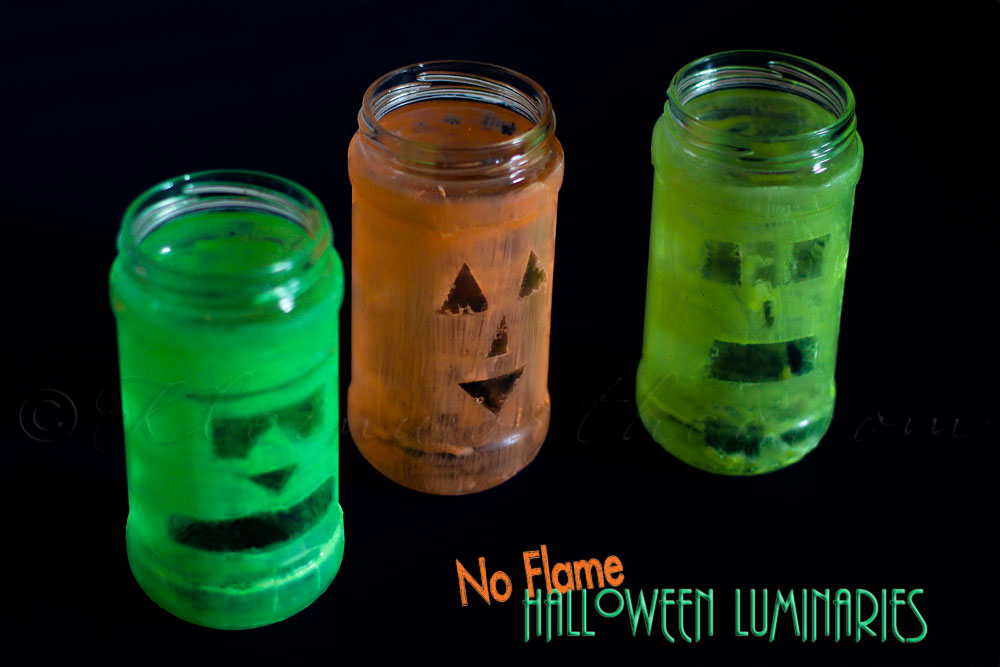 These were really easy. I just re-purposed some spaghetti jars I had saved & first painted them with some Plaid Glow in the Dark Acrylic Paints. I used #20485 Yellow, #20484 Orange & #20486 Green. Dabbed on several coats & waited for it to dry. Then I added Plaid Glo-Away Glow-in-the-Dark Gel in a thick layer & let dry. I decided to let them look a little weathered & rubbed for a spookier vibe – instead of completely coating them. Then I just left them sitting on the counter under the under-cabinet lights all day. When we went to bed- there they were- glowing like they should. So if you are leaving these on your porch- the sun should charge them with more than enough light to keep them going all Halloween long.
This was a simple project that the kids loved helping me with.
This post is not sponsored- I just wanted to use some of these fun products I was given in the past for more seasonal projects.
Don't forget to come back & join me on Mondays for Project 52
To see where I am linking today- visit HERE