Get ready for the 4th of July and check out these tips for How to Photograph Fireworks! Capture your holiday celebrations with this helpful guide.
As you all know – 4th of July is right around the corner. One thing I always look forward to is the fireworks.
Over a decade ago I bought my camera right after the 4th of July. I didn't even have a tripod at the time. So being that I bought my camera right after the 4th- I had nearly a whole year to prepare for the next opportunity to capture the fireworks.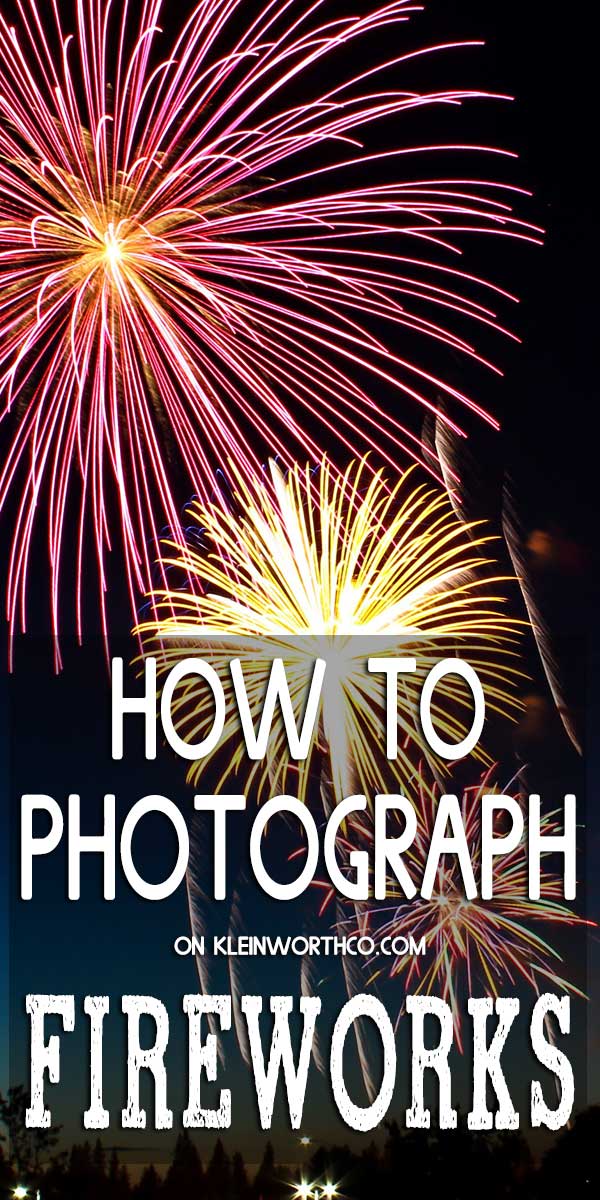 Firework Photography
I looked forward to it all year & when the 4th came last year- I was ready. I was really pleased that all my preparation paid off & I am really looking forward to the opportunity to do it again this year.
So I thought that I would share some tips with you so that you will be able to capture FABULOUS fireworks pictures too.
This post contains some affiliate links. Click here to read my full disclosure policy.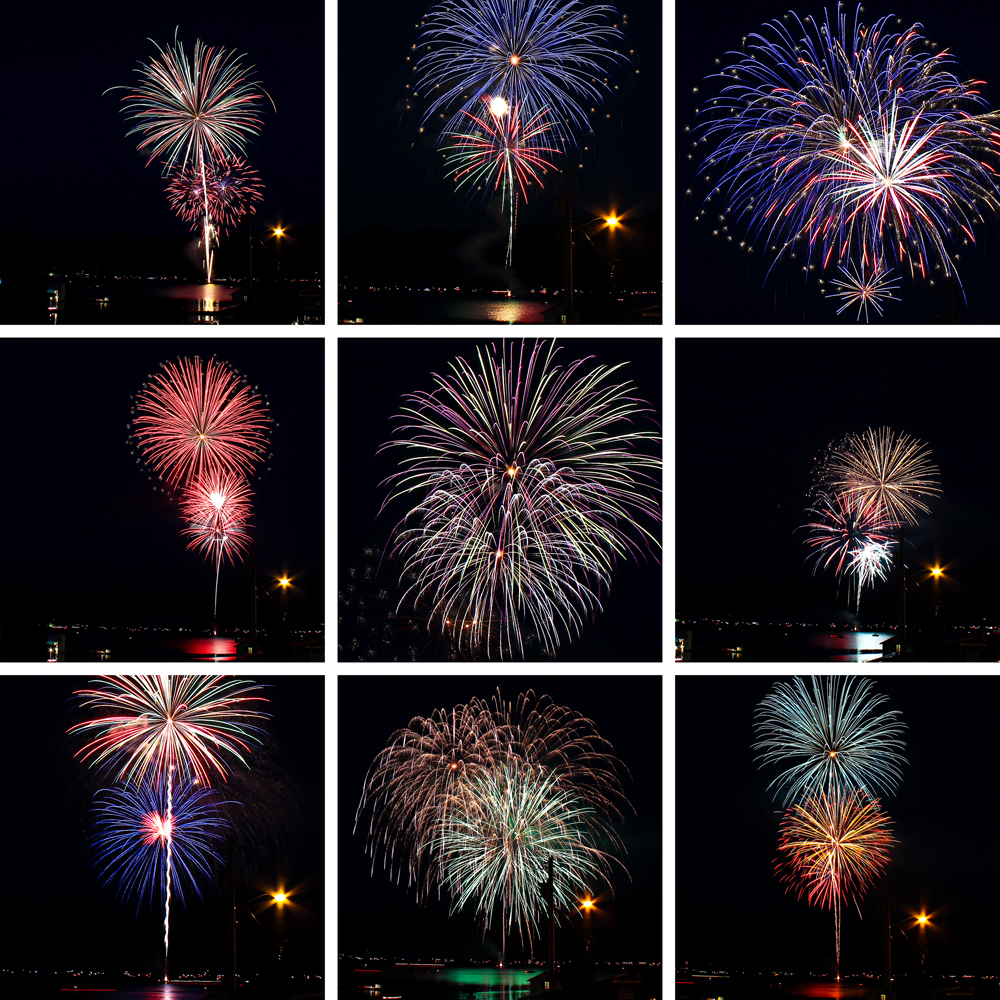 **Note- not all of these images correspond with the tips.
The tips are what you need to know- the images are examples of what happens when you put them all to use.
Photographing fireworks is a lot like photographing lightning when it comes to settings. But I can tell you from experience- fireworks are much easier because you know when they will happen.
You can anticipate your shots, you know something will be captured while your shutter is open & typically you have good weather while you are shooting. You can see my tips on photographing lighting here.
Night Photography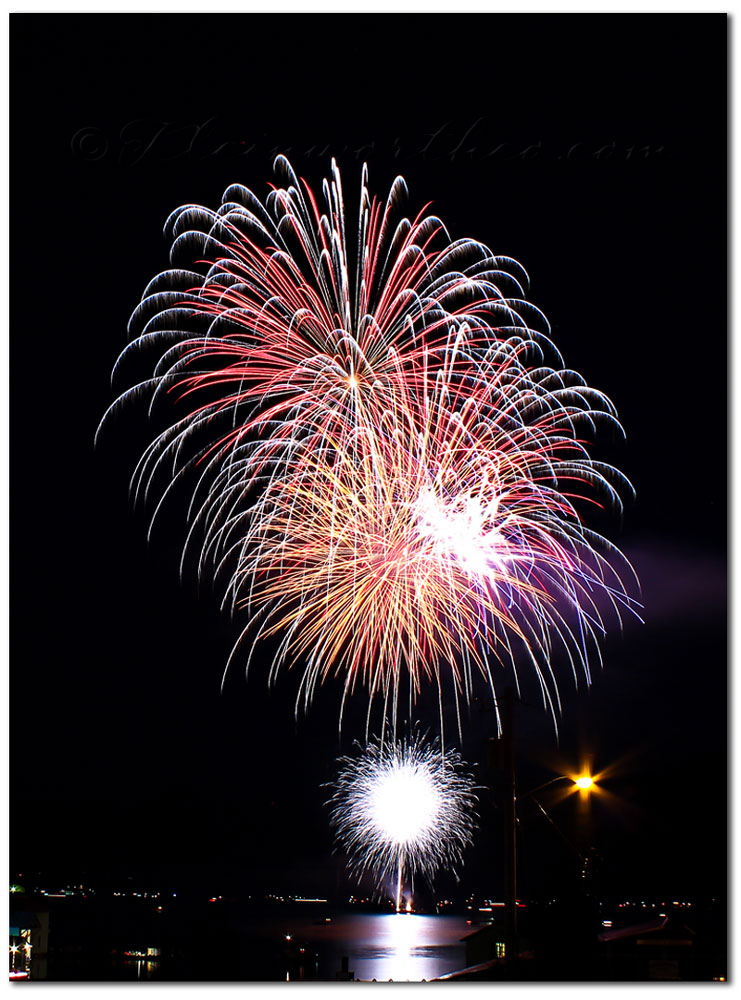 Use a Tripod
I can't stress enough how important it is to have a tripod or at the very least set your camera on something sturdy.
Whether you are setting your exposure times or using a program mode on your point & shoot- your shutter will be open longer than the fraction of a second that it usually is- which means that any movement of the camera will result in blurry, out of focus shots. Keep it steady.
This year we will be out at the lake- while everyone else will be down on the docks taking in the show- I will be back on solid, dry land so that my camera is completely still. Sacrifices photographers make for the shot.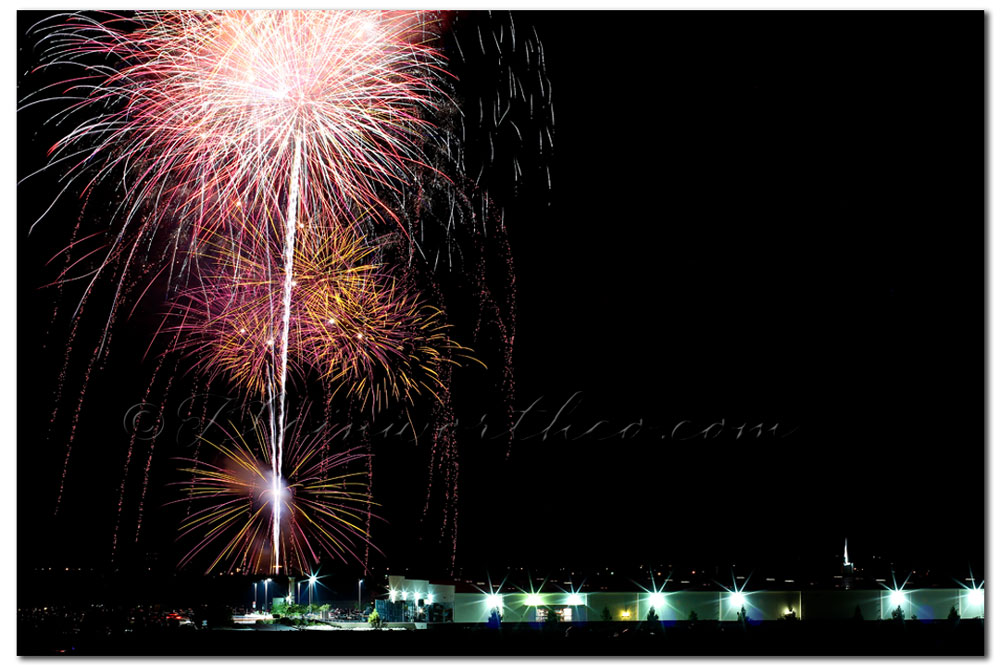 Set the ISO
Whether you are shooting with a DSLR or a point & shoot, you should be able to control your ISO settings. While standard thought would be higher ISO to let in more light since it will be dark- that is not what we want to do here.
You will be relying on other settings to compensate for the darkness- so keep that ISO low (100-200 is good) so that you reduce the noise (number of grainy pixels) in your shot.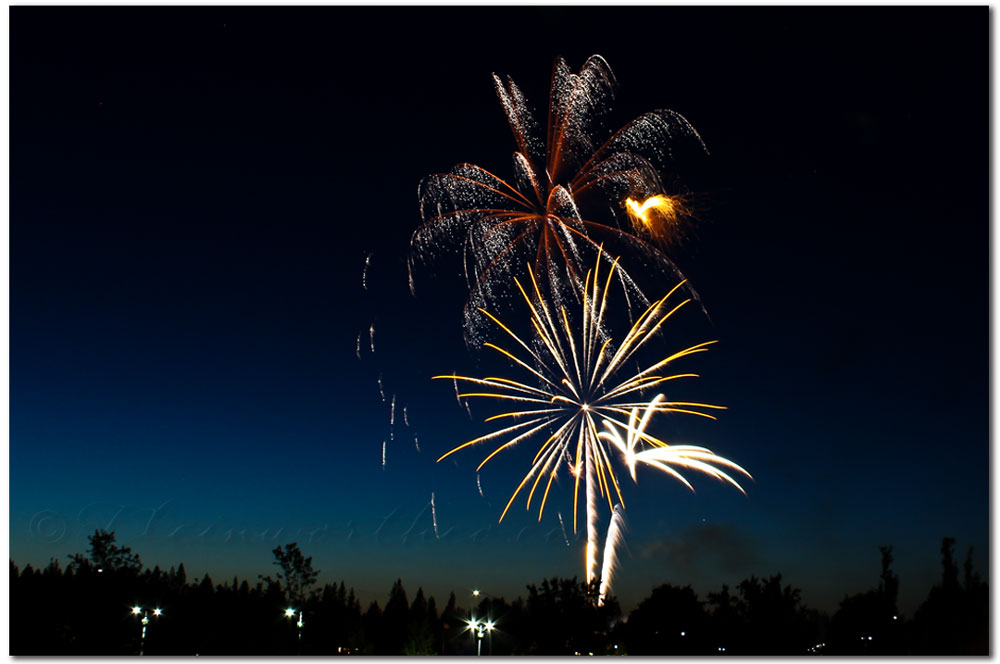 Slow the Shutter Speed
Slow it down. If you are working with a point & shoot- choose a night or fireworks setting that many of them have. If you are shooting with a DSLR- you should set your shutter anywhere between 1/15 all the way to BULB setting.
I found that in the beginning, I set mine to bulb & left it open for a while- probably 45 seconds. This was great until they started shooting more & more- it became too bright & so I had to reduce the time the shutter was open.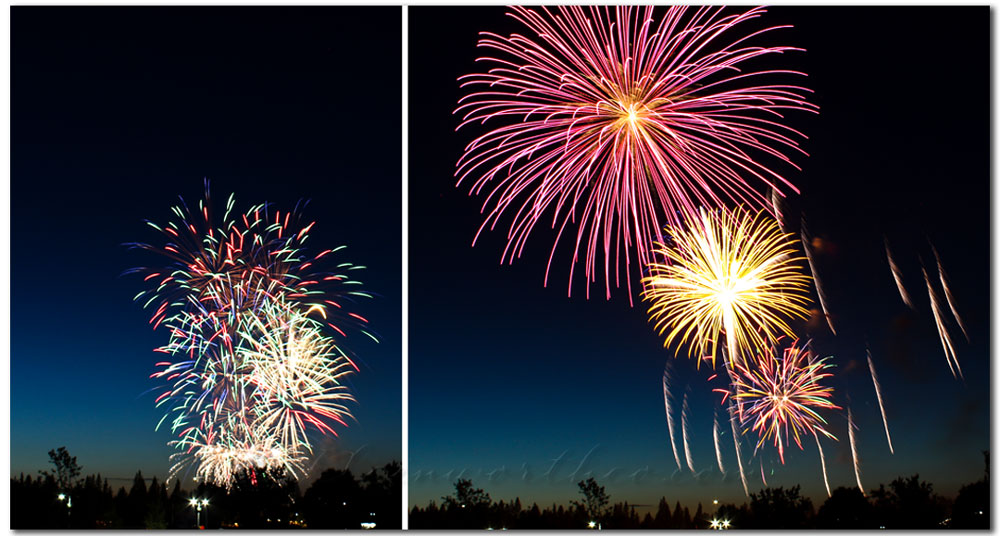 Keep checking your shots to be sure they are accurately exposed & you are not blowing out the images with too long a shutter speed.
BIG THING TO REMEMBER– Turn OFF your flash. It's not going to reach the sky & it will completely ruin your shots.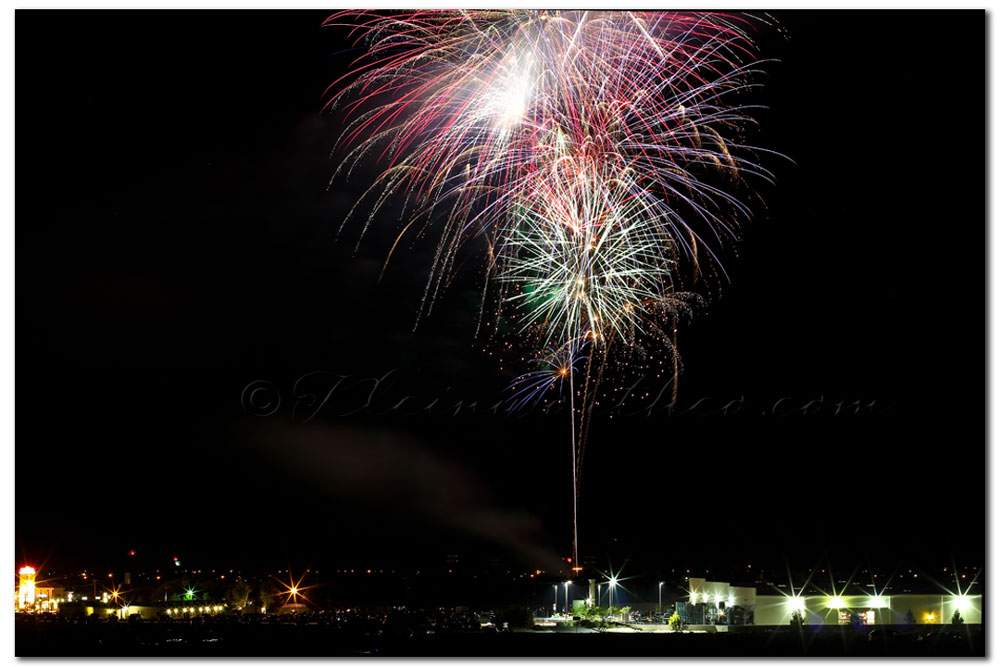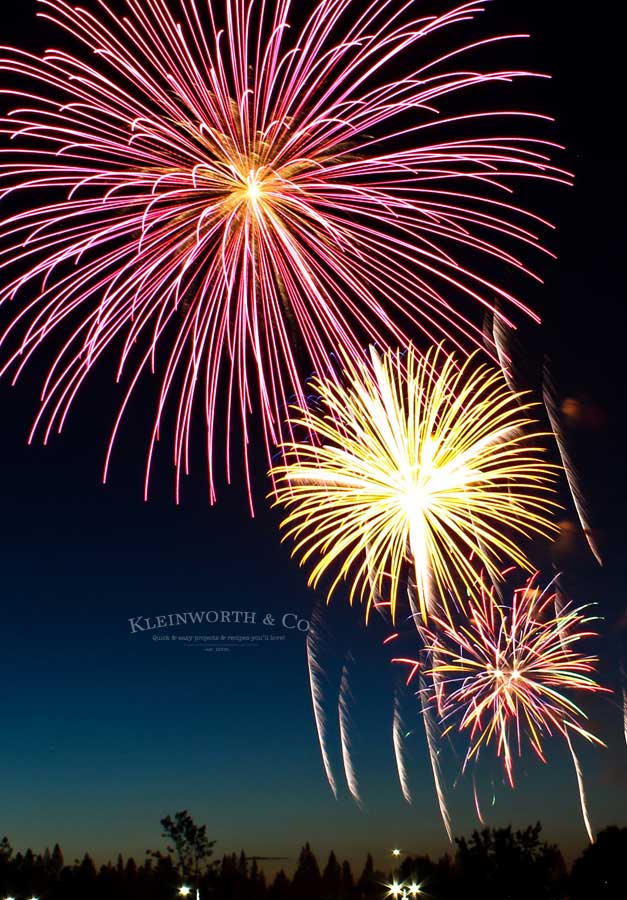 Adjust the Aperture
You want your depth of field to be far. Obviously you want everything you are seeing to be in focus so it's a good idea to set your aperture to f/8, f/11 or even f/18.
This will also help keep your images from being overexposed when you have that shutter open for so long. Your aperture & shutter speed at these settings will also give your other lights in the photos (see the building lights) that nice star-like look.
With point & shoot cameras they typically have an automatic aperture setting to capture a deep depth of field all the time. So if you are using one- it's already set.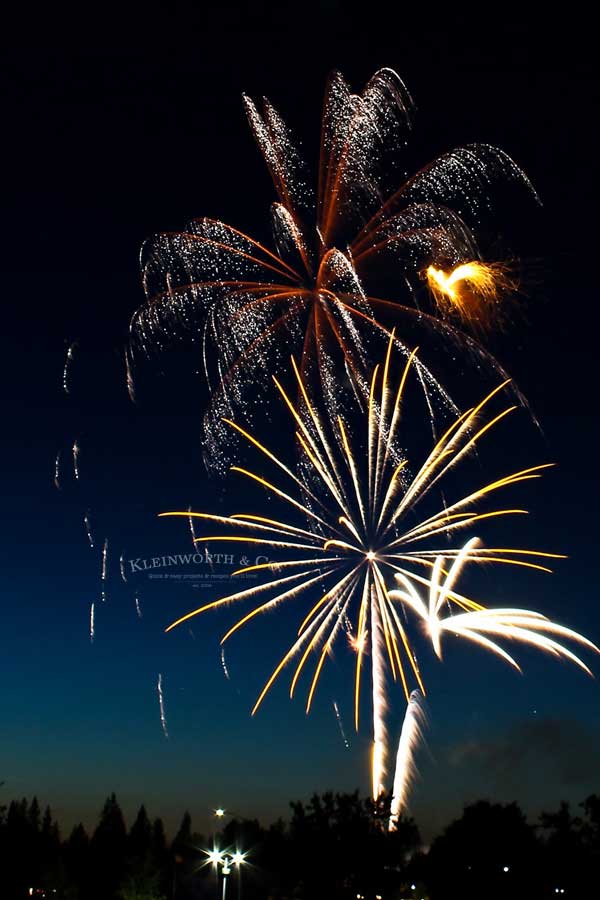 Set the Focus
If you can set to manual focus- that will be your best bet. It's good to find something with adequate light & set your focus on that. Then don't move it when re-positioning your camera to point at the sky.
This will ensure that your fireworks are crisp & in focus. But you can also play with the focus & get a softer look as I did in this above shot. Not as crisp but I still like the artsier feel it has.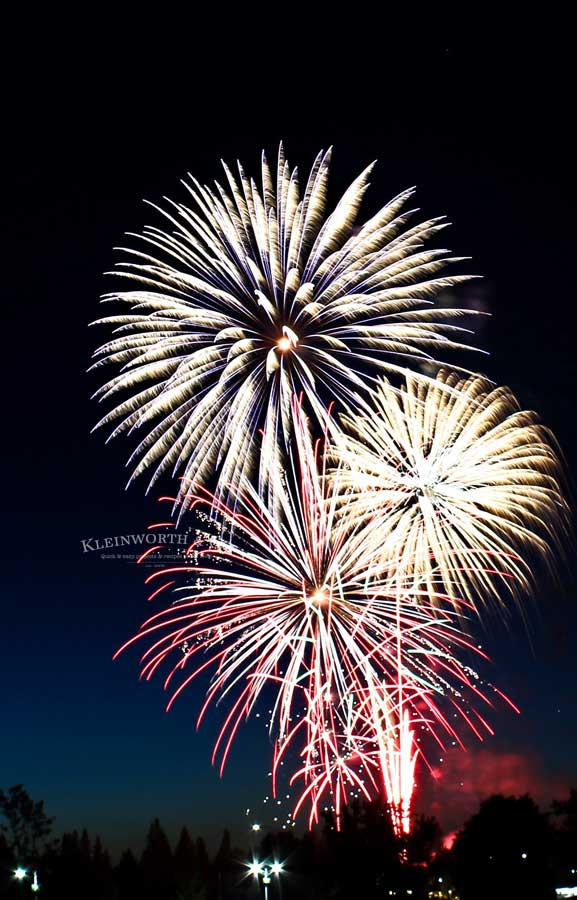 Use a Remote
If you can- I highly recommend using a remote. This way you don't have to risk moving the camera even the slightest bit once you have your focus set.
Plus I noticed with my camera that once I was in BULB mode- holding down the button on the remote was a whole lot easier than holding the shutter button & trying not to shake the camera while doing it.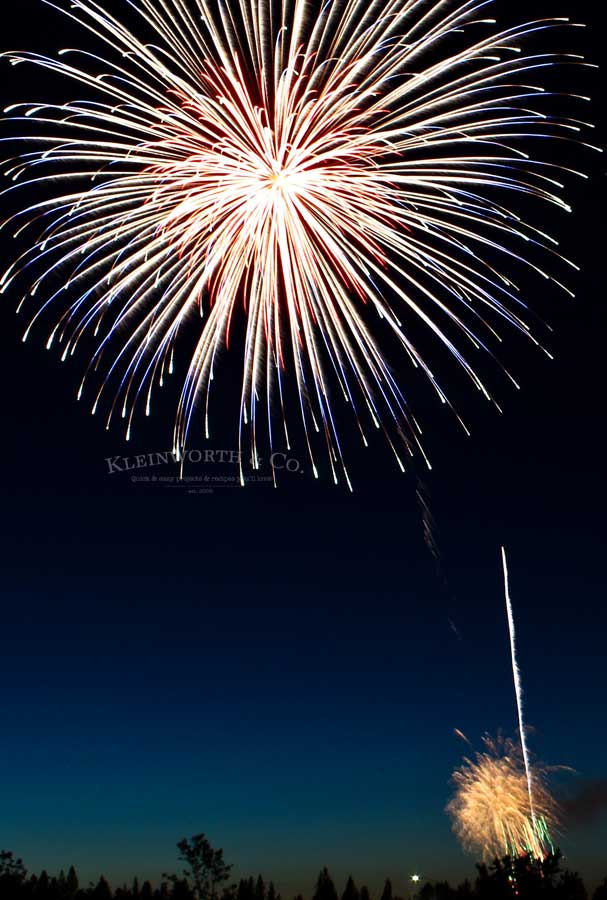 Stand back & use a wide angle
As you can see- I didn't pull back quite far enough in some of these shots. I wasn't prepared for just how large they would be in the beginning.
I thought that because of how far away we were from where they were setting off I would be fine. As it turned out- I needed to zoom out a bit more- to get them fully within my frame.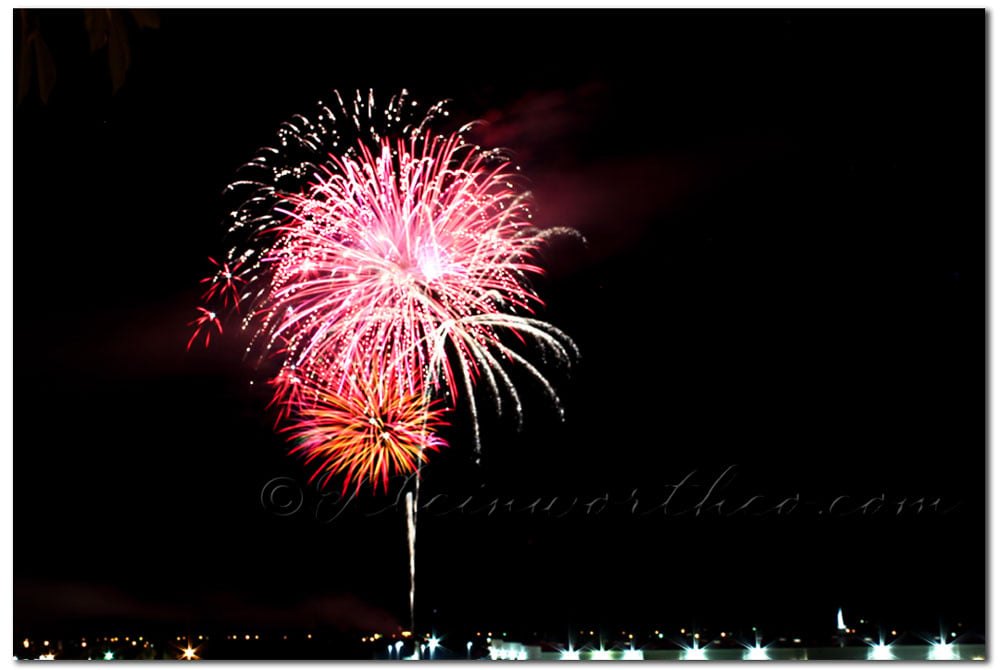 I still like the shots though because of how crisp they are. Plus the way they were captured here shows the scale of them. In general, I suggest you zoom out as far as your camera or lens will allow.
That being said – I have tried this with an ultra wide angle lens (10mm) and the frame was so wide that I captured part of the lens. So I have found that 15-18mm is a good range. Fortunately, 18mm is the wide range for even the kit lenses and they can do a great job too.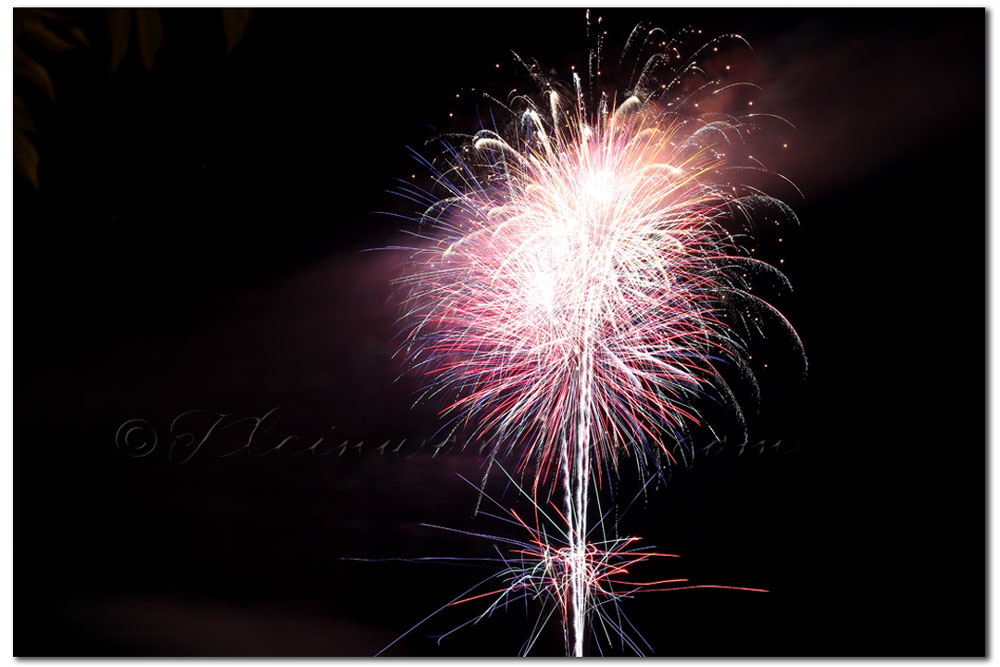 Zoom In
HA! Now I know that this contradicts what I just said about zooming out- but it is also nice to have a few shots that are a bit closer than the wide view.
Get creative and play with that a little too.
Capture the Foreground
It's nice to sometimes capture the foreground in your shot. It helps to give perspective to what you are capturing.
So if there are people standing in front of you- don't zoom past them, or try to get around them. Having them in your shot helps to capture the entire experience of what you were seeing at the time.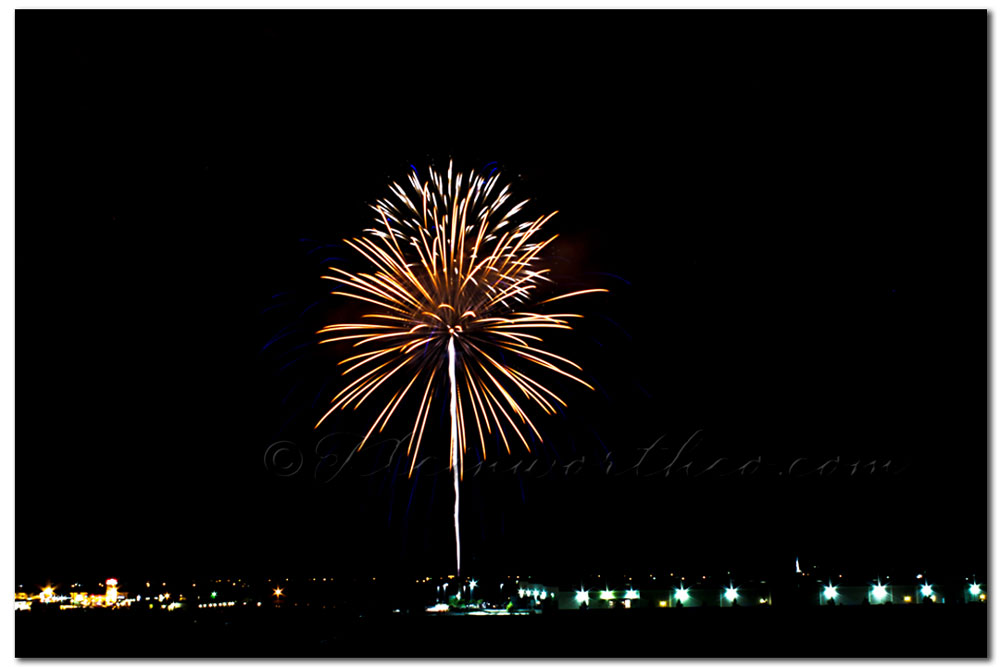 Be Prepared
Pack a flashlight in case you need to change your settings or you drop something. Bring an extra battery & memory cards & microfiber cloths for keeping your lens clear.
I also suggest bringing different lenses to accommodate whatever you may want to capture before & after the show. The lens is best for one setting, isn't always best for the others.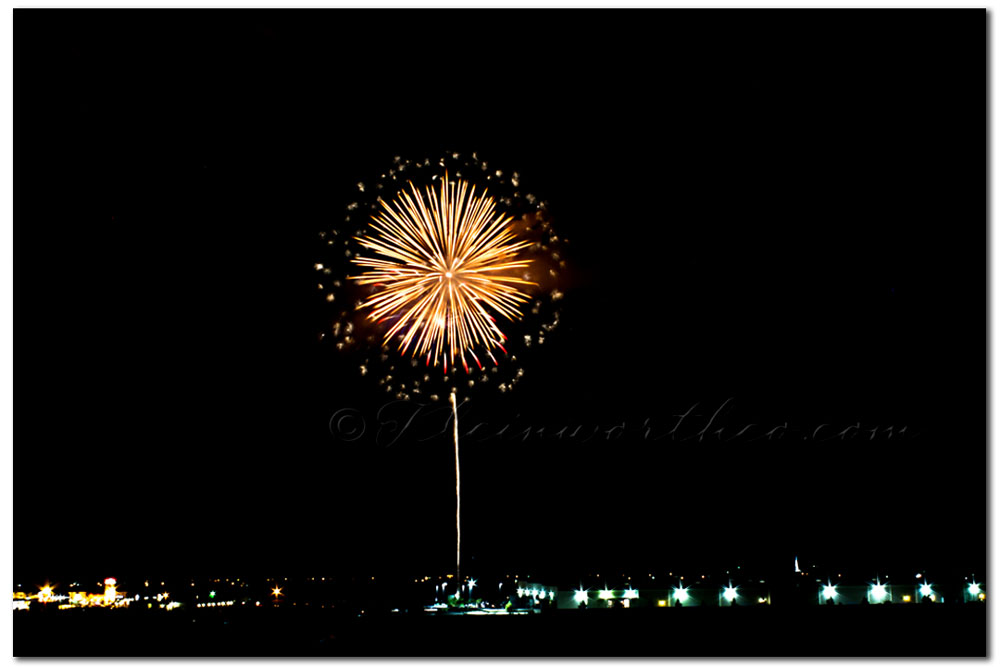 Get there early & find your spot.
It's important to claim your space & be sure that you get the best location for what you are after. Watch for buildings that may obstruct your view or street lamps that may effect your exposure if they are too close.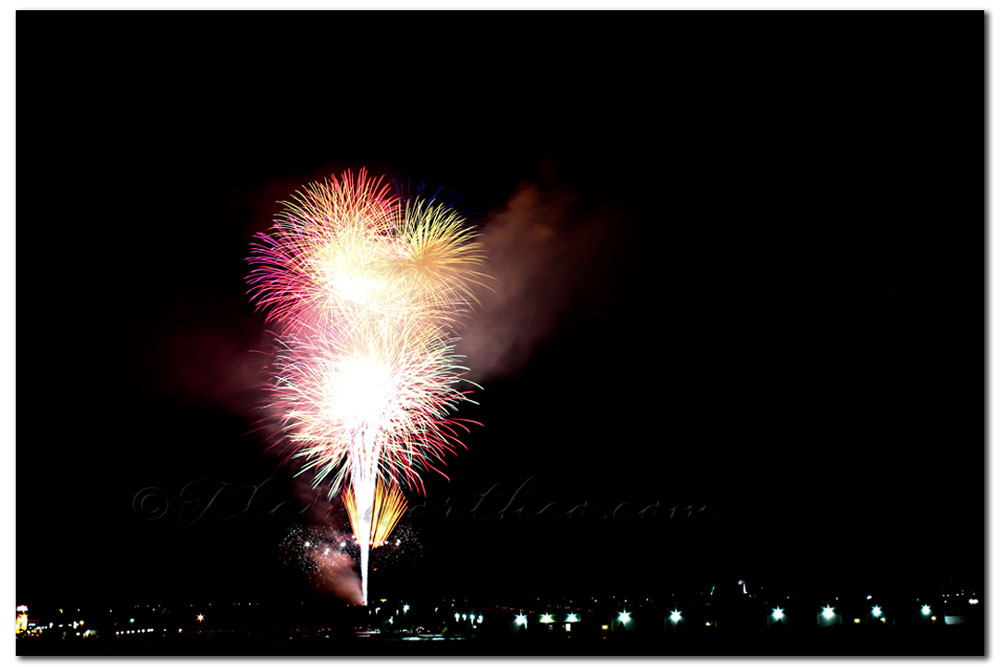 Know the direction of the wind.
If you are closer to where the show is – you may have to worry about the smoke in your shots. As you can see in this- the smoke became quite noticeable but we were far enough away that it wasn't affecting my photos.
I did have to adjust my shutter speed because all the smoke started glowing & I was losing the detail in the shots. So the longer the show went on the faster my shutter was to reduce the risk of overexposure.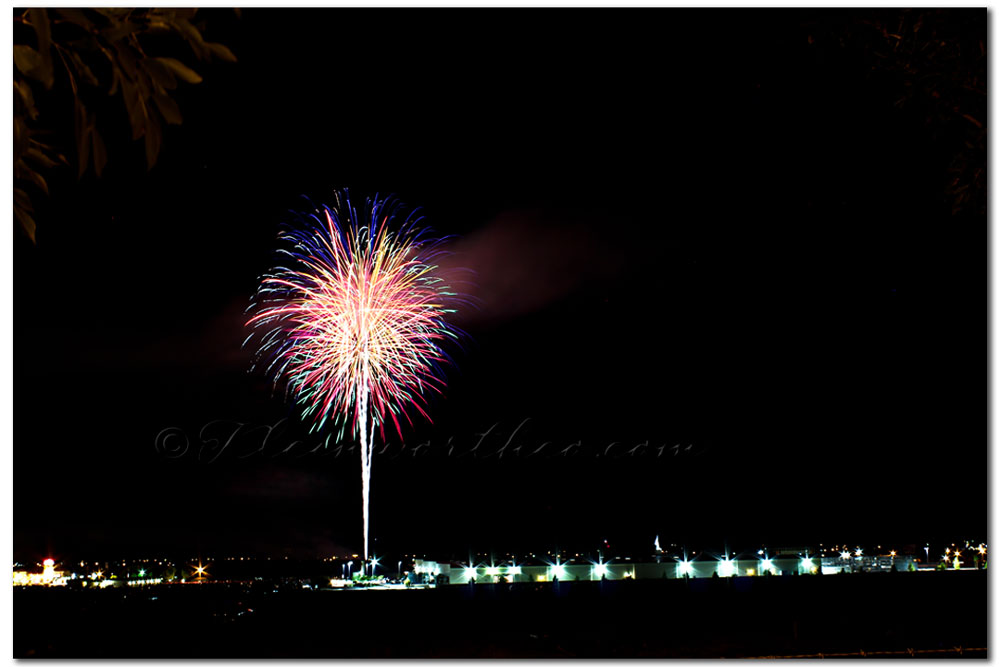 HAVE FUN!!!!
Stressing about getting the "perfect shot" will ruin your evening. You want to look back on your celebration with happy thoughts- not think about how much you were worried about your images.
Enjoy yourself, capture the things that are most important to you. Don't forget that sometimes it's not all about the postcard-perfect shot- it's important to capture the moment & the memories. Those are the things you will cherish the most when you look back.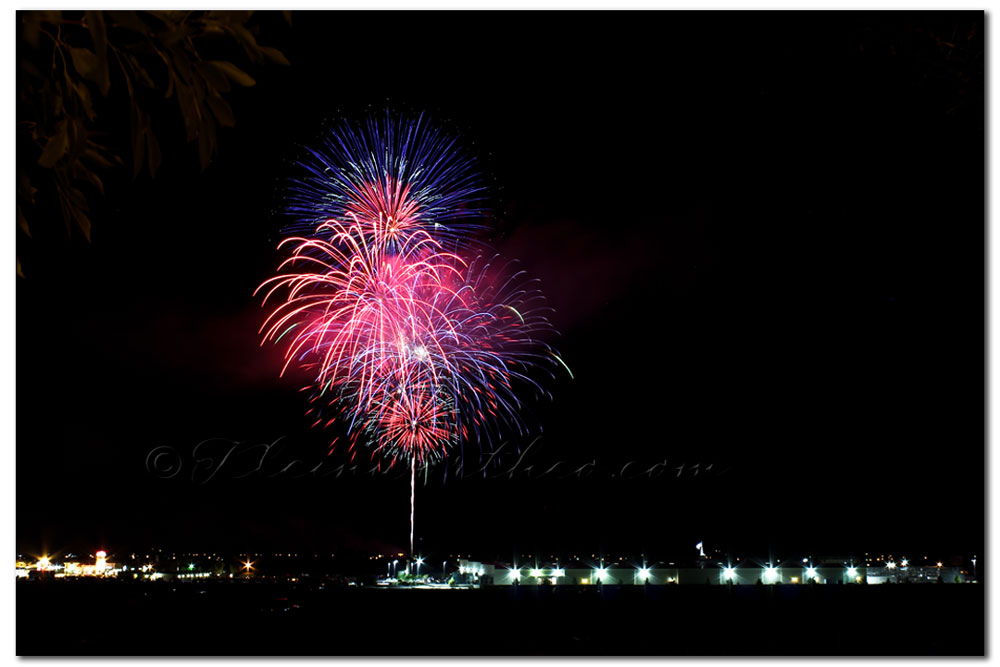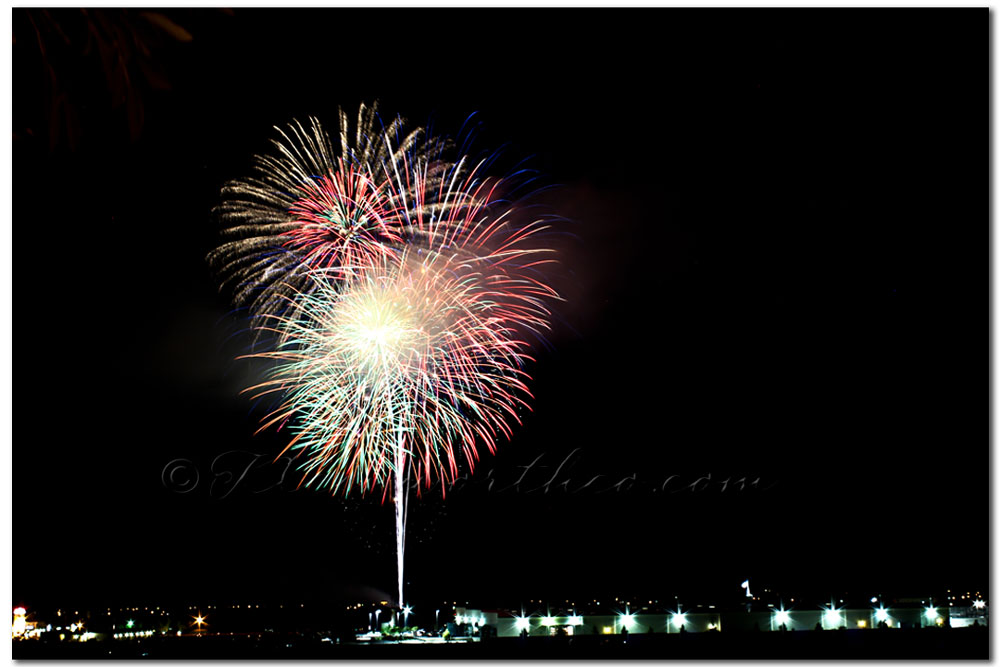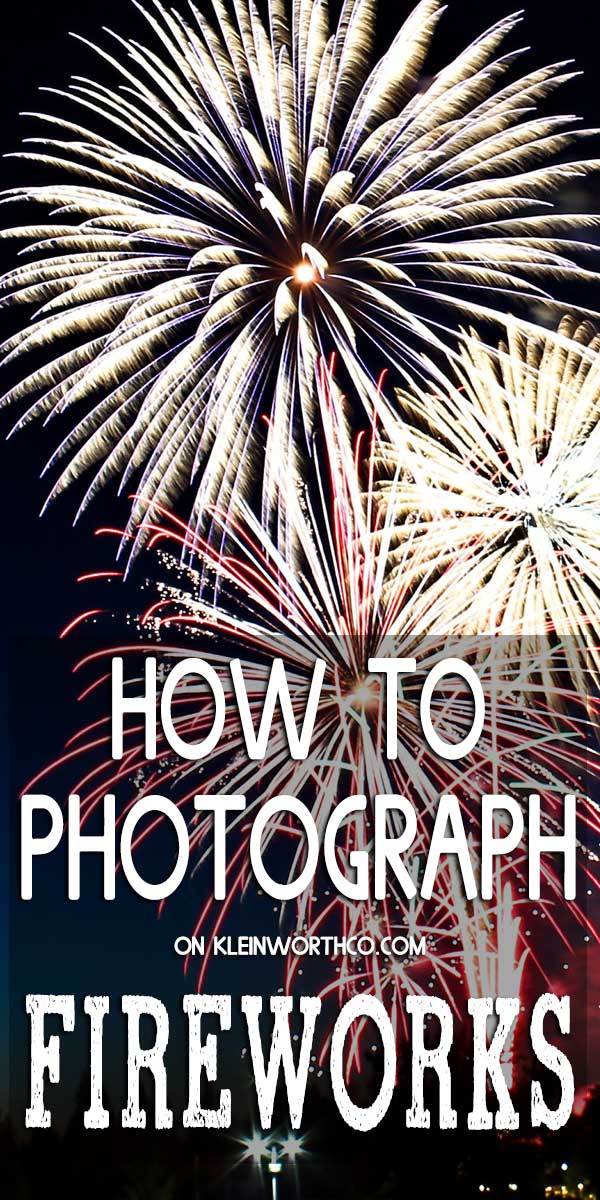 4th of July Photography
If you love this tutorial for How to Photograph Fireworks as much as I do, please be sure to help me share on facebook and Pinterest!
CONNECT WITH KLEINWORTH & CO!
Be sure to follow me on my social media, so you never miss a post!
FB, Pinterest, IG, Email Subscription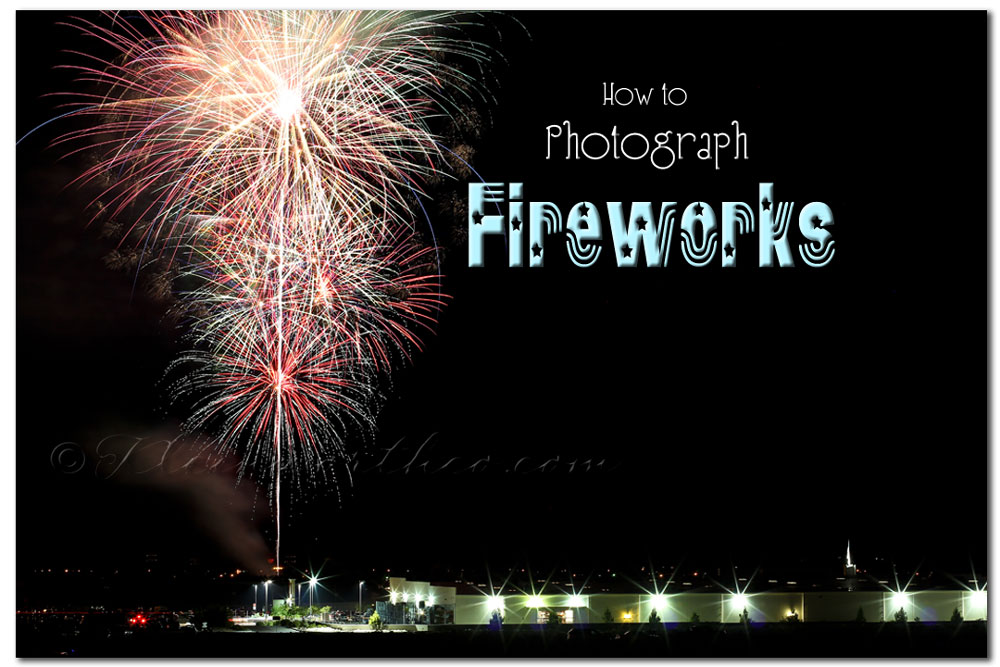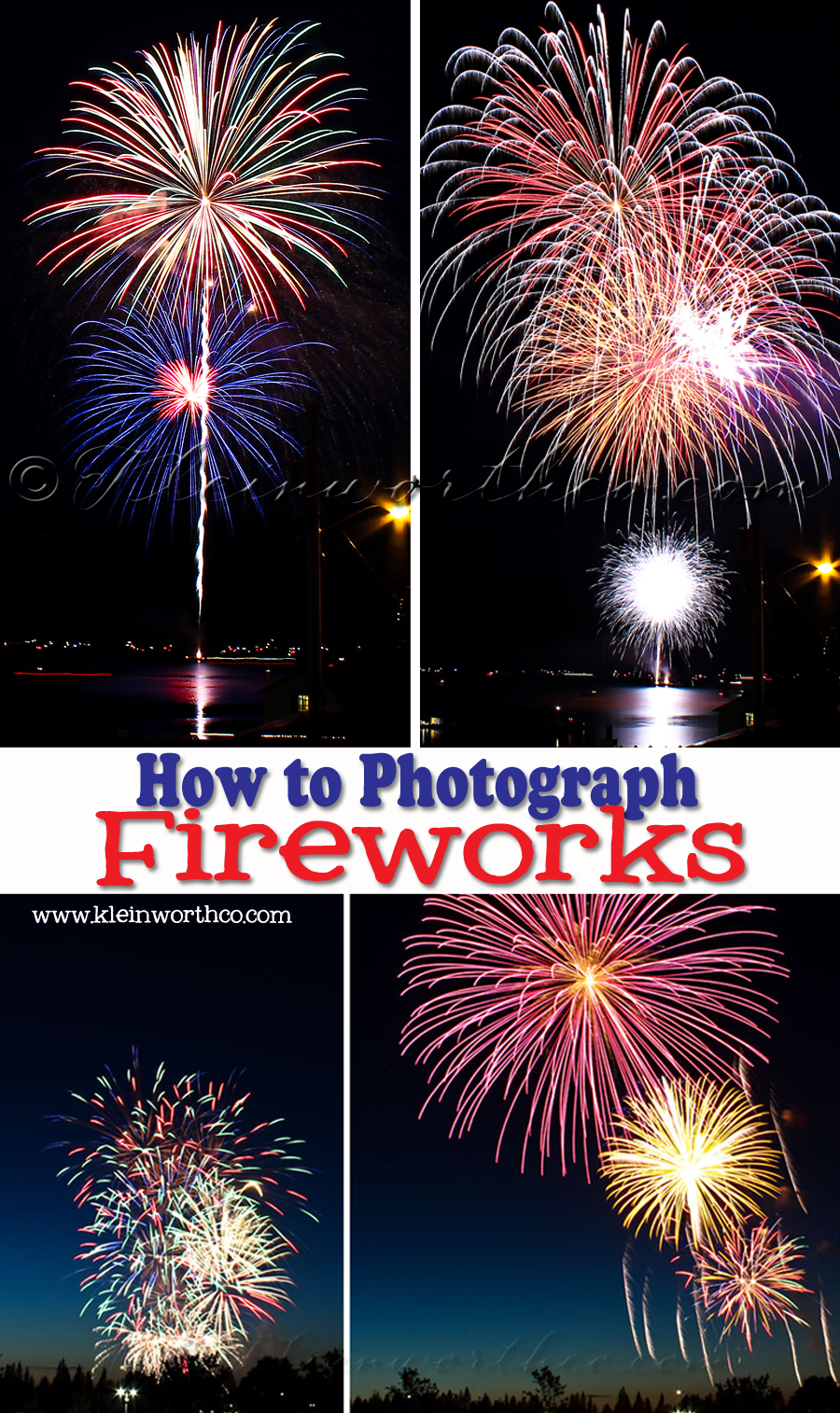 Reader Interactions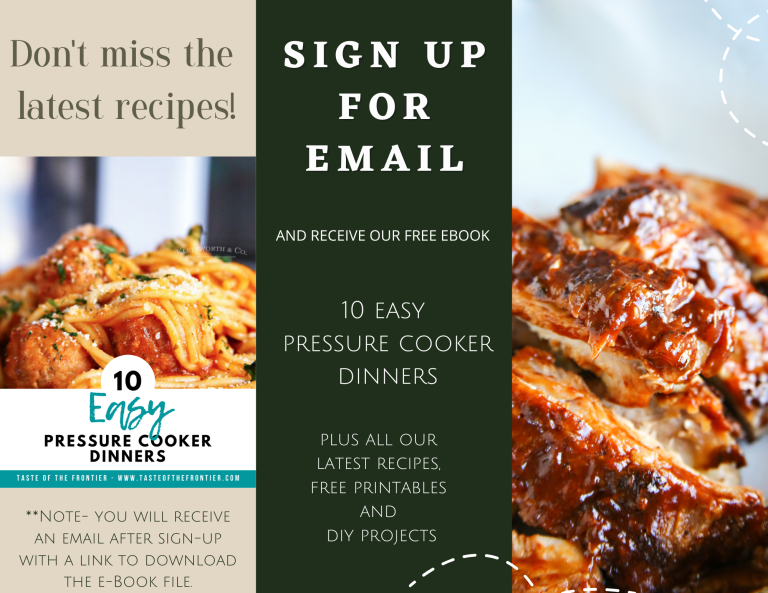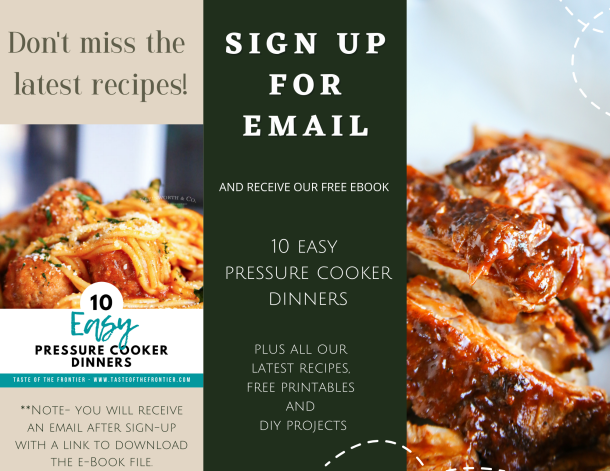 Join our weekly mailing list to receive the latest posts AND
the most popular posts on Pinterest!.
It's all FREE!