**This shop is part of a social shopper marketing insight campaign with Pollinate Media Group™ and Home Depot & Rubbermaid, but all my opinions are my own. #pmedia #AllAccessOrganizers  https://cmp.ly/3/8vNxcO
This week I was able to Get Organized with Rubbermaid All Access Organizers – WhoooHoooo!
 When we made our cross country move 7 months ago we knew things would be tight on space.  You see we only had 30 days to get relocated for the new job & apparently things like moving are a seasonal thing up here in Northern Idaho.  This wasn't something we were used to being that we are both CA natives & lived in the desert of NV for the last 12 years.  So house choices were slim pickin's.  We actually took this house on a leap of faith- sight unseen.  Yep- we went off of photos, phone conversations & our faith that everything would be okay.  Fortunately everything worked out.
 That being said- this house is 1000 square feet smaller than our last.  Even though we sold or donated 50% of our belongings to make this move happen- we are still very tight on space.  I used to have my entire office plus 2 closets & a bunch of space in the garage to store my crafting supplies.  I had to use our new garage space for my studio (which I am grateful for) & don't have a full dedicated office space like I used to.  This means that I had to take over half the linen closet & most of the coat closet to accommodate what I still have left of my crafting supplies.
It's been driving me INSANE!!
So you can imagine how positively THRILLED I was when given the opportunity to try the new Rubbermaid All Access Organizers.
I could barely wait to get on over to The Home Depot & pick up my organizers.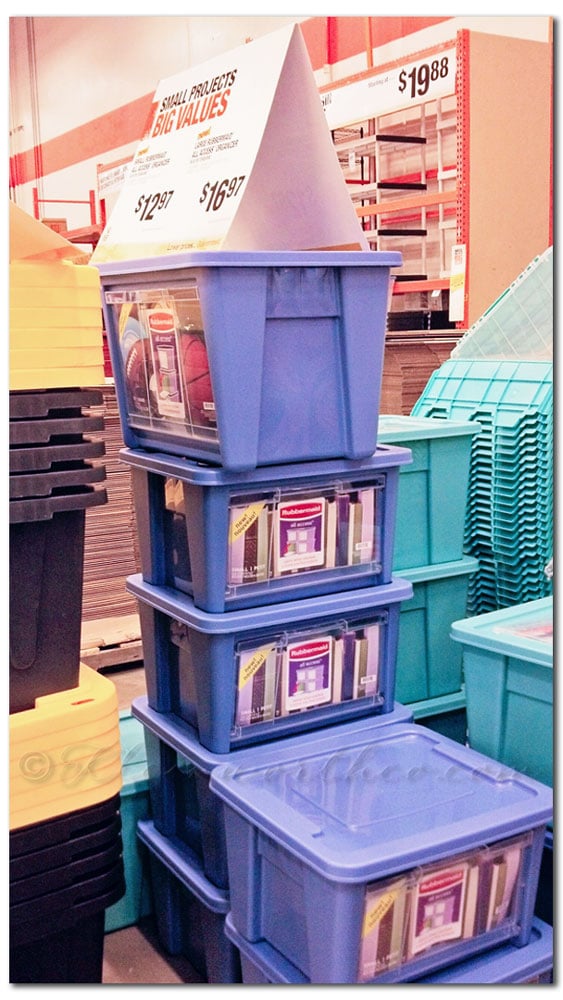 I was not only super excited to see how affordable they are- but I love the blue & green colors they were available in.
 They are also much larger than I expected.  So I got them home & immediately got to work.
YEP- embarrassed to say that I have been living with my closet like this for the last couple months.  As I would keep collecting new craft supplies they would just get dumped in here because we hardly ever open the door.  But every time I wanted to make something I would have to tear it all out & hunt for things.  Did I mention I have NO PATIENCE for this.  It literally puts me in an instant bad mood when I have to hunt for things.  I want them within my sight & easy to access.  I really don't like feeling disorganized so this situation had to end.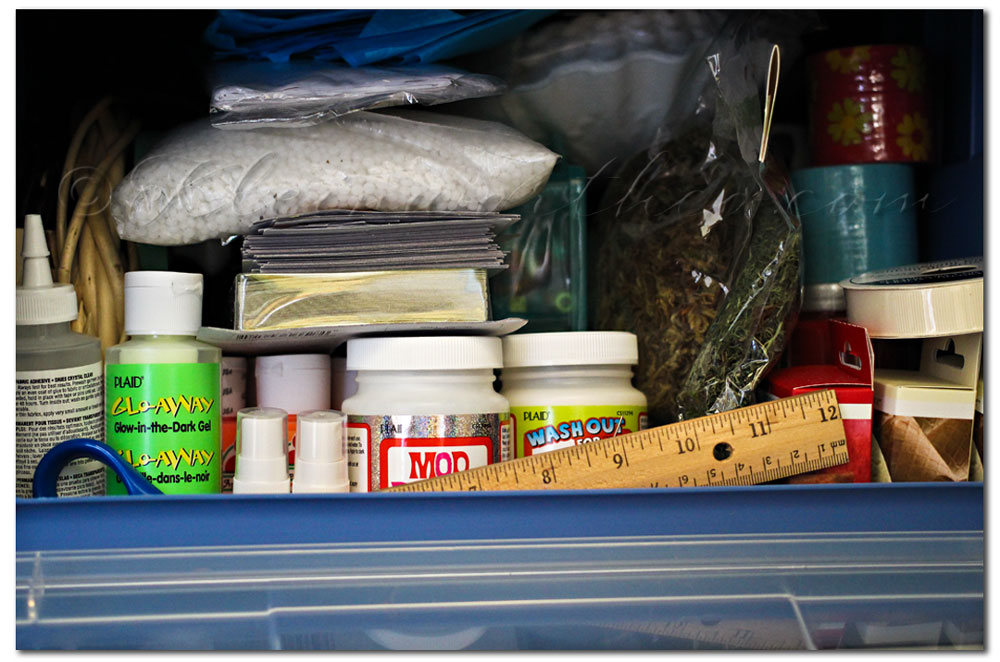 Check out how neatly all this stuff fits in my bin.  This is the small bin but it wasn't small at all.  I was shocked at how much I was able to fit in here.   I absolutely LOVE the fact that it has the clear side door so that I can access my things without taking the lid off. I like seeing things from the label view instead of the tops of the lids.  Being able to reach in from the side is AWESOME!!!!!!!!!!!!  Sticking in a standard tote would have been equally as annoying for me because I'm one of those people that has to see what I have or I forget it exists.  Then I end up re-purchasing things I already own just because I can't see that I have it. Do you see now why being organized is so important for me.  It's how I survive.  I can't function otherwise.  I just have too much going on & my mind is in too many places to try to remember it all.  So these clear doors letting me see what I have & access it so easily- LOVE!!!!!!!!!!!!!!!!!!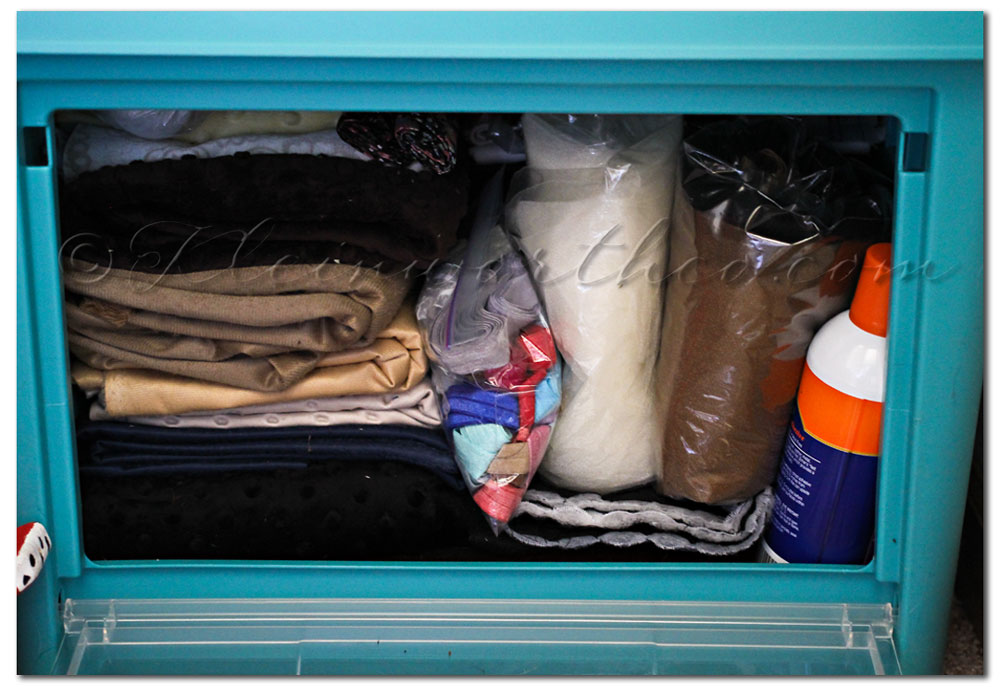 This is the large bin.  It holds a TON of stuff.   I decided that I would use this for corralling all the fabric & supplies for making my camera straps.  I literally had it all just dumped in a large (person sized) tote with all my other fabric & anything else that would fit in there.  Every time I would make a sale I would have to drag everything out & hunt for the supplies I needed.  This HAD TO STOP.  I can't live like that.  I swear it's some sort of torture to be disorganized in this way.  🙂   So now I have everything I need all in this easy to grab space.  I was able to fit 30 stacks of fabric in here & all the other things that go with it- batting, spray adhesive, & most of my packaging supplies (minus the shipping boxes) in here too.  That makes me HAPPY!!!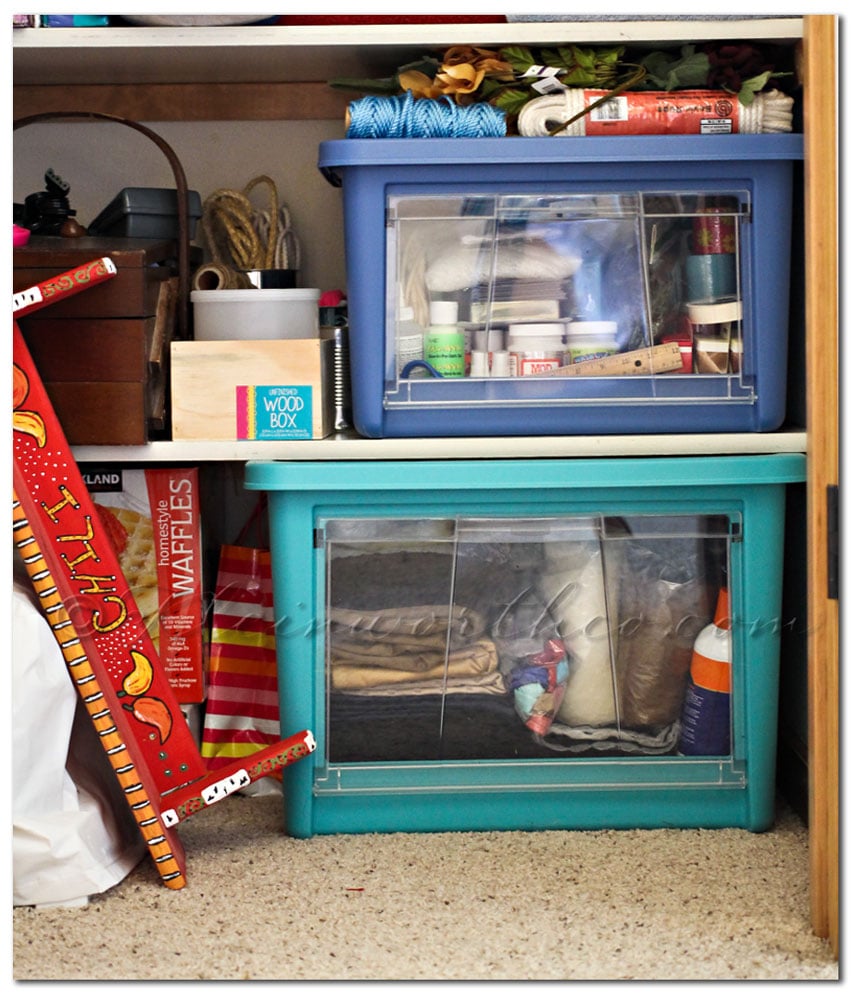 So you can see here that I bought both colors.  Yeah- I really wanted the green in both sizes but they didn't have the green in the small at the time we were there.  So I decided that the colors reminded me of going home to the ocean- so that was okay with me.  🙂   I had planned on stacking a set in each of these spots- but they were so much bigger than I expected so one of each.  These do stack well & open when stacked- but they didn't fit stacked here in my closet because of these shelves.    But this works really well for me because of – again- that nifty side door.  I don't have to remove them from the shelves to get to my stuff – but if I wanted to, they do open from the top as well.
You can see my projects I still have yet to complete- unfinished boxes, a shelf that needs repainting, all sorts of rope for things &  the waffle box that is currently holding burlap & raffia that needs to be covered with either paint or contact paper so I don't have to look a the logo anymore.  🙂  I will be buying a whole lot more of these Rubbermaid All Access Organizers.  Every single closet in this house needs more organization along with my laundry room.   My prop cabinet is also bursting & these would be great in addition to that for storing all my things for photos.  The kid's school supplies need to be moved into these organizers too so we don't have to store them with their crafts & games.  SO MANY possibilities.  Looks like I will be spending a lot more time at The Home Depot picking up more of these organizers from Rubbermaid.
You can connect on Facebook with The Home Depot & Rubbermaid.
 Thank you Pollinate, Home Depot & Rubbermaid for helping me get organized! 
Don't forget to come back & join me on Mondays for Project 52
To see where I am linking today- visit HERE
[jetpack_subscription_form]