If you have ever wondered how to make a planter box or wanted to just spruce up your front porch or garden, then you don't want to miss this tutorial for these DIY Modern Planter Boxes. They are the perfect quick & easy weekend project.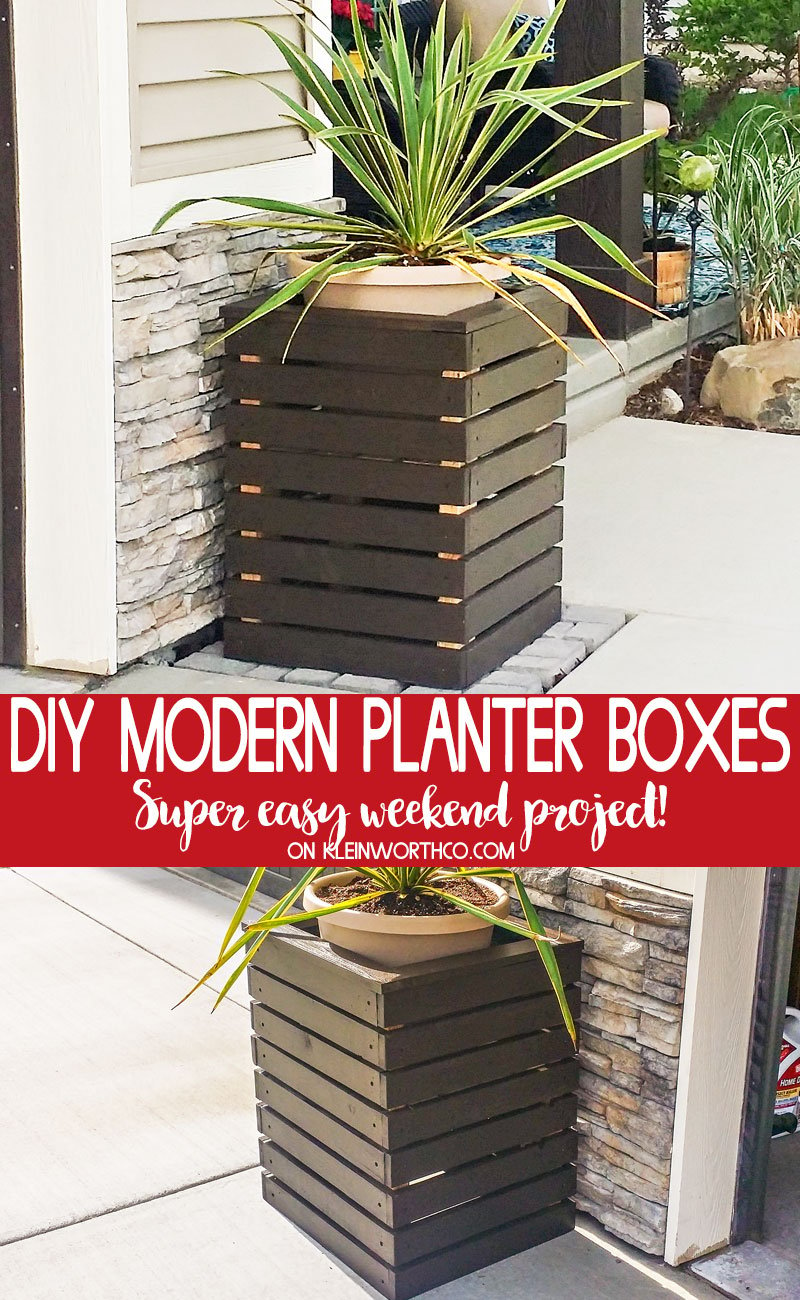 Last summer I really wanted to spruce up the front of the house. We had this sad little square the builders made next to the garage door. It was meant for planting something there, but they didn't create a path to install an extra sprinkler line. It was just a square of dirt surrounded by concrete. I wanted a change & since our home has a coastal vibe (hello…So Cal transplant here) I decided that we would DIY Modern Planter Boxes to flank the main garage door. Before I knew it, the summer got away from me & I never got around to sharing them here. They are one of my favorite DIY's to date & they were super easy – check it out.
DIY Planter Boxes
This post contains some affiliate links. Click here to read my full disclosure policy.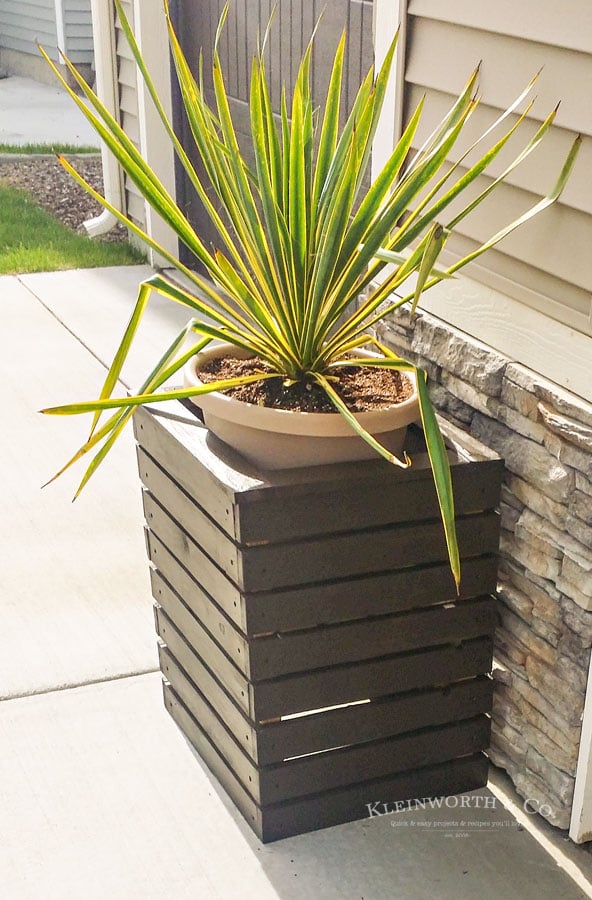 When it comes to DIY, I'm all about easy & simple. I don't like projects that drag on forever & being that we are semi-newbie DIYers, it's all about trial & error. We learn as we go, but have been pretty happy with the things we have made so far. Like I said, I like to keep it simple- so when it's simple, the results seem to be better too.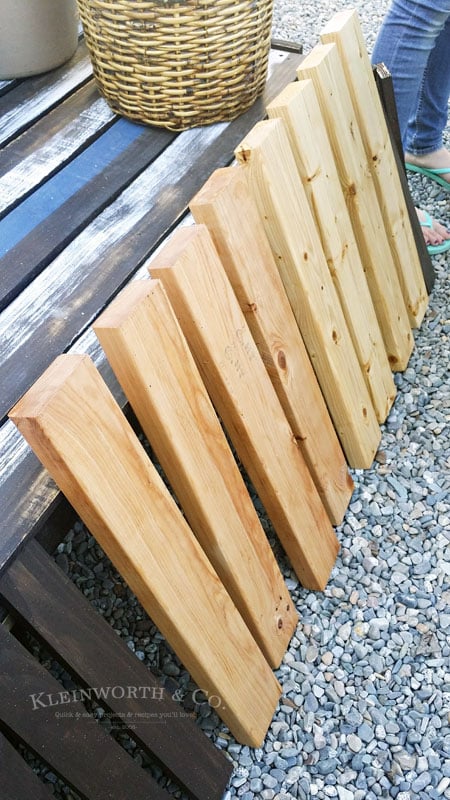 For this, we started with a bunch of 1/2″x2″ boards cut into strips. I think we ended up with 32 pieces for the outside & 4 1×4 pieces for the inner supports. (that is for each planter – we made 2) Cut them, paint or stain in your desired color & don't forget to add a clear varnish to protect them from the weather. (note- your length is going to depend on the size you desire. I think we just cut a bunch & laid them out on the ground with the spacing we knew we wanted to determine how tall we would make it. Then we cut our supports to that length. We tend to start with a general idea & plan as we go.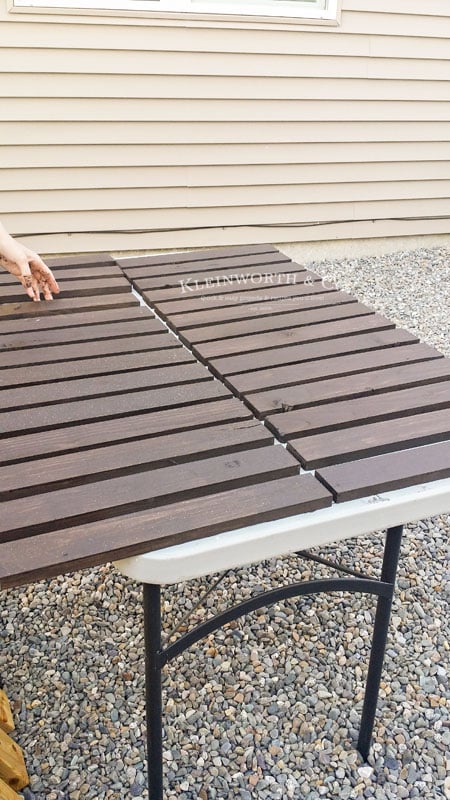 This is what it looked like when we had wrapped up the paint & sealant. Then we pre-drilled holes at each end of each piece so the wood wouldn't crack when we got to the assembly part.
DIY Modern Planter Boxes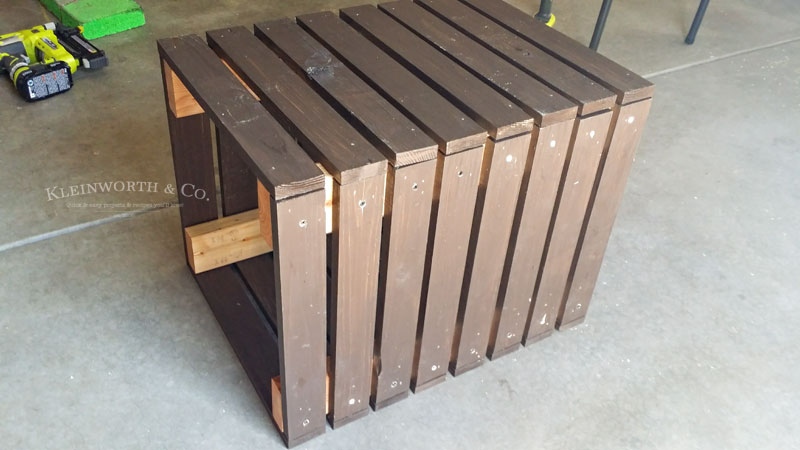 At this point, it is time to assemble. Start by laying 2 support pieces on the ground. Then lay out your slats on top & get your spacing where you want them. (I intentionally left the supports a different color for visual interest) Using wood screws, connect each end to your support piece through the holes you drilled.
You can do this for 2 sides & then stand the end up & attach the other side pieces to the other side of the support piece. You can see that we then had to touch up all of the pieces with more paint because we drilled afterward. I would definitely paint after you do all the cutting & drilling next time.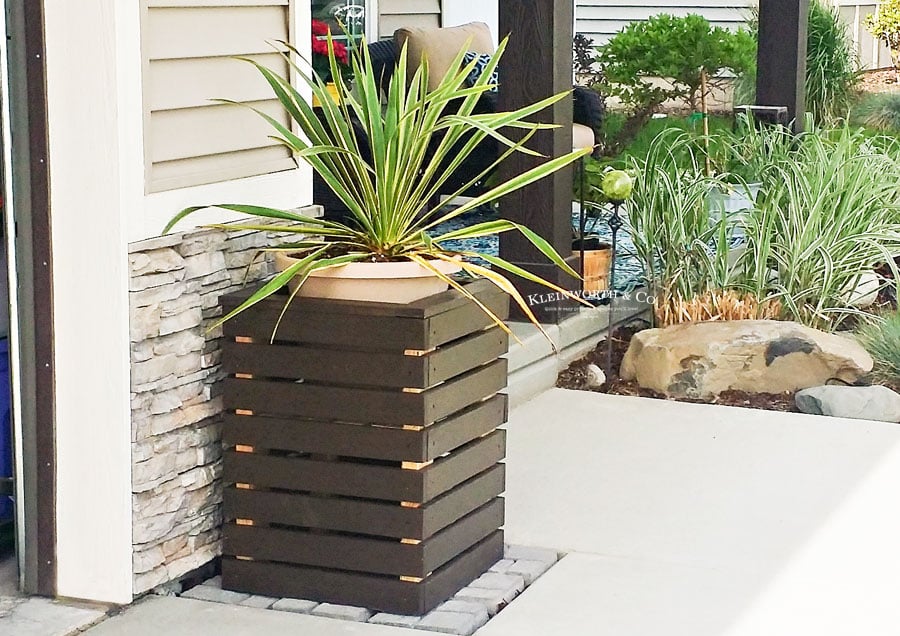 Originally I thought we would put a piece of plywood on the bottom & staple in some weed stop to the inside & fill with dirt for planting. But then we realized that not only would that be super heavy & expensive, but that would take away some versatility.
How to build a Planter Box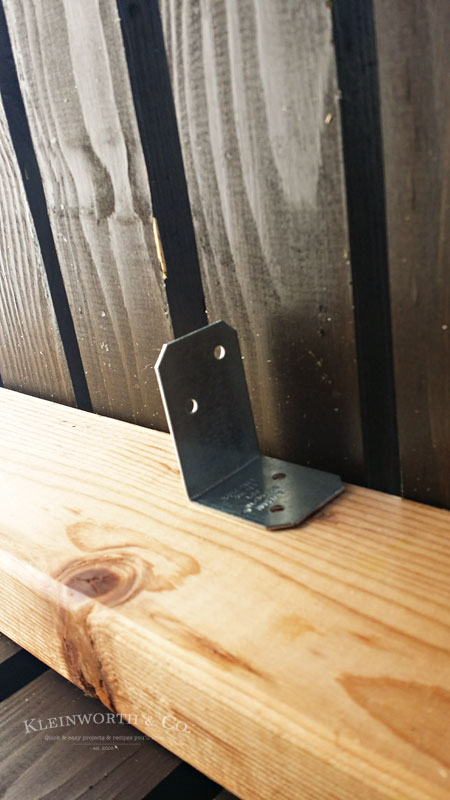 We decided to add a faux bottom inside so we could set a potted plant in it instead. It's super cold here in the winter & if we planted inside the planter it would be a nightmare to replant in each spring. So we were able to just pull out the potted yuccas when the snow arrived & placed cute tiny pine trees in the planter boxes for the winter.
To build the faux bottom – start by adding this bracket in 4 spots inside on the supports. You will then lay 2 – 1×4's to rest on them.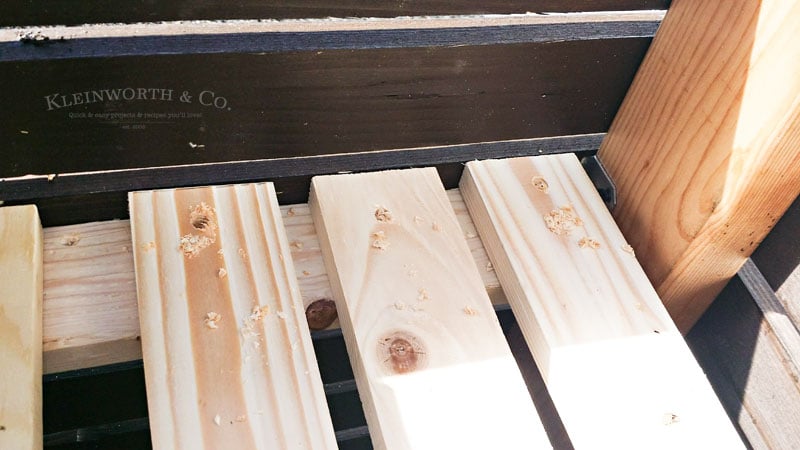 Then you can add more 1×4's cut to fit inside, laying them the opposite direction. This way you can screw them down into the 1×4's you just set on the brackets.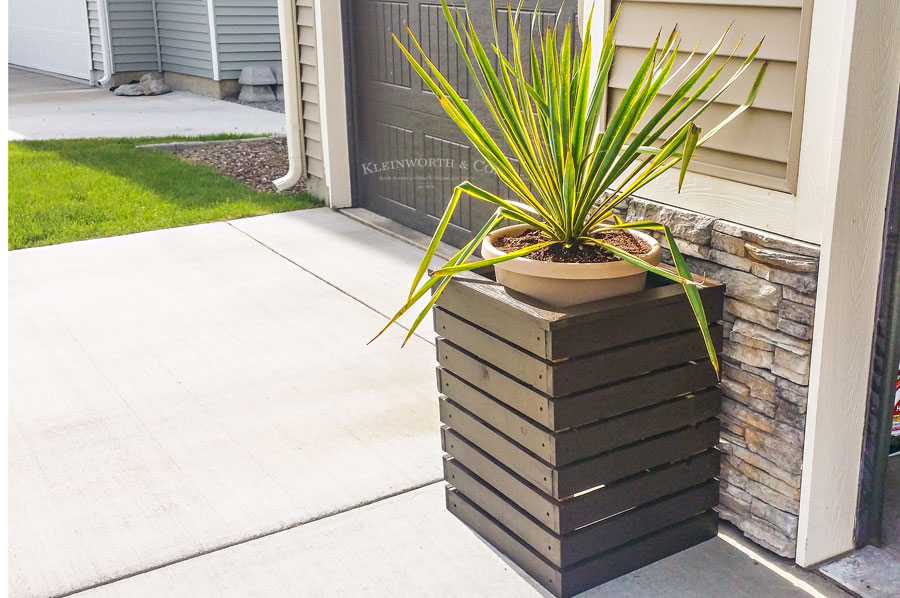 As you can see – we added small pieces of 1/2″x2″ along the top for aesthetics. We wanted to cover the areas where the supports were attached. Plus, this gave them a more finished look. Again, this wasn't in the original plan. It was just one of those things that we decided would make it look better as we were completing the project. That's how we roll around here.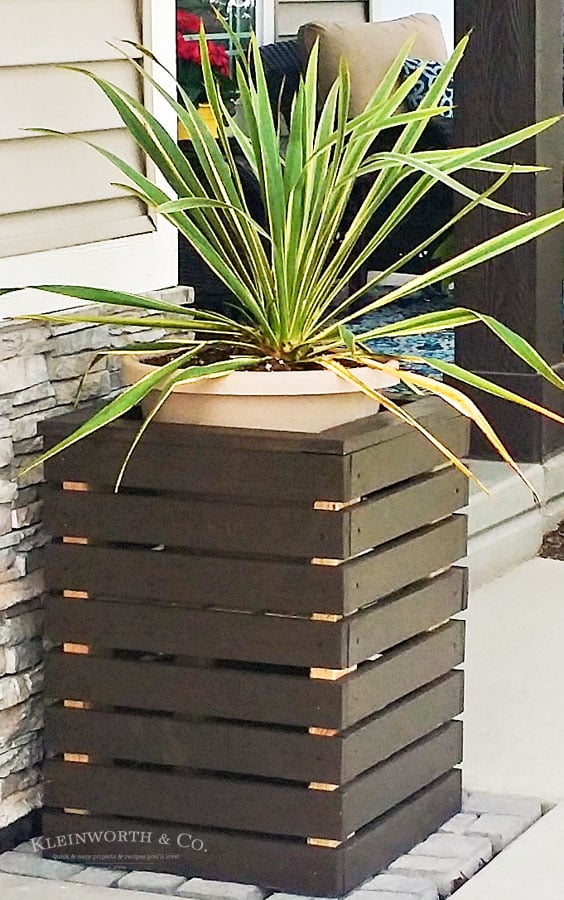 I absolutely love how they turned out & I'm excited to get them all spruced up for this summer season here soon.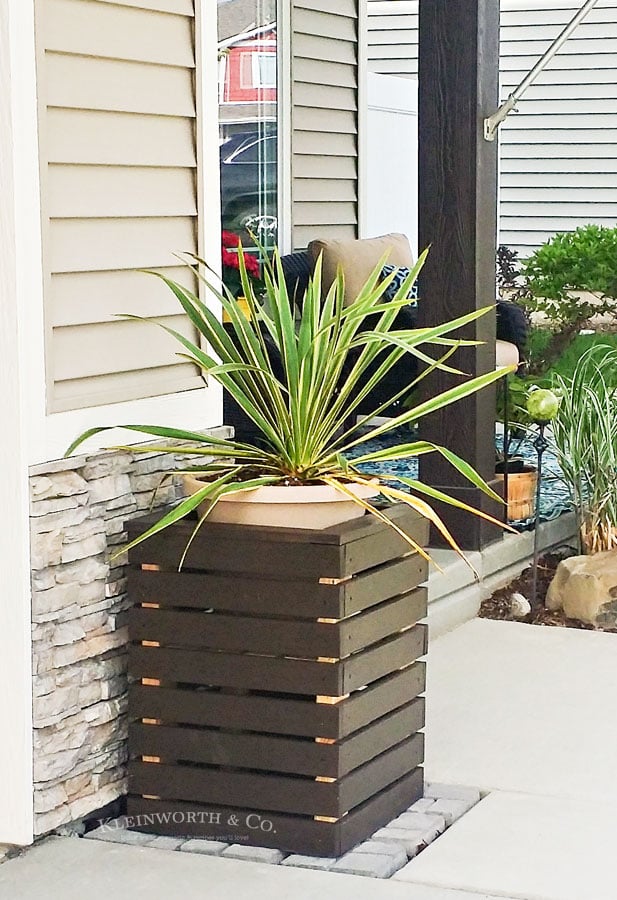 If you are looking for a simple & easy way to sprice up your outdoor space, this is a great project for that.
Looking for more of our favorite projects?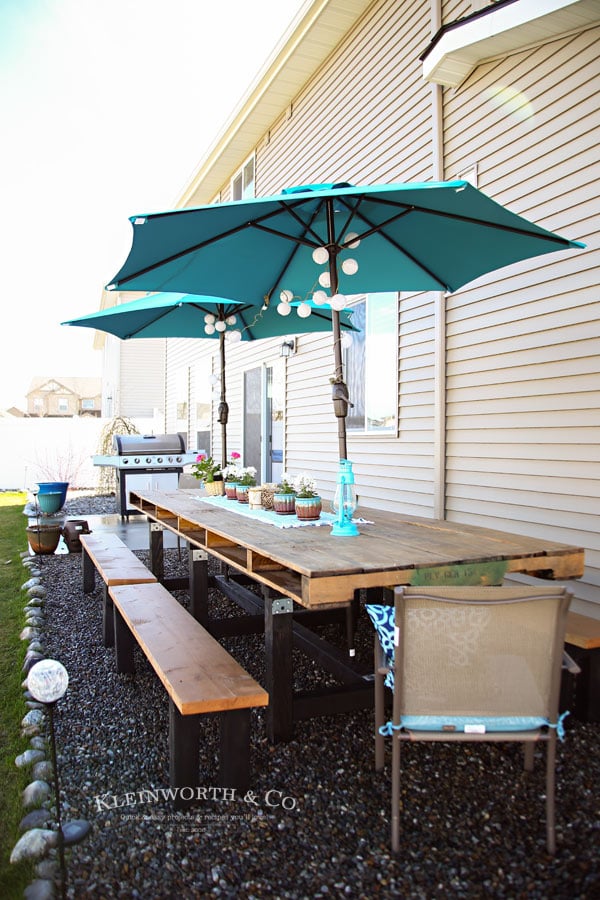 DIY Pallet Outdoor Dining Table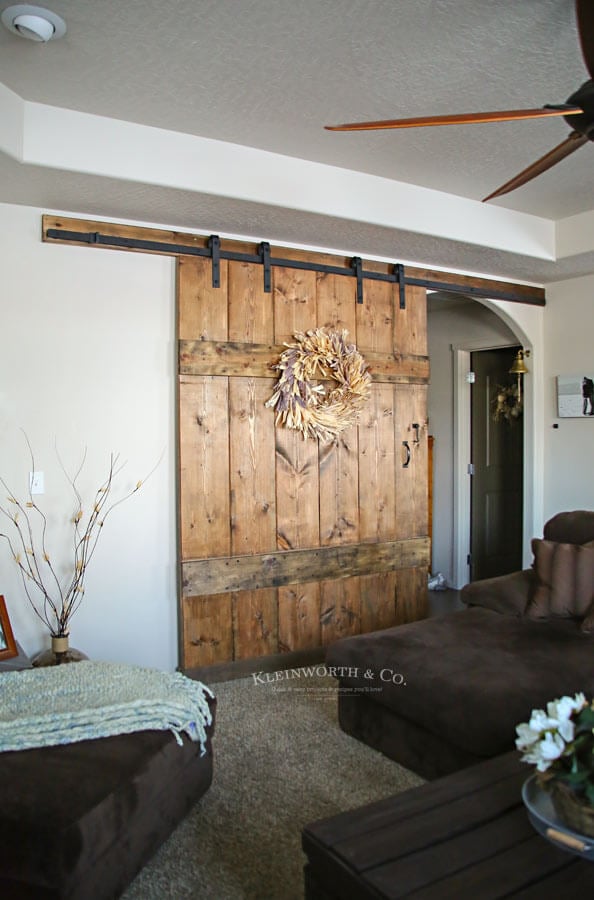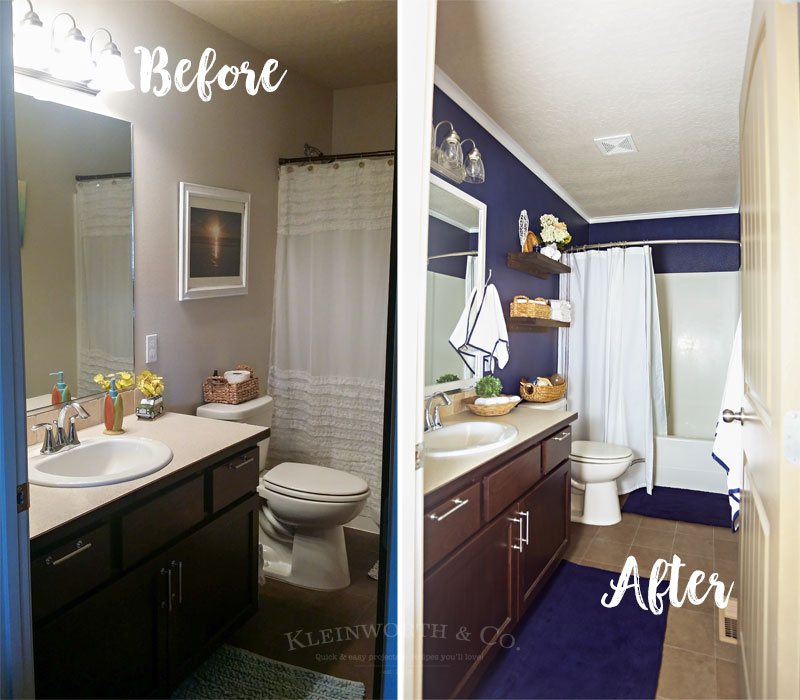 Nautical Navy & White Bathroom Makeover
Don't miss these great ideas from these bloggers….
DIY Kitchen Benches | Simply Kierste
Modern Farmhouse Kitchen Makeover Reveal | Blesser House