Dish Soap Bottle
Do you re-purpose things in your house?  Do you search out for things that would work well as other items?  Well, something I have been doing a lot of over the last several years is re-purposing things.  We started doing it mainly because we didn't have a lot of disposable funds & I still wanted to be crafty & make things.  I had to make due with the things I had on hand, so I started looking at things with a fresh set of eyes.  Before anything goes in the trash I take a look at it & try to think of another way it can find a new life first.
Do you remember when the olive oil style (tall skinny bottles) soap dispensers became really popular   It was so many years ago & they wanted what seemed like a ridiculous amount of money for them.  So at the time I decided to take an old liquor bottle & liquor dispenser spout & create my own.  It worked well for a while but I started noticing that for one- the tall bottle wasn't very sturdy & would get knocked over quite a bit.  On granite counters, that can be all bad.  I also started noticing that the soap would start taking the finish off of my chrome spout.  It didn't look good & it was always goupy anyhow.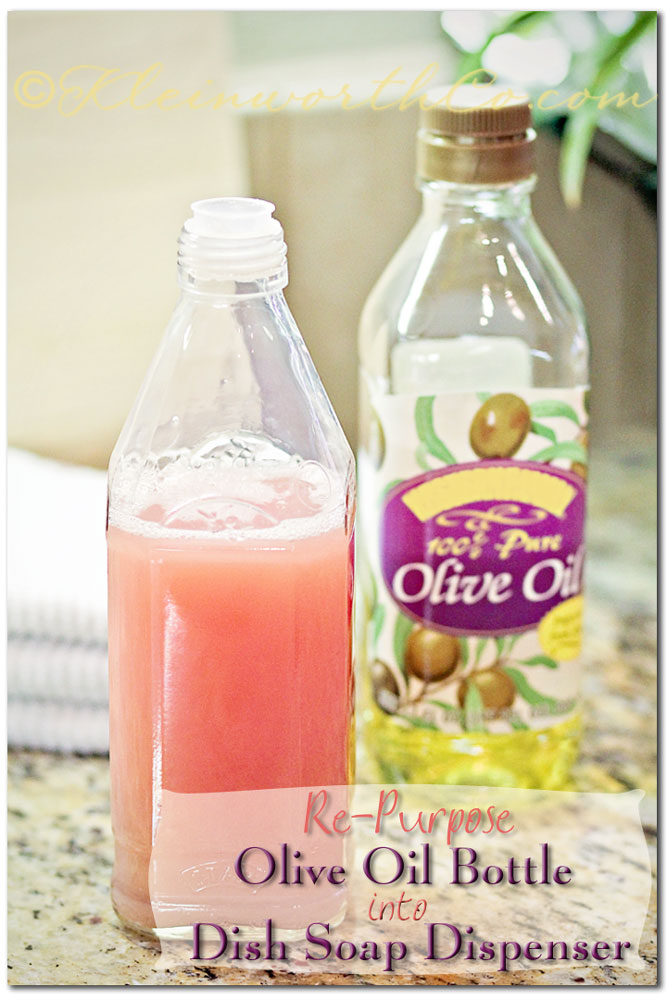 That is when I decided that I didn't need to have the things that were super trendy at the time- I needed something that was more functional for me.  I started taking notice of all the bottles we were bringing in the house & when I found that the olive oil bottles not only were less likely to knock over but also had their own pour restrictor built in-well YAY!  It was a no brainer for me to re-purpose olive oil bottles &  turn them into dish soap dispensers.  The flow is perfect every time, they are easily cleanable & I don't' have to feel bad about tossing a glass bottle.
Dish soap bottle made out of an old olive oil container makes me happy!
To see where I am linking today- visit HERE