Craft Room & Office Tour 2018 shows some great craft room ideas for getting your space organized. If you love modern industrial with a bit of farmhouse flair, you'll love this.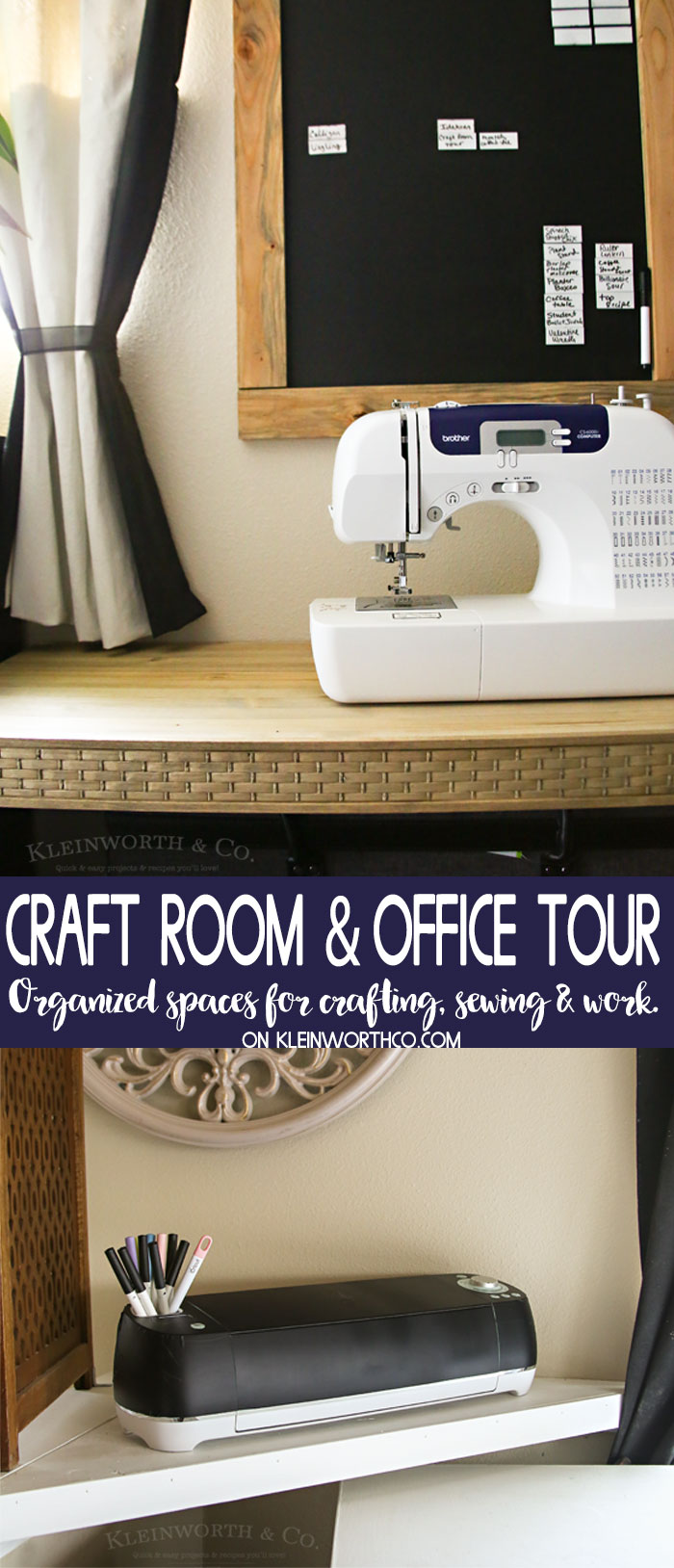 WOW, it sure has been a long time since I have shared pics of the house. Food has taken over so many aspects of this little space & yet we build & create things for the home almost on a weekly basis. I'm pledging to share more of those fun projects here through 2018. I'm starting with this Craft Room & Office Tour.
Craft Room Ideas
This post contains some affiliate links. Click here to read my full disclosure policy.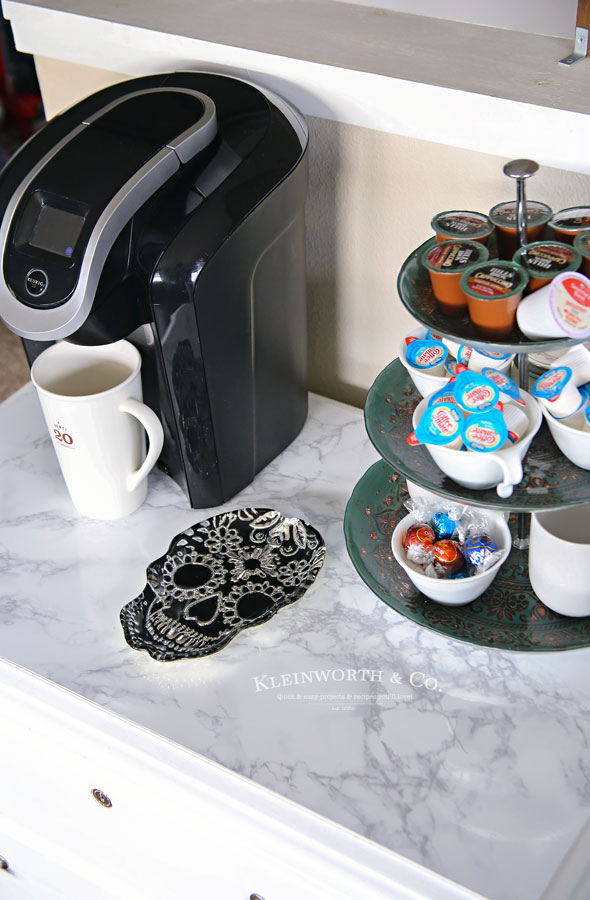 I had the chance to jump in on this super fun craft room blog hop with so many inspirational friends. We have been working on fine tuning my space since I spend 12+ hours a day in here. While I still have a handful of things I want to do, it's finally at a place where I feel I can share it with you all. This post is photo heavy, we have crammed a lot into this 200sf space.
Let's start with where I start my day – here at the coffee station. I have this set up on top of my file cabinet & I really couldn't live without it. I have everything I need here for a nice cup of jo anytime I need it.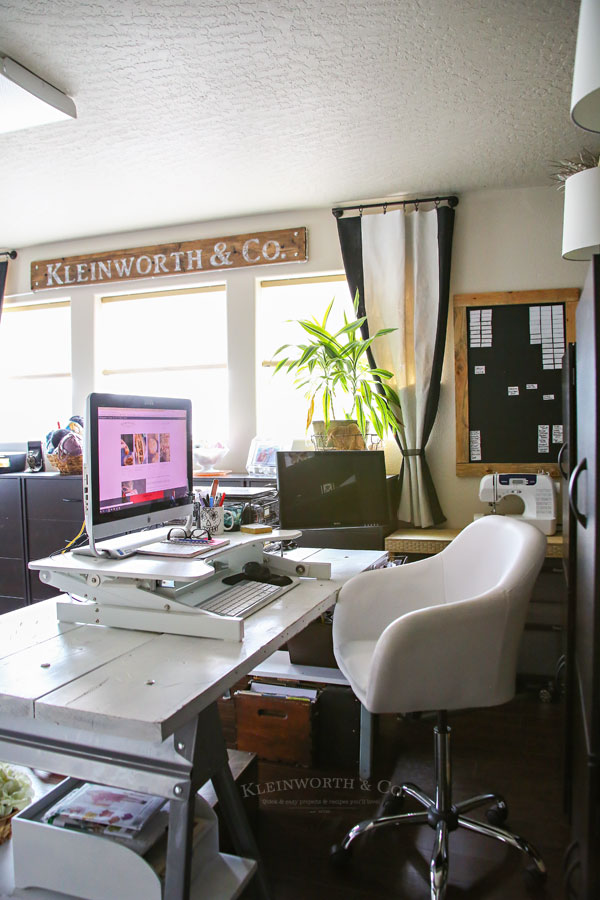 After completely outgrowing my desk years ago, the hubs & I build this sawhorse desk. It has had a couple makeovers since it was first created, but I still love it & it works great for me. You can check out how to build it here, find the chair here & the vari-height office desk accessory here. (Lighted Shop Sign tutorial here)
Craft Room & Office Tour 2018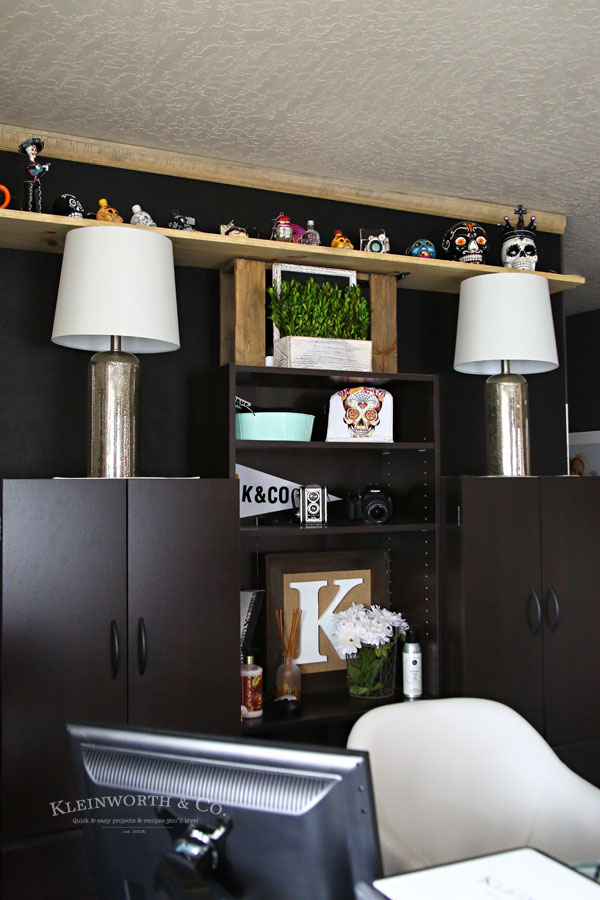 We have a tall bookshelf & 2 cabinets behind my desk. I also have a shelf on the back wall for my sugar skull collection. I love this space, which is good because I sit in that chair for many hours each day.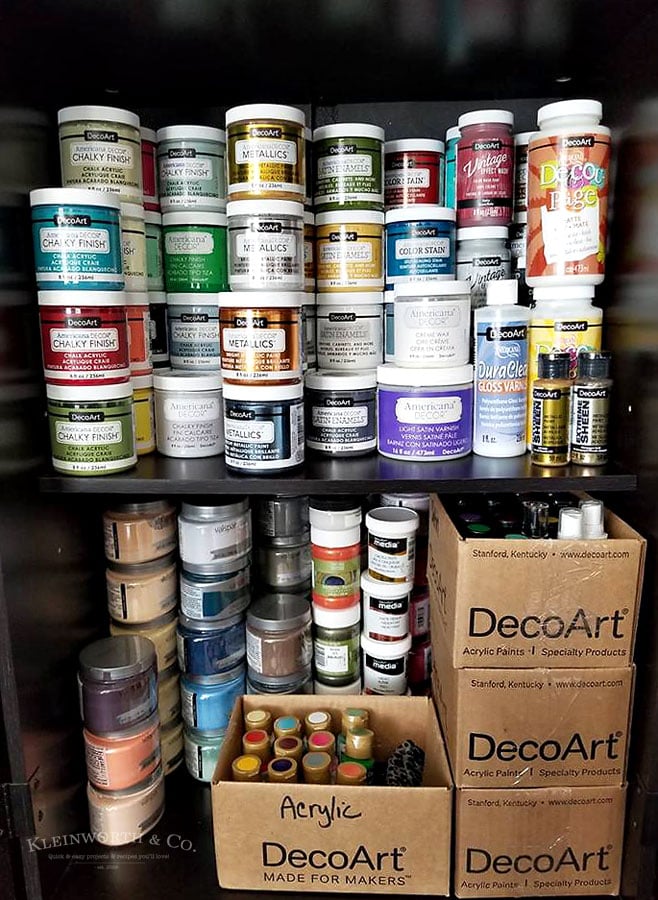 This is inside one of the tall cabinets – my Deco Art paint storage. I also have a drawer in the dressers full of acrylic paints – but this cabinet is for just Deco Art because I work with them on the side doing things I don't share here & want to be able to access their products quickly & easily.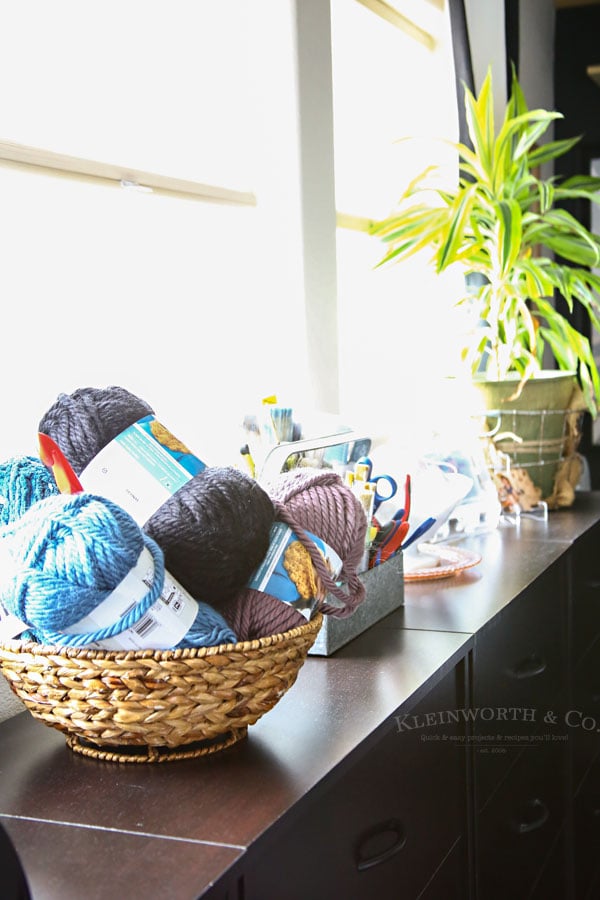 Along the long wall with the 3 windows, I have 4 dressers for storing all my craft supplies. I keep a few things out where I can see them, simply because I love the texture. So nubby baskets full of yarn not only make me happy but remind me of the multitude of projects I have yet to create with it all. Some things I leave out just so I don't forget to make whatever it was that I purchased it all for.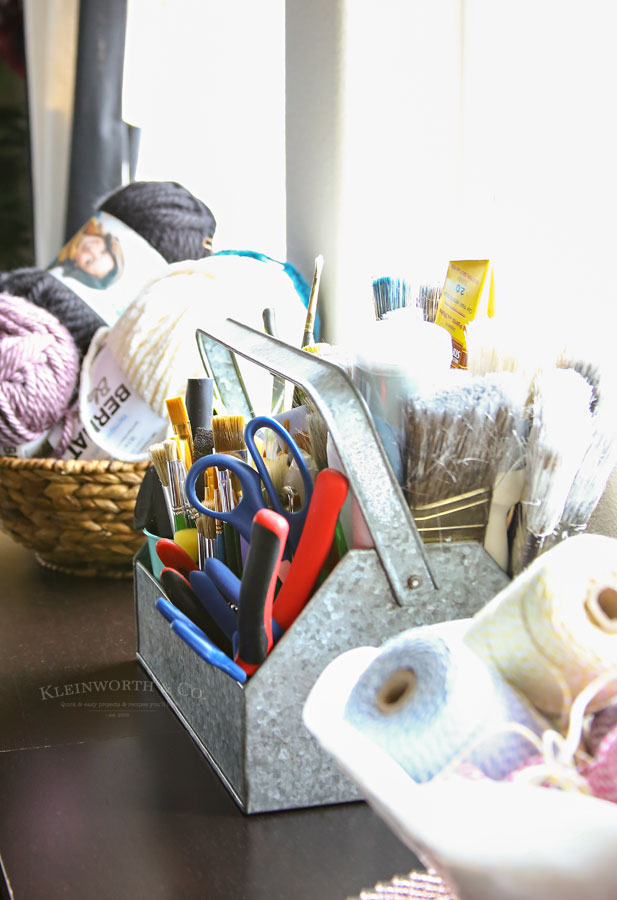 I also store my paint brushes in this cute little caddy. I love galvanized metal & it is just perfect for the tool I probably use the most out of all my supplies – the paint brushes. Paint can fix almost anything.
Craft Rooms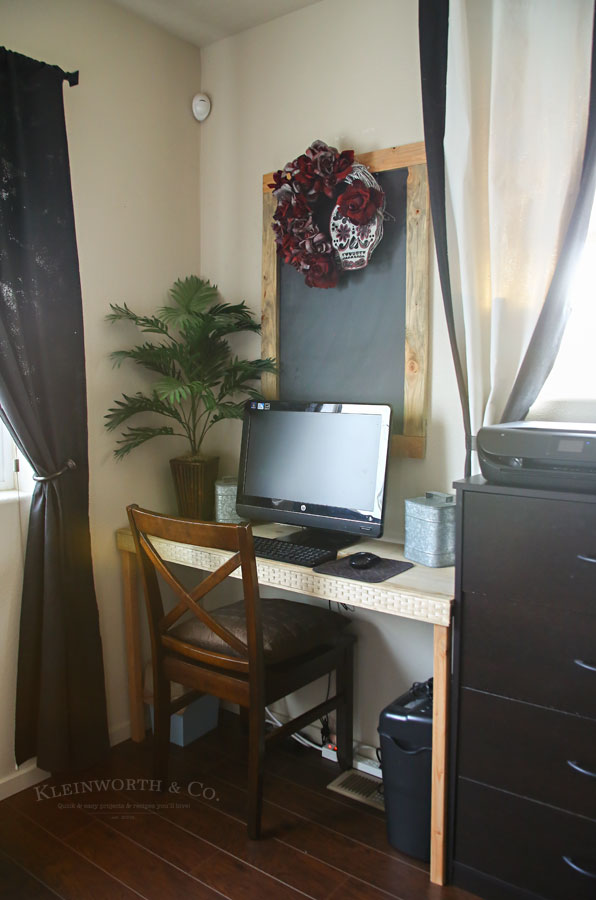 On the ends of the 4 dressers we built in matching desks. On this side we put the additional computer station & built a chalkboard to hang above it. It's a great place for the kids to use the computer when they need to.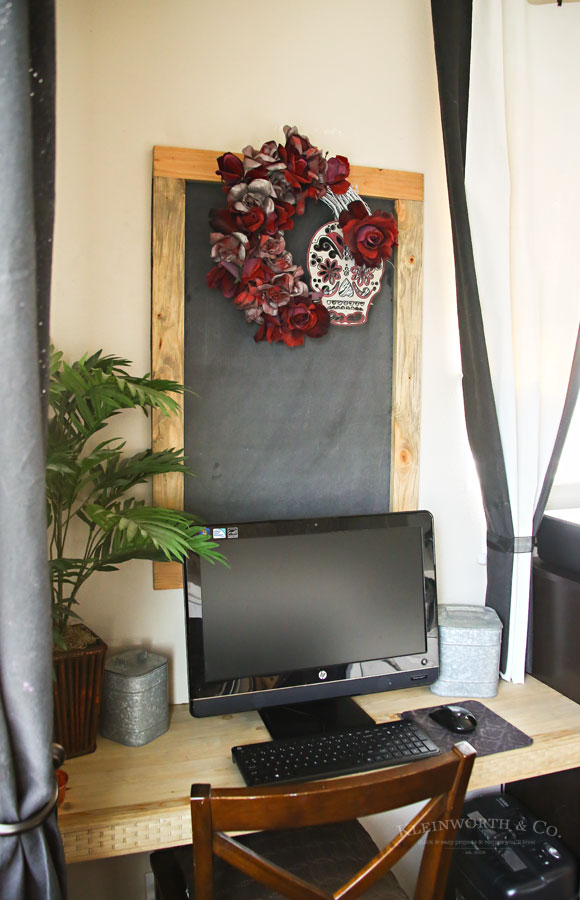 This is a nice little space that added more function to the room.
Like I mentioned – we did matching desks on each side. So on this end we designated it for the sewing machine. I also added what looks like a matching chalk board. It is actually metal, painted with matte black paint so I could continue using my magnetic dry erase tabs. It's how I stay organized – I love it.
Home Office Ideas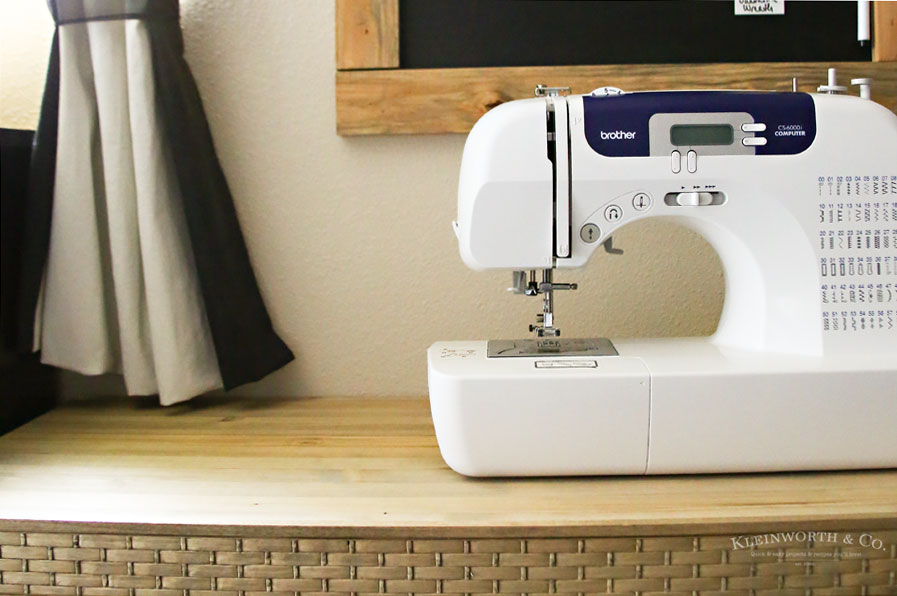 At first I wanted it to be an overflow desk space for when I needed more room to sprawl. But the more I thought about it I realized that I would sew a whole lot more if the machine was set up & ready to go when I needed it. I'm happy we have this here now.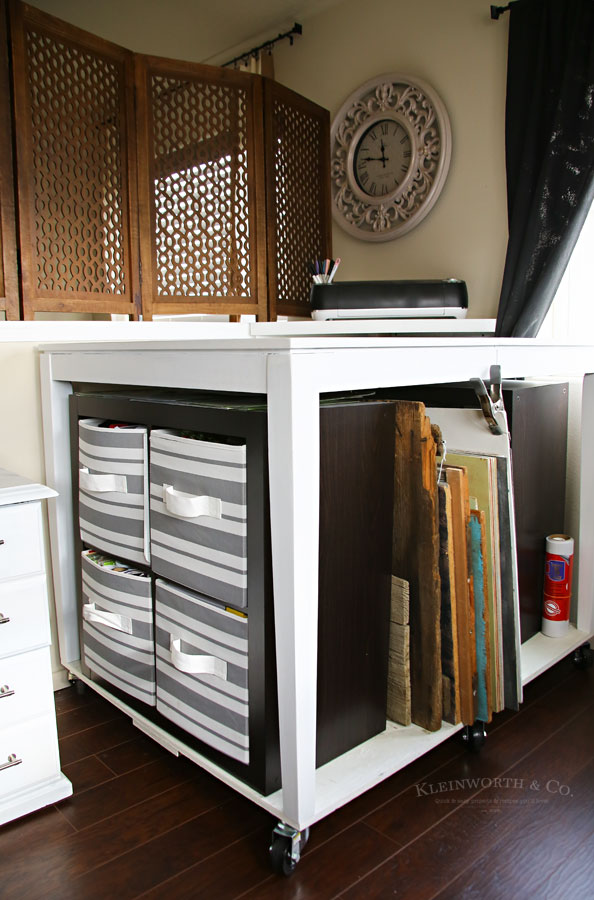 This is my craft table. It was originally just a regular table that we picked up for next to nothing at a furniture store. It had some flaws, so it was perfect for crafts. Later I realized that making it more functional meant adding wheels & a whole lot of storage. So we have a wheeled platform that it is attached to. Then I added 2 cubbie organizers – one on each end. I store all my prop boards, reflectors & backdrops in the middle. Perfect for all those photography needs.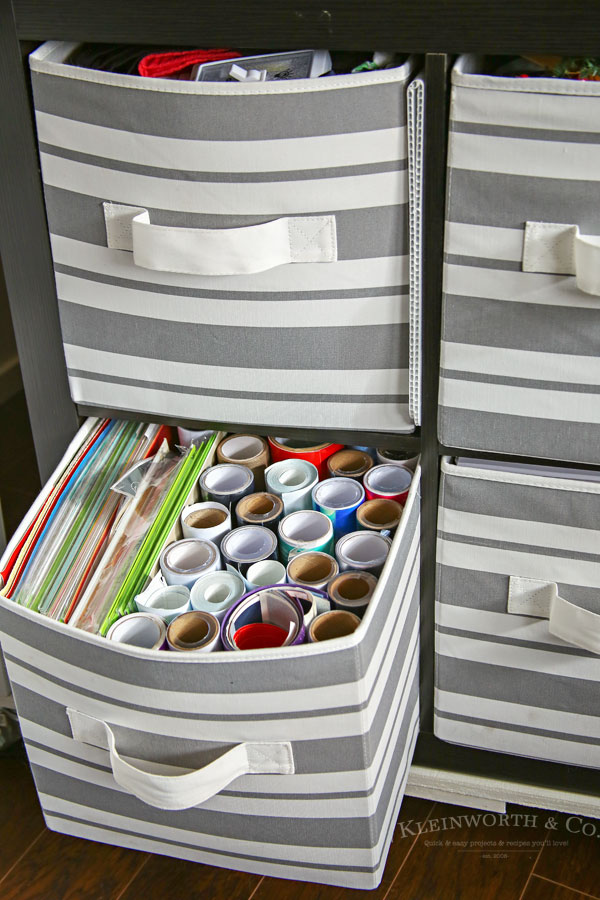 In those cubbies I store things like props, an insane amount of cloth napkins for photographing food & this is how I store all my craft vinyl for the Cricut.
Loft Space Ideas
Speaking of the Cricut. I wanted to be able to leave it out but didn't want it on my table all the time since I move it around so much. Plus I need all that space when I am making a project or shooting things to share here. So we built this little shelf, perfect for keeping it handy but out of the way.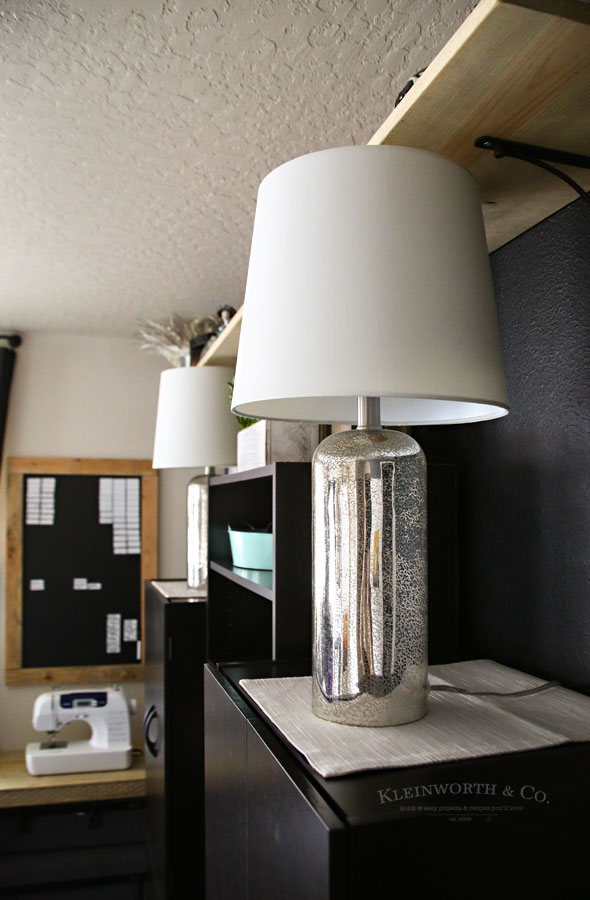 If you haven't noticed, I like things symmetrical. So behind my desk I have 2 matching "mercury glass" lamps. (these are similar) Since it is dark when I get in the office (except in the summer when the sun is up at 4:30) it is important for me to have good lighting. I don't necessarily need the fluorescent light we added in the ceiling when we built the house – I keep that for projects when I really need lots of light. But these lamps are perfect for office work & they are pretty too.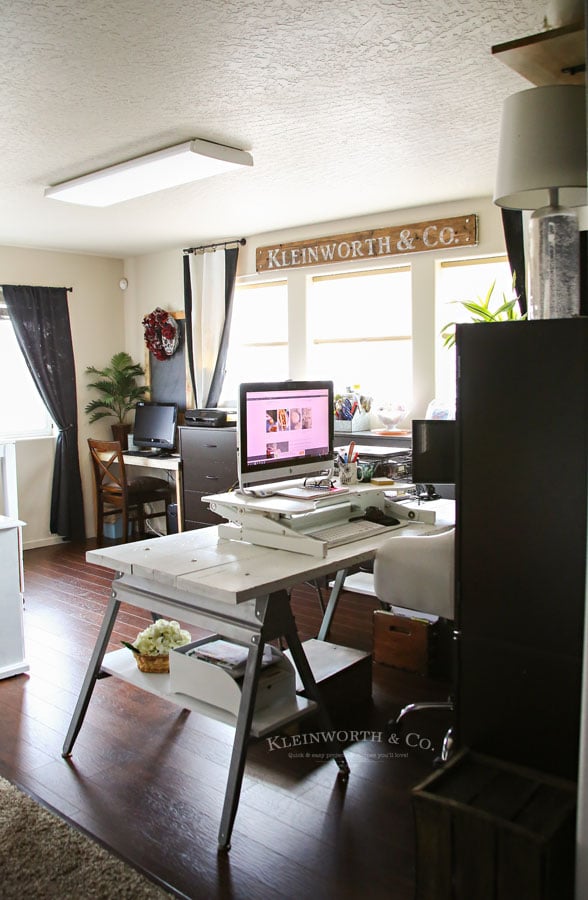 So there it is, behind the scenes of Kleinworth & Co.
It has been so much fun sharing my space with you all.
Craft Storage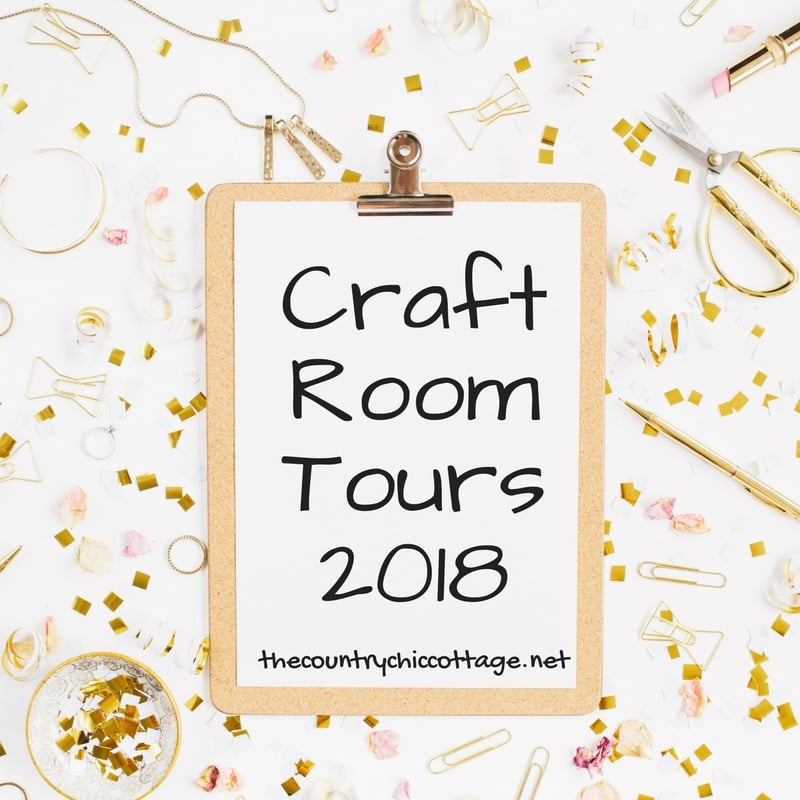 Looking for more ideas for the home?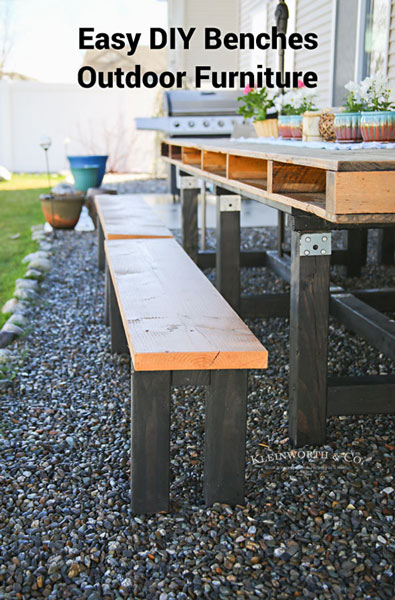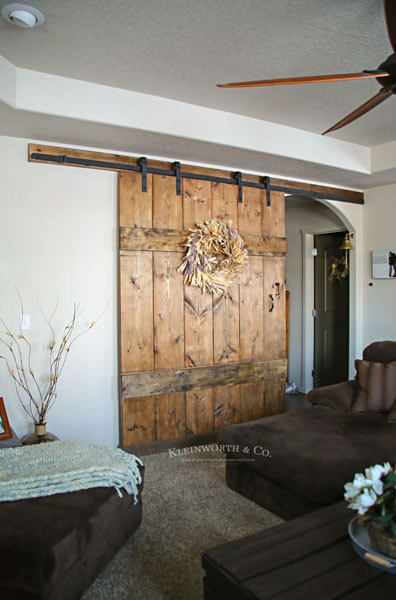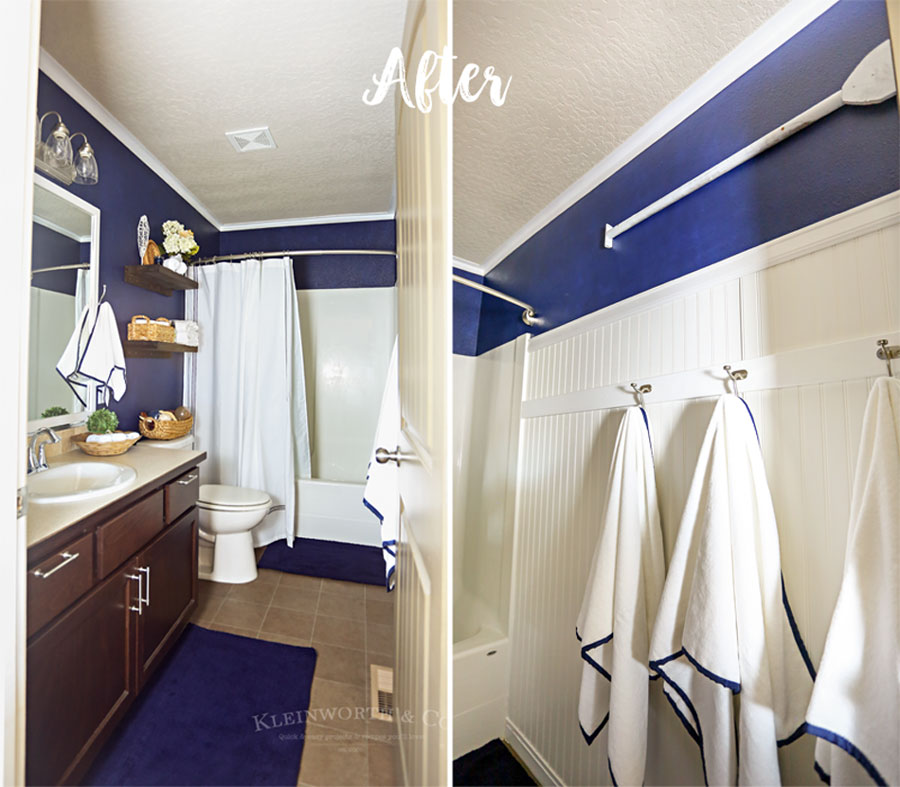 Nautical Navy & White Bathroom Makeover
Don't miss these great ideas from these bloggers….
Craft Room | The Country Chic Cottage
craft room and feminine home office | Atta Girl
Tried & True – Fold Photography Stage
Dragonfly & Lilipads – First Craft Room Tour
The Scraps Shoppe – Craft Room Tour Update
The DIY Village – Colorful Craft Room
The Craft Patch – Craft Room Ideas
365 Days of Crafts – Craft Room Storage
100 Directions – Small Space Craft Room Storage ideas
Organize & Decorate Everything – Craft Room Tour
Doodle Craft Blog – Craft Room Tour
Create & Babble – Craft Room Tour
Scraps of Reflections – Craft Room Tour & Storage Ideas
My Scrapin Stuff – Craft Room Organization
Smart Fun DIY – 2018 Craft Room Tour
Leap of Faith Crafting – Craft Room Tour
Jen Gallacher – Craft Room
The Spotted Leopard – Craft Room Tour
Morena's Corner – Craft Room Organization on a Budget
Life in the Craft Lane – Craft Room Tour
Happiness is Homemade – Craft Room Tour
Anna Makes – Craft Room Studio Tour