Easy DIY Benches – Outdoor Furniture are simple to make & are a great addition to your yard. Beautiful wooden garden furniture made in just 30 minutes.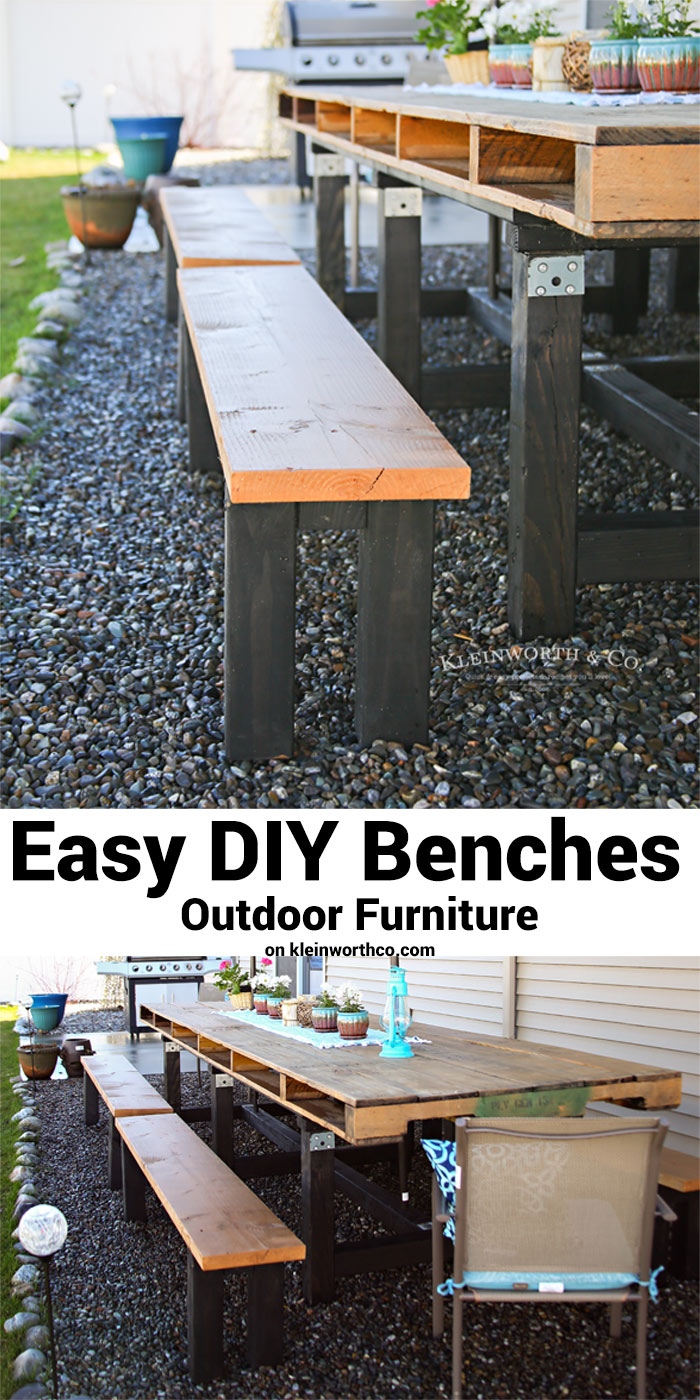 A couple weeks ago I shared how we decorated our Pallet Dining Table for Spring. Then last week I shared how we built our awesome 13′ dining table. Well, when you build a 13′ table, the easiest way to seat everyone around it is with benches. So we created these INCREDIBLY simple & Easy DIY Benches – Outdoor Furniture to create seating for 12. You won't belive just how quickly these come together. We made these benches in just about 30 minutes for each one & it only took that long because we had to wait for the stain to dry. Check it out!
Easy DIY Benches – Outdoor Furniture
This post contains some affiliate links. Click here to read my full disclosure policy.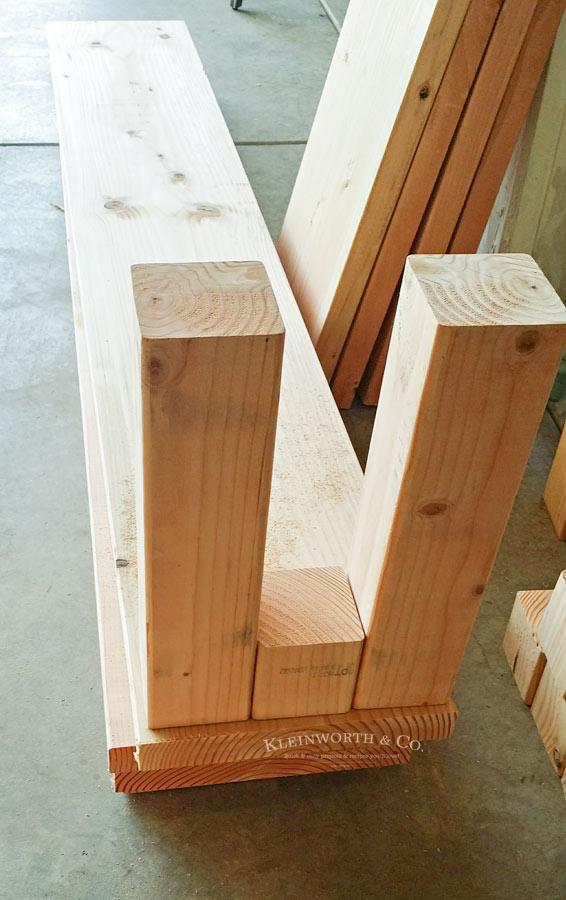 You will need (for each bench) 1- 6′ long plank (1x12x6), 1- 8′ long 4×4 (cut into 6 pieces) & very long screws (about 5′ long) & your stain of choice. We used these – Minwax Pro Series for the legs & Thompsons Waterseal in Transparent Stain – Cedar for the top.. I have it set up here to show you how those pieces come together. You can choose how long the legs are for your needs. That center piece needs to be at least 4-5″ to give it some strength.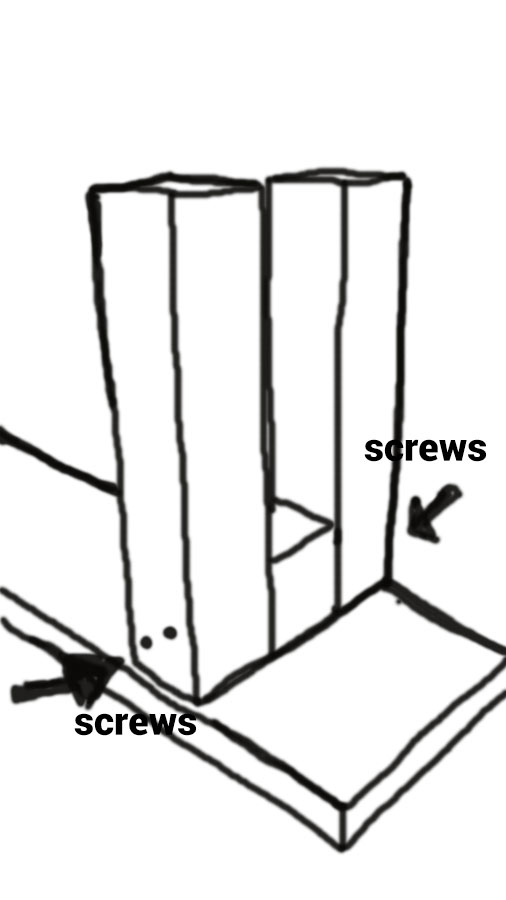 You can see here that they just get screwed together in two spots on each side. Please remember to drill pilot holes first so you don't crack your wood. Then drill in those ultra long screws. I like to stain my pieces first just to make sure everything is covered since these benches are going to live outside.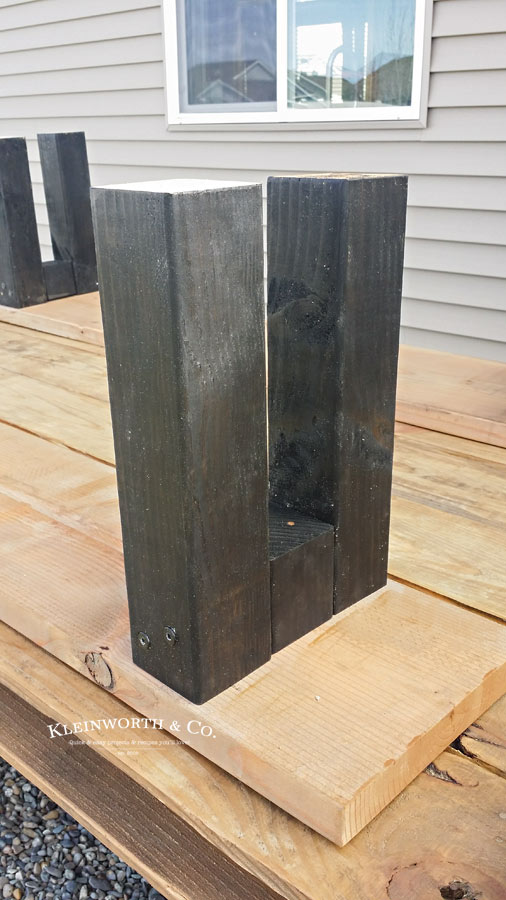 You can see those screws here.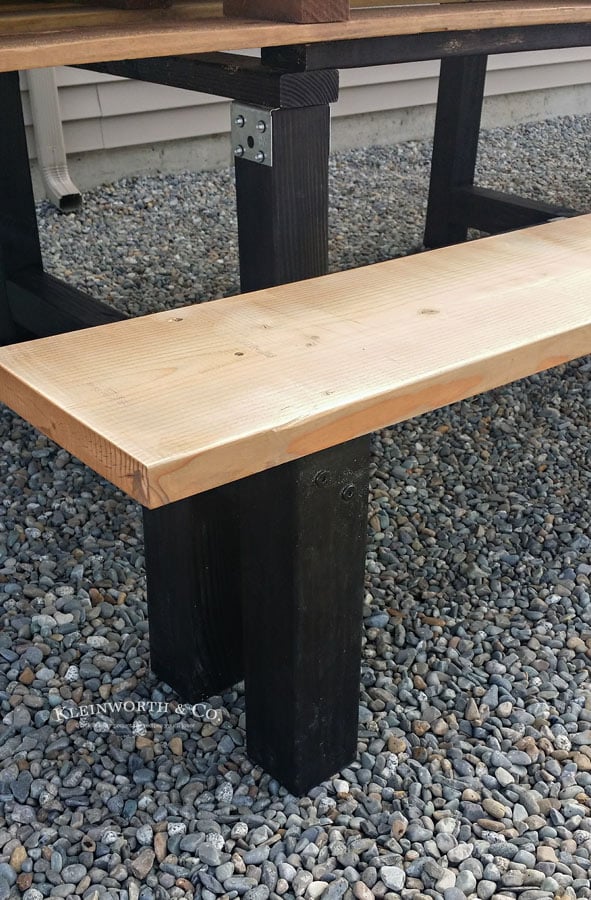 Then you just use those same screws down through the top of the seat into your legs.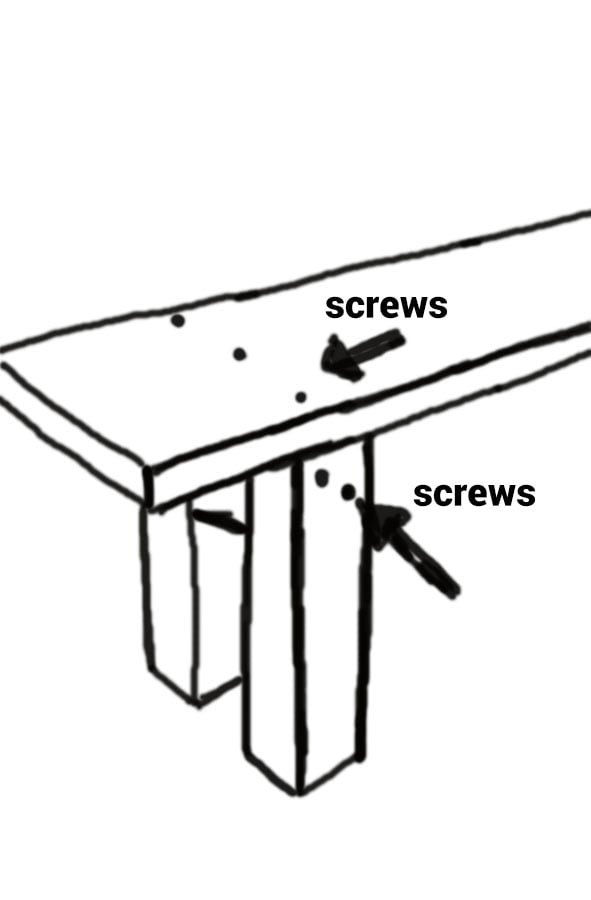 You can see where to add your screws here – again, drill those pilot holes first.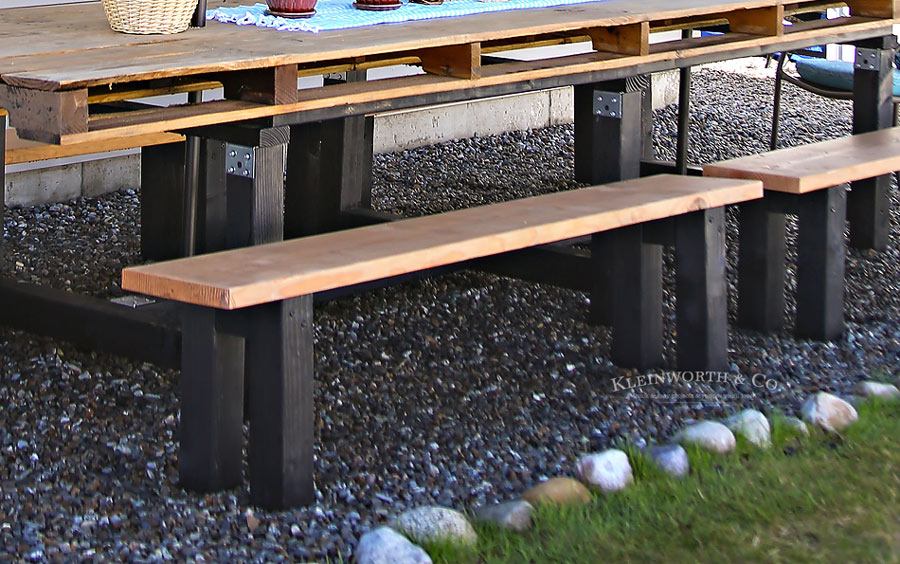 See- I told you these were simple & easy!
Easy DIY Benches – Outdoor Furniture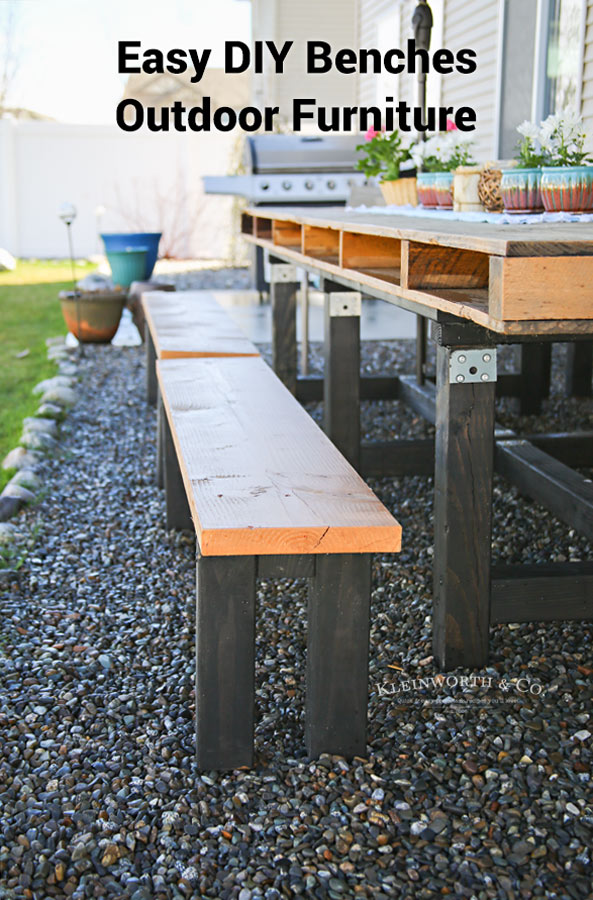 They are the perfect addition to our outdoor dining table & gives us plenty of room for entertaining.
If you make this project- please leave a link or tag me on Instagram @KleinworthCo
Looking for more easy ways to spruce up your space?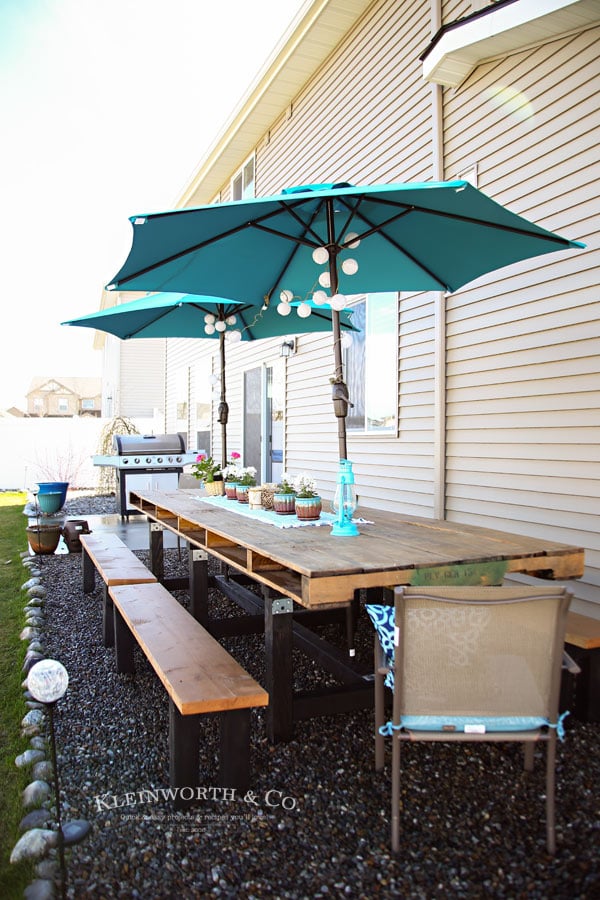 DIY Pallet Outdoor Dining Table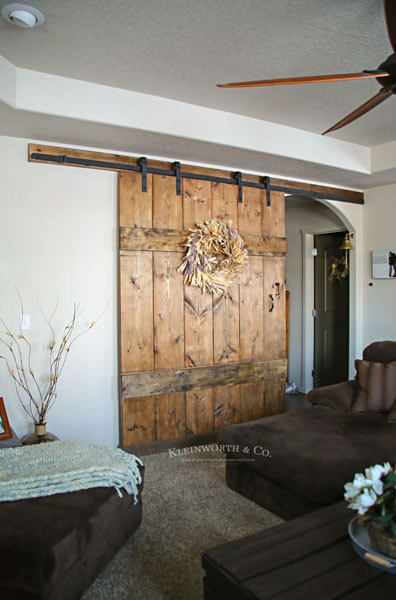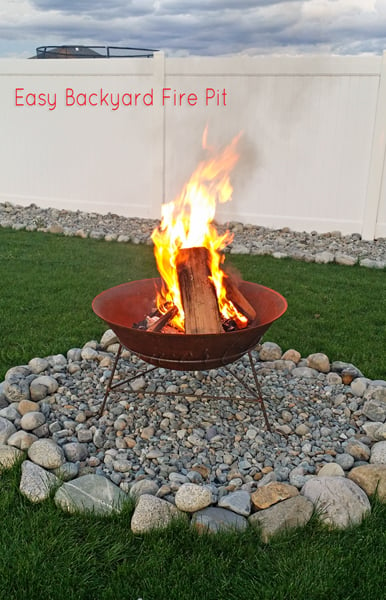 Don't miss these great ideas from these bloggers….
DIY Vintage Ring Toss from i should be mopping the floor
Garden Hose Spring Wreath from Create Craft Love
To see where I am linking today- visit HERE