I have told you all that I'm a So Cal girl. I grew up about 10 minutes from Disneyland. Up until I moved away from Orange County, Disneyland was a weekly occurrence for me. I marched in the parades there for years. I sang with my choir there multiple times per year. It was our place to go – even if just for dinner & to catch a couple rides on a slow Tuesday evening. I could see the nightly fireworks from my house. I grew up with them. I went to Disneyland for my birthday every single year & celebrated numerous other occasions there. It is ingrained into my soul & will always be dear to my heart. Since it's been a while since I have visited I have been craving my favorite Disney treat- Disneyland Churros for a while. So I would love to recreate them & these Churro Bites ~ Disneyland Copycat Recipe turned out great.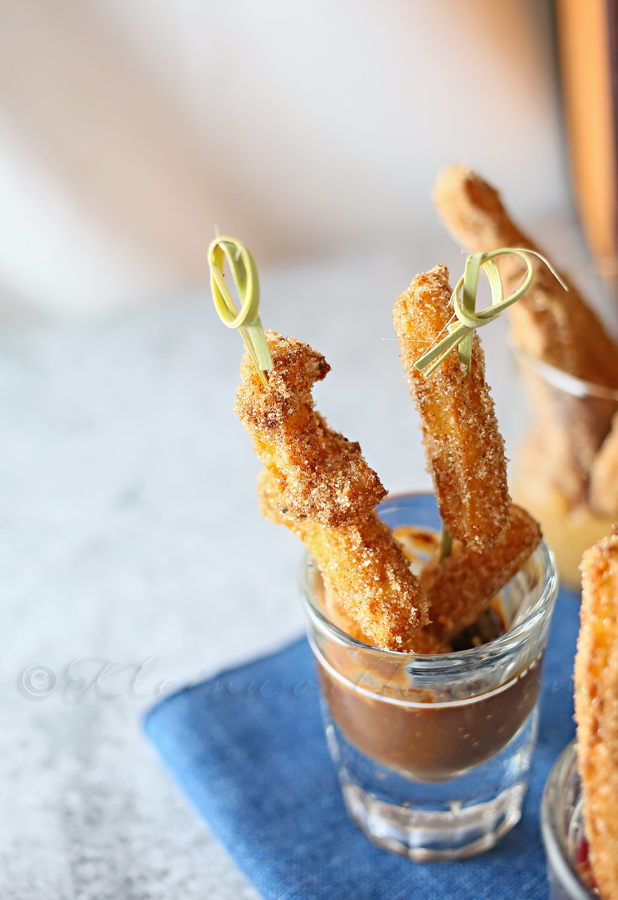 The smell of cinnamon & sugar drifting through the house had everyone coming in to see what I was up to.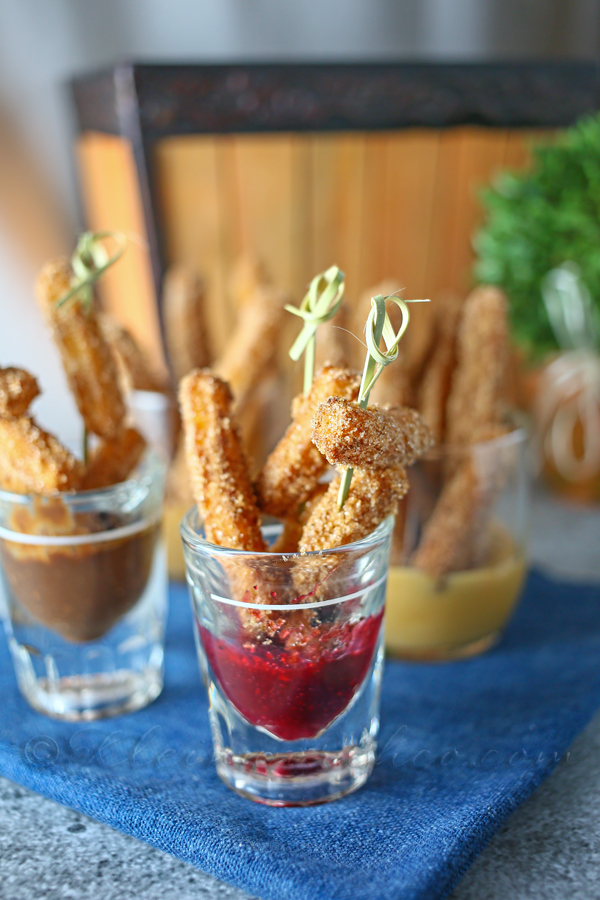 Normally one would make these with the ultra-large 1-1/2″ star tip on the piping bag. That would result in the regular Disney sized churros. Well – I thought for sure in all the mountains of cake decorating supplies I brought back home from my mom's- that I had that exact tip. Apparently I do not- so I used the 1″ instead. Made for a smaller churro diameter.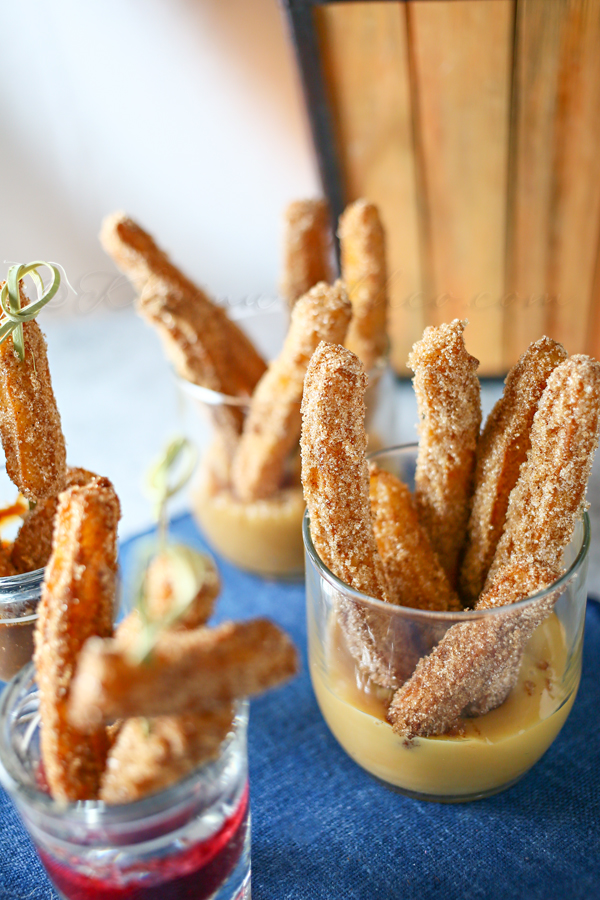 They still taste just as good as I remember – always best while still warm.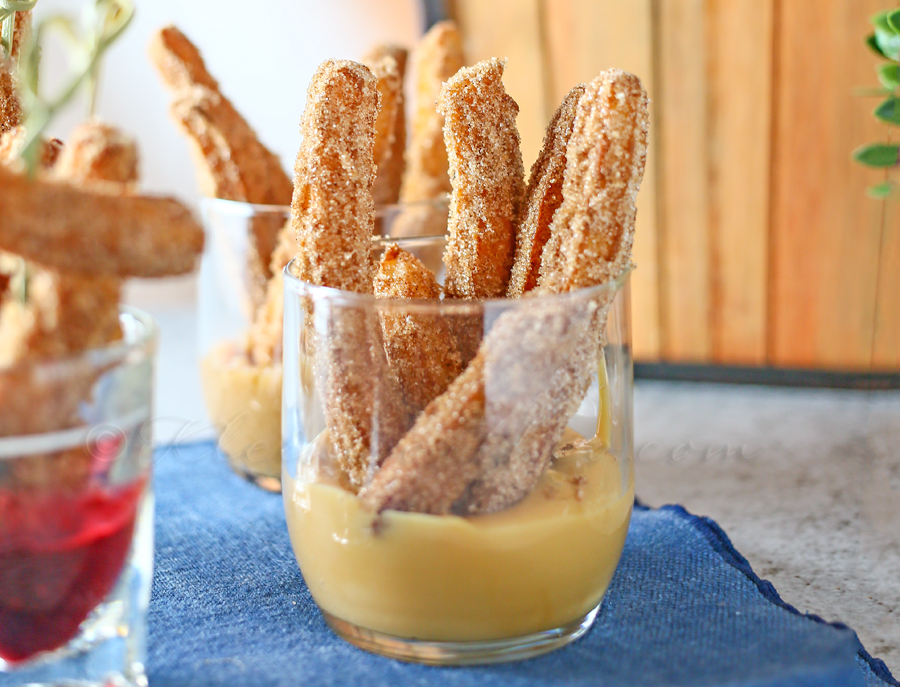 I don't remember any sort of dipping sauce when I bought my churros growing up. You went to the guy pushing the cart & that was all you got.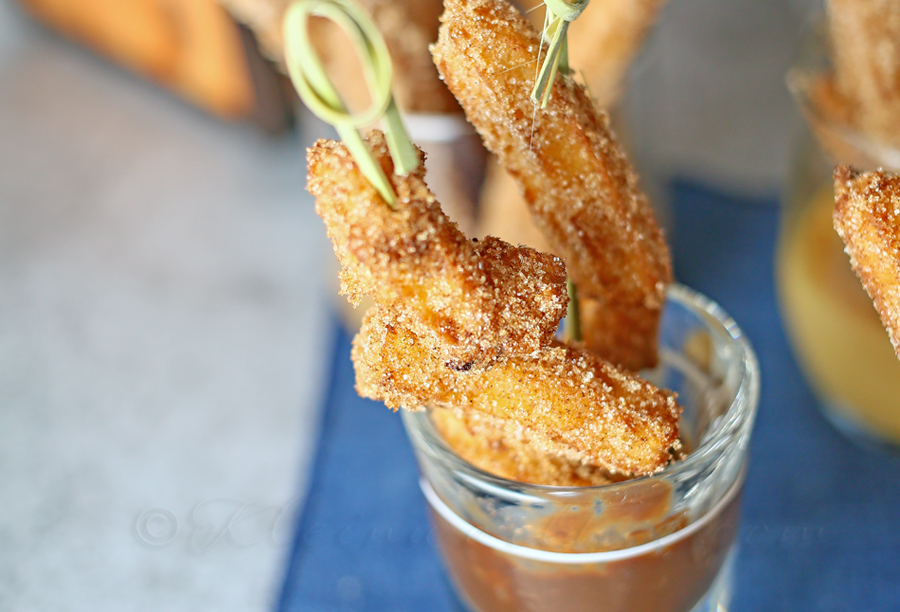 Add a little Dulce de Leche for some, Toasted Coconut Hot Fudge, Triple Berry Sauce, Peanut Butter Sauce & Mocha Dulce de Leche. Each one was great with these churros.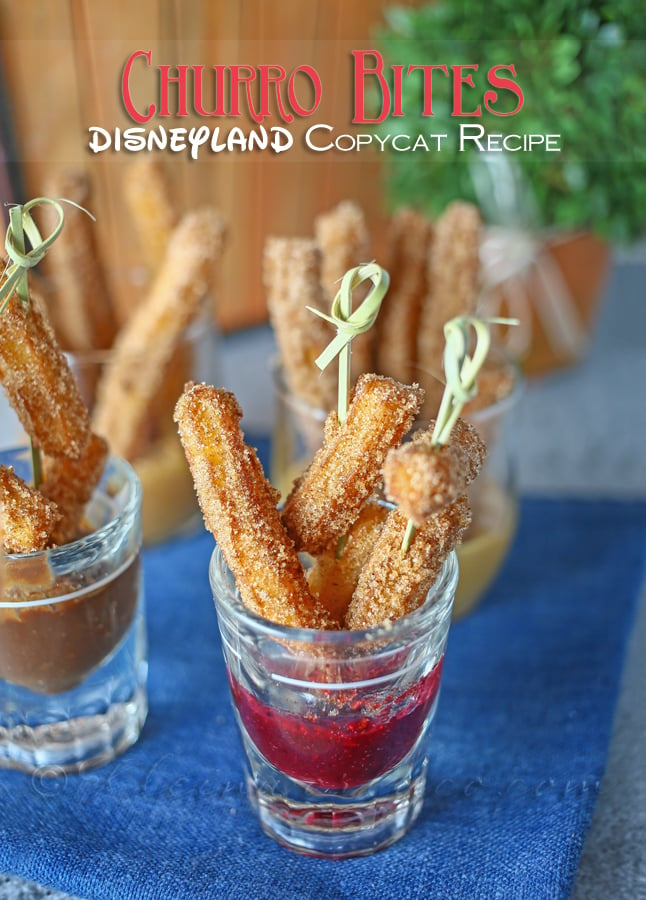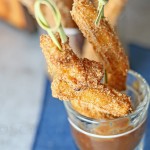 Churro Bites ~ Disneyland Copycat Recipe
Ingredients
1/2 cup milk
1/2 cup water
3 Tbsp butter diced
2 tsp granulated sugar
1/4 tsp + 1/8 tsp salt
1/2 tsp vanilla extract
1 cup all-purpose flour
canola oil for frying
Cinnamon coating
3/4 cup granulated sugar to start - I kept adding more sugar as the mixture moistened from the heat
3 tsp ground cinnamon
Instructions
In a small mixing bowl, whisk together 1/2 cup granulated sugar and cinnamon. Set aside.

Heat 1 1/2 inches of oil in a large pot over medium heat to 360 degrees (Watch this closely - though the entire cooking process - important to maintain your temperature).

In a separate medium saucepan combine milk, water, butter, 2 tsp sugar, and salt and bring mixture just to a boil.

Once boiling, remove from heat and immediately stir in vanilla and flour.

Stir together with spatula & smooth any lumps. Stir until mixture comes together and is smooth. Transfer to a piping bag fitted with a large open star tip

Pipe 2-4 inches of dough out into oil

Cut dough & to allow dough to drop into oil

I recommend working in small batches as the dough likes to travel in the oil & come together. Allow churros to fry until golden brown - remove with a wire strainer

Drain on a wire rack for a couple minutes.

Toss warm, drained churros into sugar mixture to evenly coat.

Serve warm with dipping sauce if desired.
Try these dipping sauces I used with these churros!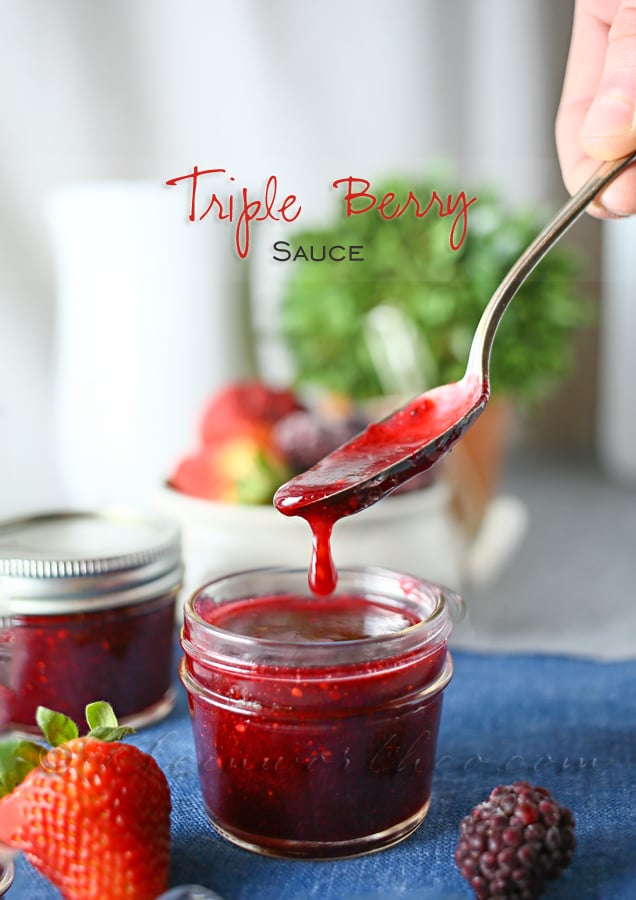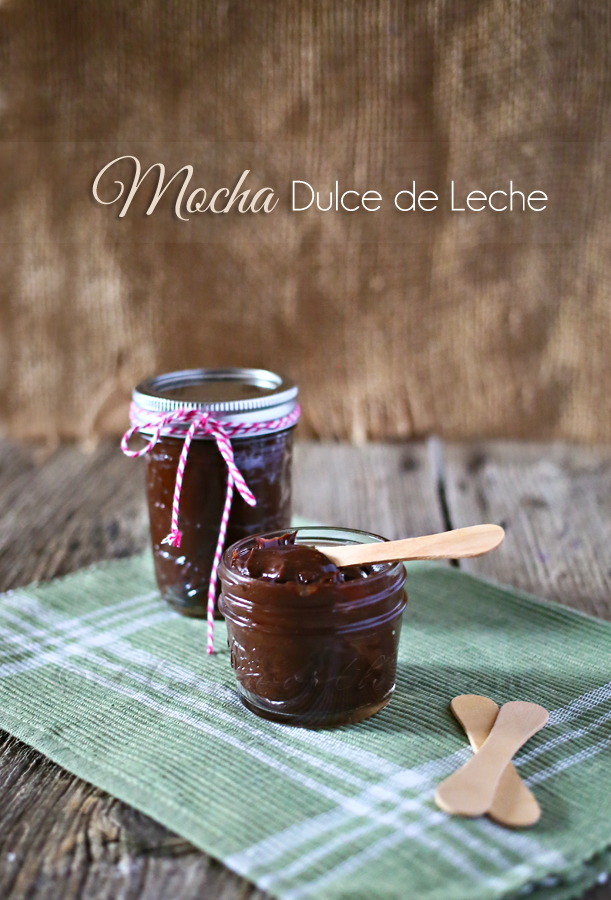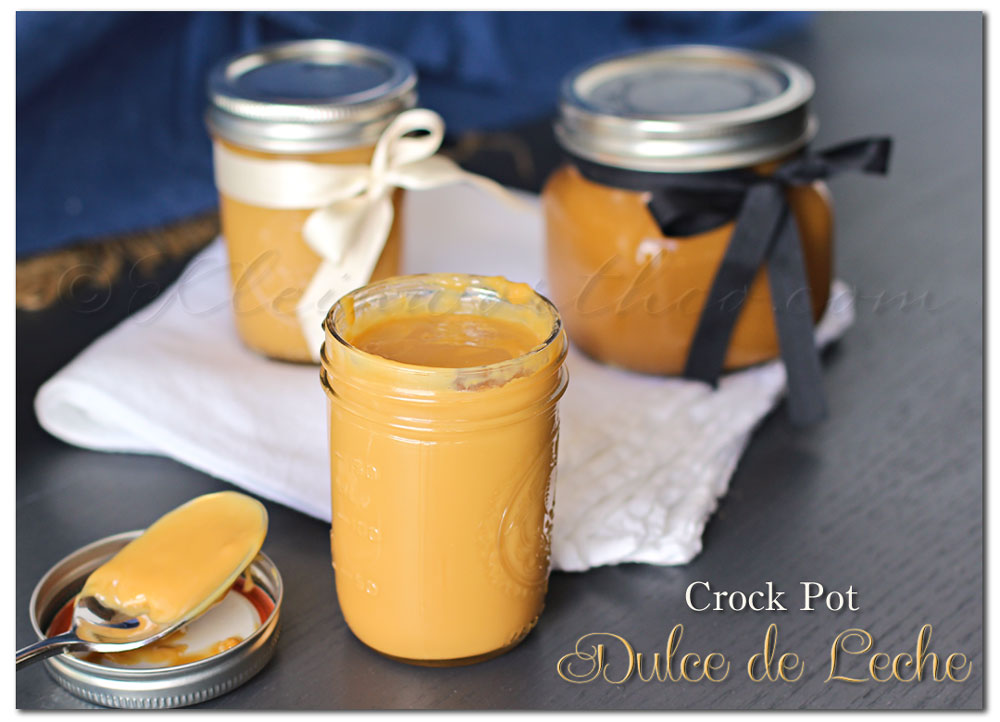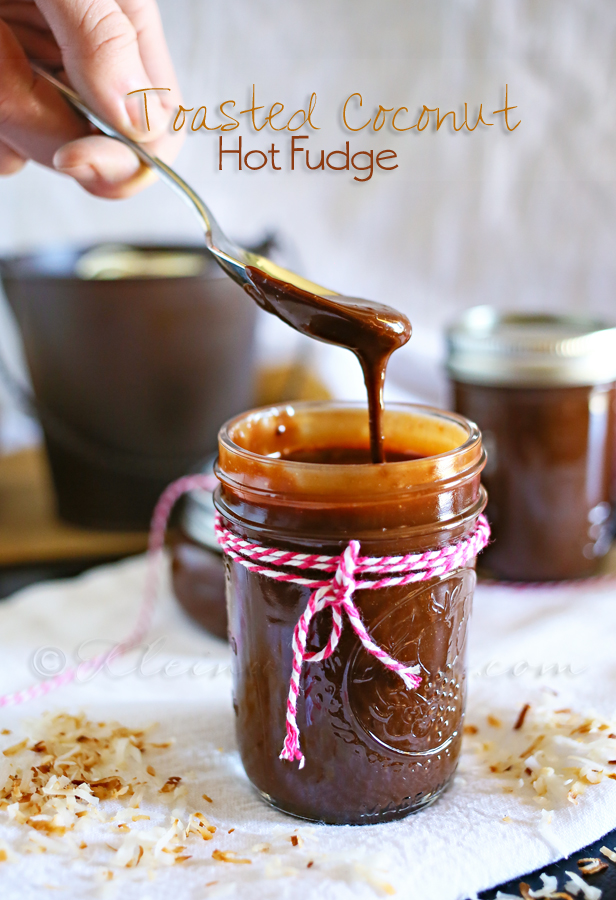 To see where I am linking today- visit HERE
2