This is a sponsored conversation written by me on behalf of The J.M Smucker Company. The opinions and text are all mine.
Here are some of our favorite ways to spoil a cat. I guarantee these tricks will make your cat happy & delighted.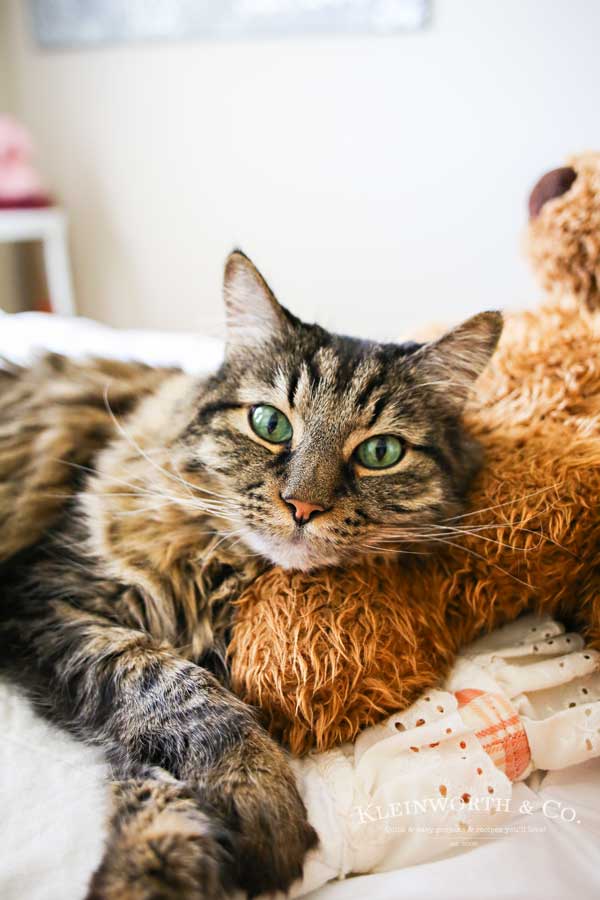 For as long as I can remember, I have always had a cat. I was super excited when I met the hubs & found out he was a cat guy. Because of that, we have always had at least one, if not a couple cats in our house throughout our 20 years together. They have always been a joy in our lives & most definitely are dear to our kids too. So whenever we can, we like to spoil them the best we know how. Today I'm going to share how we make sure our cats know how much we love them. (That cutie pie up there is Gunther- he's such a love)
Caring for Cats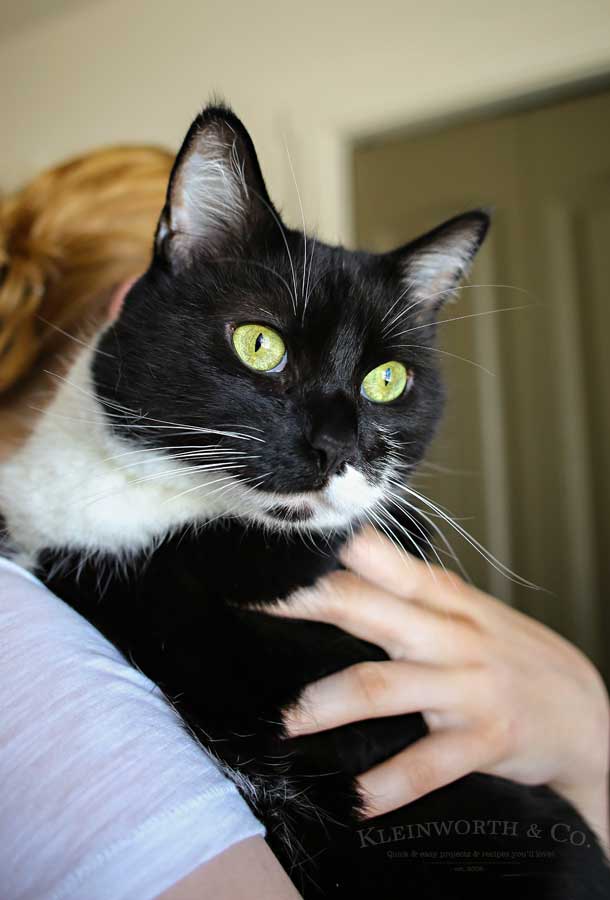 This guy is Butler. He's a portly & quite cuddly little guy. He loves to talk & will always come & lay as close to us as possible. We give him lots of hugs, talk back & forth with him & most of all- pet him while he eats. He begs for it by talking with us & leading us back to his food bowl, jumping up & pushing his head under our hand in between bites. He just loves to eat & is quite vocal about his snacks too.
Gunther is getting old, so he prefers to be brushed or to have us toss a paper ball for him. But he still talks & snuggles often.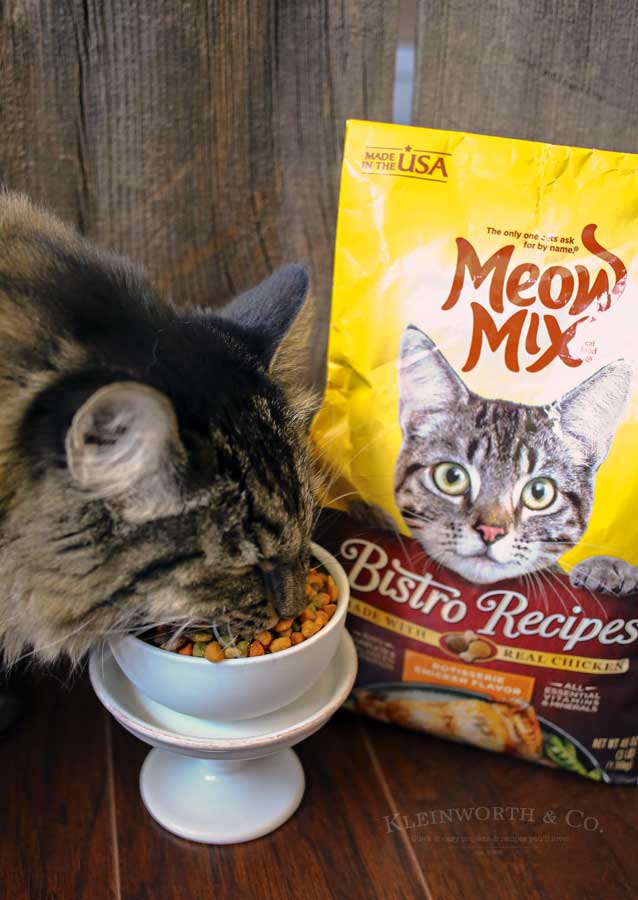 One thing we always do to make them happy is to provide them with a favorite food. I talk a lot here about all of our favorite foods, but this one is what the cats (who are family too) like to eat. NEW Meow Mix Bistro Dry Cat Food is made with real chicken or salmon. They like the sound of the food when it pours into the porcelain bowl. I could barely fill the bowl before Gunther was getting his nose in there to get some. He particularly loves this because the pieces are smaller & easier for him to eat now that he's older. Now we don't have to buy him special kitten food.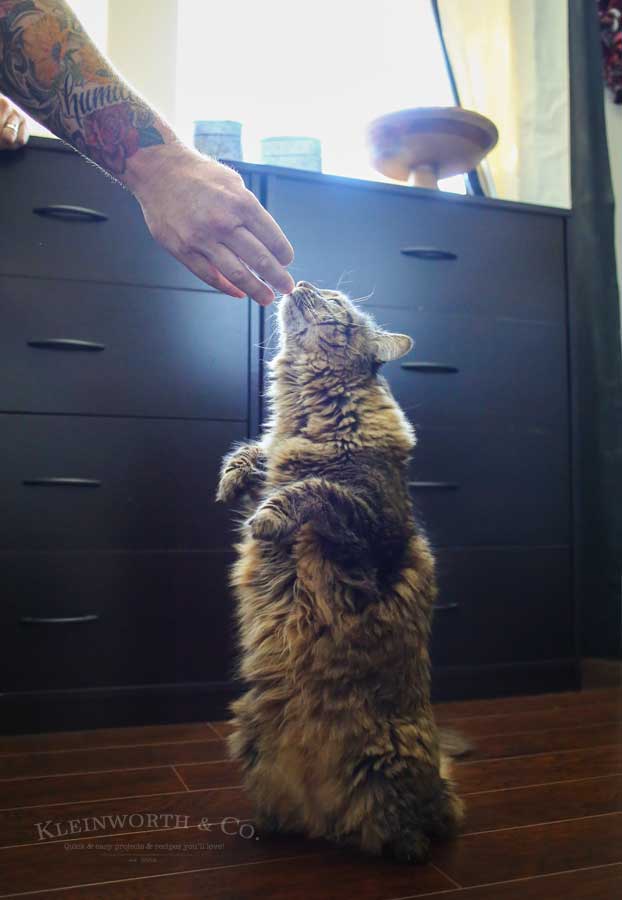 The cats are super spoiled & almost always prefer to be hand fed.
Caring for Cats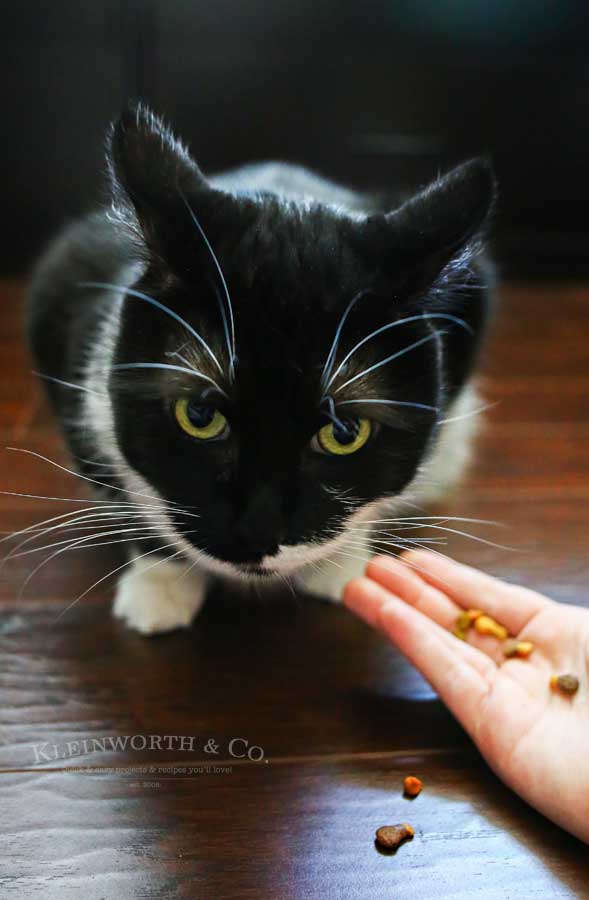 Butler likes to play with his food first – so he loves it when we toss pieces for him to chase before he eats it. We weren't able to capture it, but he loves to scoop each piece into his paw & eat it like a human. He's a quirky guy. I love being able to serve up real chicken flavor to my feline-foodie & you can too. It's dry cat food featuring tasty ingredients baked into crunchy kibble to bring out the delicious, natural flavors your cat loves. We really like that it's made with real meat or fish (real chicken or salmon in there) which means it's 100% complete and balanced nutrition with all essential vitamins and minerals. The fact that it's made in the USA is awesome too.
Lots of love, cuddles, toys, brushing & delicious food will make your cats as happy as mine!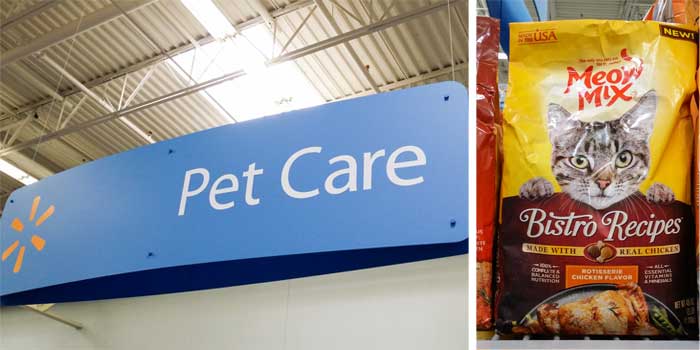 Make sure that you look for NEW Meow Mix Bistro Varieties of dry cat food the next time you're at Walmart & bring home the bistro flavor. The product can be found at your local Walmart and will also be available on Walmart.com soon. For now, you can find out more about NEW Meow Mix Bistro Recipes here. Share familiar flavors that you bring to your own table (chicken and salmon) with your favorite feline.
Looking for more cute kitty pics?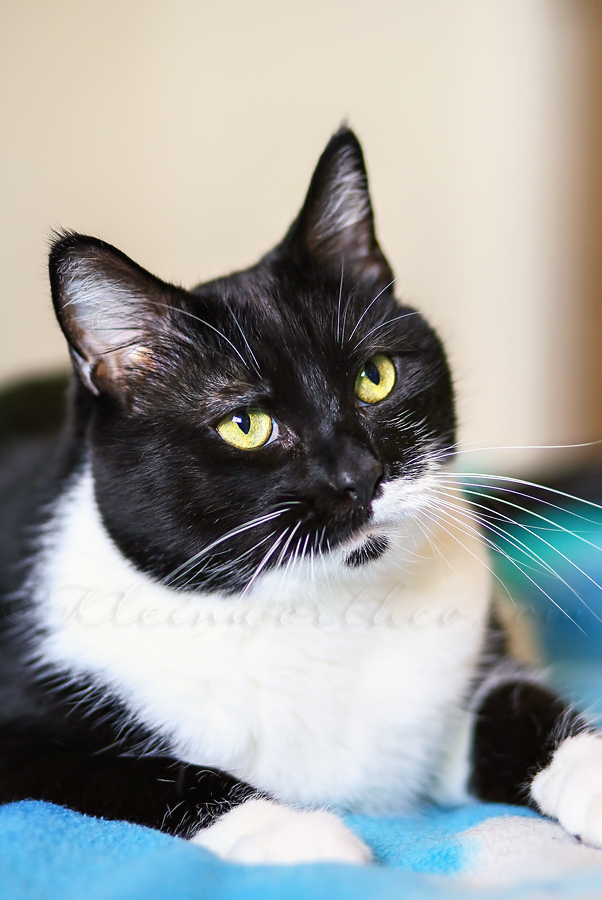 Don't miss these meal time moments!
To see where I am linking today- visit HERE
This is a sponsored conversation written by me on behalf of The J.M Smucker Company. The opinions and text are all mine.