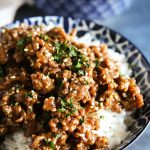 Print
Korean Beef Bowl
Korean Beef Bowl is a simple 30-minute dinner recipe that is perfect for busy weeknights. Made with ground beef & pantry staples, it's so quick & easy.
Brown the ground beef and garlic in a large skillet over medium heat, cooking until no pink remains. Be sure to change out your spatula midway through to avoid cross-contamination.

In a small bowl, whisk together brown sugar, soy sauce, sesame oil, ginger, red pepper flakes, and pepper.

Once the ground beef is cooked, pour the sauce mixture into the pan, stir and simmer for 1-2 minutes before serving over a bed of white rice.