Lot's of things changing here for us. Life is going by at warp speed & there is so much happening- I can't even begin to tell you the half of it. After being here in North Idaho for nearly a year & a half now- we are settling in & getting comfortable. That means I am feeling the need to feather my nest a little more. We have always had a very Vintage Eclectic look when it comes to our decorating. It comes from having so many family heirlooms from the hubs side -many were brought over from Sweden on the ship just a couple generations ago. Some are hand made by those family members when they were some of the first Shakers here in the U.S. We have been bless that there are members of the family that cared enough to pass things down & that we were able to be the "caretakers" of those special pieces until we pass them down to our kids & grand kids one day. It seems like we have been decorating with a vintage eclectic style long before it was a trend. We have all these vintage pieces & have found a way to blend them together with our newly purchased items to make our home quite cozy. I'm always looking for new ways to bring in more of that & find new pieces that I adore.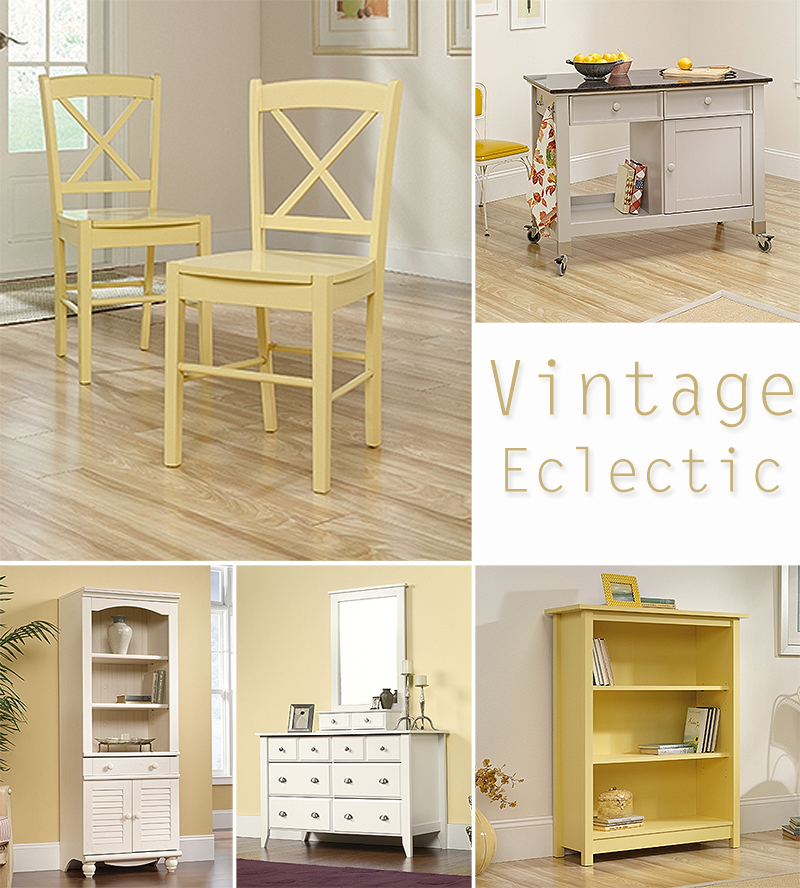 Some things I will be focusing on this year- my office/studio space. I am busting out of my current set up & ready to really sprawl out a bit more & get a whole lot more organized. Is it just me- or is it so much easier to be organized when the things you need actually fit in the space you are working in??!! When we moved our new place didn't really have an office space for me. I have been cramped in the corner of our bedroom & lost all my storage. I am definitely looking forward to making some changes & finding beautiful ways to find mental clarity in my space. I'm loving these pieces from Sauder. The soft yellow of this Original Cottage Bookcase is beautiful & would really make my office/studio a little more happy. I'm also really loving this Harbor View Library with Doors which would give me some wonderful storage.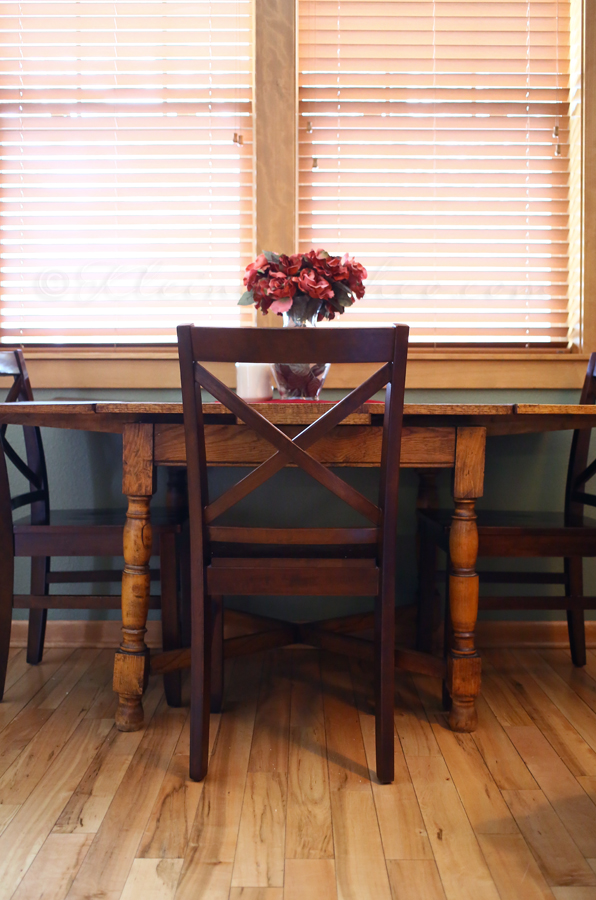 Right now we have the same Original Cottage X-Back Chairs I showed you in yellow above in the dark wood tone. We have paired them with our 250 year old table – which we have never had chairs for. We have mixed & matched chairs with it in the past – but these are the first one's that have held up under 3 kids & a giant hubs. They already have a more vintage feel so they blend well with the old table.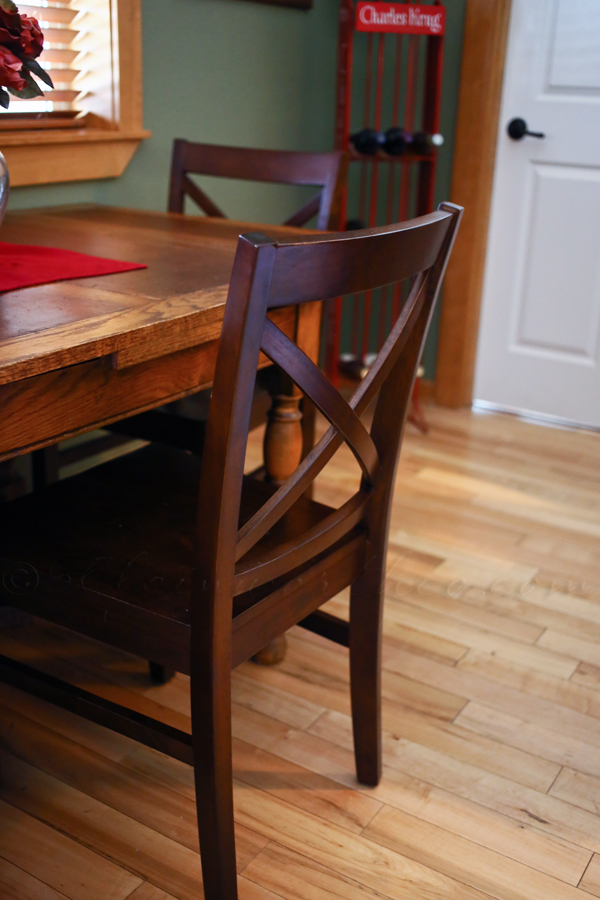 Right now our furniture isn't matching our house- which has a lot of lighter wood & has a definite rustic, cabin decor throughout. Buuuuutttt – in the spirit of eclectic- it's okay for us right now. This particular home is temporary for us (we had 30 days to relocate 1200 miles- we found this on a moments notice) so once we are more permanent- our current pieces will all flow better.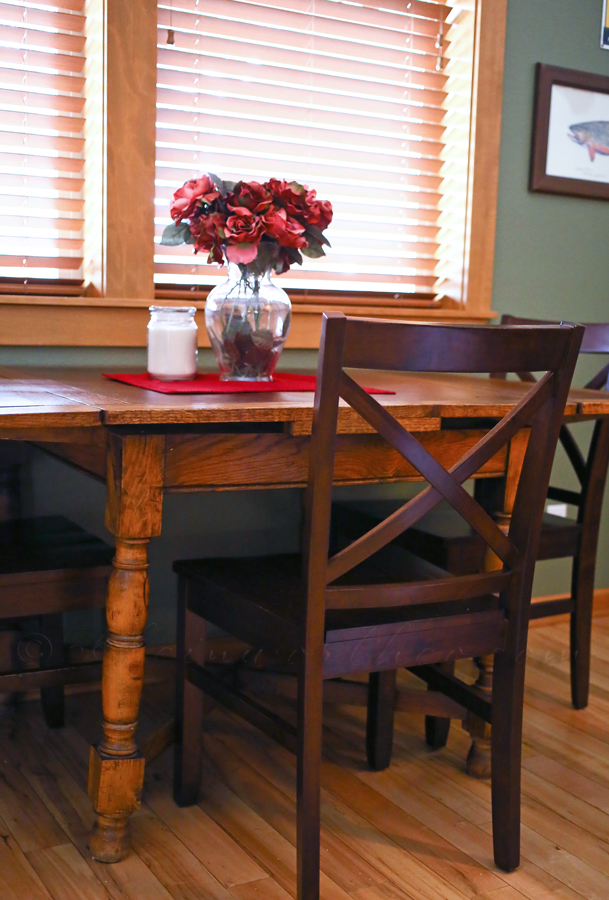 As part of the grand scheme, I plan on possibly moving this table into my studio space. It's old, rustic texture has been one that I would love to be able to use with my food images. Look for that in the future. I will be pairing it with the other pieces I mentioned before. Since they can ship directly from Ohio – right to my front door- it makes it so easy to get the look pulled together.
For more inspiration – visit Sauder on Pinterest.
Things I love about Sauder…
Sauder is environmentally conscious. Many Sauder® products are manufactured with engineered wood which is a composite of high quality trimmings and post milling leftovers.
Sauder converts residual sawdust into electricity with its very own cogeneration plant. And any remaining wood waste provides a variety of sustainable uses, such as animal bedding.
Sauder products and packaging are made from up to 97 percent recycled material. Sauder Woodworking Co. domestic facilities are licensed fabricators of panels certified by Composite Panel Association (CPA)
To see where I am linking today- visit HERE
[include id="1″ title="Footer Ad"]
This is a sponsored conversation written by me on behalf of Sauder Woodworking. The opinions and text are all mine.