This Tidy Up Giveaway is a fabulous way to get a little organizing inspiration & some holiday cash! Perfect for this time of year when time & money are stretched thin.
Tidy Up Giveaway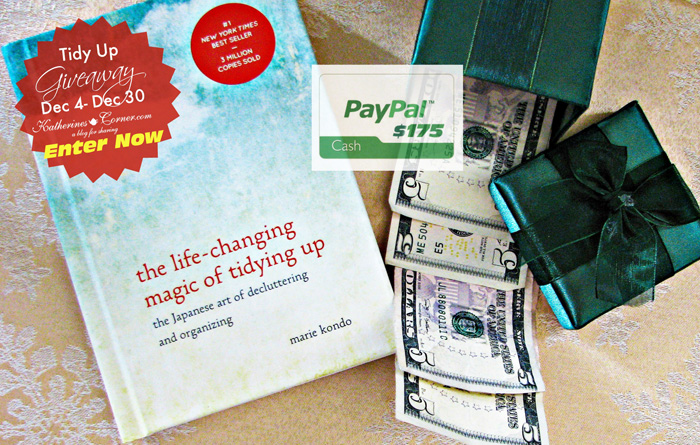 I love a good giveaway! I especially love working with other bloggers to bring you all more opportunities to win something fabulous during the holiday season. It makes bringing you bigger & better prize packages a little easier & I get to work with ladies whom I love so dearly. They make my life full & rich each & every day. So- I know you all could use some cash & some great tips for keeping it altogether this time of year. So today with this AMAZING group of ladies we're all about organizing! Today you have a chance to win A Hard Bound Copy of The Life-Changing Magic of Tidying Up by Marie Kondo AND some cold hard cash!!! I posted about this book by Mary a little while back. It has some great tips for getting your space in tip top shape in no time. Not too bad- right??!! I know I could sure use both the organizing & the cash – so I know you should be super excited to enter.
One winner will receive-
A Hard Bound Copy of The Life-Changing Magic of Tidying Up by Marie Kondo
and $175 in cash to get your new year off to a tidy start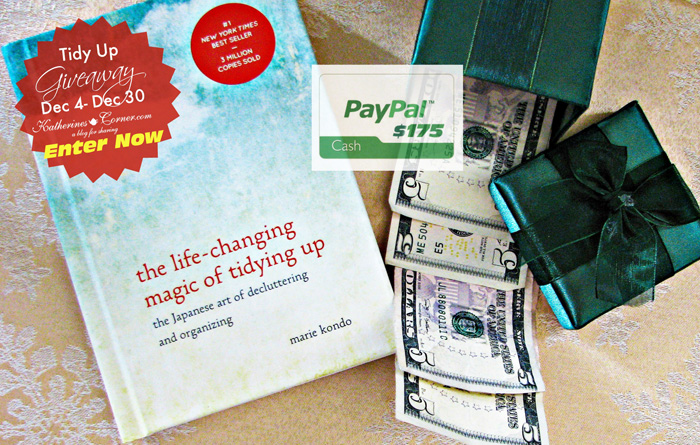 This months Paypal cash is brought to you by Katherine and some of her sweet bloggy friends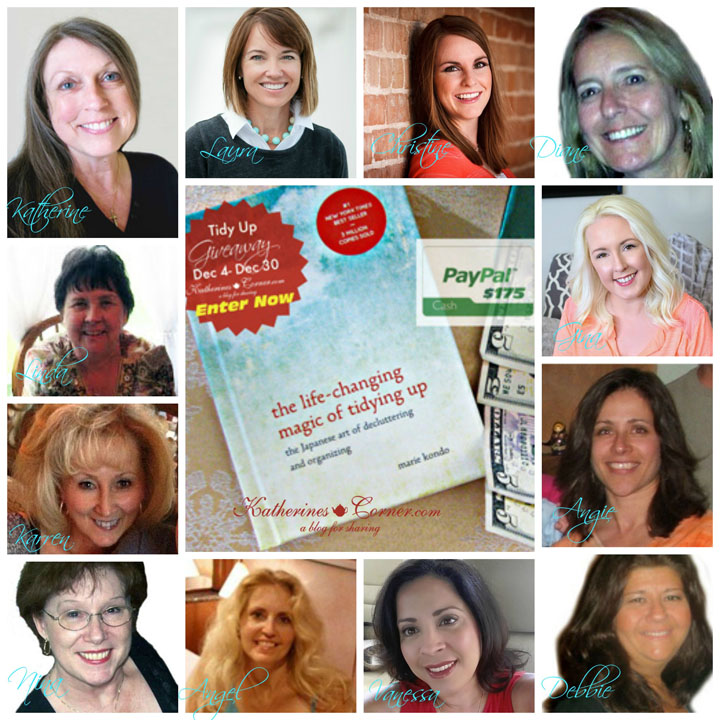 listed in no specific order
Katherine- Katherines Corner
Angel- Sew Crafty Angel
Angie-Gods Growing Garden
Nina-Vintage Mamas Cottage
Diane- Mamal Diane Keeping Life Simple
Christine- I Dig Pinterest
Laura – Not A Trophy Wife
Debbie- Heartbeats~Soul stains
Entering the Tidy Up Giveaway is easy-
Just log into the entry form using your email address or facebook and get started.
Enter one or all of the entries. Giveaway starts Dec 4 and ends Dec 30th
To see where I am linking today- visit HERE