Thrive at Five Meal Plan Week 37 is making dinner fun & delicious. Easy and Quick Family Lunch and Simple Dinner Meal Ideas! YUM-O!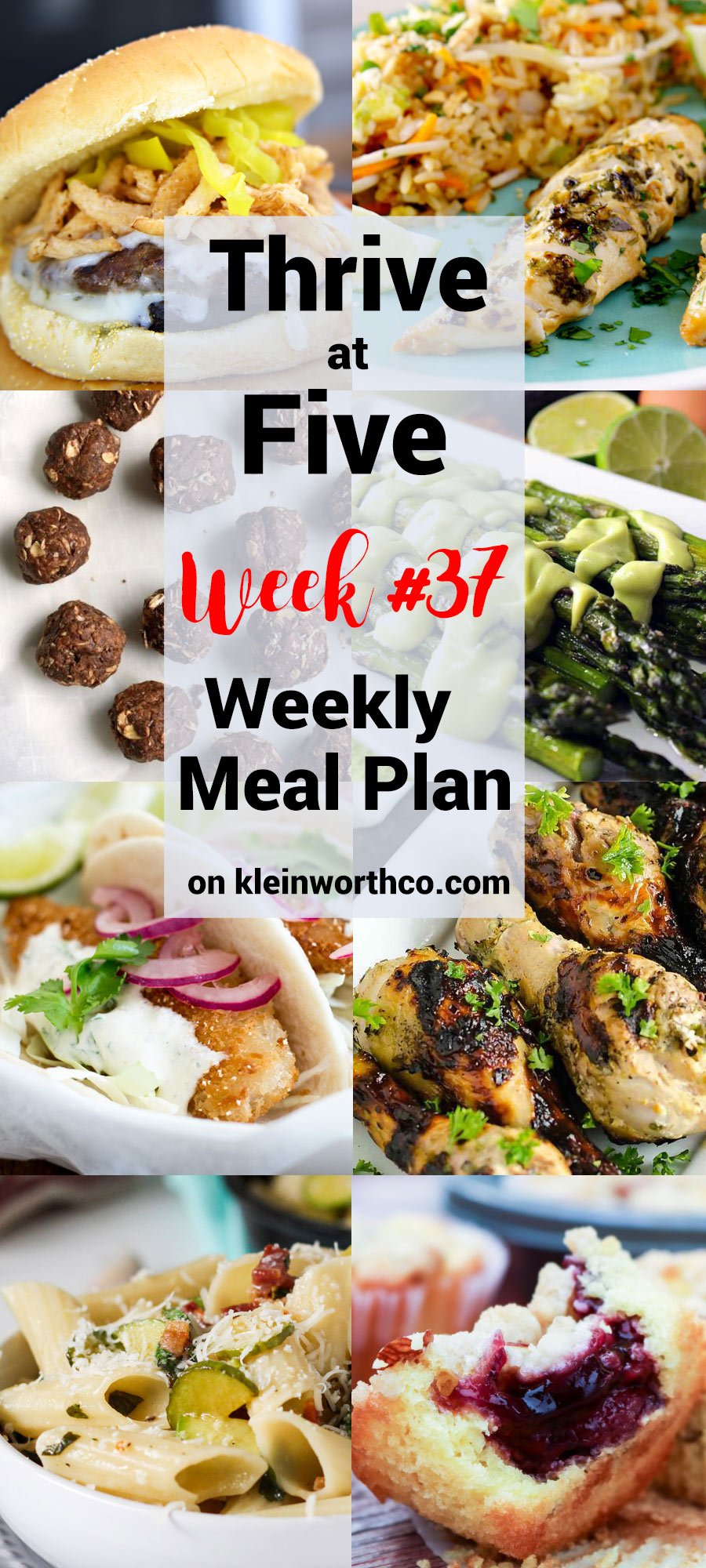 I swear, just when I think I have a low-key week going, things get all changed up. We decided to head out to the range this week for a little target practice. We ended up taking a wrong turn on the way home & ended up on this old Forest Service road that took us to the very top of a mountain here. There was literally NOTHING around & that's where we found that we had a flat tire. Fortunately, we have a spare & the boys were able to get us back up & running in no time. We were also quite lucky that we didn't encounter any more flat tires on the way back down because that road was sure rocky. But as always in our life, it was an adventure. We did have some food, lots of water & blankets should we have been stuck out there for a couple days. My biggest worry was the pets being in the house for that long. But we were blessed to make it home just in time for dinner. I was so happy I had this meal plan in place because things were all prepped & ready to go. I was definitely not in the mood to figure out what we were having once we walked in the door. But check out our Thrive at Five Meal Plan Week 37 we have for you this week.
Thrive at Five Meal Plan Week 37
WE ARE SOLVING THE DINNERTIME DILEMMA
There is a reason they call it the witching hour. It's when all the schedules collide & everyone is absolutely exhausted from their day & all you want to do is NOTHING. But nope, dinner needs to be made & I know we always have a ton of things that need to happen after dinner too. So it's super important that dinner be quick & easy. You don't want to have to debate about what to make. I know those debates & standing there in the pantry trying to come up with a plan can suck up a good half hour. That's valuable time you would be spending already making dinner & enjoying it. So that's where meal planning comes into play. Check it out.
We have it all done for you, right here!
HOW IT WORKS>>>
If you're new to meal planning – here's the deal…
Every Friday, we'll have a meal plan posted for you to use the following week. Everyone in the group will share these 5 main dish recipes & a couple extras. Do you want the weekly meal plan delivered to your mailbox? Sign up for my weekly newsletter. The sign-up form is right in the sidebar – over there ———>>>>>>>>>
This post contains some affiliate links. Click here to read my full disclosure policy.
Here's the recipes for the week!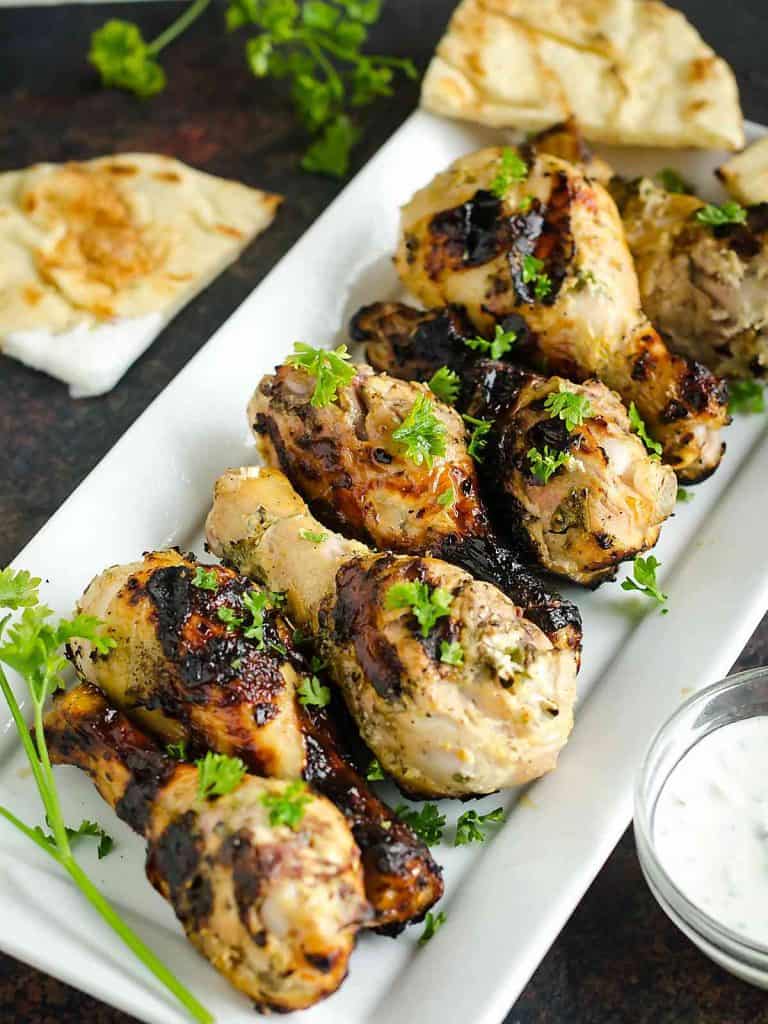 Greek Yogurt Grilled Chicken from Art from my Table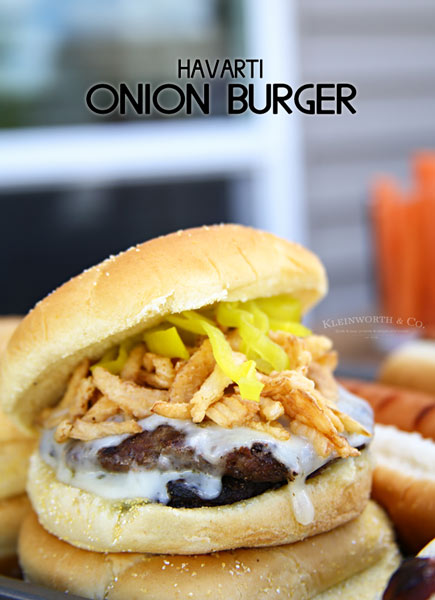 Havarti Onion Burger from Kleinworth & Co.
Fish Tacosfrom Sprinkles and Sprouts
Cilantro Thai Chicken from Food, Folks & Fun
Zucchini & Pancetta Pasta from The Cooks Pyjamas
Thrive at Five Meal Plan Week 37
How about these extra recipes to fill in your week???
Chocolate Peanut Butter Energy Bites from The Gingered Whisk
Creamy Avocado Hollandaise Sauce Over Oven Roasted Asparagus from Kudos Kitchen by Renee
Lemon Raspberry Cobbler Cupcakes from Carrie's Home Cooking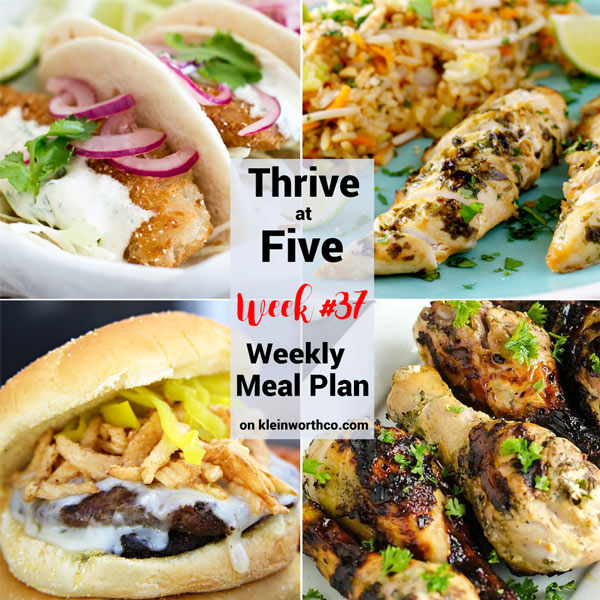 I know I'm really looking forward to making these dishes & having effortless meal planning. How about you!
Be sure to visit these awesome bloggers that contribute to this meal plan each week.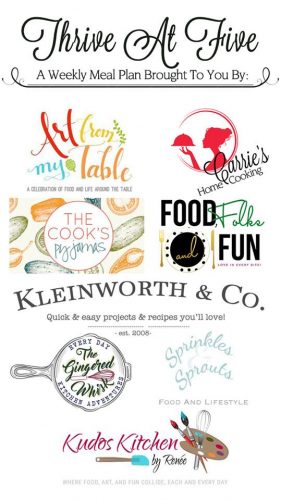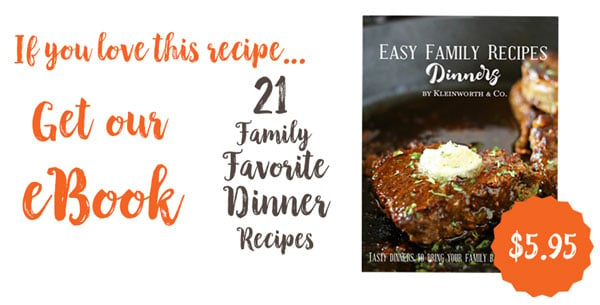 If you make any of these recipes- please leave a link or tag me on Instagram @KleinworthCo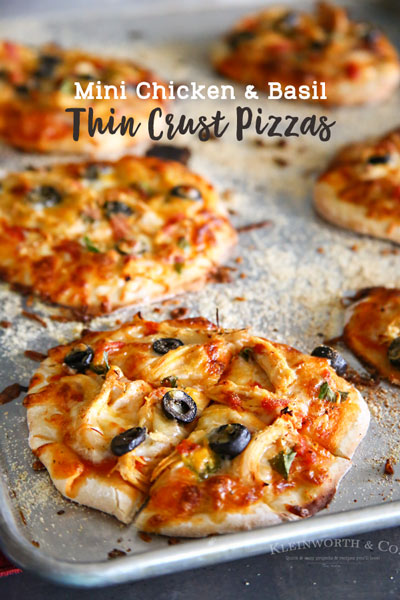 Mini Chicken Basil Thin Crust Pizza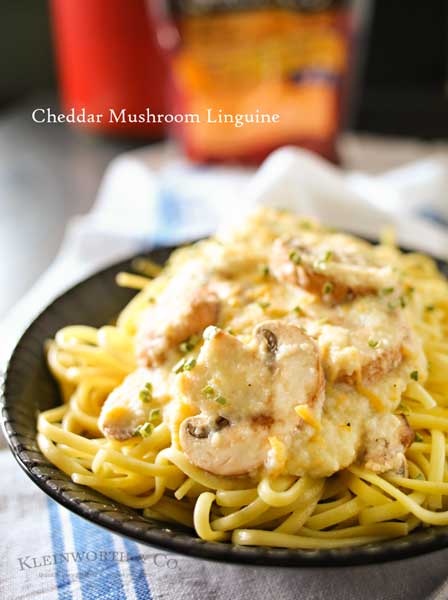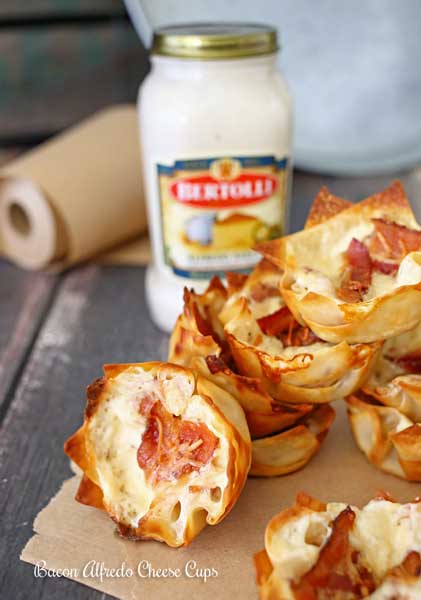 Don't miss these great ideas from these bloggers….
Chicken Fried Rice from Creations by Kara
Vegan Mac & Cheese from Cookie & Kate
To see where I am linking today- visit HERE