As many of you know we finished building this house last summer. We have been working feverishly to make each & every space perfect. We also want to try to take our time & make sure that we are doing things right. One thing we are very mindful of is doing large projects that we will love for a long time. Being that I have already changed my mind on the decor & plans for the powder room no less than 5 times in the last 9 months since we moved in – you can see why I'm planning carefully. One space I am getting really close to completing though is my studio space. Today I'm sharing with you my Studio Retreat in my Venice Beach Style ~ Artist's Loft.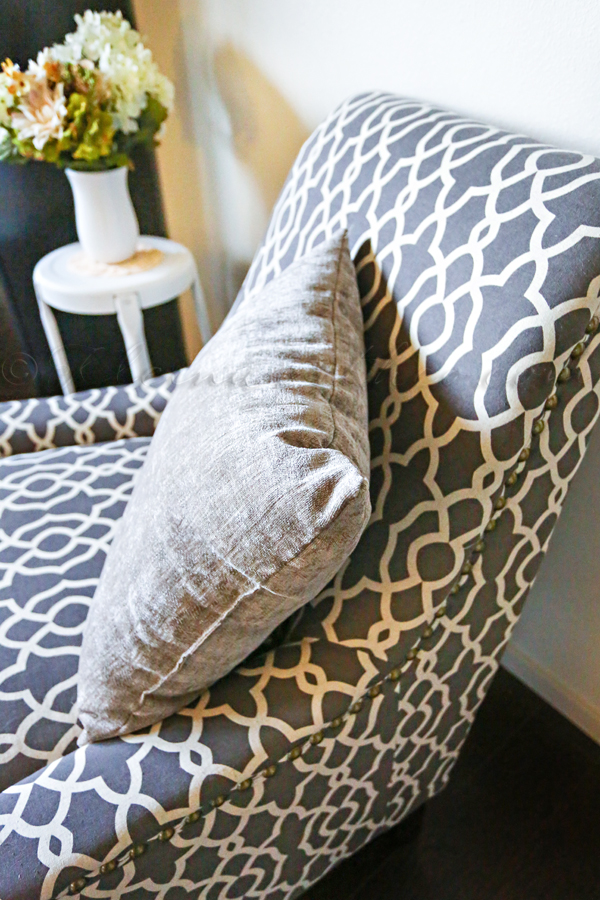 It's amazing how the mind can wander with imagination when you have a few hundred square feet that's all yours to decorate however you wish. I started out thinking I wanted my space to be very girly & glam & feminine all while pulling in the beachy feel carried throughout our home. This So Cal girl is way too far from the ocean & I need as many reminders of it as I can.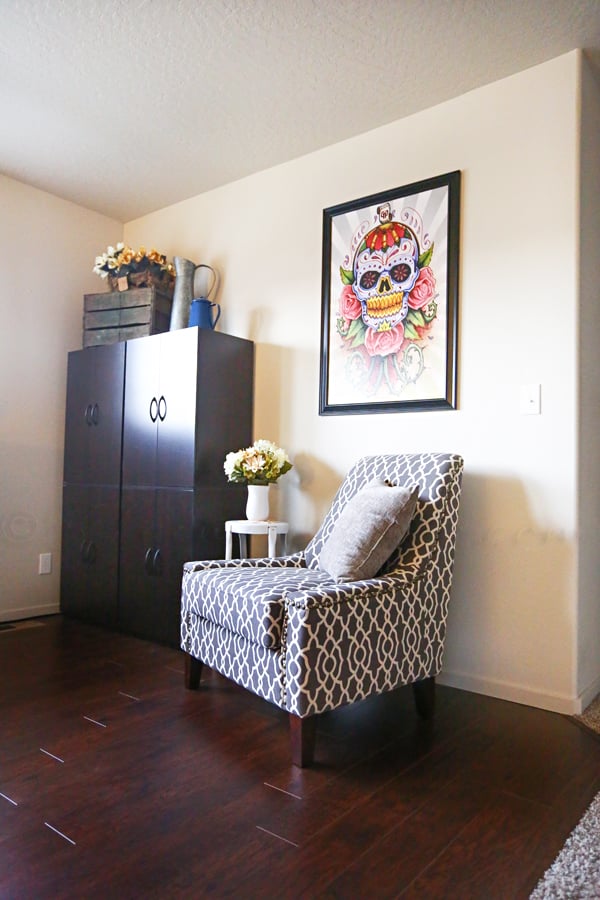 So there I was with one idea in mind when I came across this sugar skull print. I had to have it & all other plans went out the window. I have a DEEP love for the skulls & I realized that even going with a completely different direction for the space – it's still very much a taste of home. It's just very Venice Beach part of home. If you have ever been to So Cal & had the chance to visit Venice Beach then you know what I mean. It's a very free & eclectic place with a VERY FUNKY vibe all it's own.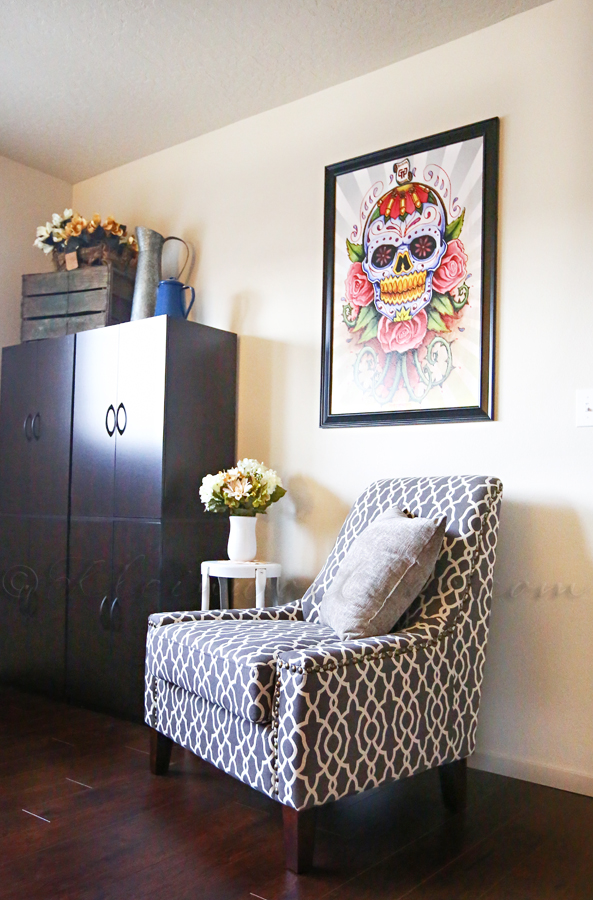 So I started with the print & built from there. This end of the space has a little storage & a space for relaxing. The hubs will come in while I'm working & need a place to sit. Sometimes I just need to break away from my desk or studio work space & curl up & find some inspiration. My studio retreat is my place to do that.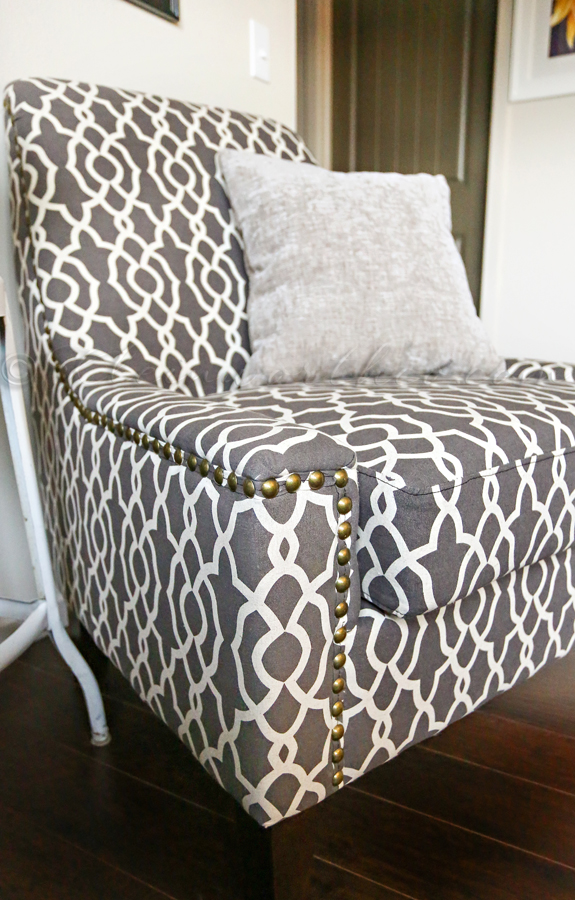 I love that I have a feel like none other – the feel definitely fuels my inner artist & spurs creativity. Many of you don't know that I actually went to college to be a graphic designer. But lost myself in painting & pottery. Who knew I would end up doing this & pulling from those early creative days still. I'm a very "march to my own beat" sort of person. If all my neighbors are doing one thing – I'm most likely to go in a completely opposite direction. I like to be different & create spaces that channel that. Like this chair. I love the details on my chair here for this space – those nail heads & the pattern. Love love love. The best part is that it's so versatile that I could just as easily transition this into my master en suite as we start working on that space. You probably wouldn't think of this chair paired with a print like that – but I like it & it works for me & the vibe of my studio.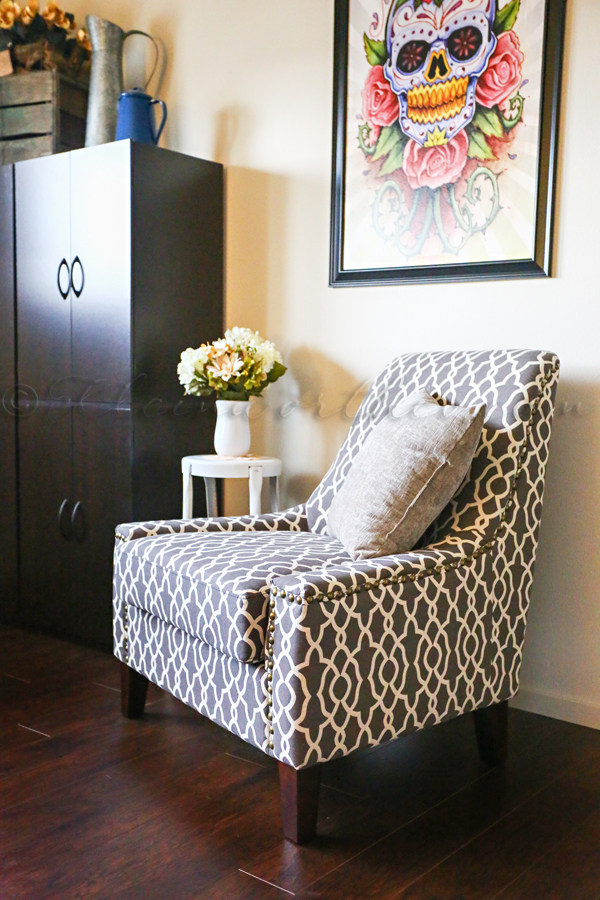 Since taking these images I found a fabulous textured shimmery silver throw that I like to drape over the corner.
It's great for curling up in this cozy chair to enjoy my surroundings.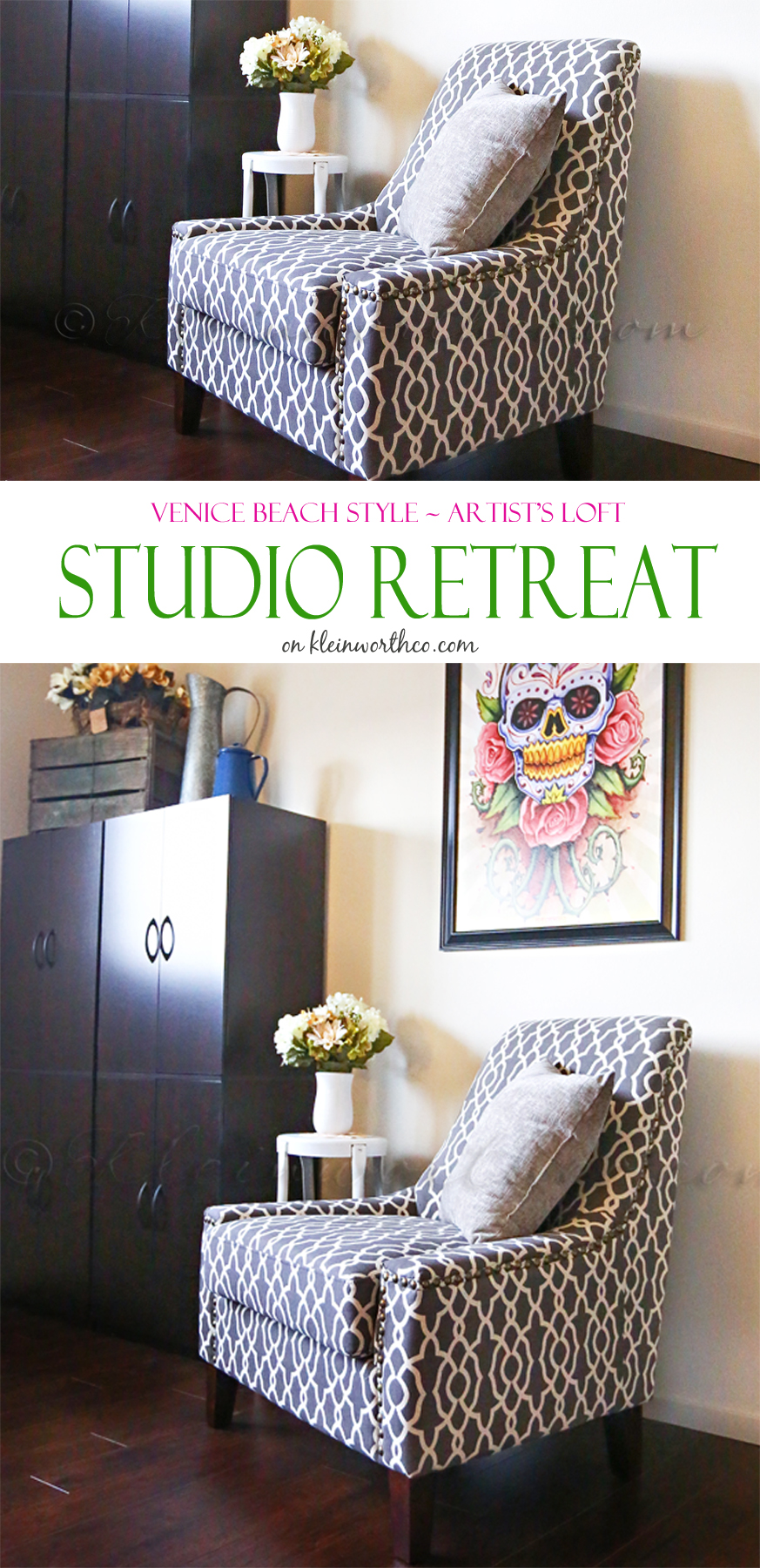 I'm so loving how each part of this space is coming together. Slowly but surely I will be able to share with you how it's turning out. The original plan was to do a draumatic accent wall behind this chair. However once I put the tall storage there I felt the accent wall would lose it's impact – so I am still contemplating this. I have my draperies sitting here to complete & one really fun project I can't wait to complete & share with you. Then just some fine tuning & I can show you the whole studio. I can't wait.
For information on where to pick up the chair – visit Sauder
Connect with Sauder on Pinterest | Facebook | Twitter
Want to see more of this room?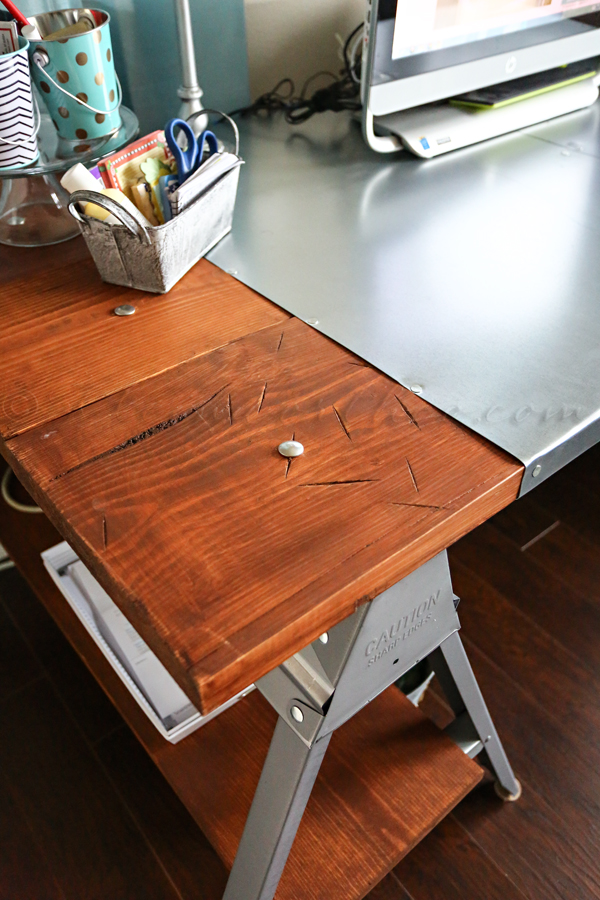 Industrial Sawhorse Desk sits on the opposite wall in my studio.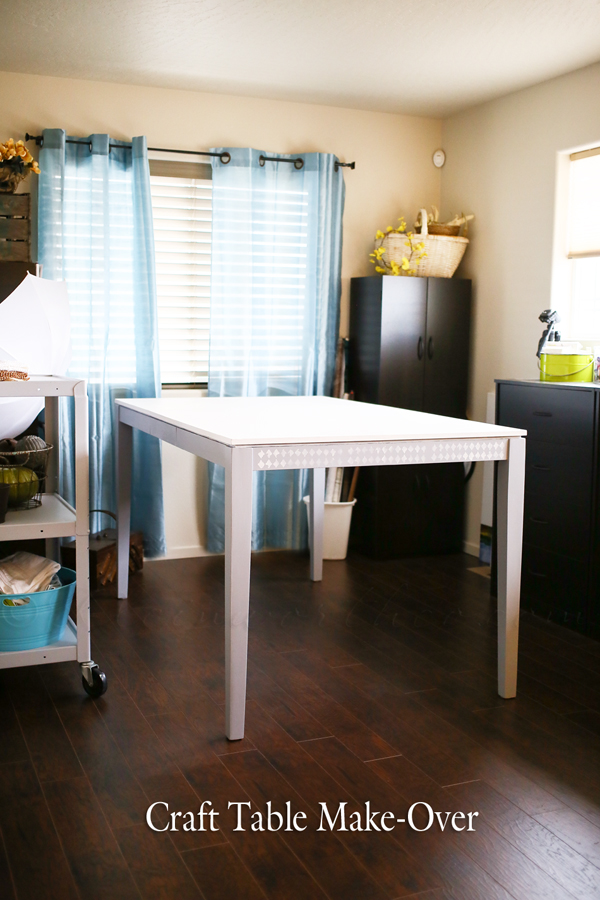 Craft Table Make-Over – which is still in the middle of the studio but the rest of the room is completely reconfigured.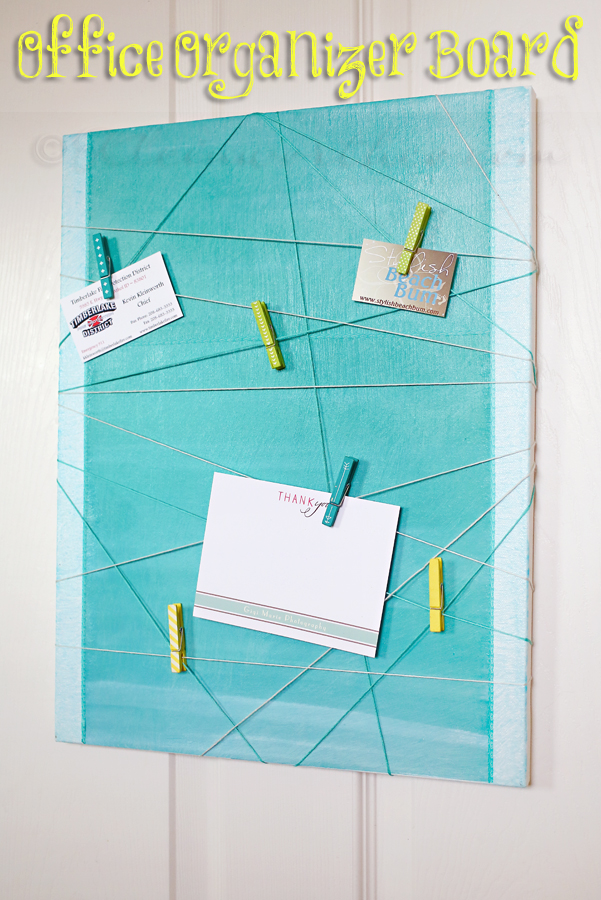 To see where I am linking today- visit HERE
This is a sponsored conversation written by me on behalf of Sauder. The opinions and text are all mine.