I spent some time working on a little craft.  I have this thing about saving used jars.  I wash them, get the labels off & then I always have plans on upcycling or repurposing them into something else.  Then they usually collect & collect in my craft closet until I finally realize I have way too many & I let some go.  This time I actually pulled some out & did a little something with a few.  I have been meaning to do this glitter jar decorating for months.  Like- we are talking Christmas time people.  I lay awake at night with craft projects & recipes running through my head.  There are not enough hours in a day to do them all.  There are certainly not enough blog posts in a year to share every single one of them with you.  I have to narrow it down to just sharing my favorites of the week because I honestly can't blog about it all.  But I guess that is a good thing right??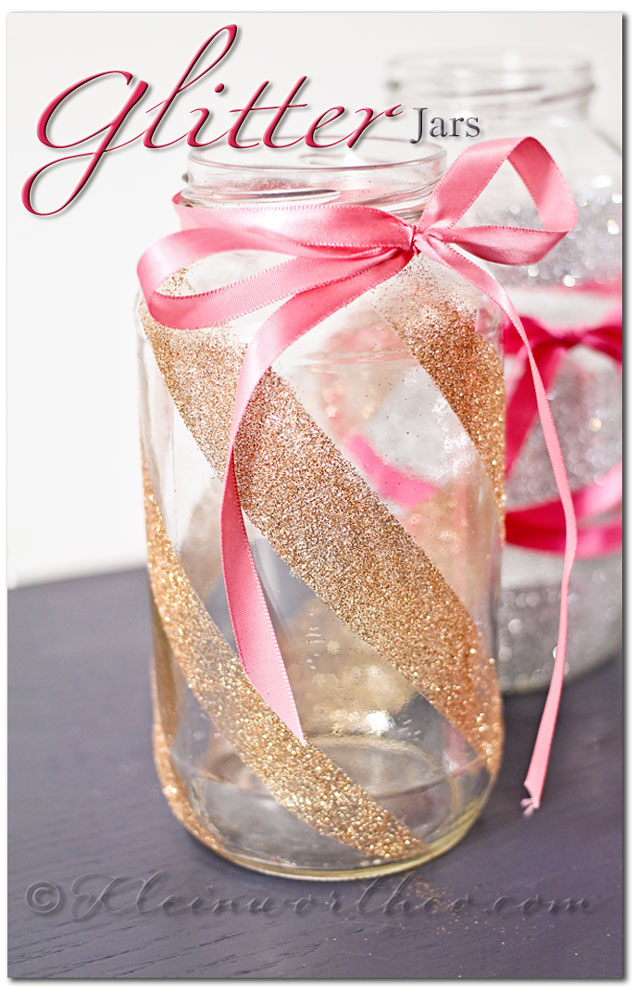 These were so easy- quite messy & turned out so pretty. The hubs IS always finding glitter in rooms where the jars have never ventured- but I don't care.  It's not the end of my world.  I think they add just enough sparkle (no pun intended) to the room to make me smile.  With all this rustic cabin decor- I needed something a little fussy & girly to jazz up the space.  Like I said last week- I'm going to embrace each day a bit more & worry a bit less about the things that don't matter.  Yes I will still keep my house super clean – but I'm not going to let it get me in a tizzy if something is out of place for a short while.  Life is too short.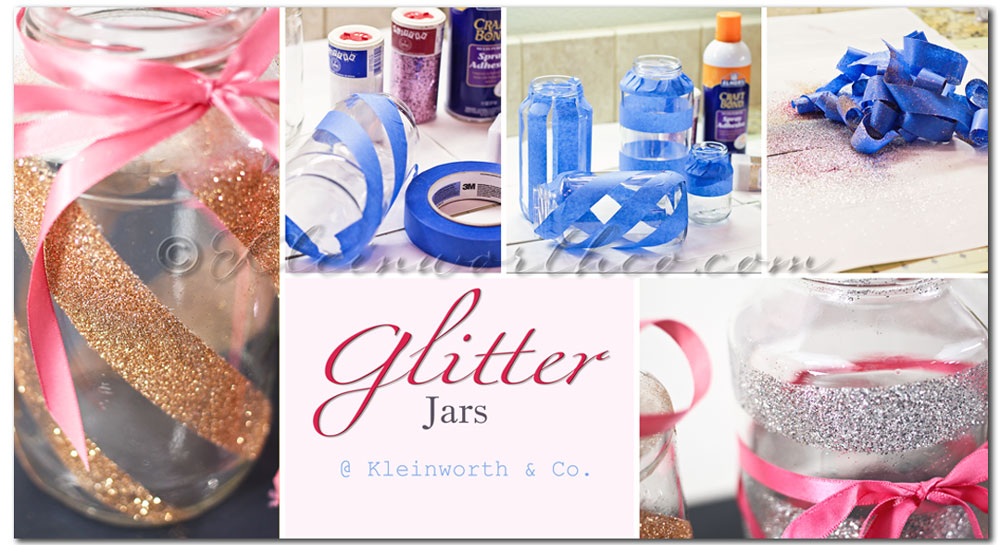 Clean the labels off your jars- I like to soak them in soapy water & then take a spackle  tool to then scrape them off.
Then tape off your jars in the desired pattern.
Pray with spray adhesive & sprinkle with glitter.
That easy!
Don't forget to come back & join me on Mondays for Project 52 & Wednesdays for Your Best Weekly
To see where I am linking today- visit HERE