One thing I get asked quite often is what my set up is for food photos. This varies quite often depending on the feeling I am trying to evoke when shooting, so it's hard to tell you a standard, straight forward answer. However, that being said, while I was working on the images for the YUMMIES I will be sharing with you this week, my son thought my methods were funny & took this shot. I think he thought I would be upset that he took it & I'm sure he figured he could use it as some form of leverage at some point in the future. But I actually was happy he took this because it shows the lengths I go through to get the shot I am after & works great to illustrate my point here today.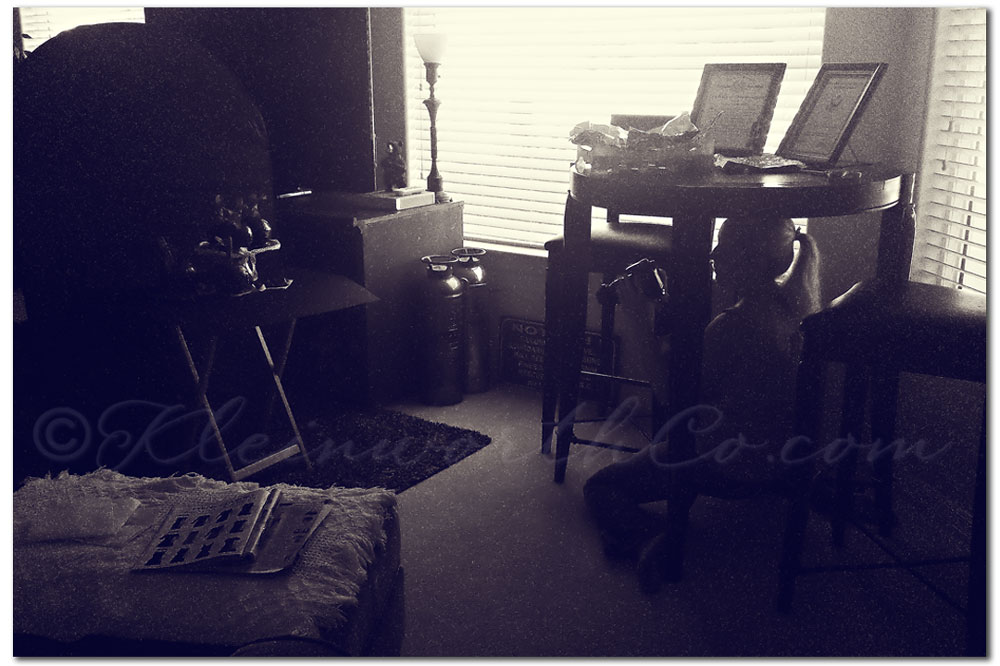 So here I am in our media room. I like the light in there because these windows face north & I get the most beautifully consistent bright light all day long. So most of the time I start in there. I set up my stand with my black side of my reflector in the back. It's propped against my tripod. (sometimes I will use white but lately I have been loving the more dramatic styling) You can see all the things I had taken off the food during prep sitting up on the pub table above me. Now I really wanted to use my 85mm for these. I love what it does to my food images. It does such a SWEET job – I just love it. Unfortunately I'm working with a cropped sensor camera & so 85mm is more like 100+. So I didn't have a lot of room to move around while keeping the light where I wanted it on the food. So I got a bit creative & climbed under the table for a few. I also stood on top of the pub chairs to get some above angle shots. Sometimes I will set up everything on the floor so I can get those above shots. This time I knew I really wanted more from the side shots & I didn't want to lay on the floor to get them. Although I have done that plenty of times too.
Now- given that this shot was taken with my son's point & shoot & I'M SURE he had it on auto- this image was extremely noisy. So bad that I almost thought I wouldn't be able to use it. So while it's still noisy by my standards- next week I will share with you how I was able to save it so I was able to use it here today. Be sure to check back for that.
Linking with: 52 Weeks of Happiness, Tuesday Around the World & Sweet Shot Tuesday