Get a Clean House in 5 Easy Steps. These are the things I do to make sure my house is sparkling clean & STAYS that way! Cleaning done quick & easy!
Clean House in 5 Easy Steps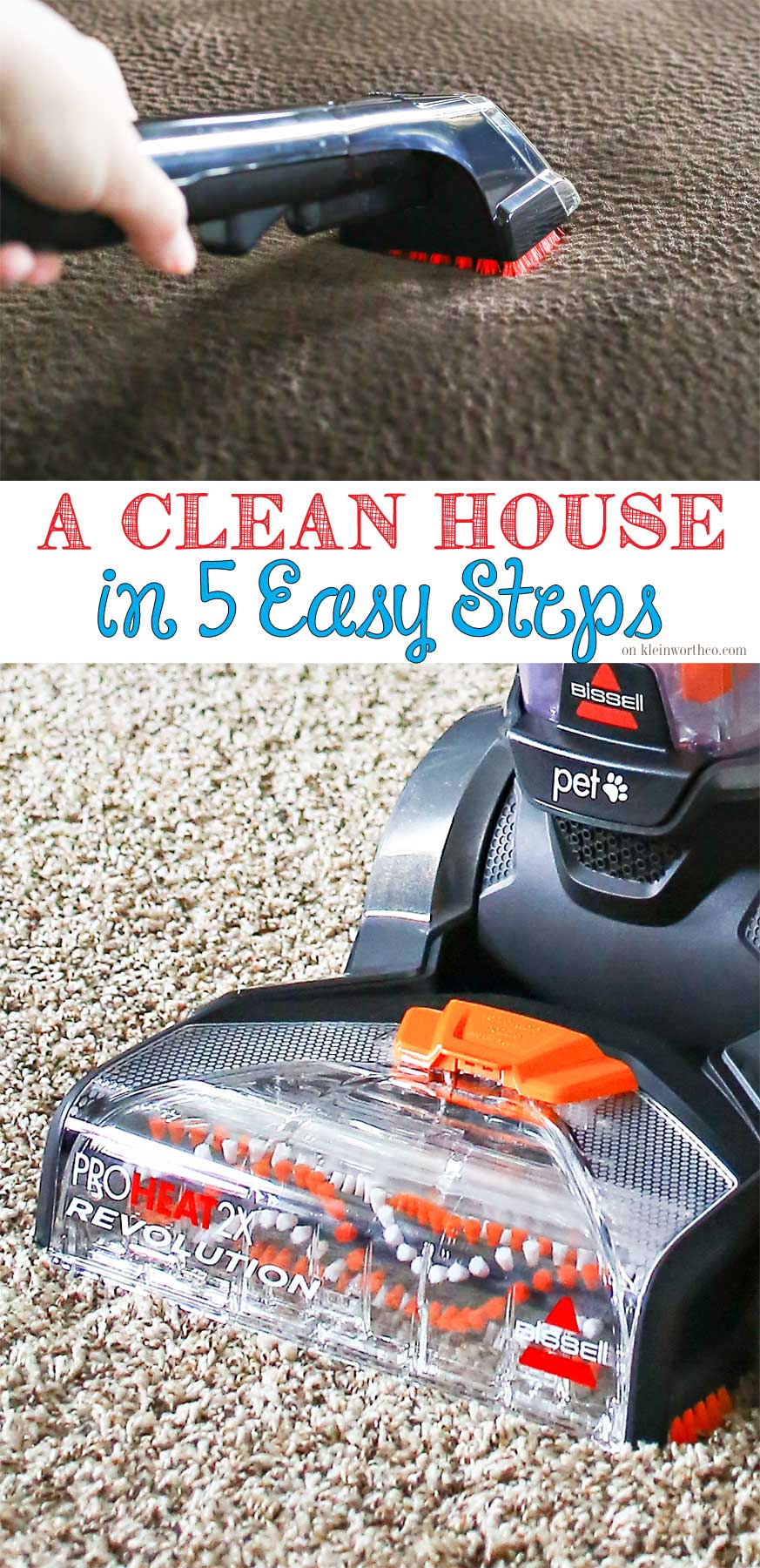 Since it's spring I have been talking a whole lot about cleaning. It's that time of year to purge & clean & get organized. I LOVE having a clean & tidy house. I find myself getting aggitated when spaces get cluttered or I find dirty spots. But I have a house with 3 teenagers & 3 pets. So even though I have my kids helping out quite a bit & they are relatively tidy- there is still things that need to be dealt with or they snowball into much bigger tasks. I'm a stickler for tackling things early to save time in the long run. So I thought that today I would share with you all more tips on how I keep a clean house in 5 easy steps.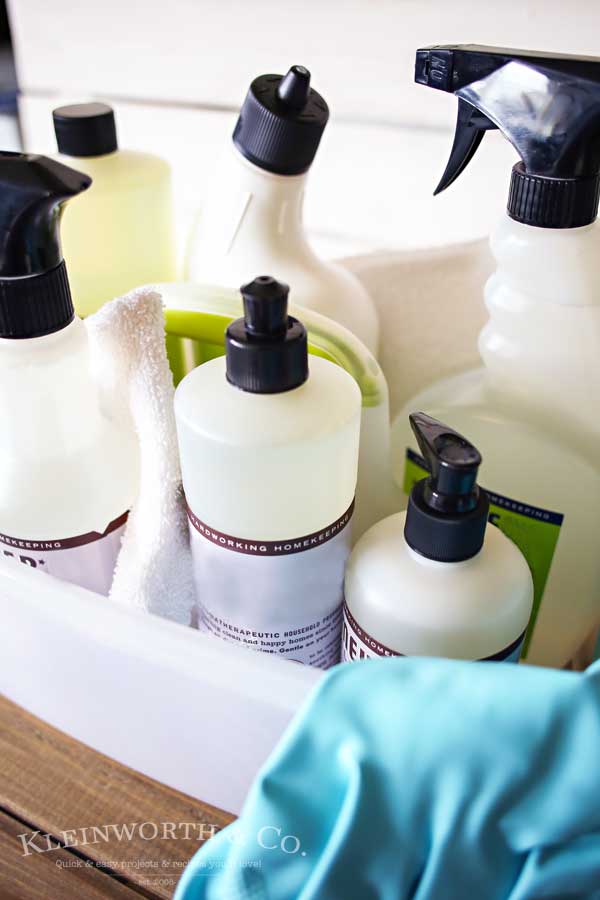 Gather Supplies
I find that the most efficient way to clean is to have everything you need at your fingertips. So I gather my supplies into a neat little caddy to help me transport them all over the house. If I have to break away from the task I'm working on to retrieve another item, I'm more likely to get distracted or pulled away from getting back to what it was I was doing. That isn't efficient at all.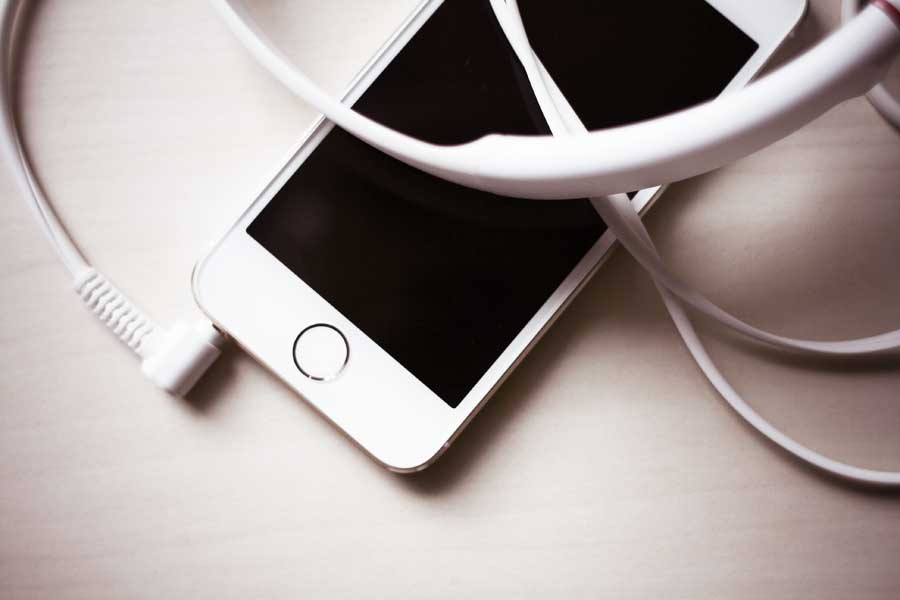 Turn on some tunes!
I find that I work better when I'm in a good mood. So I put on the same playlist I would if I were running on the treadmill. It keeps me motivated & focused because I'm enjoying the music & not hearing distractions. Plus if it's running music then it somehow makes the time go by a little more quickly.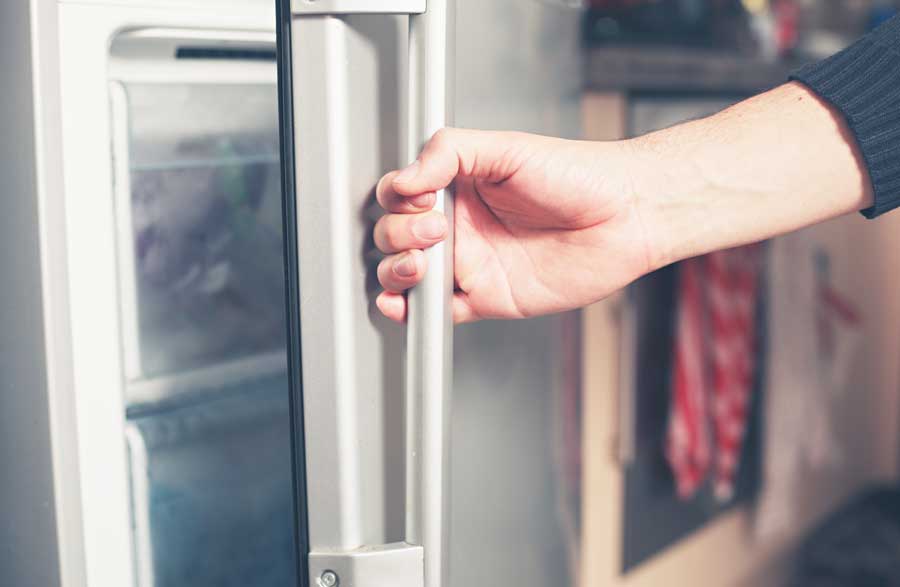 Focus on the forgotten places
Places like the door handles or refrigerator pulls or even cabinet doors all get greasy, grimy, dusty & dirty. They need to be wiped down with a degreaser & then sanitized. It helps keep illness at bay as well.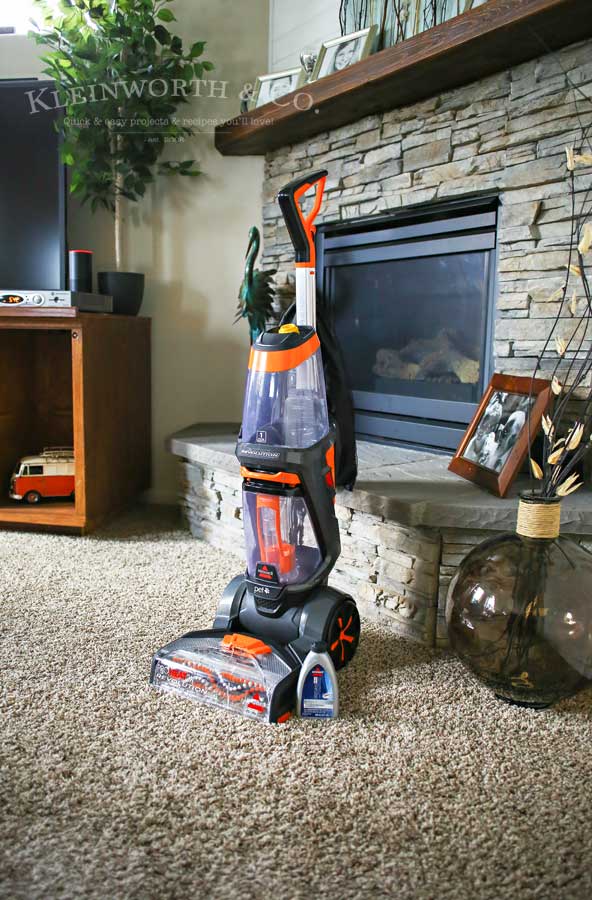 Hit the high traffic spots with something powerful
It's a no brainer that the high traffic pathways in your home will break down the quickest. So to keep those places clean & looking like new it's important to use a good quality cleaner. Because we have 3 pets I LOVE my BISSELL ProHeat 2X Revolution Pet that helps me tackle even the toughest stains. I love the 2 cleaning settings – deep clean for the really packed in stains & express mode for getting the carpets clean & dry in just ONE HOUR!!! Yes- one hour. Perfect for those last minute spills right before guests come over.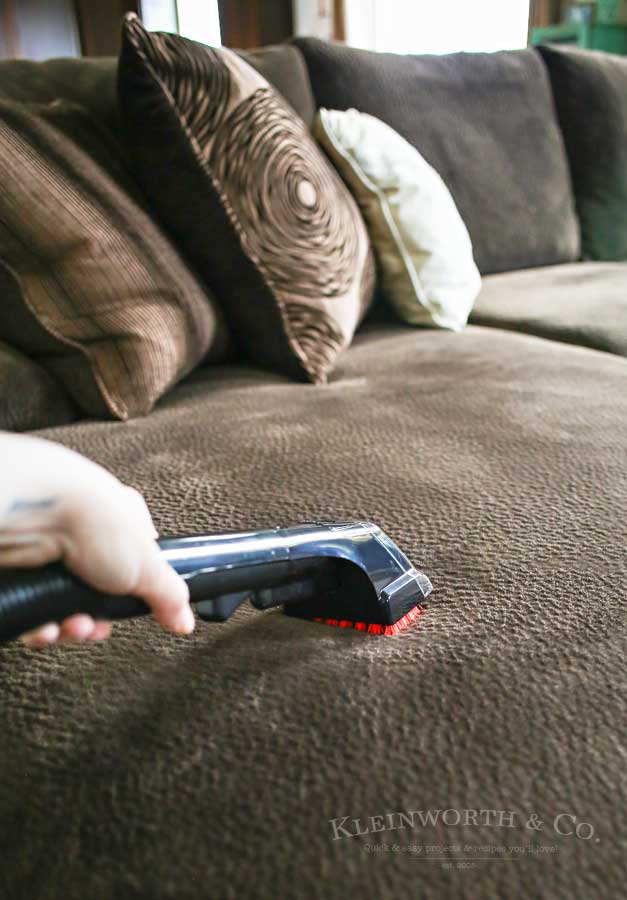 Don't forget the furniture!
Your furniture may have spills on it – those obviously need to be cleaned. But have you ever realized just how much dust can collect on your soft surfaces? We dust the hard surfaces because we see it. But often times the soft surfaces get neglected & they are just loaded with allergens that need to be removed!!! BISSELL Carpet Cleaning Formulas with Scotchgard™ keep carpets & furniture looking newer, longer by cleaning, restoring and protecting carpet. Scotchgard™ works by placing a barrier on the surface of carpet fibers to protect against future stains.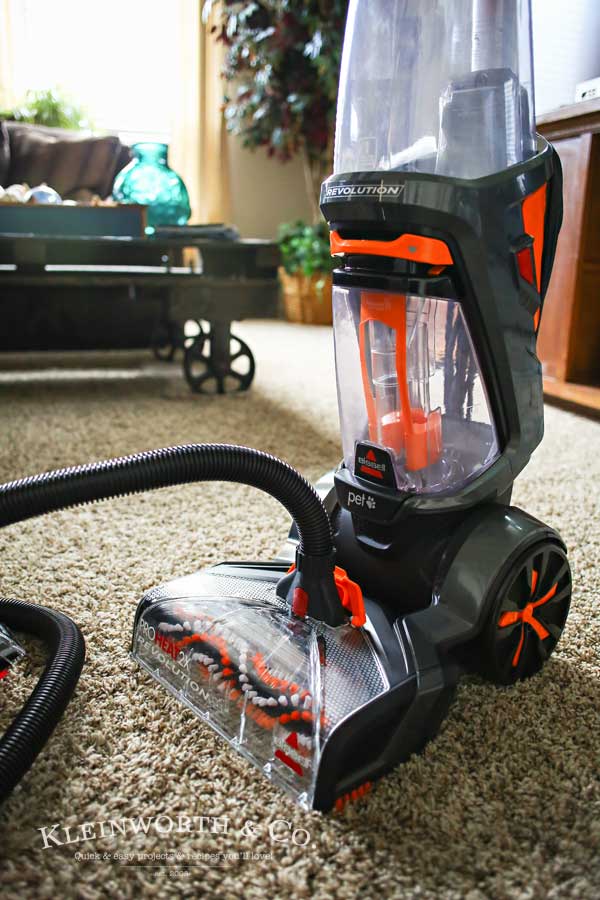 I can't even tell you just how much I love the ease of hooking up this hose to use the attachments! It makes cleaning up after the pets super easy. Both the 2x Pet Stain & Odor Remover and 2X Professional Pet Urine Eliminator Formulas require no mixing or diluting – simply open the bottle, place the bottle on the Easy Fill Formula Cap and pour. I really love that because who really has time to measure out the right portions to mix it?! I'm all about simplicity & this really helps! Be sure to visit BISSELL.COM or Walmart for more info & to find the perfect BISSELL products for all your tough messes.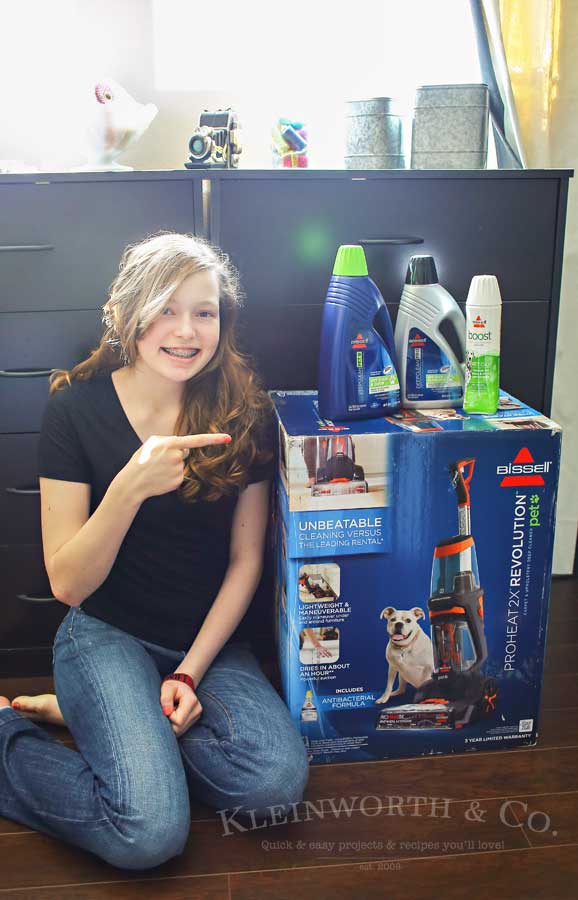 Want one of your own?? You're in luck!! Today you can WIN this WHOLE SET- everything you see here. The ProHeat 2X Revolution Pet Machine, 2X Pet Stain & Odor Remover, Professional Pet Urine Eliminator Formula & Pet Oxy Boost Carpet Cleaning Formula Enhancer. If the widget below doesn't populate- click the link "a rafflecopter giveaway" to enter! GOOD LUCK!!
Giveaway begins April 11 ends April 23
Terms & conditions, participants must meet the following criteria in order to be eligible to win: Age 18+ – US resident only – Only one winner per household
Looking for more great spring cleaning tips?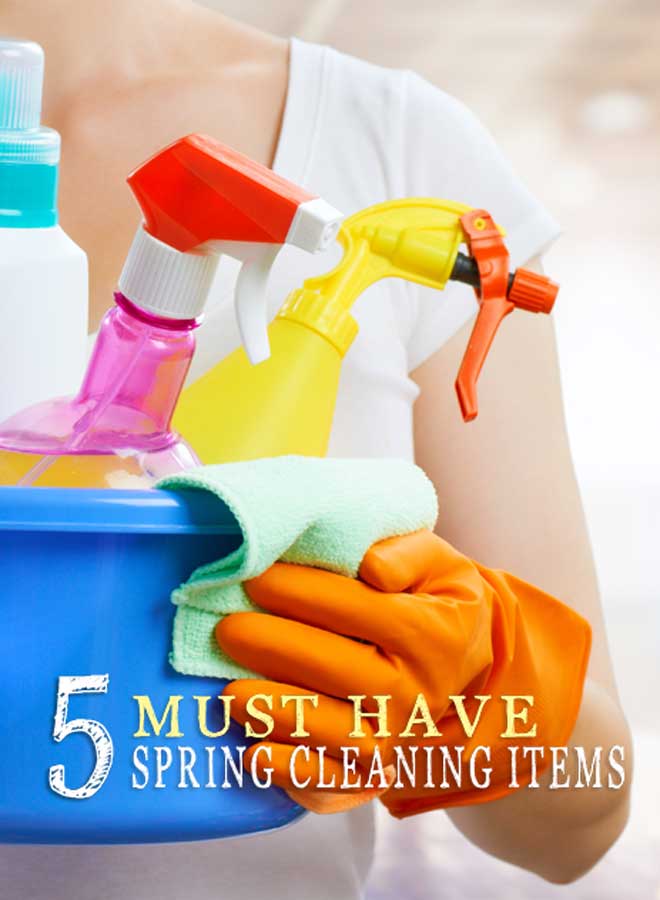 Top 5 Must Have Spring Cleaning Items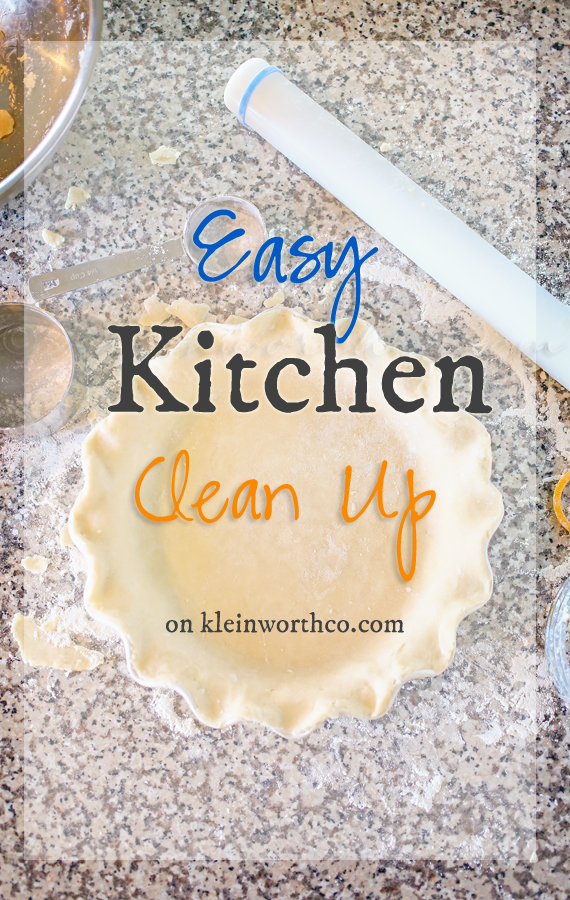 Easy Kitchen Clean Up
I was selected for this opportunity as a member of Clever Girls and the content and opinions expressed here are all my own.
Don't miss these great ideas from these bloggers….
Living Well Spending Less® – How to Deep Clean Your Fridge
Yet Another Mom Blog – Home Maintenance & Deep Cleaning Checklist for Spring
To see where I am linking today- visit HERE