First- let me say that my thoughts & my heart are with all that have been touched by what happened at the Boston Marathon yesterday.
Sending prayers!
Free Printable Checklist Templates
As many of you know my mom is fighting cancer- skin cancer. About 2 years ago she had a questionable mole removed from her shoulder. After the biopsy they found that it was Squamous cell skin cancer. They THOUGHT things would be okay because they THOUGHT they removed it in time & we were grateful for that. Flash forward to about 3 months ago when she noticed a lump under her arm. She went & had it checked- it was the size of a thumbnail. They biopsied it – turned out it was once again the Squamous cells. Apparently after poking it for the biopsy it became agitated & started growing rapidly. Within 6 week from that time it was poked to the time it was surgically removed- it had grown to the size of a baseball. This was not an actual tumor- this was her lymph nodes- those lovely little filters & "catch-all's" that were doing their job & holding on to all these cancerous cells that were trying to take over her body. There were a couple cells that found their way outside of the lymph nodes. They removed all 20 something lymph nodes & found cancer in 16 of them. They have never seen Squamous cell skin cancer behave in the way that it is presenting to them & so they are now doing an aggressive bout of chemotherapy & targeted radiation. We don't know how well this will work for her. The thought once was that Melanoma & Basal Cell were the only real threats to your life when it came to skin cancer. They always thought that if you removed Squamous skin cancer in a timely manner- you were good & really had nothing to worry about going forward. That doesn't seem to be the case here.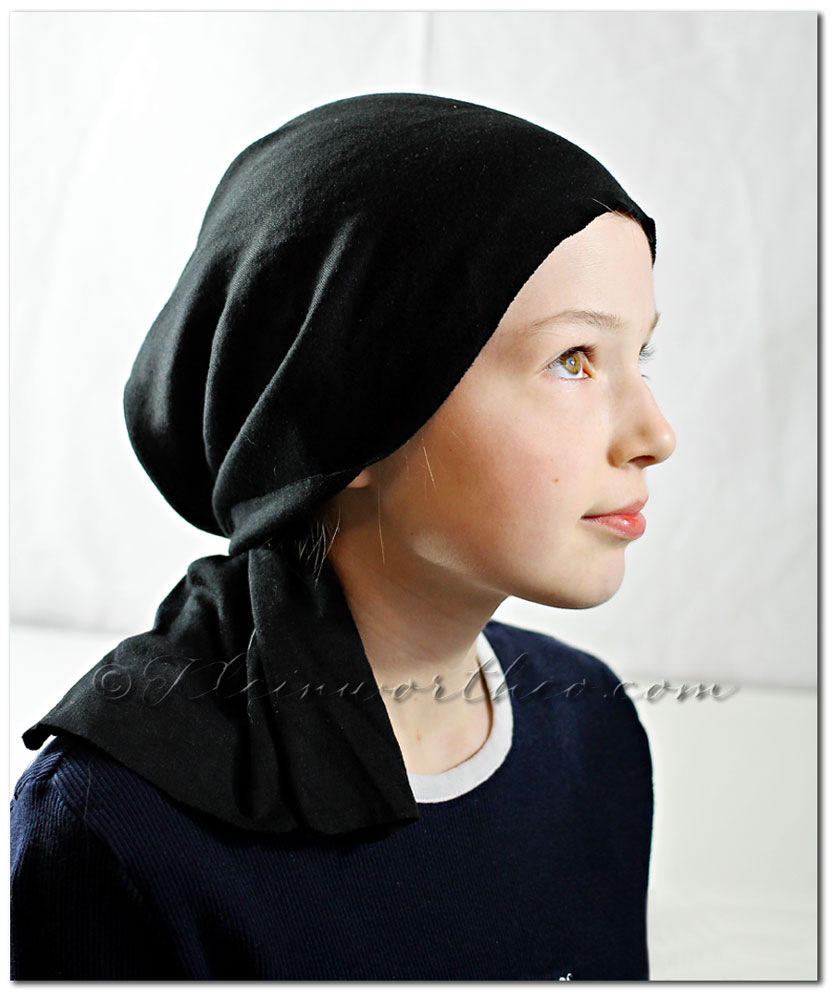 So while my mom has just had her first bout of chemotherapy we all know what is about to happen. So I made her a bunch of these head wraps. I wanted to be sure she had enough colors & she had something to keep her head warm & covered, even though she is in southern California. She certainly can't be getting her scalp sunburned. (sorry I had to use my daughter as the model since my mom is 1500 miles away)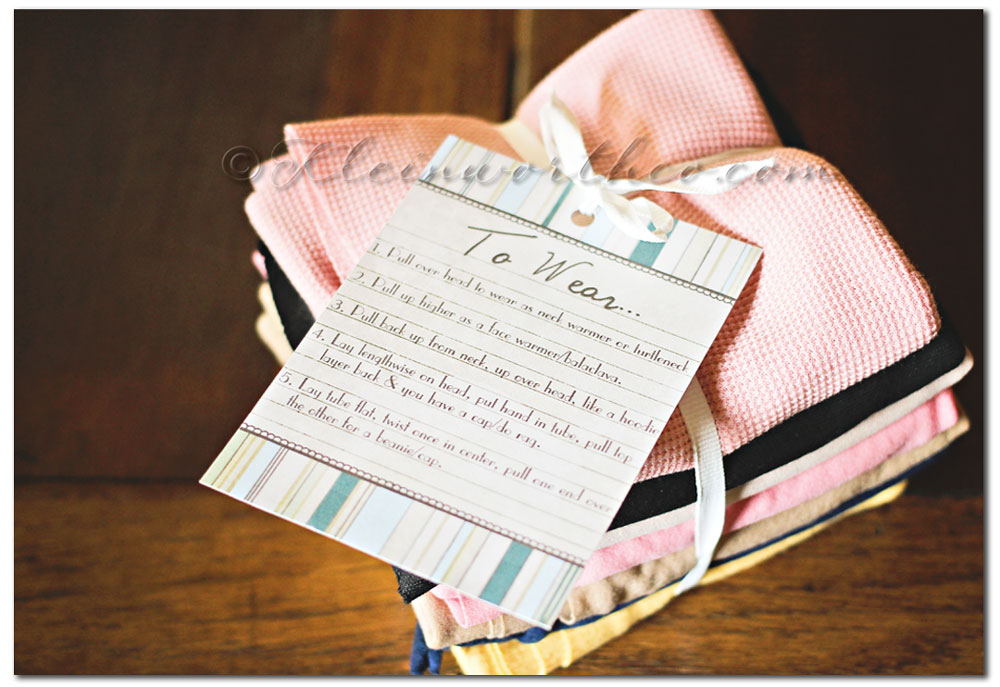 These are really simple to make. So if you have a sewing machine & know someone going through chemotherapy- this is a great gift for them.
You only need super soft & stretchy cotton fabric like a nice Pima cotton t-shirt material. Cut to 20″ x 20″.
Sew together on one side to form a tube. I don't have a serger so I just stitched the ends together & then stitched that seam down flat. The key here is to make that seam as so ft as possible because the slightest thing can be irritating or painful on the sensitive skin while going through chemo.
I left the ends un-hemmed so that it was softer & more stretchy. Again- the less things to irritate the sensitive skin the better.
Then if you are giving these as a gift- you can print out this gift tag & add it to your package.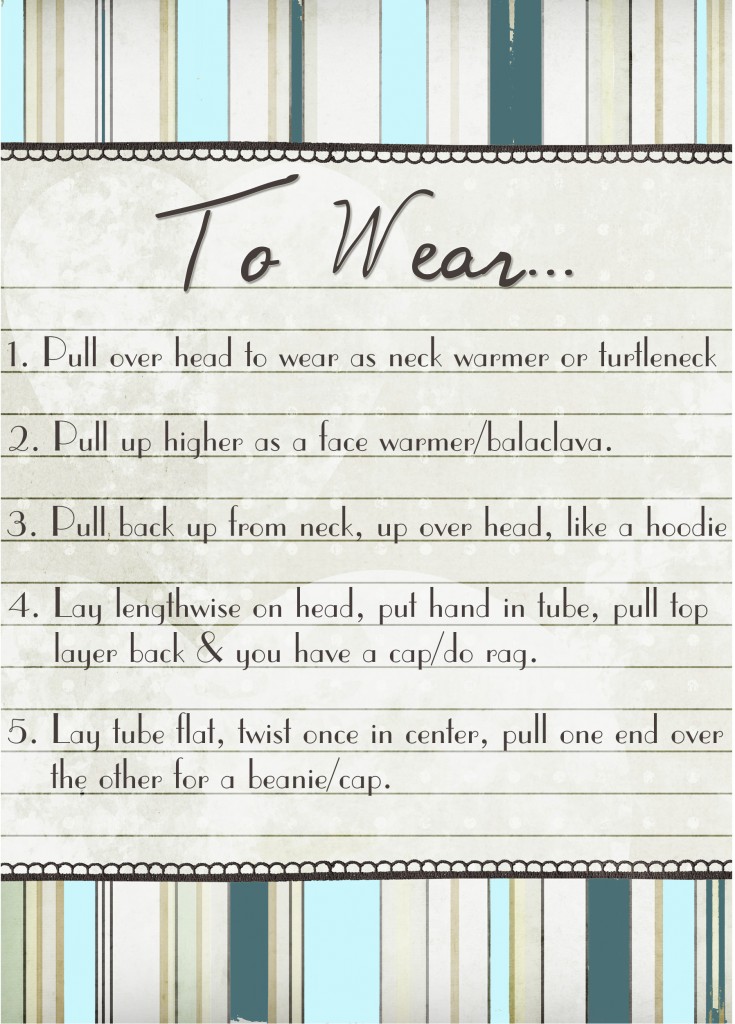 Download HERE
If you can do this to help those fighting this horrible disease- please do. It will be so very much appreciated.
Also- please get yourself checked for skin cancer. I know that my insurance company does not cover things like a annual check so you might want to keep an ear out for events & screenings in your area when they come up. You can also see your primary doctor & have them do a look over but really a dermatologist is best. Many will do a screening for about $100 office visit. It's worth it!!! It could save our life. For more info on the types of skin cancer & what to look for- go HERE. Please take it seriously- it CAN kill you if left unchecked.
This head wrap has been featured on Craft Stew – visit & pick up more Free Hat Patterns.
Don't forget to come back & join me on Mondays for Project 52 & Wednesdays for Your Best Weekly
To see where I am linking today- visit HERE