If you have been a long time reader here then you know that about a year ago I made a commitment to my kids that I would give them a homemade breakfast every day. I am pleased to say that we have been able to EASILY do that (with the exception of when we are traveling). It has really stretched my creativity in the kitchen to come up with new & fun recipes that they will enjoy. But it's been really great knowing that I am giving them homemade goodness each & every morning. It didn't have to mean lots of time in the kitchen for me either – many recipes were either prepare ahead over the weekend – like muffins or banana bread. Or sometimes they were easy enough that they could do it themselves – like the Simple Blueberry Smoothie. But I think we all missed cereal after a few months. So I decided to see what I could do about making my own. This Blueberry Granola Cereal is definitely a family favorite.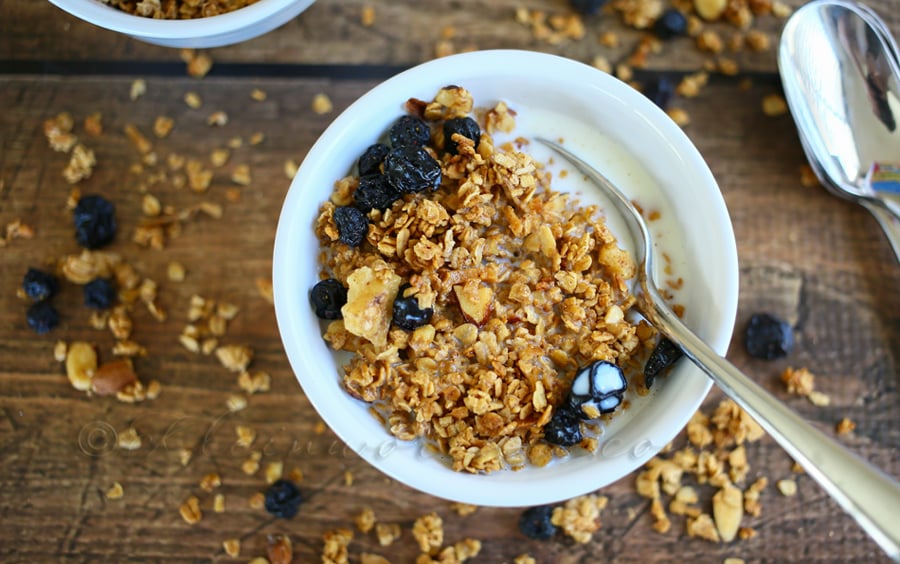 I try my best to pair it with healthy organic milk like Horizon Organic. I'm working hard to eliminate preservatives, additives & hormones from the things we eat so Horizon was a great option for us.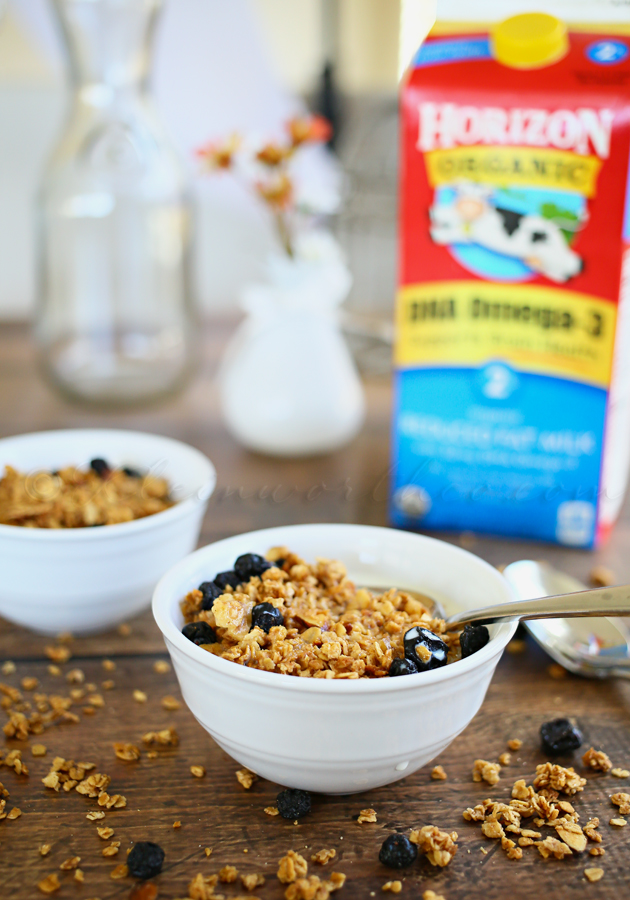 This is super easy. Just add the ingredients into a large bowl – mix well & bake. The kids help me with getting everything added & coming up with new & creative things they would like to enjoy in it. Then it's just bake, stir & bake. Let it cool completely before storing & it's good all week long. My oven will accommodate a full size baking sheet (18×26) so we make a double batch to make sure we have enough for the week.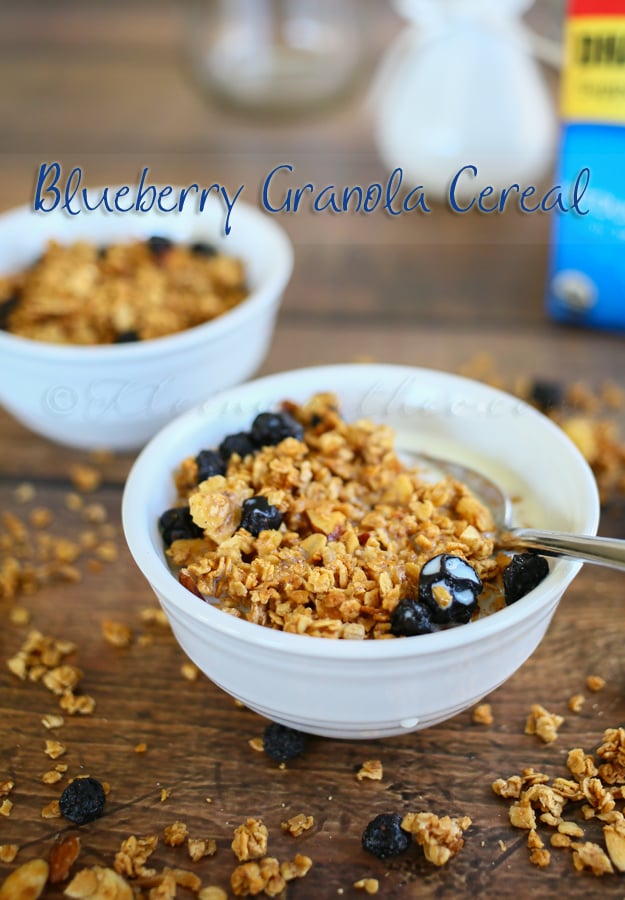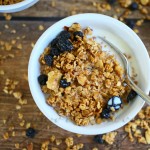 Blueberry Granola Cereal
Ingredients
4 cups quick oats
1/4 cup milled flax seed
1/2 cup slivered almonds
1/2 cup chopped walnuts
3/4 cup coconut
2 tsp cinnamon
1/2 cup brown sugar
1 tsp salt
1/3 cup coconut oil
4 tbsp raw honey
1/2 cup water
1 tsp vanilla extract
1 cup dried blueberries
Instructions
Preheat oven to 350 - 275 for convection

Line a large baking sheet with parchment - set aside

In a large bowl- combine all dry ingredients - except blueberries

In a medium bowl combine wet ingredients & whisk

Pour wet ingredients into dry mix & stir to coat so entire mixture is moist

Transfer to prepared baking sheet & spread in a thin, even layer

Bake 55 minutes - stir every 15 minutes

After 30 minutes of baking- add blueberries

Cool completely before transferring to an airtight container

Use within 1 week.
I know that breakfast can be so difficult when everyone is on the go. So I came up with some of our breakfast favorites that are so easy to make – either ahead of time or in just a couple minutes. These are all recipes that my kids ABSOLUTELY LOVE – and they are easy enough that they usually help me put them together.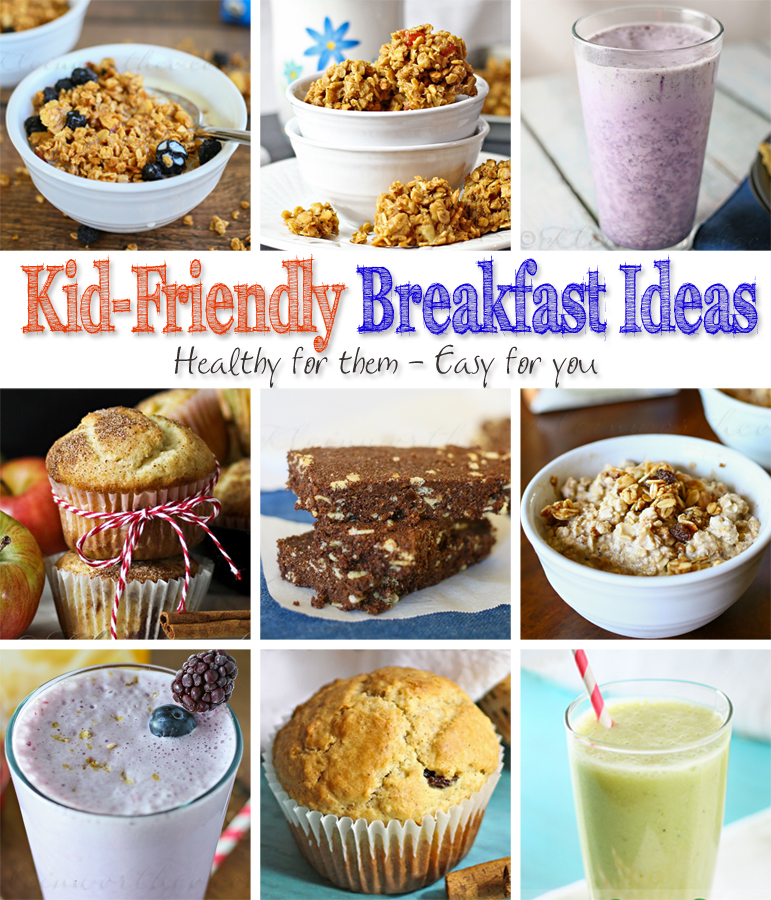 Blueberry Granola Cereal | Granola Breakfast Bites | Simple Blueberry Smoothie
Ban-Apple Muffins | Chocolate Date Bars | Oatmeal Cookie Overnight Oats
Vanilla Berry Smoothie | Oatmeal Raisin Muffins | Great Tea Banana Smoothie
Connect with Horizon Organic & learn more about all the GREAT products they offer.
You can also connect with them on Pinterest | Facebook & Twitter
To see where I am linking today- visit HERE
This is a sponsored conversation written by me on behalf of Horizon Organic. The opinions and text are all mine.