This is a Sponsored post written by me on behalf of FrogTape for SocialSpark. All opinions are 100% mine.
As you all know I have been working on projects for the kids to make their new rooms more special for them. It's particularly important for the girls as they have been sharing a room for the last 10 years. To think that the munchkin has never had a space to call all her own makes me sad. Sooooo – she ended up with the biggest room in the new house. She may be the smallest & she may have the least amount of stuff – but she will live in her room for longer than the other two will be in theirs. To make it more personal for her I let her pick a concept for the space & I have been making all sorts of little things to help bring that idea together once we move in. She chose a beachy theme for her room. She wants cool coastal tones which I am incorporating into as much as I can. My latest creation to help keep her organized is this Beachy Painted Corkboard. I love the waves – fits the vibe of the space perfectly.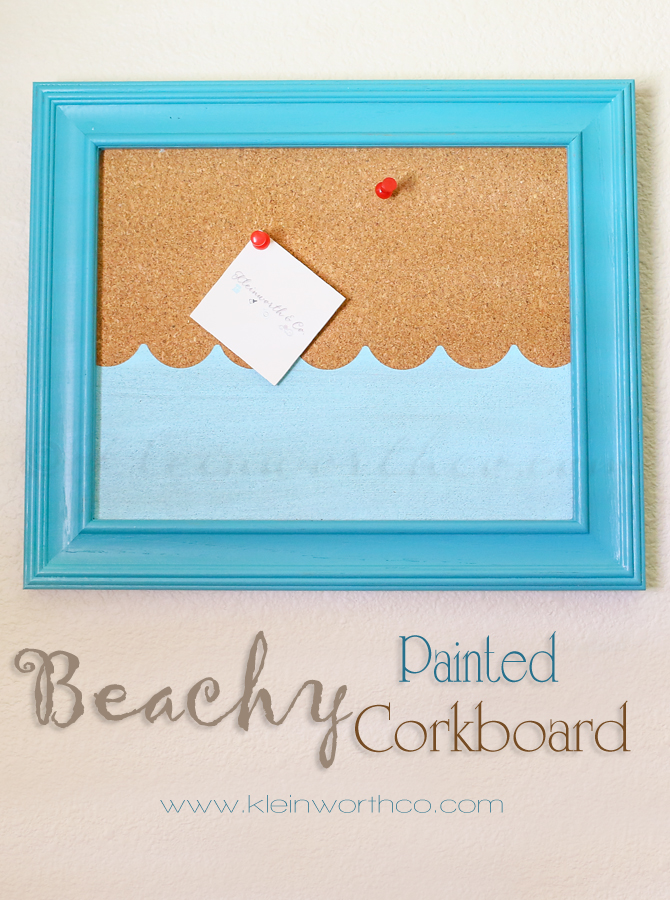 Let me show you just how easy this was to make!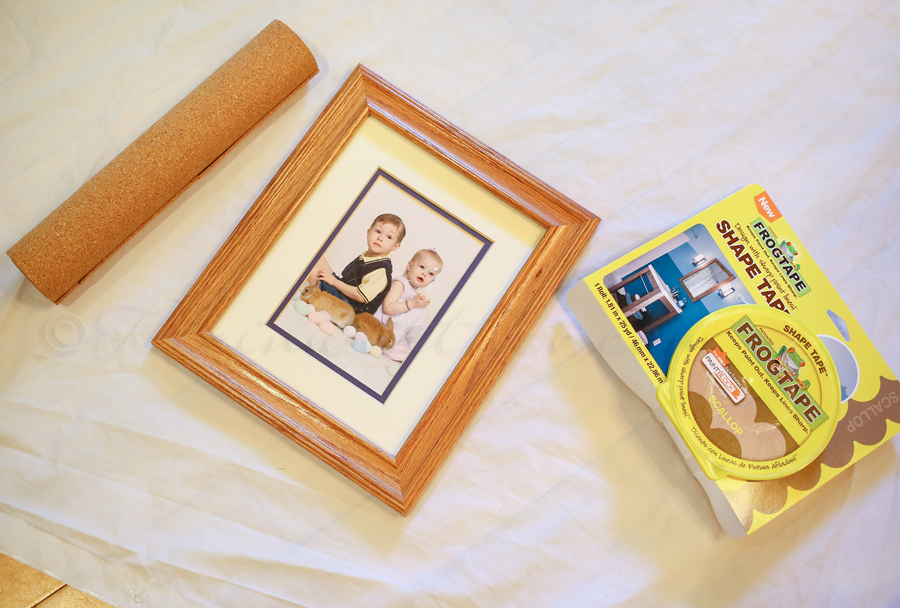 I have a ton of these old & outdated oak picture frames laying around here. I chose this one because the glass broke & has been sitting on a shelf waiting for me to do something with it. You can see how old this picture is & how long it's been in this frame – those are my 2 oldest kids. (they are now 16 & 13 years old) Yep- it was time for a makeover.
Supplies
Picture frame
Cork roll
FrogTape's Shape Tape in Scallop
Paint Color of Choice
Paint brushes
Glue
**One thing I like to do before any project that has the potential for being messy is lay out a shower curtain over my work space. In this case it was to protect our hardwood floors. It would be tragic to spill paint on these floors.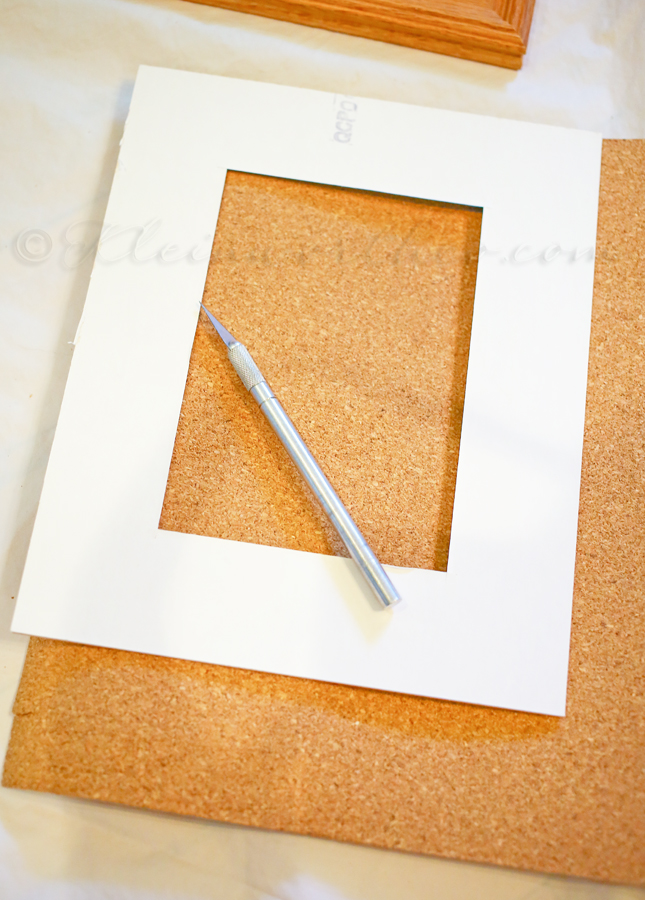 I removed the picture & then used the mat as a template for the size to cut the cork.
I then hot glued the cork to a piece of cardboard.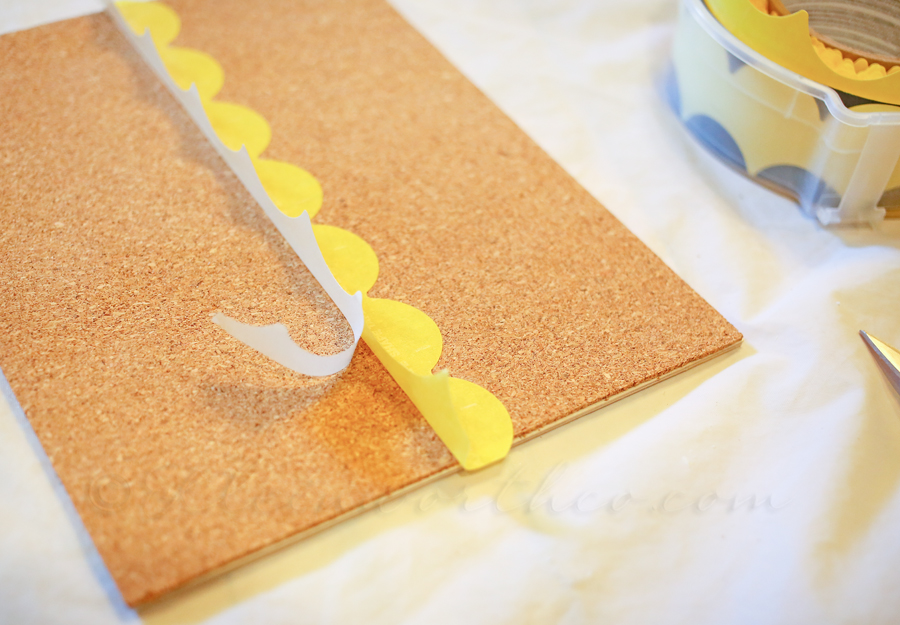 I started with my Shape Tape™ It splits in the back to make applying SUPER EASY. I just measured out the length, cut & removed 1/2 of the backing. Adhered to the cork & then removed the backing for the other side to finish placing.
I love the PaintBlock® Technology in FrogTape®. It's a super absorbent polymer that reacts with the water in latex paint & instantly gels to form a micro-barrier that seals the edges of the tape. This is what helps prevent paint bleed – even with a porous texture like I was working with. It gave me these nice clean lines -SO EASY & BEAUTIFUL!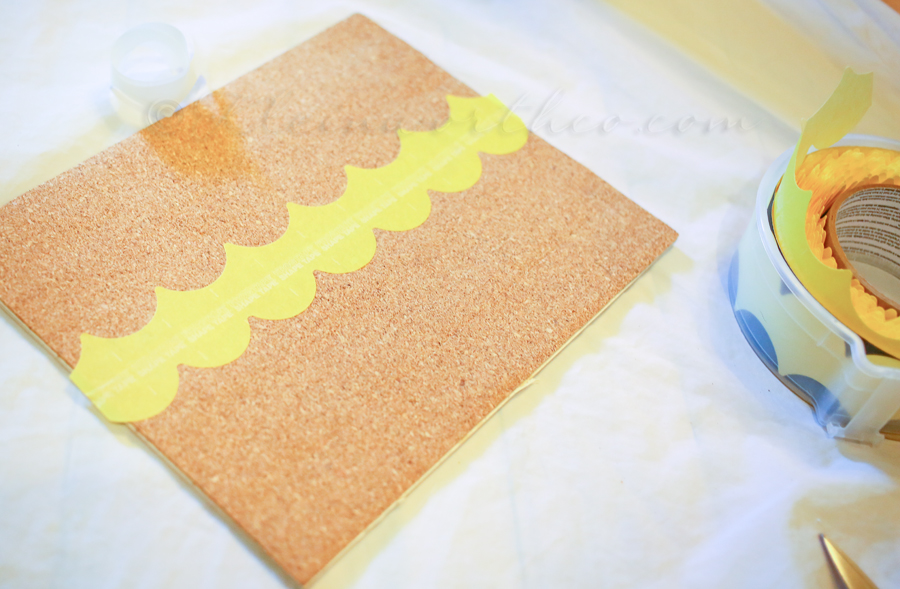 I then started painting. I actually painted my frame first because it needed two coats to cover up all that honey oak. Then I painted my corkboard with a lighter shade of green.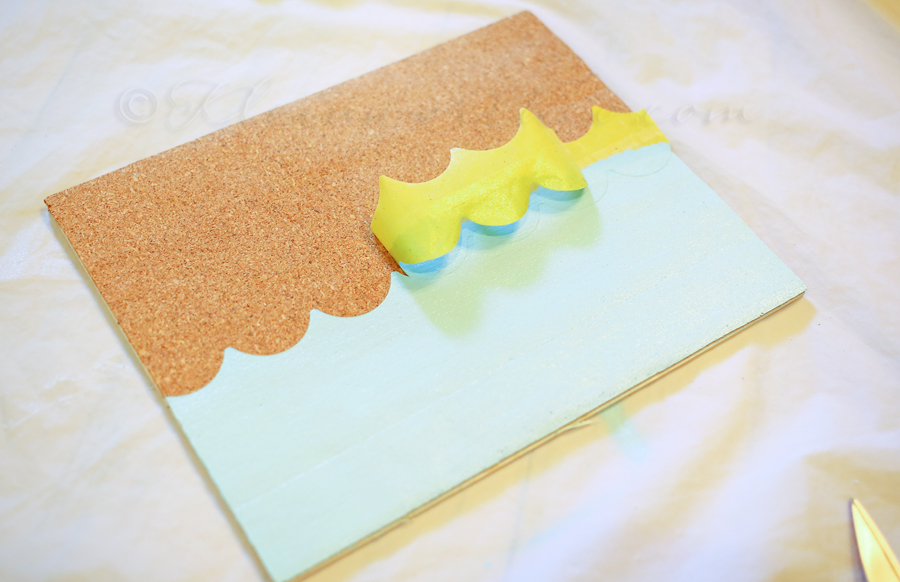 I was able to immediately remove the Shape Tape™ to reveal this beautiful wave pattern. I didn't have to wait for the paint to dry. I just love it – I want to do it on everything now.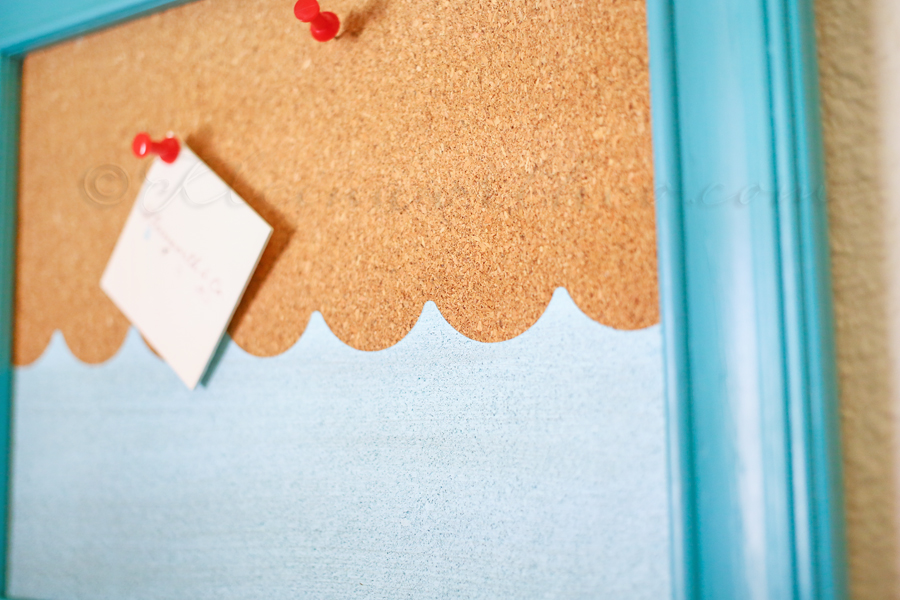 I love how easy it was to give this regular corkboard idea for her room the pop of beachy vibe it needed. This project was done in about 1 hour & that was just because the frame took so long to dry.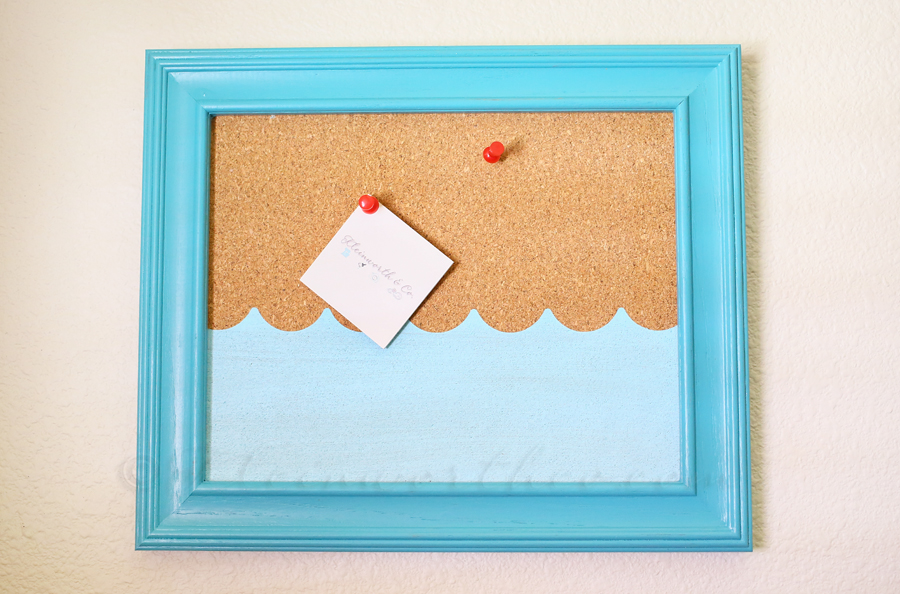 Using the Shape Tape™ will make it so easy to add more beachy feel to her whole room. Once we get moved in I can use it on an accent wall in her space too.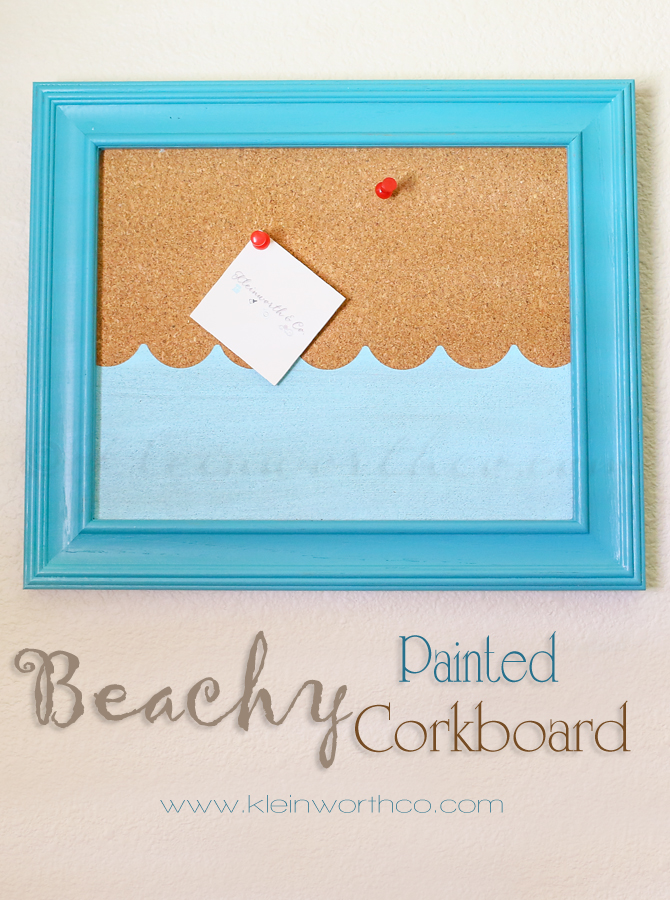 This was such a fun project. I can't wait to move on to larger ones once we get settled.
You can connect & find out more about FrogTape® on Twitter @FrogTape
Be sure to follow them on Pinterest too for more creative inspiration!
So tell me…..what would you paint with Shape Tape™?
Want more projects?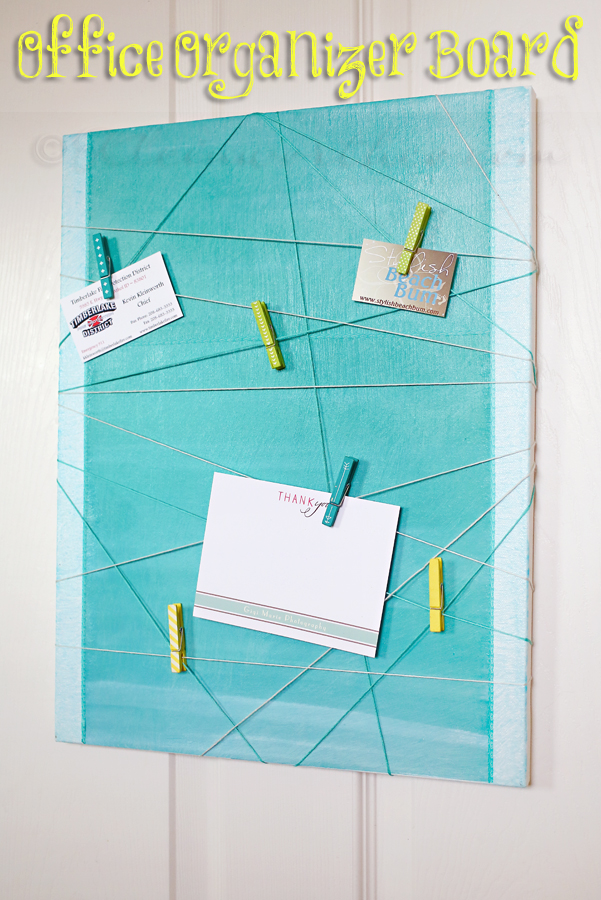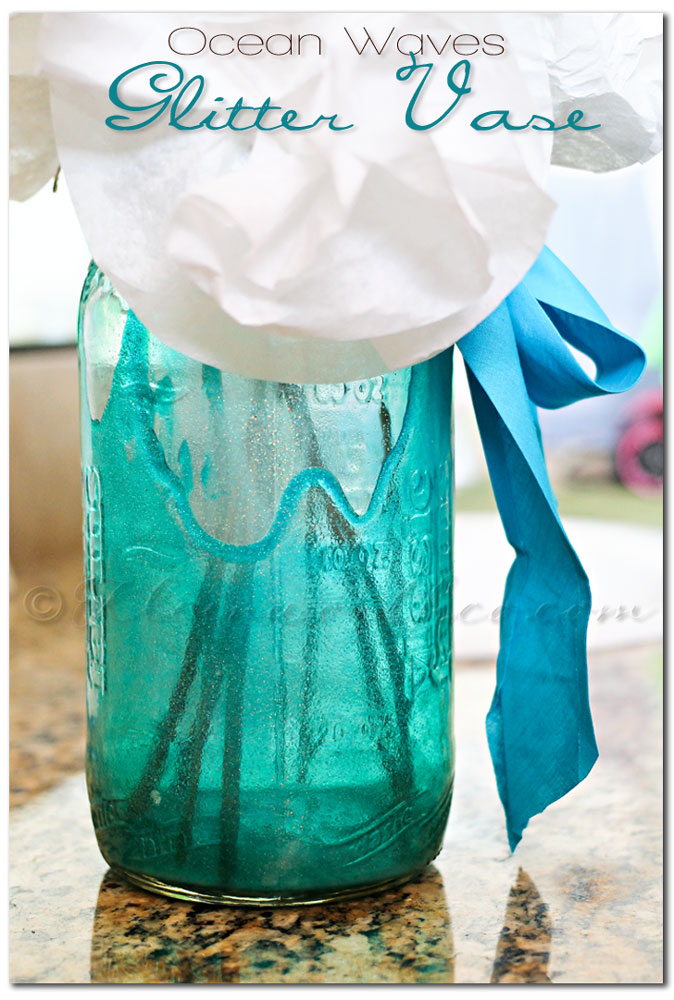 To see where I am linking today- visit HERE
[include id="1″ title="Footer Ad"]