Do you have certain pieces of furniture around the house that really need some attention & yet you have been putting it off for years? I have several. Now that we are finally in our house AND I have a nice climate controlled studio space where I can comfortably work on such projects – things are actually getting done around here. It's all a long time in coming but I am so thrilled to have the opportunity to finally do it. It's helping me fine tune each room of our house & I am just so happy about it. This latest project is my Antique Sewing Table Makeover. It was really begging for some attention & it only took an afternoon to do it. I used Vintage Decor Paint from Martha Stewart Crafts® & I just LOVE how it turned out.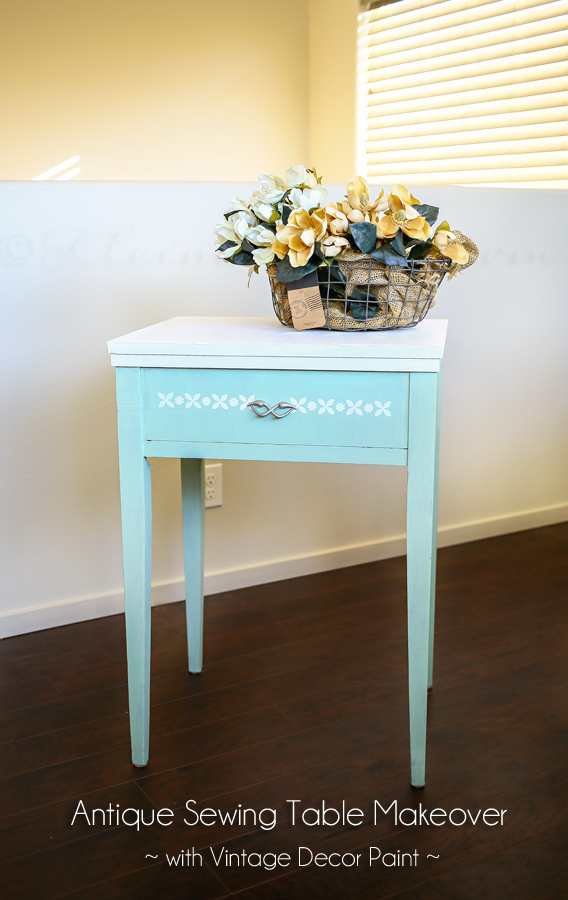 Let me show you how easy it was.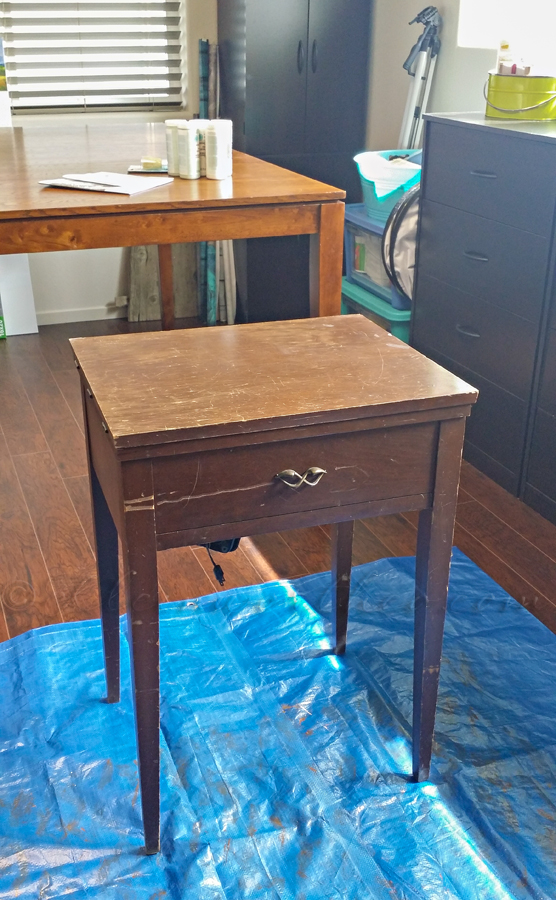 Here is what I started out with. My grandmother's vintage sewing machine & cabinet. As you can see – it's pretty thrashed. This is the original finish & after 60+ years – it's definitely in need of some TLC. We are currently using it as a side table for the cat's food & water in the laundry room. It was just sad & I was so happy to finally give it a makeover.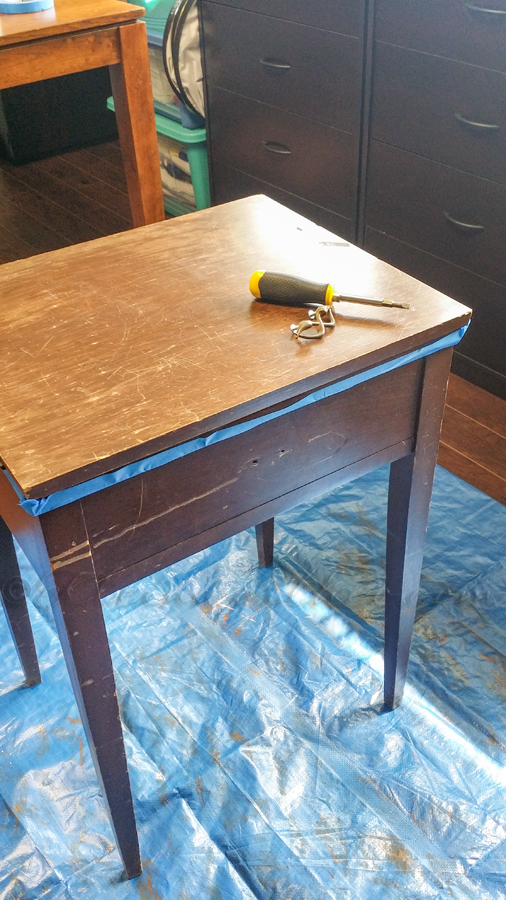 First thing- tape off the top from the bottom since I am working with 2 colors.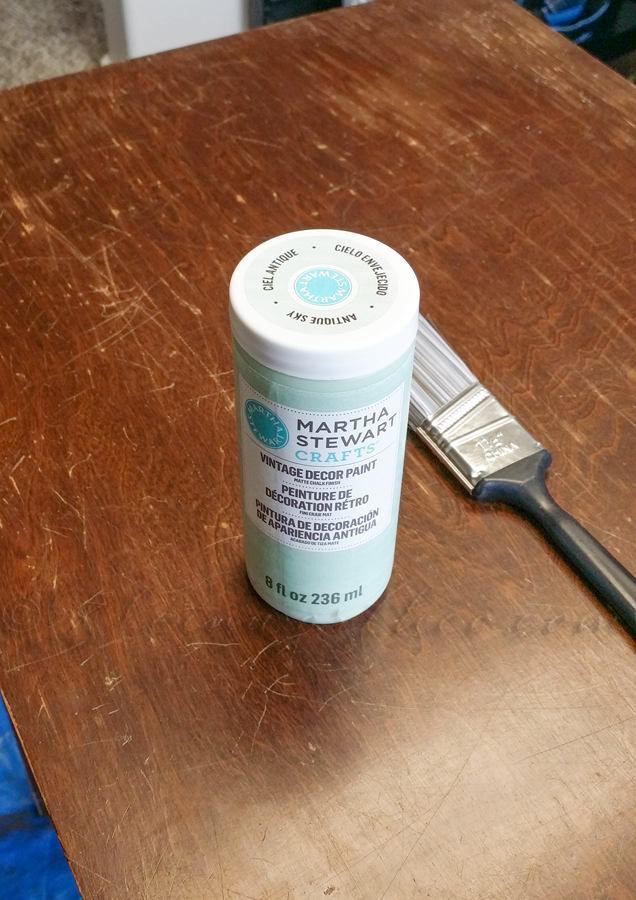 The color I chose for the bottom portion is Antique Sky – Martha Stewart Vintage Decor paint. It gives a great Matte Chalk Finish. I gave the bottom half of the table 2 good thick coats of this. I loved that there is no prep & the paint is self priming. Hurray for time saving products that take extra steps out & still turn out fabulous.
Antique Sewing Table Makeover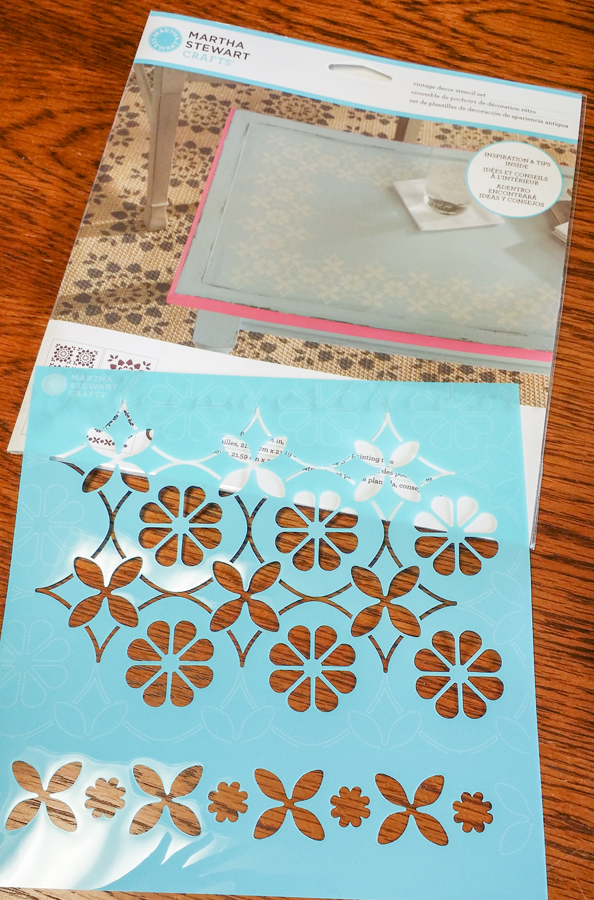 I knew I wanted a little extra flourish to keep it feeling vintage – so I added the bottom flower pattern using this Martha Stewart Stencil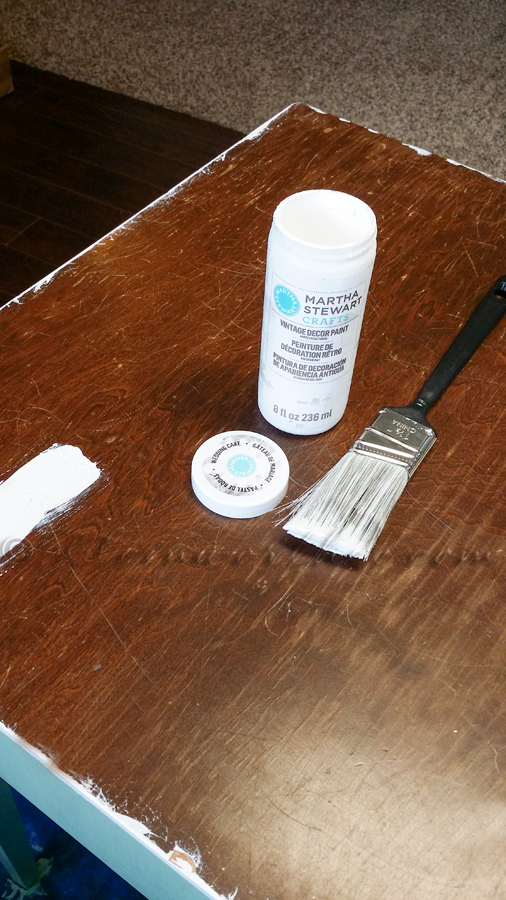 Next I used the same paint – color… Wedding Cake on the top of the table. This matches the stenciled pattern.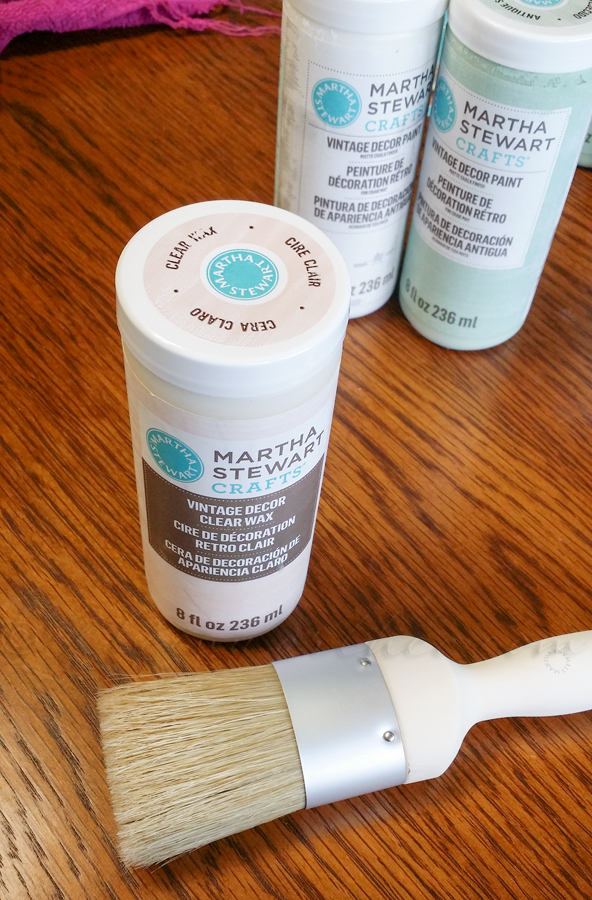 Once it was all dry, I added this Clear Wax with this gorgeous brush. I have a thing for paint brushes -so I was really loving this one. The clear wax is great because it adds an extra tough layer over the paint to help guard against nicks & scratches. This table is used in my laundry room & my cats are jumping on it all day long. I am happy to have something over the paint to help keep all my hard work beautiful & looking perfect.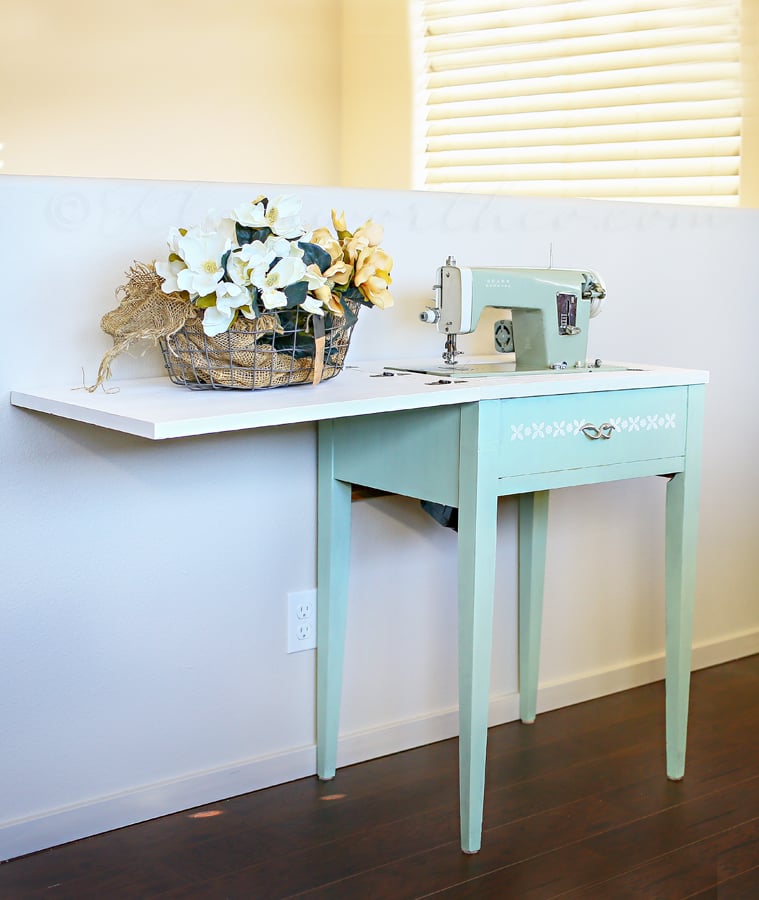 I had completely forgotten the color of the machine when I picked the colors of the paint. It works well I think. The room had a lot of warm light coming in during the time I was photographing this project. The color of the bottom half is really close to the color of the sewing machine. It's just not showing up with the light.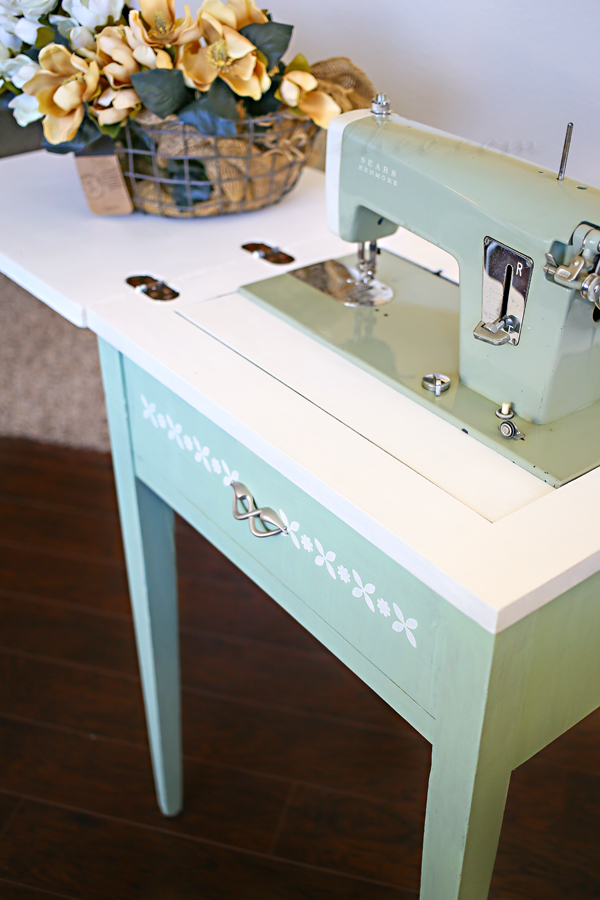 I also gave a new coat of metallic paint in brushed nickel to the little piece of hardware to spruce it up.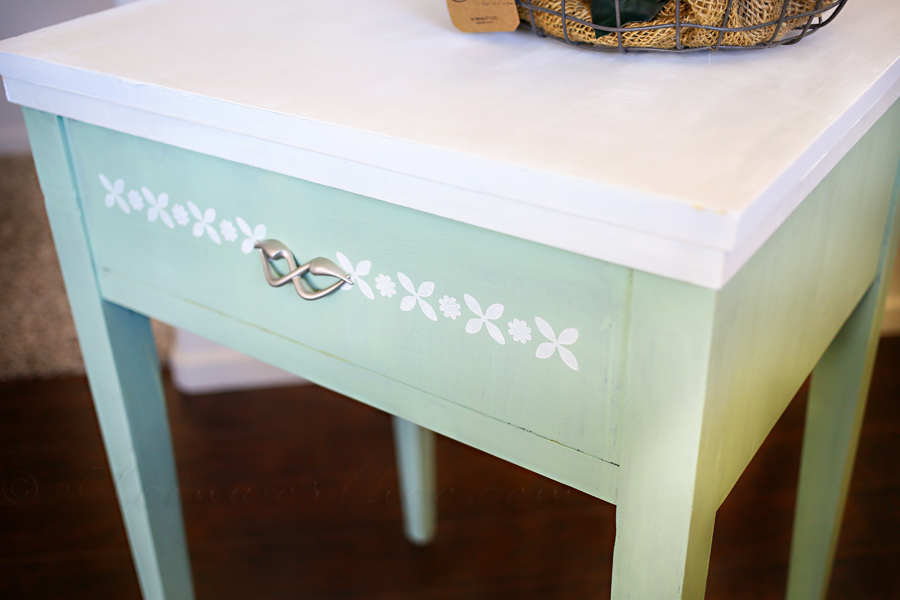 Here's a better look at the stencil.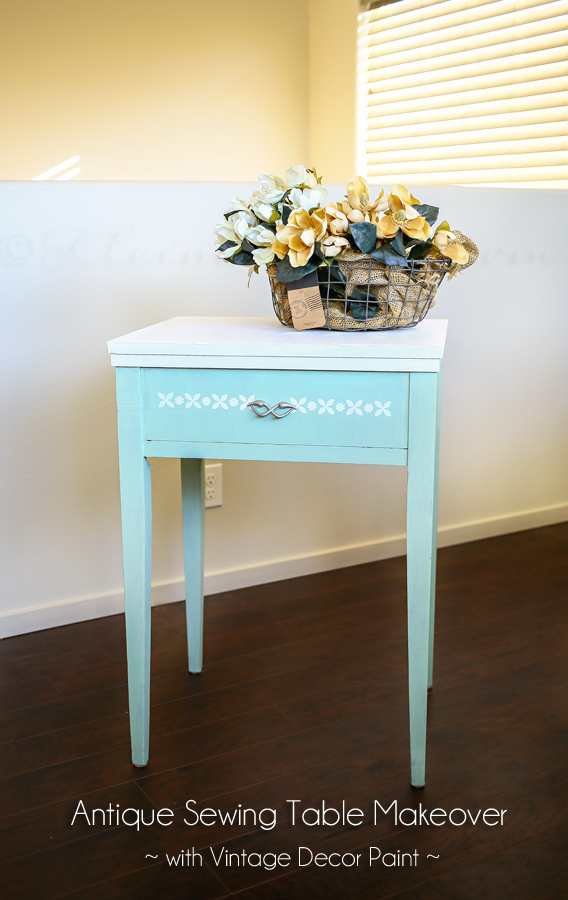 Here is the table closed. This is usually how I use it. I wish the machine still worked. Then I would have set this up in my studio. How cute it would be in here. Maybe one day I will get it running. But for now- this is one antique in the house that's looking great.
Want more projects for the home?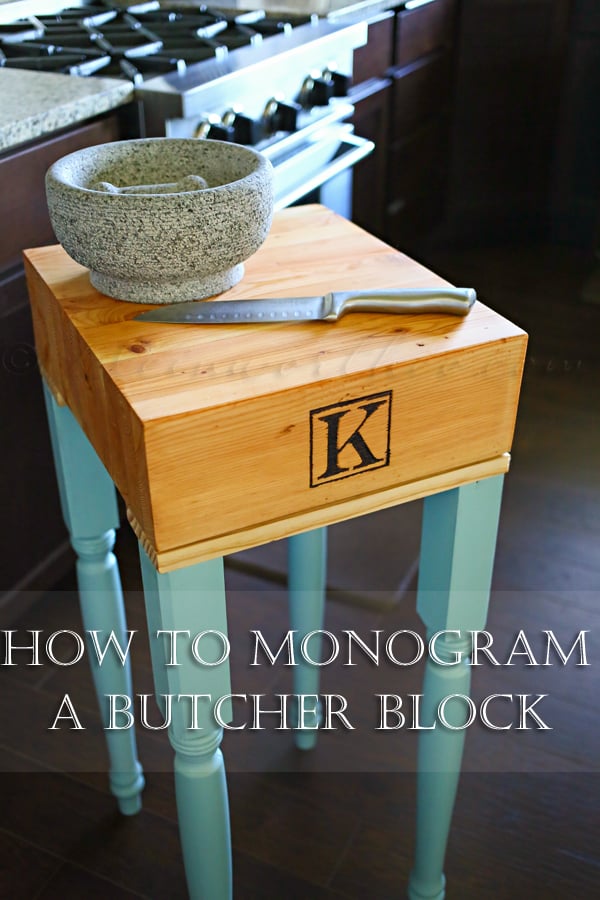 How to Monogram a Butcher Block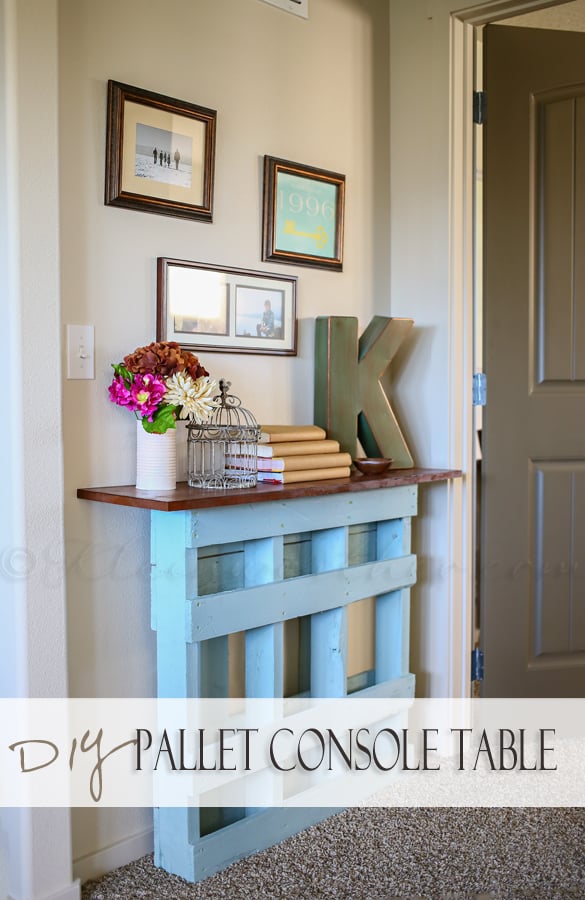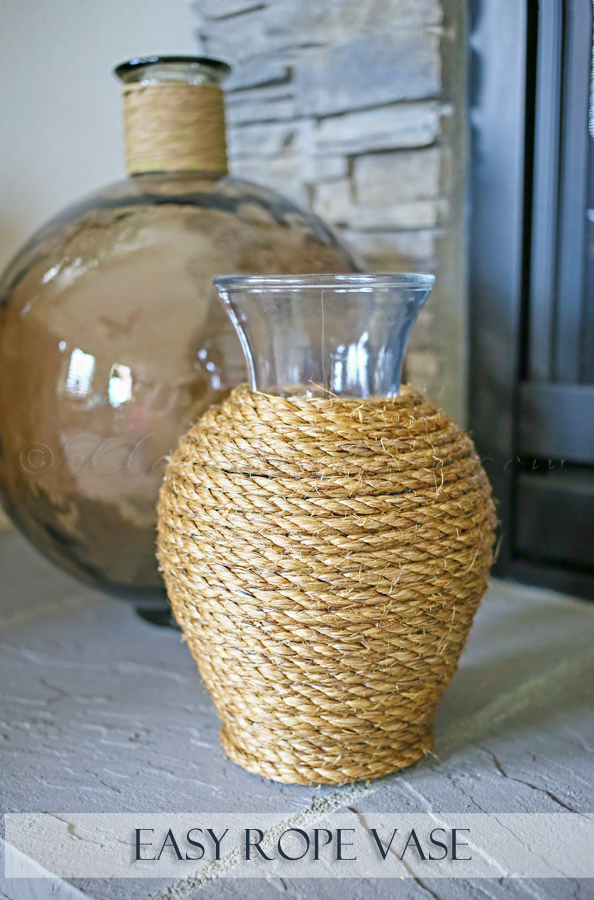 To see where I am linking today- visit HERE