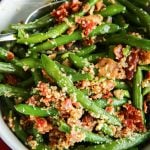 Print
Bacon & Garlic Green Beans
Bacon & Garlic Green Beans, a side dish recipe that's easy enough to enjoy with weeknight dinners & perfect for Easter, Thanksgiving & Christmas dinners too.
In a medium saucepan, add your green beans & fill with water until the green beans are covered.

Heat over medium & bring to a boil.

Boil until the green beans are tender – about 5-8 minutes.

Drain in a colander & transfer back to your saucepan.

Stir well to combine & serve immediately.