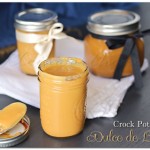 Print
Crock Pot Dulce de Leche
Crock Pot Dulce de Leche is an easy slow cooker caramel recipe that takes just one ingredient. Simple to make & the perfect topping for fall desserts.
Total Time
4
hours
5
minutes
Transfer your sweetened condensed milk into whatever size canning jar you desire-

(1 can + 1 mid-sized jar or 1 can + 2 small jam jars)

Place lids on tight!

Place in the slow cooker & cover with water.

Cook on high 4-6 hours or until it becomes the desired color you are after.

Remove carefully & Allow to cool on wire rack 1 hour.

Serve hot or store in the refrigerator for 2 weeks.