You know- sometimes putting together a simple little craft can make one so happy. I love having votives sitting around in various places in the house & I love making each one unique & interesting. I brought this one home from my moms- it was actually a small vase from her services. But when I cleaned it out & looked at it- I knew exactly what I wanted to do with it. We packed it ever so carefully in the car for the long drive home. I was shocked it made the 1300 mile journey without breaking. I have ever so patiently been waiting to jump into Valentine's Day mode since I had this idea in my head since early December. I was so thrilled to actually be able to put it together.
Valentine Red Hots Votive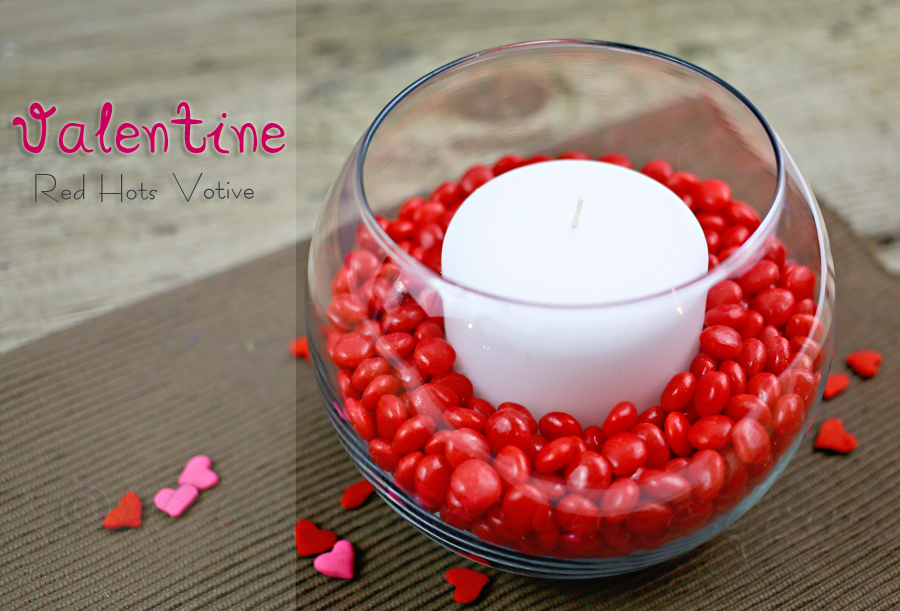 This took literally all of about 30 seconds to put together & yet it looks so cute. I can tell you – it took about 1000 times longer to photograph. Ever single place I set it – there was this lovely catchlight glare spot on it. Grrr. I used my filter, moved from room to room – it was a bear. This time of year usually isn't an issue. Usually we don't see the sun for 4 months – this year is quite different. You know we don't have any snow on the ground??!! Usually we have about 28-30 inches at this point all stacked up. Strange- I know. But anyhow- so sunny day + glass = frustration with reflections. This is why you are only getting one image today 🙂 Normally I wouldn't have shared all of that- but I'm trying to keep it real here. There are plenty of things I have to work on with my photography- this is one of them.
So anyhow- it's literally just the 3 things you see here – vase, red hots & the candle. Nothing hidden underneath to prop it up- but you could do that as long as it's flame retardant. It's just a fun little way to bring a little more Valentine into your home & get you feeling the LOVE.
To see where I am linking today- visit HERE
[include id="1″ title="Footer Ad"]