Each month I put a new wreath on the front door. It usually fits the holiday of the month or the feel of the season. But that is usually as far as I take it. But this past fall I decorated the whole front porch with corn husks & a painted board. I then painted a board for Christmas- only I didn't get to use it because we were in So Cal. SO I decided that after the porch bring absolutely bare – besides my January wreath, I needed to start thinking about what I would decorate with for February. I mean – I am doing all sorts of things for Valentine's Day here in the house- I should be doing something for the porch too. So I decided to make another sign.
Valentine Porch Sign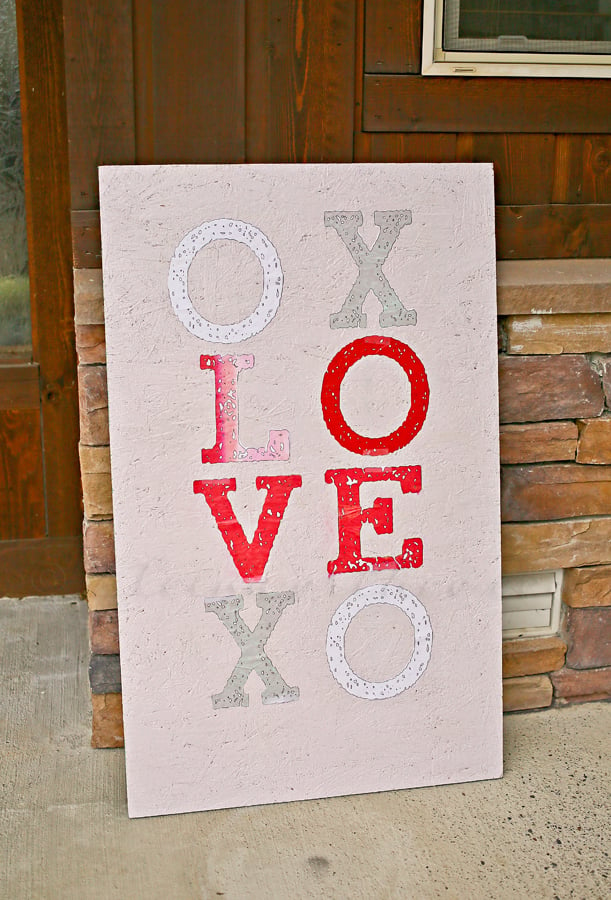 It was fun to work on & the kids were able to jump in & help too.
This was super simple to create.
1 – I painted the board with a light lavender paint.
2 – Printed & cut out my paper letters to apply.
3 – Arranged the letters on the board to get an idea of placement.
4 – Brushed on a thick layer of Mod Podge Gloss under each letter & pressed the letters down to stick
5 – Once the letters were somewhat dried onto the board & gave another full thick coat of Mod Podge Gloss over the entire board to seal in the paper & give a shiny finish over the whole thing.
I told you it was simple. Now I can have the porch decorated for Valentines Day.
I'll be working on a wreath this weekend I hope. It's almost February.
To see where I am linking today- visit HERE
[include id="1″ title="Footer Ad"]