Traditional Almond English Toffee is easy to make & perfect for the holidays. If you need the perfect holiday food gift, make this English Toffee Recipe.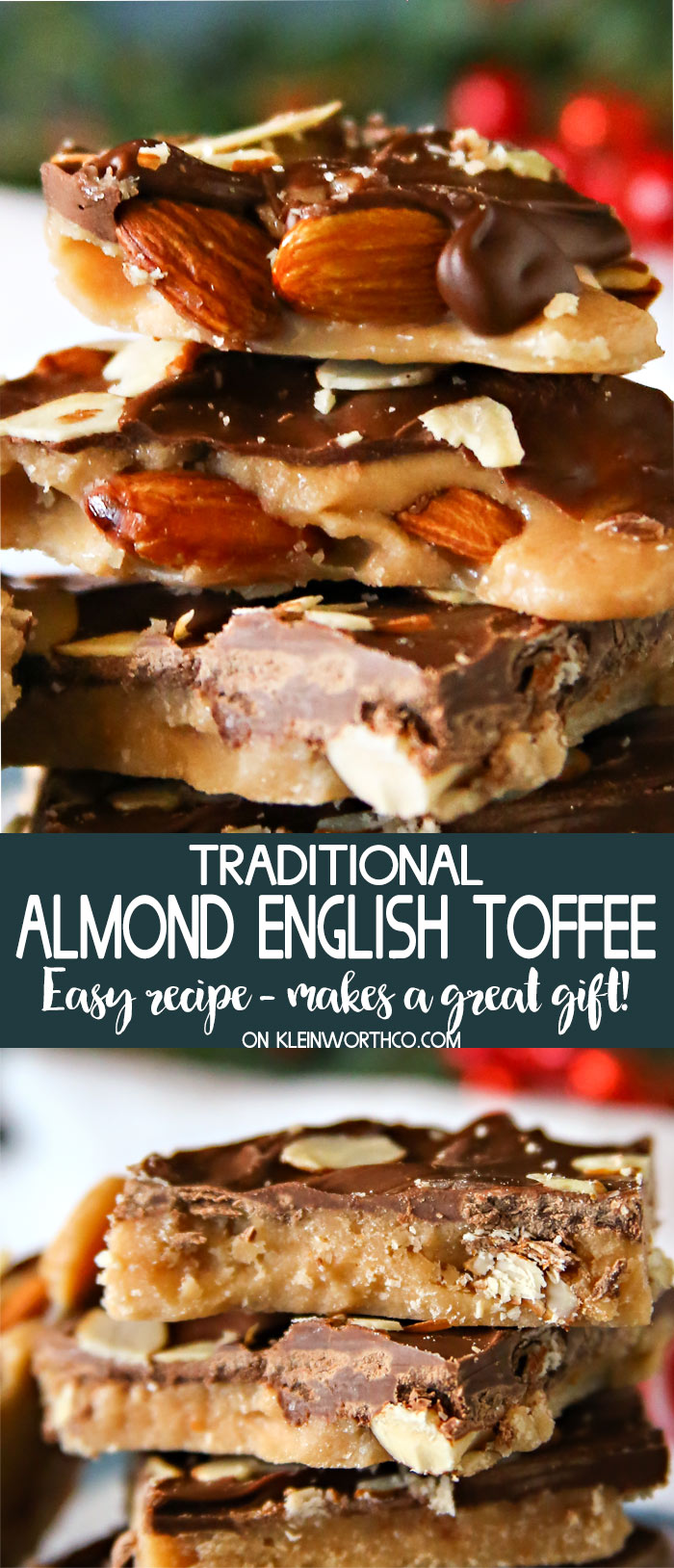 When you think of holiday classics, what comes to mind? When I was growing up things like fudge, sugar cookies & of course this Traditional Almond English Toffee were holiday staples. My mom & grandmother were always in the kitchen making goodies to give to friends & neighbors this time of year & English toffee was a must. There's something about it that just epitomizes the holiday season & I look forward to making it year after year.
English Toffee Recipes
This post contains some affiliate links. Click here to read my full disclosure policy.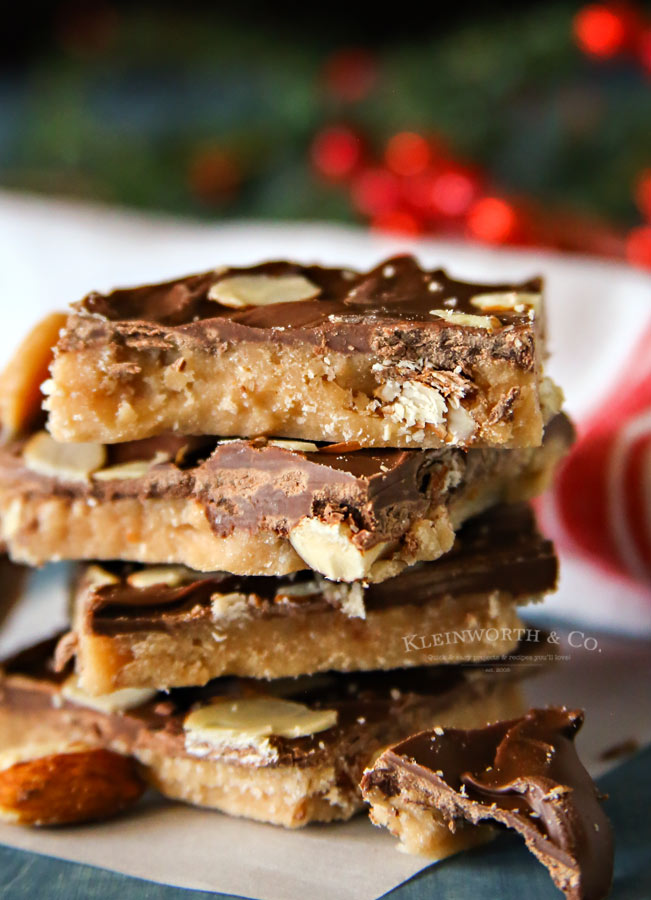 Now, this looks harder than it is. The key is to stay focused & not get distracted. I'm not kidding- set your phone across the room, don't watch TV while you make this. Just stay focused for the 5 minutes while this cooks because you need to be stirring & watching for the color changes.
Now- things to watch out for… don't cook too quickly. If you get impatient & turn up the heat it will cause the moisture in your butter to evaporate too quickly. What's wrong with that you might ask? Well, when the moisture evaporates too fast it causes separation & then you will have candy & then a layer of oily butter, instead of a nice beautiful layer of delicious toffee. It still tastes sort of the same if you sop up all that butter, but it isn't pretty & it makes your toffee crumbly instead of smooth.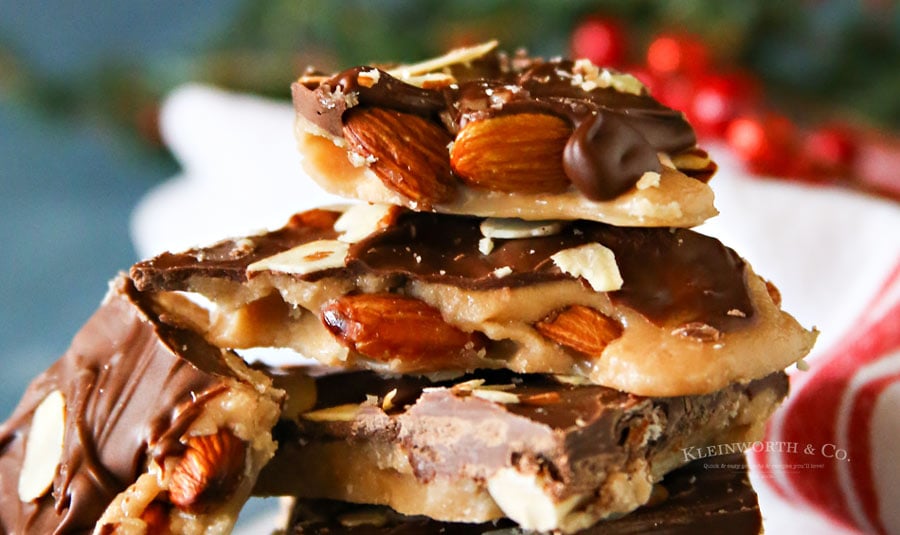 Also – while it is important to keep the toffee moving while you cook it (always using a wooden spoon) don't stir too vigorously. Just lightly stir to keep it from burning to the bottom of the pan is good. Too much movement will also cause that dreaded separation.
Traditional Almond English Toffee
Now, with all that said this is pretty easy to do. Spread out your almonds on a foil-lined pan. Heat the toffee ingredients until it reaches the proper color & pour over your almonds. One it is set, you can melt & spread your chocolate over the top. Then break apart & enjoy. It's oh so tasty!!!!
Be sure to bookmark your favorites here so you have them handy, or Pin them to your favorite recipes or projects board on Pinterest.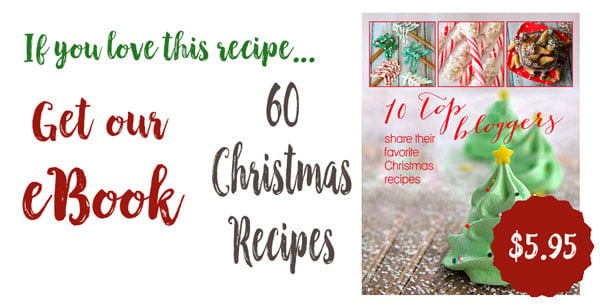 If you make this recipe- please leave a link or tag me on Instagram @KleinworthCo
Looking for more great holiday ideas?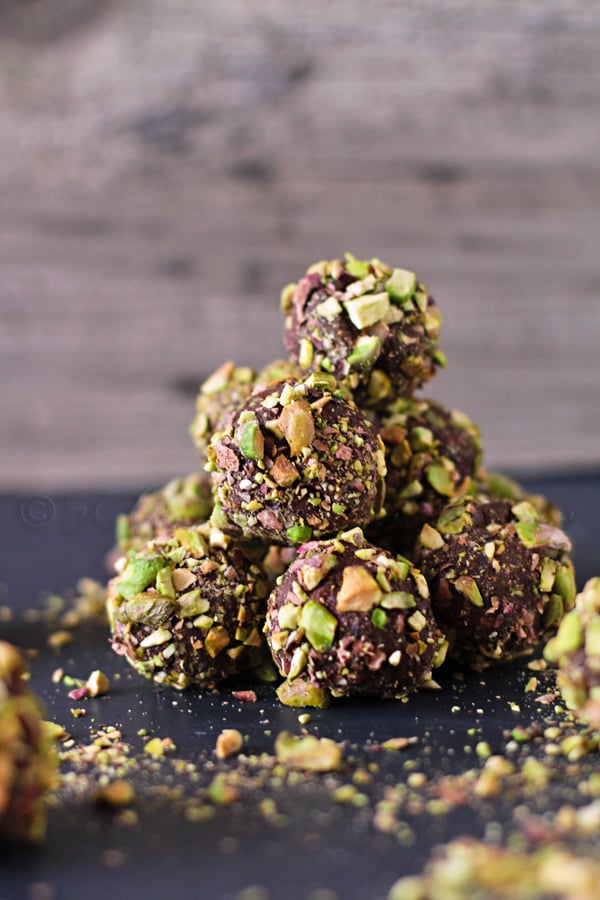 Dark Chocolate Pistachio Truffles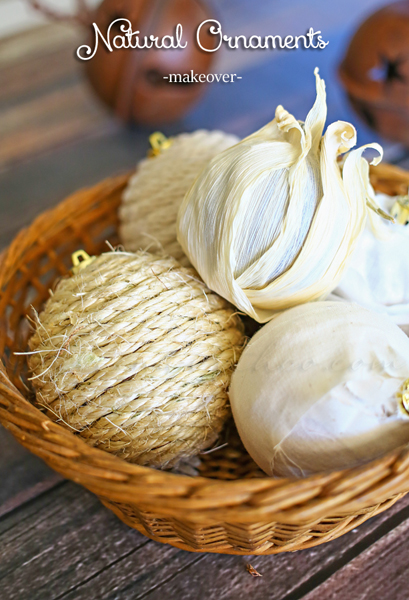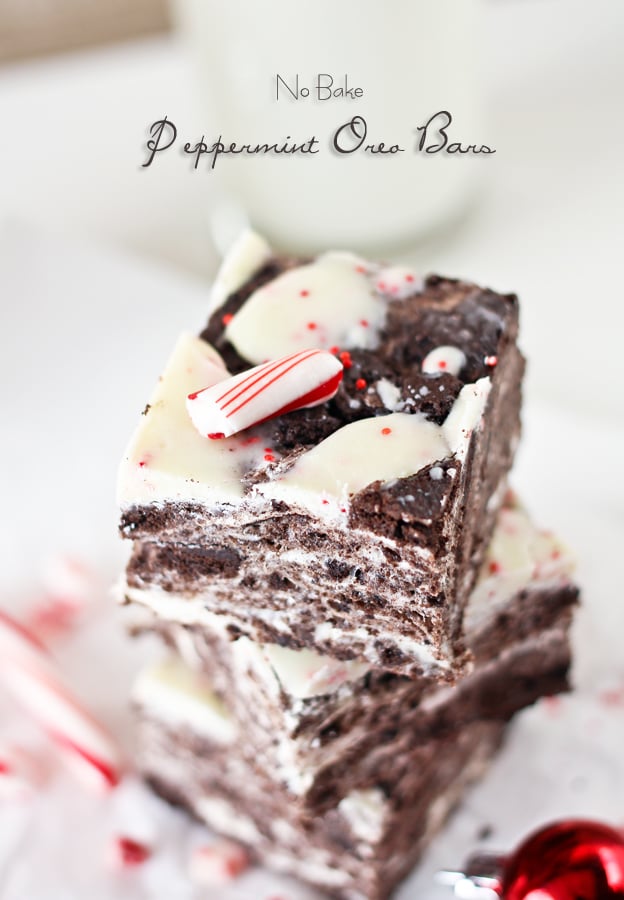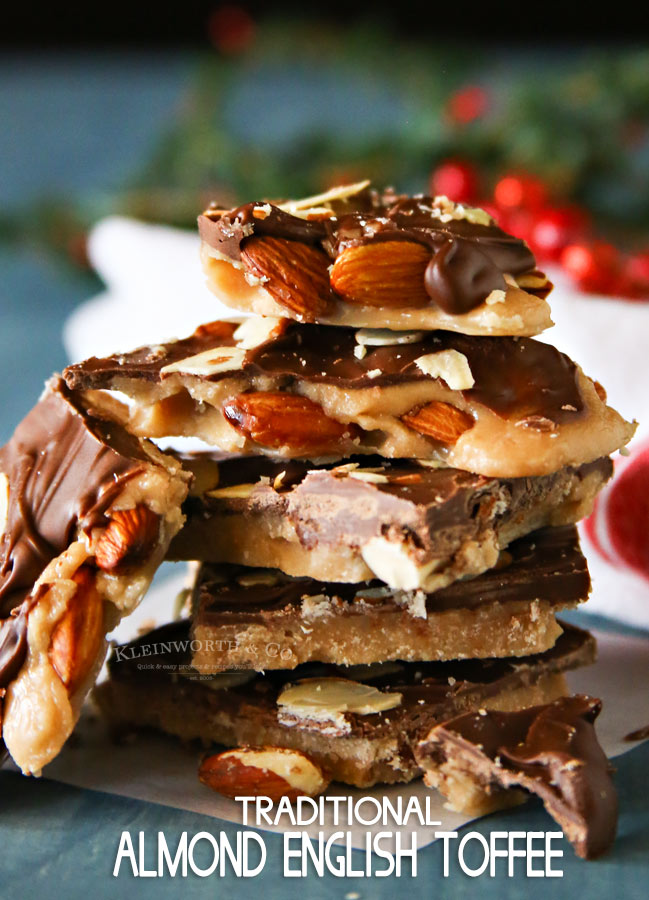 Classic English Toffee
Traditional Almond English Toffee is easy to make & perfect for the holidays. If you need the perfect holiday food gift, make this English Toffee Recipe.
Ingredients
Toffee
1 c. butter DO NOT use margarine
1 c. sugar
1/2 tsp. vanilla
pinch of salt
4 cups almonds
Chocolate Topping
3 cups milk chocolate chips
Instructions
Line baking sheets with foil. Spread out almonds - set aside

Heat all remaining toffee ingredients in a heavy sauce pan over medium heat until butter is melted.

Increase temp to med-high & stir constantly until mixture comes to a boil.

Set the timer for 5 minutes & DO NOT let ANYTHING disturb you while you stir. You must keep stirring your butter/sugar mixture so that it does not burn. (*Note- you must also use a WOODEN spoon.)

After about 2 minutes it should look yellow & after 4 it should look mostly brown & frothy- keep going until it is the color of a brown paper bag & you have cooked the full 5 minutes.

Immediately pour onto your foil-lined baking sheet over almonds. (You can lightly scrape the sides of the pan, but do not scrape the gunk on the bottom.)

Move & tilt your pan back & forth to even out your toffee over the almonds

I like to soak the pan with hot water & soap & set aside for easy cleaning later.

Let cool. It should harden within a couple of minutes.

Melt chocolate chip in the microwave at 30 second intervals until smooth.

Spread across the toffee with a small spatula

Sprinkle with slivered almonds

After it has set up, break into pieces.
Don't miss these great ideas from these bloggers….
Peppermint Oreo Truffles | Two Twenty One
Microwave Hot Chocolate Fudge Recipe | Wonky Wonderful
Sharing at the Weekend Potluck