This post was sponsored by Lowe's. I thank them for supporting Kleinworth & Co. because it helps me to continue to bring to you amazing and inspiring content!
Spring Outdoor Pallet Table Decor to spruce up your outdoor dining space for the warmer weather. Make your outdoor dining set beautiful with accessories.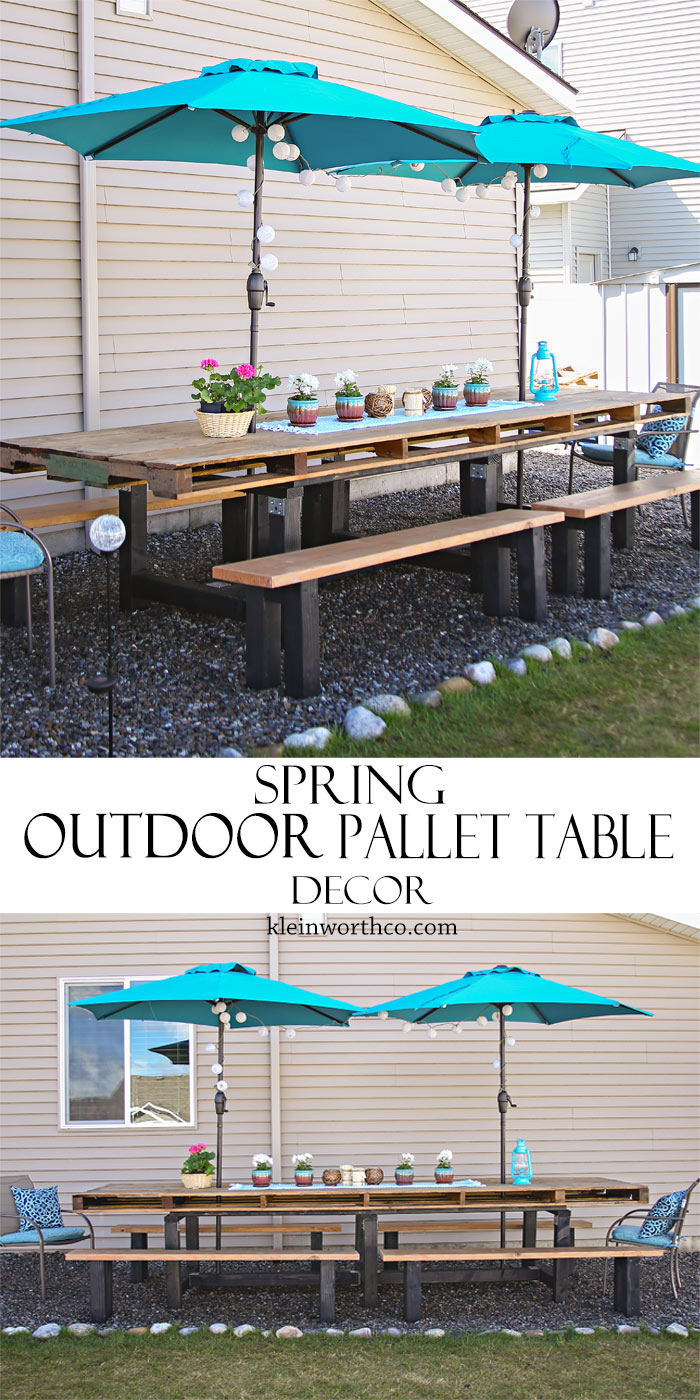 Spring is here & it's time to get outside. We spent so long living in the desert & really taking the ability to be outside in the sunshine for granted. That being said, it wasn't always pleasant to be in the sunshine, depending on the time of year. But now that we are up here in North Idaho, we see the sun a little less. This makes us really appreciate when the weather is beautiful. We love to get outside & enjoy our park-like backyard as much as possible. One thing on the priority list this season, extending the kitchen outdoors. There's just something about dining al fresco & when the weather is beautiful like it is here between April & September, I can't wait to get out there & enjoy it. So we headed to Lowe's to create a beautiful Spring Outdoor Pallet Table Decor.
Spring Outdoor Pallet Table Decor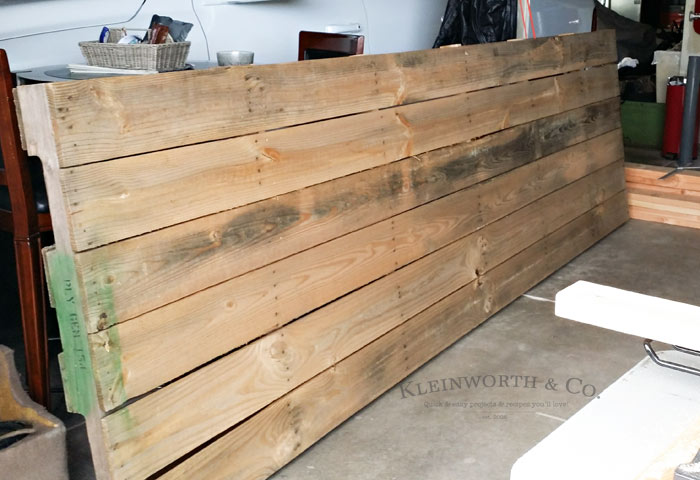 Now you see, when we built our house we salvaged a couple of these massive, 13′ pallets that they delivered our siding on. One was thin slats, which we cut up & made into various things like our pallet coffee table. But you see, the other one was made of super wide planks that just spoke to my soul. I knew we had to make it into a table but keep its rustic pallet charm. I originally thought we would make it a dining room table, but then realized that 13′ wouldn't fit in our space inside. So the next plan was to hold onto it & wait until we built our sunroom & moved the dining space out there. Well, it's been 3 years & we are no closer to adding on that sunroom, unfortunately. So the next plan was put into motion. Outdoor pallet furniture.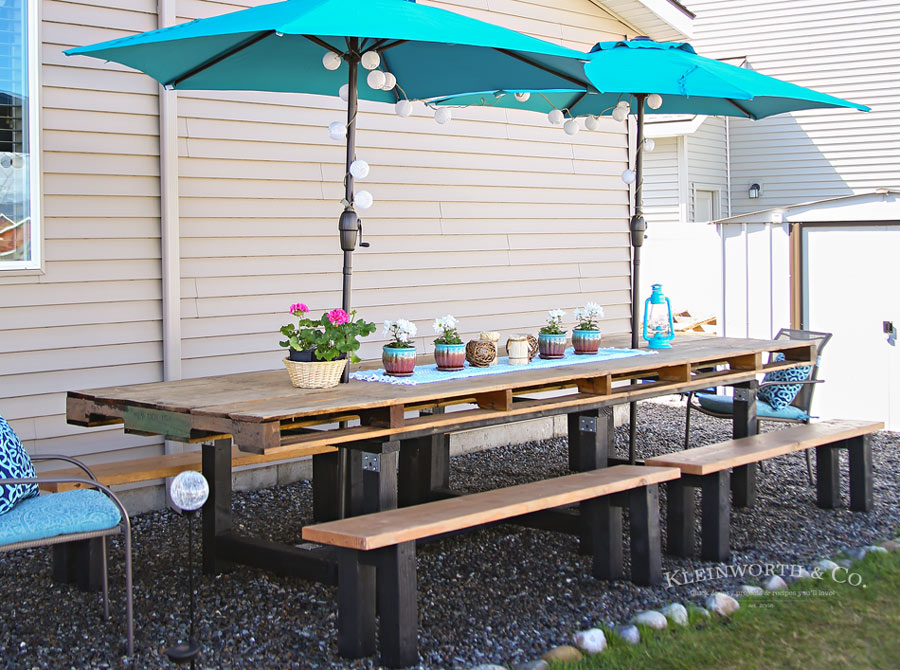 We have a picnic table that usually sits near the aspen trees & then some benches we built using some leftover headers from the house build (geesh- I still have to share those with you) & then some random chairs. There really wasn't a good place where the 5 of us could comfortably fit & dine together. Plus we really needed some shade. Our trees just aren't mature enough yet to provide that, so this new plan had to happen.
Spring Outdoor Pallet Table Decor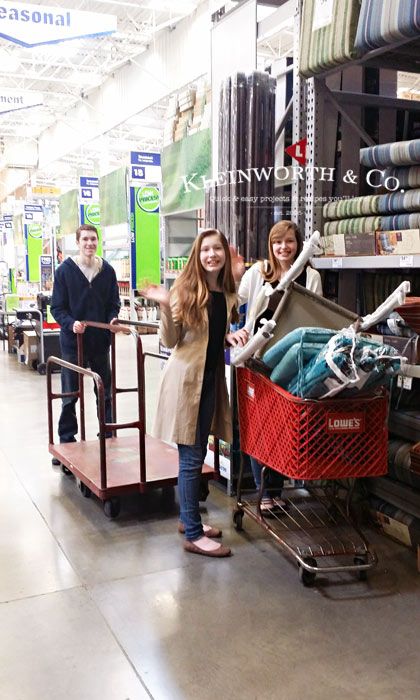 While we were at Lowe's picking up the lumber for the table legs & benches & all the waterproofing supplies too, we also had some fun picking out awesome umbrellas, new end chairs with cushions & pillows, pots & pretty flowers, votives & some super cute lights to deck out the space perfectly. We had a great time picking out all the things to style this space. I love that I can get everything I need to build my furniture & also everything I need to decorate it when it's done- all in one great place. Check out the Lowe's Patio Guide for more inspiration.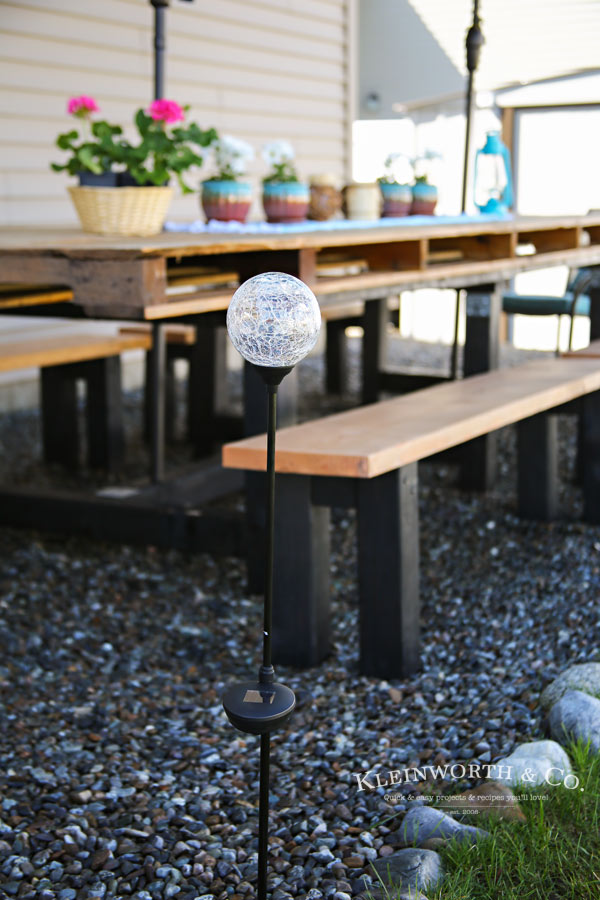 I have some travel coming up next week, but I absolutely can't wait to share with you how we built the furniture. It was a family affair, with us all working on different aspects of the pieces. I promise to share the details when I return.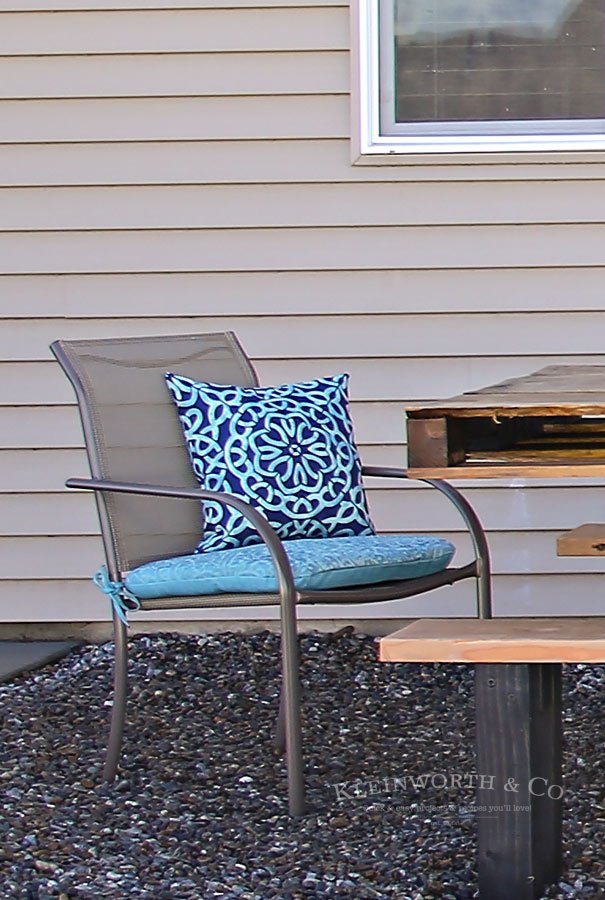 For now, it will be nice to have some space for us to sprawl out when dining together, or have enough room to move bunco night over to our place one summer evening. We envision having our kids & their future families enjoying this table with us many years from now. Like everything in our backyard, we planned ahead & kept the end picture in mind. I don't see us outgrowing this space anytime soon.
Spring Outdoor Pallet Table Decor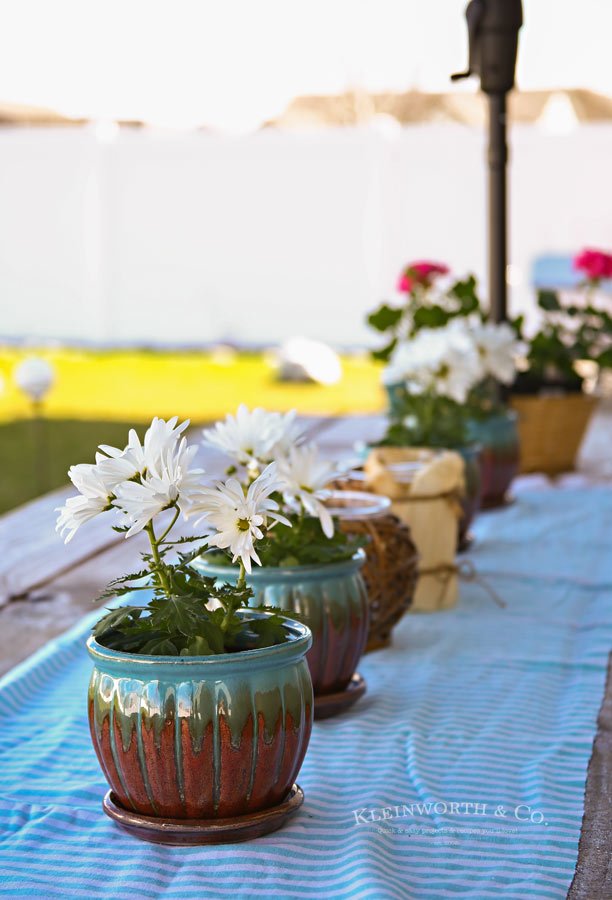 I just swoon over these pretty pots with cheery flowers!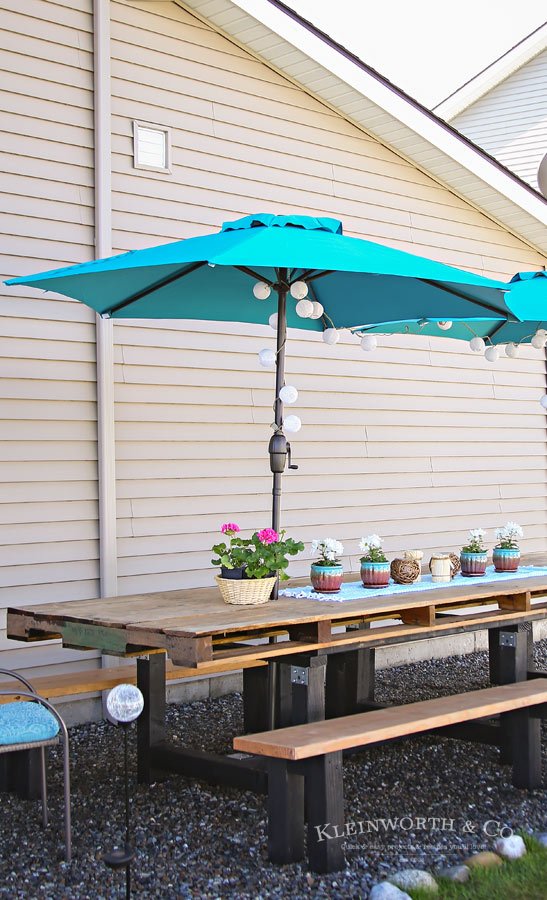 I originally wanted to go all black & white out here. But as fate would have it, that wasn't an option for umbrella colors at our store. So when I found these turquoise ones, they were actually the perfect thing we needed to give a nice punch of summer color back here. Fortunately, we already had a bunch of other planters & such in the same shade. It totally worked out.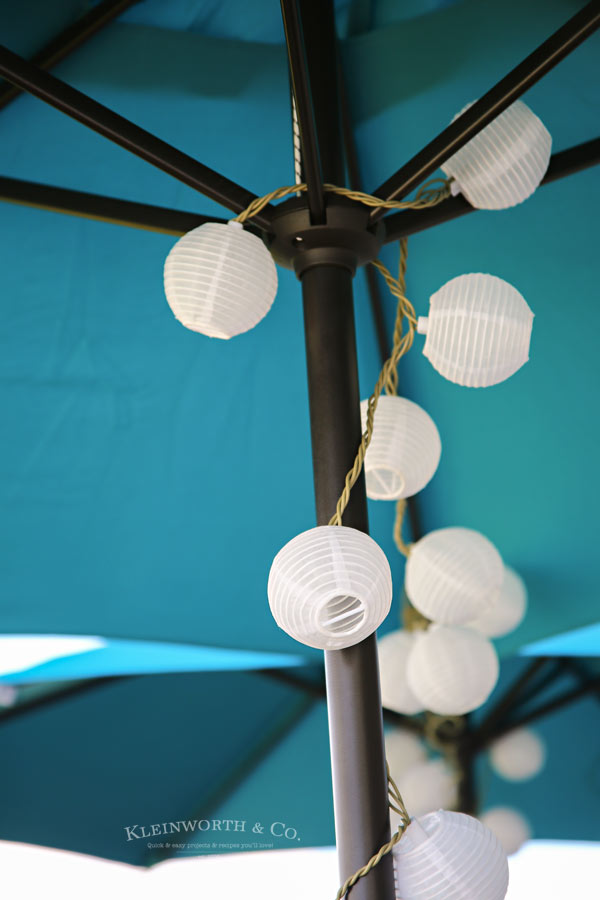 Who doesn't love the little hanging lights? These are so cute & just make me smile every time we sit out here.
Spring Outdoor Pallet Table Decor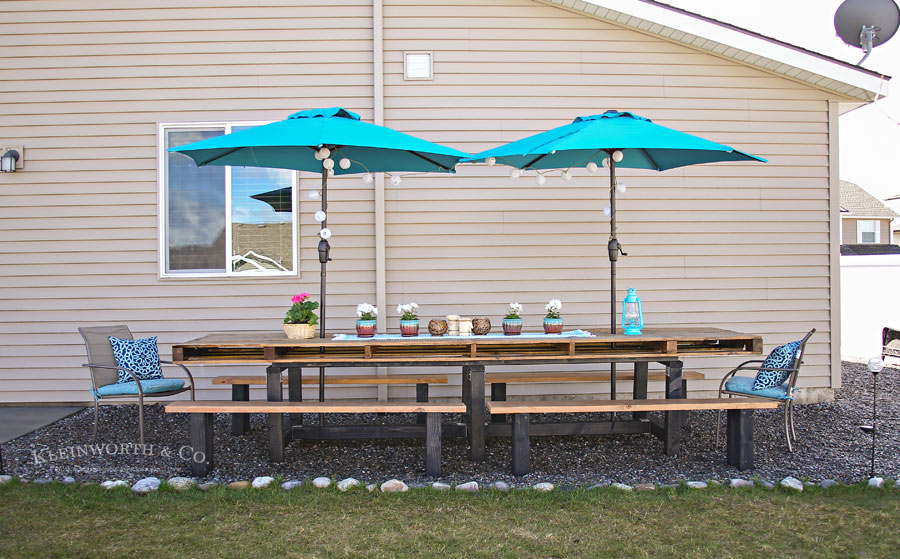 So what's your favorite part of the space? Now you know where to find me until fall. I'm setting up camp out here in this beautiful space. Head on over to Lowe's to decorate your space for the season.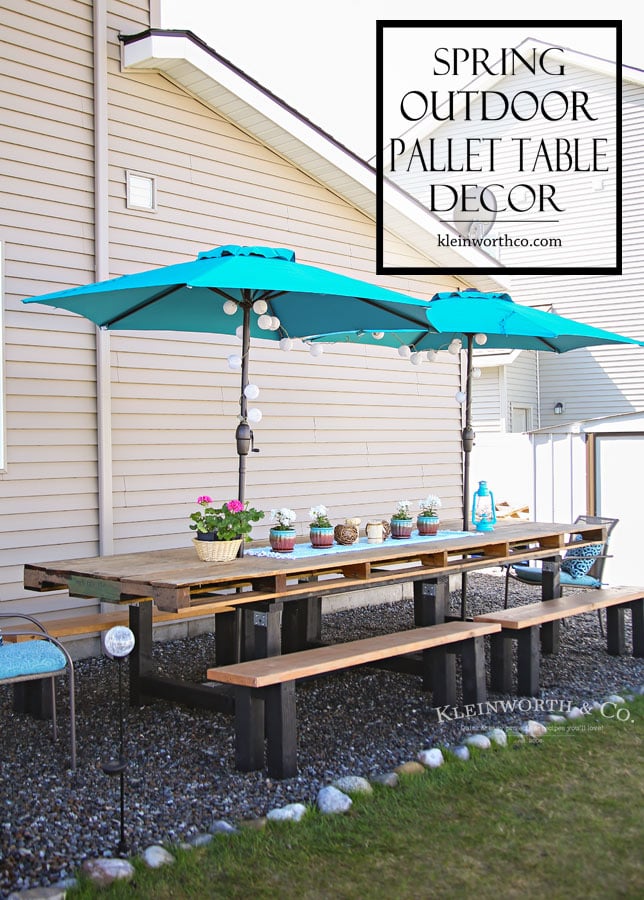 This is a sponsored post written by me on behalf of Lowe's.
Looking for more great ideas to decorate for the season?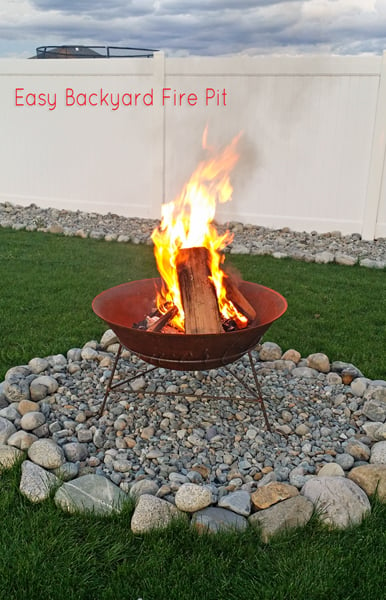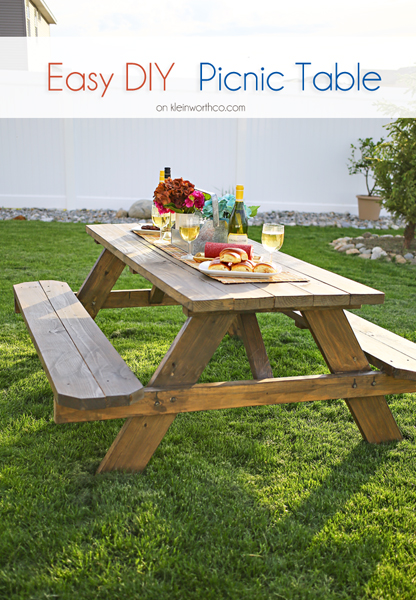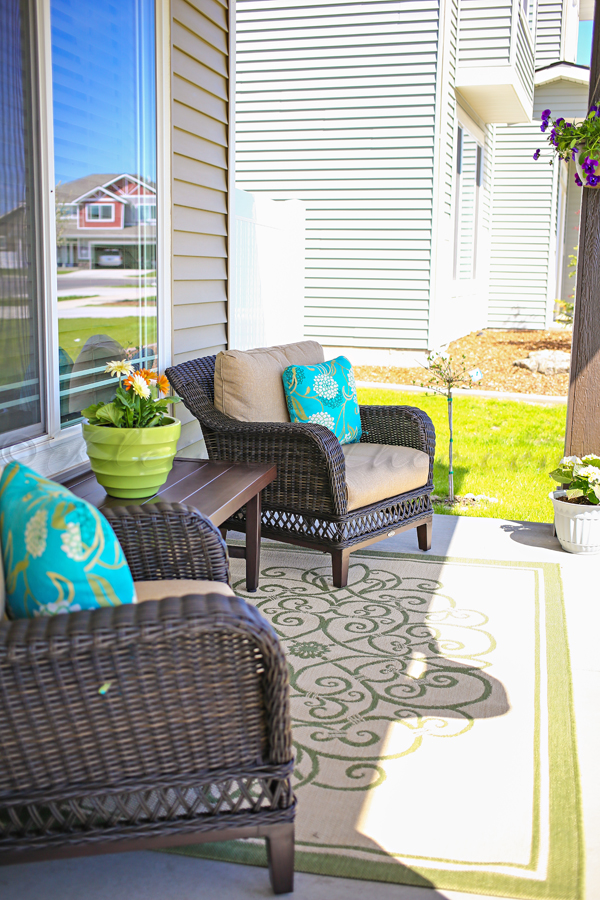 Don't miss these great ideas from these bloggers….
Outdoor Table Setting from Love Grows Wild
DIY Monogram Planter Tutorial from Remodelaholic
To see where I am linking today- visit HERE