This shop has been compensated by Collective Bias, Inc. and its advertiser. All opinions are mine alone. #HolidayPairings #CollectiveBias The following content is intended for readers who are 21 or older.
You CAN do holiday entertaining in less than one hour with easy family dinner ideas like this Spinach & Sausage One-Pan Alfredo. Simple & delicious!
Spinach & Sausage One-Pan Alfredo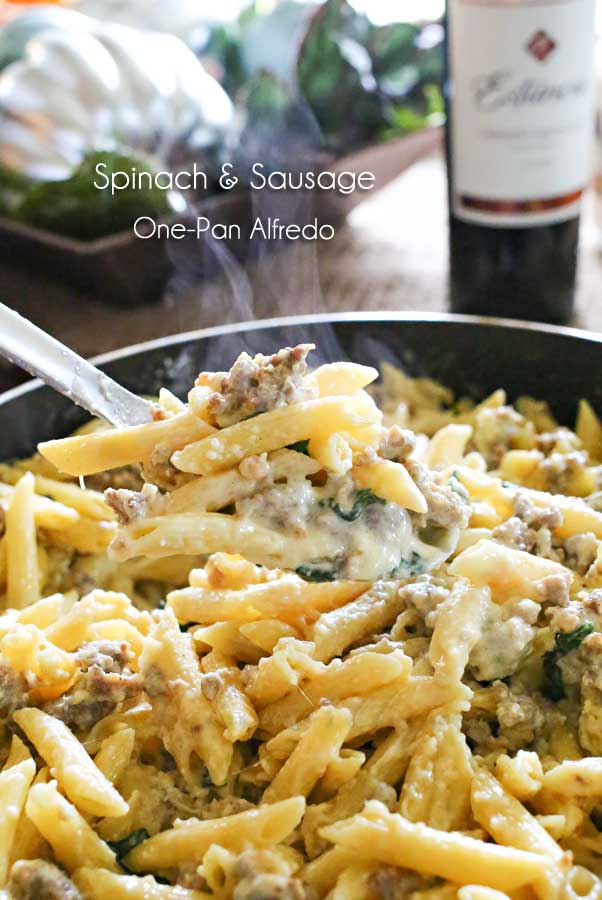 I know the stress is on this time of year. Not only do you have the regular everyday demands of life, but now with the holidays & guests & everything else – oh man. Life is busy & it can get overwhelming. So add to that the added stress of hosting people for holiday entertaining & I can hear you say "no way". But today I'm going to share with you how you can pull together a holiday party in less than 1 hour & still feast like you spent all day in the kitchen. I'm telling you it can be done & it can be delicious! This is especially true when sharing this Spinach & Sausage One-Pan Alfredo & all the other goodies I added along with it.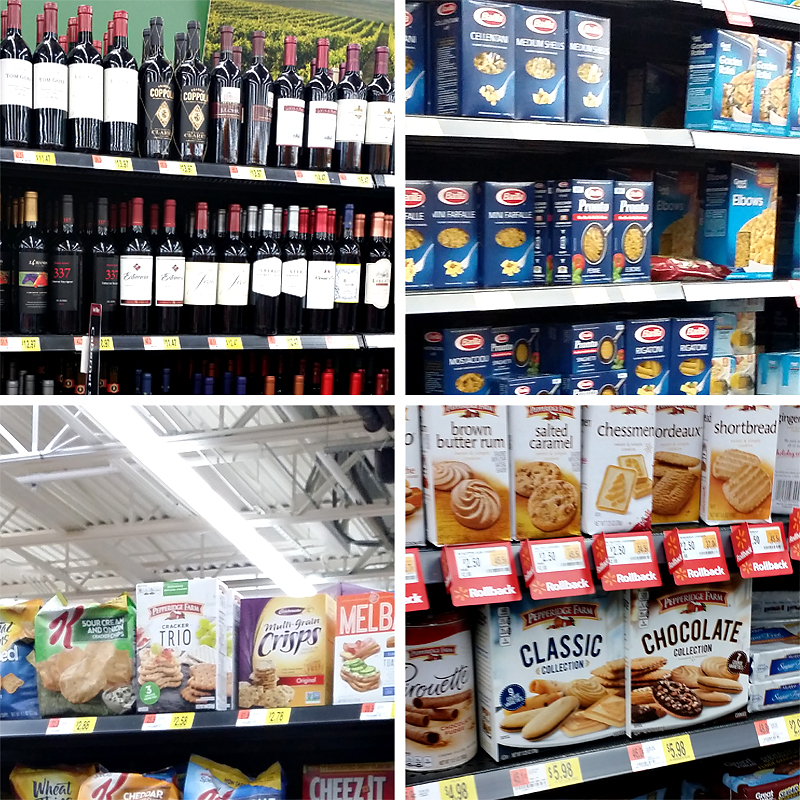 The key here is planning. I headed to Walmart & picked up some things that we love to serve because it makes preparing a spread so simple. Things like crackers, cookies, pies, meat & cheese platters, rolls & wine all go great with this one-pan pasta dish. So knowing that it's the holiday season & I could be put on the spot to host a gathering at any time, I make sure to stock up. On this trip along with my other ingredients, I picked up Barilla Pronto Pasta for the dish, Pepperidge Farm Chocolate Cookie Collection, Pepperidge Farm Cracker Trio to go with my pepper jelly, Estancia Cabernet Sauvignon & Robert Mondavi Private Selection Pinot Noir because I love California wine.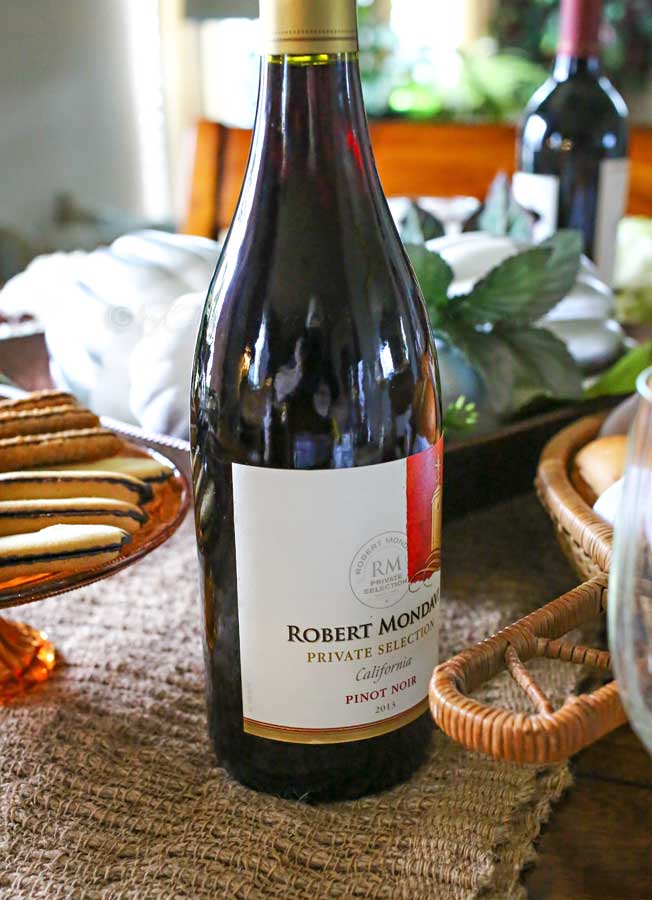 Being a So Cal native, I just naturally gravitate to things made in California – wine especially. I love the premium wine selection at Walmart not only because of the great prices & value but they always have such a wide selection too!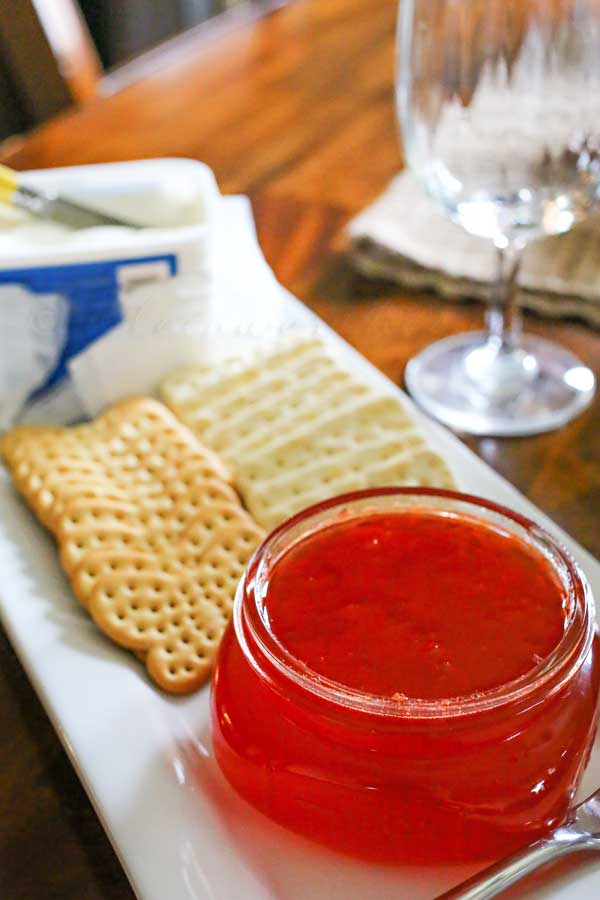 I love these Pepperidge Farm crackers. Look at the cute shapes! They go wonderfully with my cream cheese & pepper jelly we serve at every party. It's sort of our thing. I LOVE it!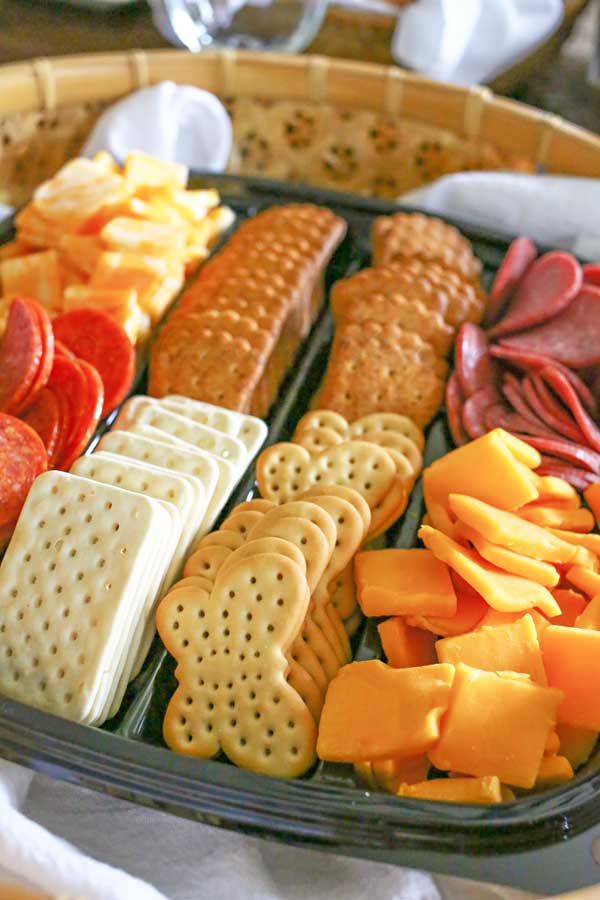 They go great with a meat & cheese platter too. My kids particularly love this because finger foods are their favorite. I also add a basket of rolls which everyone loves.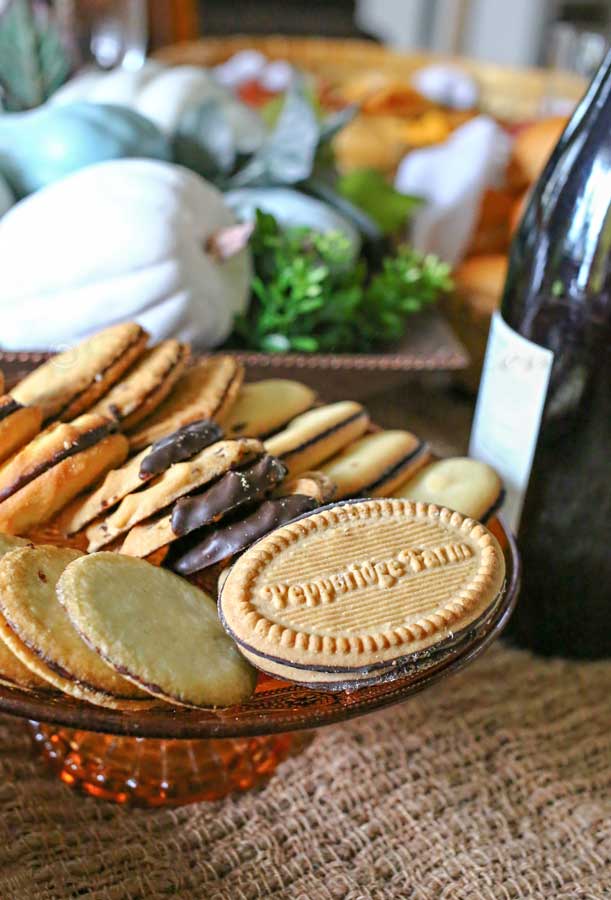 Look at these cookies! How cute they are & tasty too! This gave me a great reason to pull out my newest cake stand. I'm always looking for fun excuses to do that.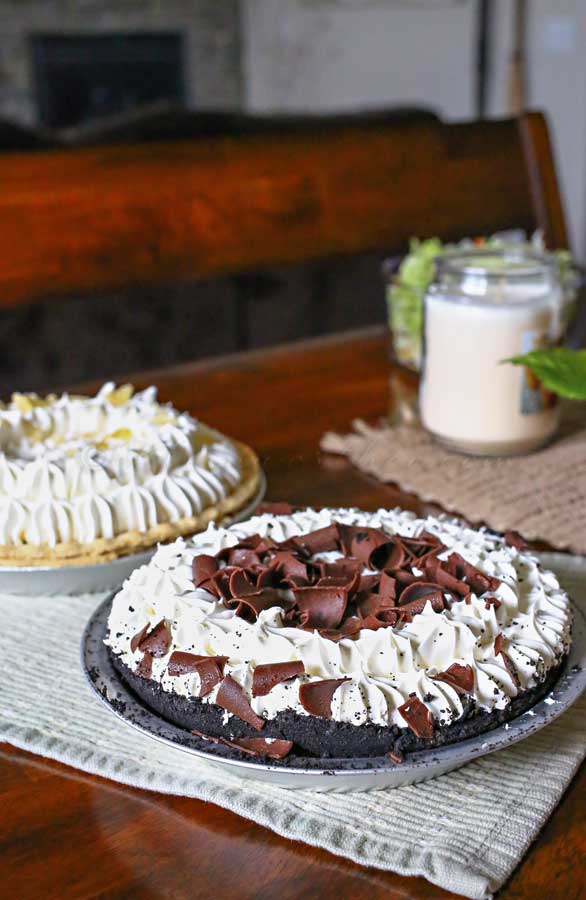 I like to have a couple pies for dessert. Nothing fancy – but it's just nice to have something ready & easy. My secret here to getting it all done is that all these things are pretty much ready to go when you buy them. I can come home from the store- have the kids open & plate everything & get the table set up while I work on the main dish. I'm telling you – in the 30 minutes it takes to put together the One-Pan Alfredo, the family has this entire spread ready & beautiful.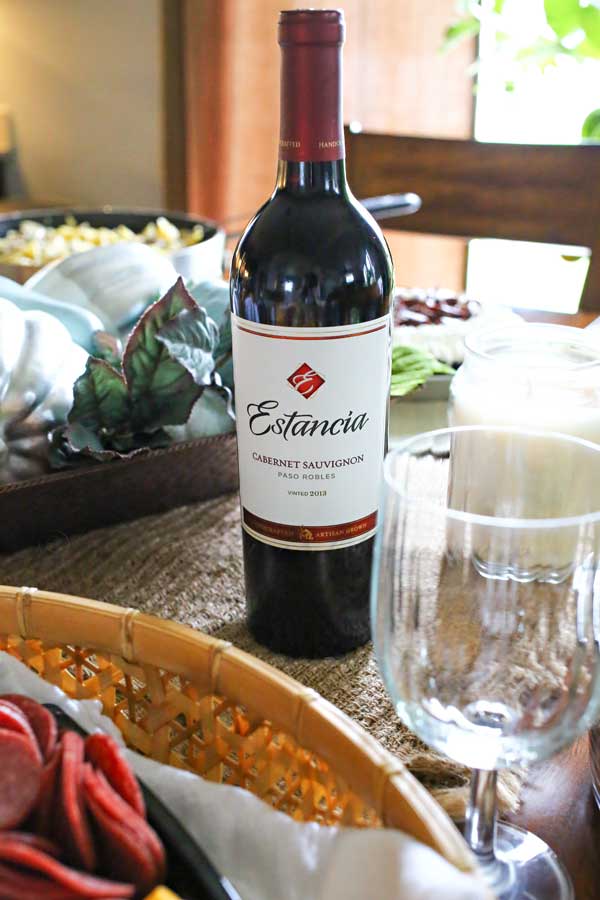 Food, wine & dessert makes for wonderful holiday entertaining. No one would ever know that you pulled this off in less than an hour! But it's fabulous – no doubt about that!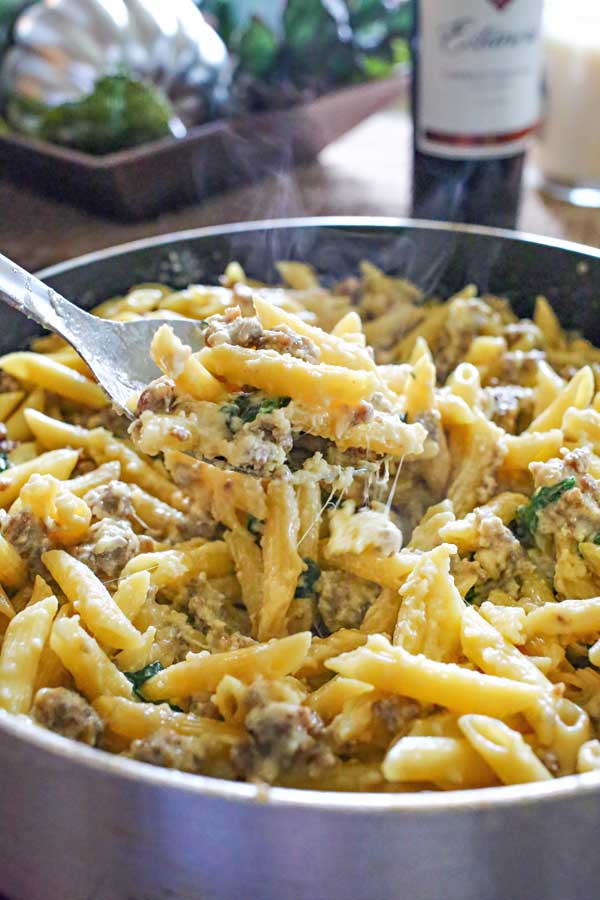 As for the one pan pasta – it's literally amazing. I love that I can make something as easy as those meal-in-a-box dinners- but better. Just the pasta & fresh ingredients like sausage, spinach, chicken broth, heavy cream & cheese make this simple & easy.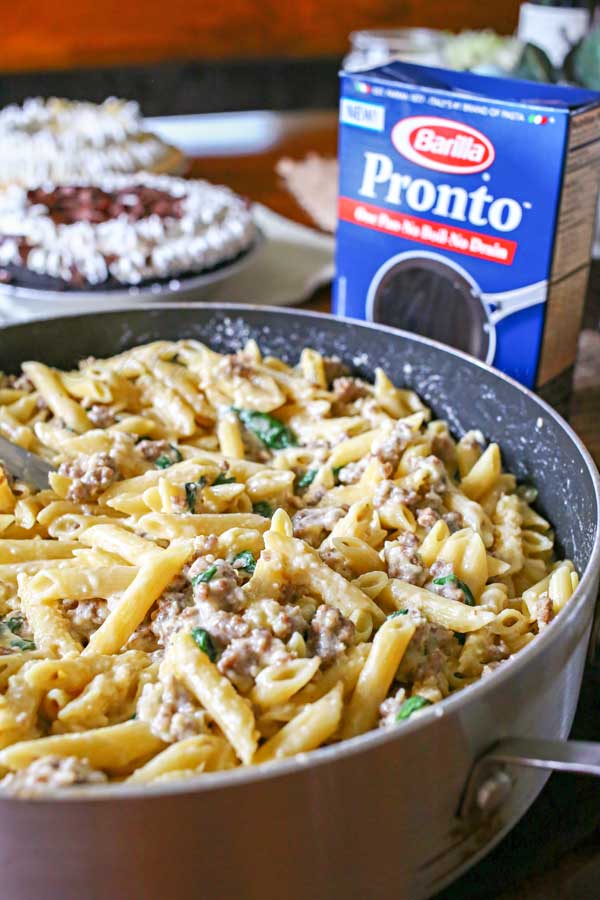 One skillet dinners are where it's at! It's so easy that it makes getting creative even more fun. For instance, chicken & alfredo is the usual pairing. But with this I chose to do ground sausage instead. The best part – one skillet. No boiling water separately. You literally brown your sausage, add in your liquids & pasta – cover & cook. Then add your cheese & spinach at the end. It's THAT simple! You won't believe it! Where has this been all my life? Dinner just got SUPER EASY & there is no excuse to order in anymore. WOW the flavor explosion was incredible with this. I can't wait to make it again!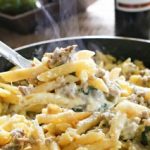 Spinach & Sausage One-Pan Alfredo
One pan pasta
Prep Time 5 minutes
Cook Time 30 minutes
Total Time 35 minutes
Ingredients
2 boxes 12 oz each Barilla Pronto Penne
4 lbs 2 small tubes ground sausage
2 tbsp minced garlic
4 cups chicken broth
4-1/2 cups heavy cream
3 cups fresh baby spinach
3-1/2 cups grated Parmesan cheese
1 cup shredded Parmesan cheese for serving
Instructions
In a large skillet (mine is about 15" diameter) brown your sausage over medium heat

Once browned, add garlic & cook another minute

Add chicken broth, cream & uncooked penne to pan- stir

Bring to a boil

Cover & reduce to a simmer

Simmer 10-20 minutes or until pasta is tender (mine was about 10 because I cook on a high output burner & I like mine al dente)

Stir in spinach & cook another 5 min

Remove from heat & fold in Parmesan

Sprinkle additional Parmesan when serving if desired
You can make a delicious feast with little time! WOW them all & pat yourself on the back too! They will LOVE it! I promise.
Be sure to visit the Simple Entertaining hub to learn about upcoming wine tastings, Barilla & Pepperidge Farm demos at your local Walmart Stores throughout November and December.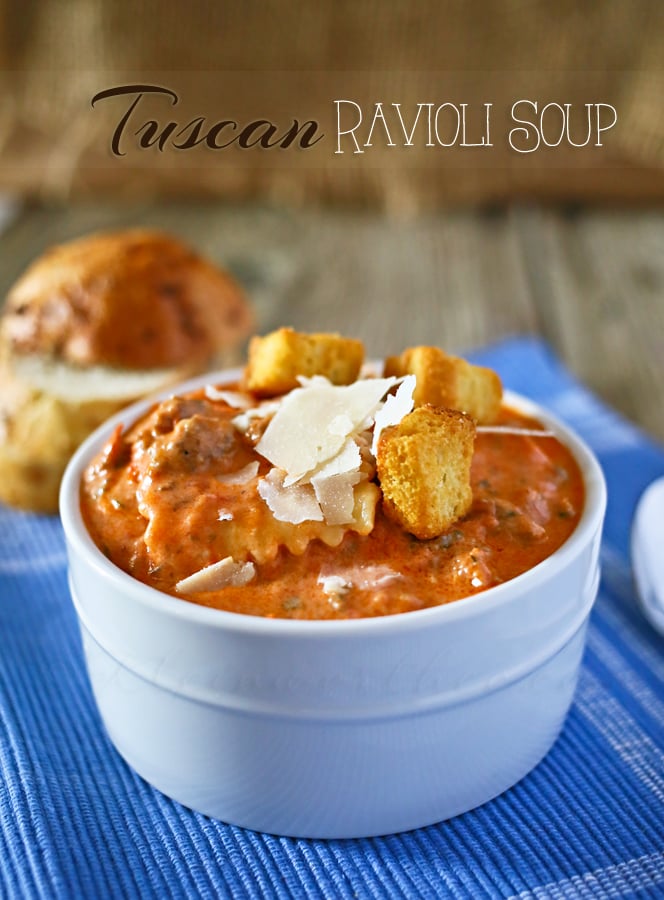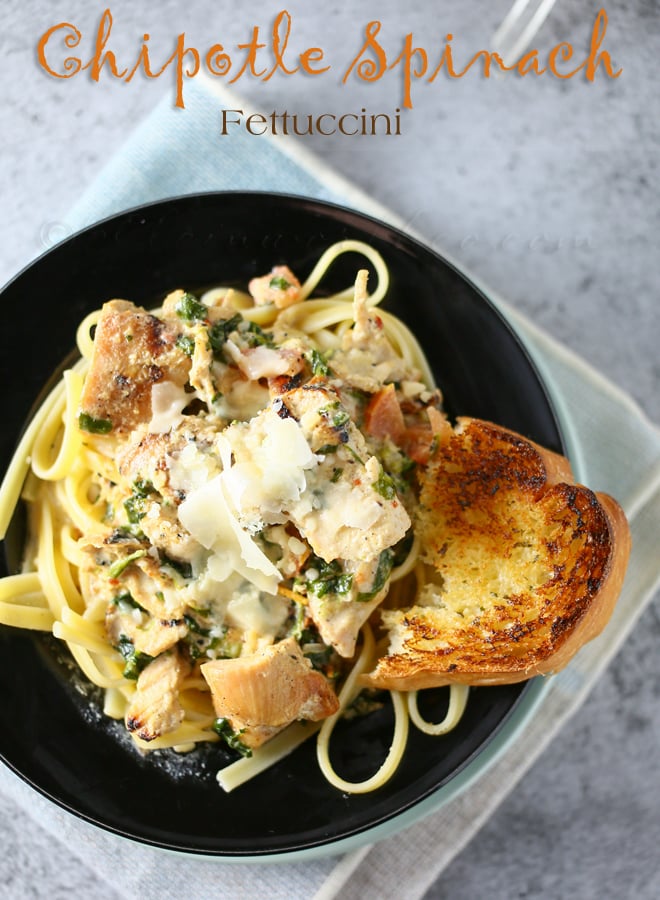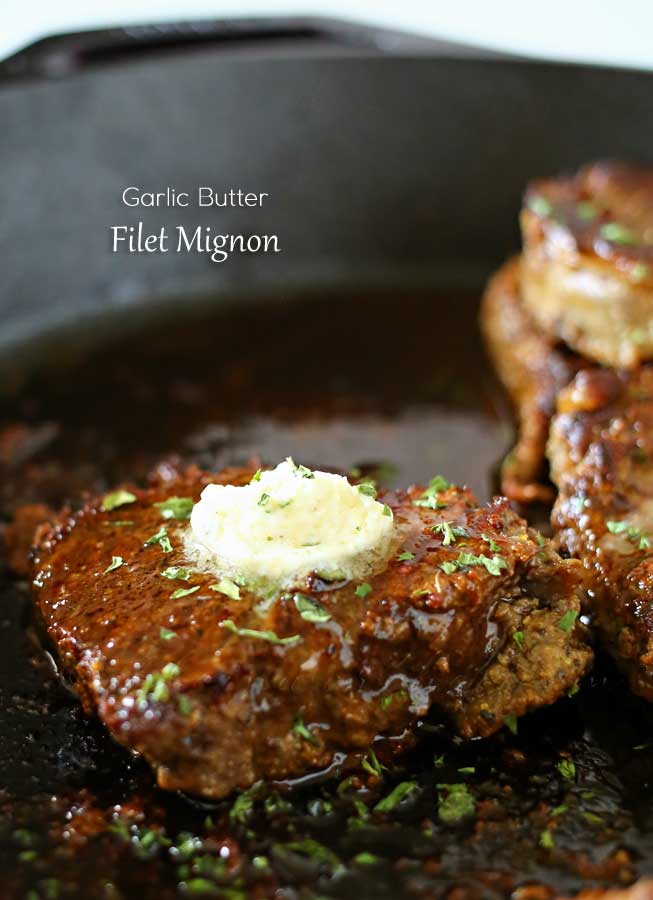 Don't miss these great ideas from these bloggers….
One Pan Cilantro-Lime Chicken and Rice with Black Beans from Cooking Classy
One Pan Sausage and Tortellini from Yellow Bliss Road
To see where I am linking today- visit HERE