Would you agree with me that when you think of Red Velvet flavored anything- your mind sort of automatically thinks of Valentines Day? I know mine does. Which is why I can't seem to stop wit the red velvet recipes. It's so incredibly good & there is just something about it that screams special. So I couldn't help myself from making this tasty little coffee time snack to make my weekend a little more exciting.
Red Velvet Biscotti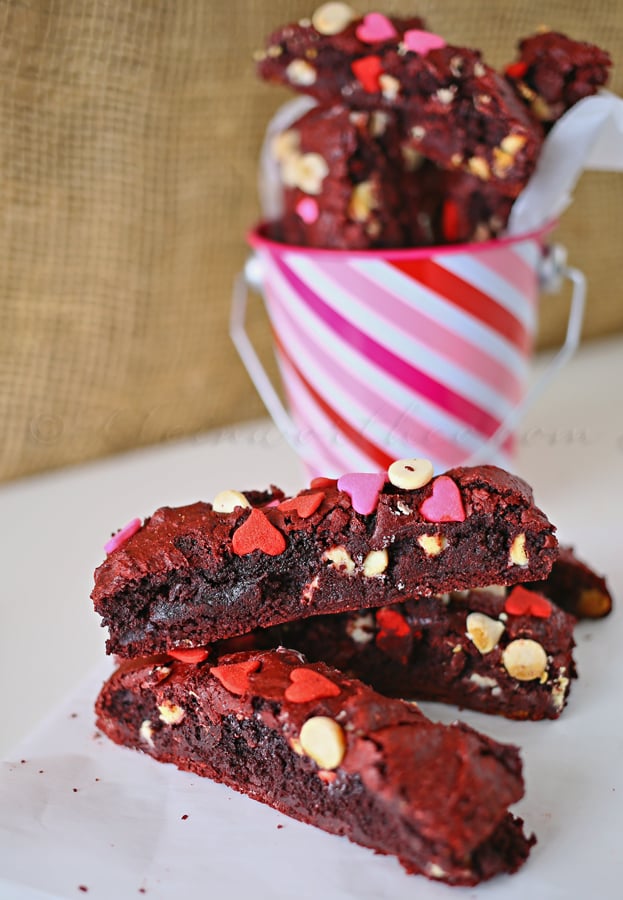 I had so much fun in Michaels picking up all the little Valentine sprinkles & decorations. I really have to hold myself back in there. The hubs thought I had lost my mind. When I left CA I shipped home 4 LARGE boxes of my mom's cake decorating/baking supplies. He didn't think I would need to be buying any sort of baking item for a very long time. Buuuut – I wandered in to Michaels & walked out with several bags full of more baking supplies. Go figure.
Look at how fun these little hearts are mixed with the white chocolate chips.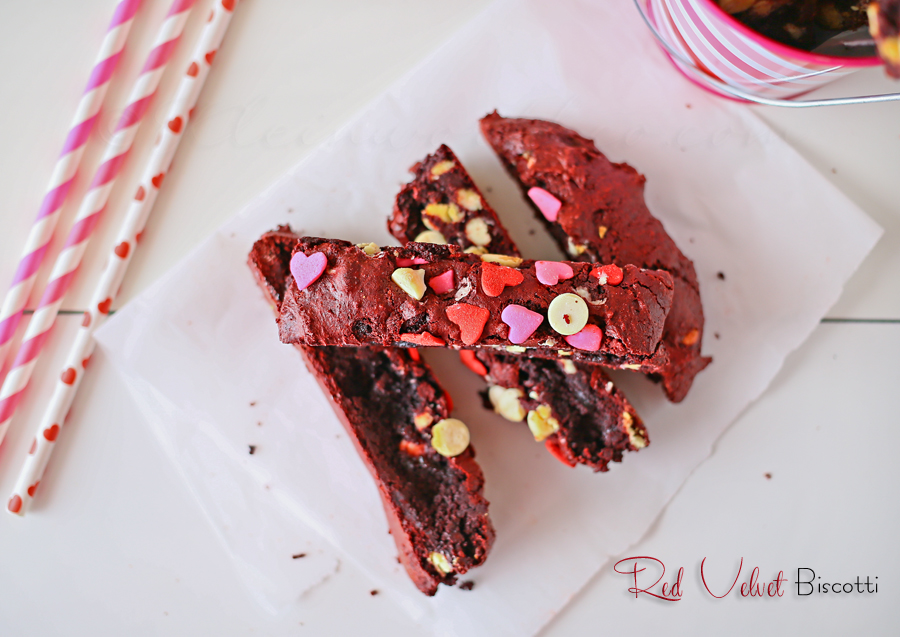 Red Velvet Biscotti
Ingredients
2-1/2 cups all-purpose flour spooned into your measuring cup- don't scoop in with the cup - this packs it in & gives too much in the recipe
2 cups sugar
1 cup dutch processed cocoa powder
2 oz liquid red food color or 2 tbsp gel food color
1-1/2 tsp baking powder
1/4 tsp salt
5 large eggs
1-1/2 tsp vanilla extract
1 cup white chocolate chips
1/2 cup heart sprinkles
Instructions
Pre-heat oven to 350 degrees

Mix flour, sugar, cocoa, baking powder, salt & food color in mixer bowl on stir.

Combine eggs, & vanilla in small bowl & beat lightly with a fork.

Add egg mixture to flour mixture & mix well until combined. It will be sticky but firm

Fold in white chocolate chips

Divide dough in half for 2 large loaves - I did 3 medium size instead on one cookie sheet.

On lightly floured surface form each log & place on parchment lined baking sheet.

Bake for 30 minutes or until tops are set.

Remove from oven & reduce oven temperature to 300 degrees.

Allow logs to cool & then slice about 1/2 - 1 inch wide.

Lay slices on their side on baking sheet & bake at 300 for 10 minutes.

Remove- flip the slices over & bake an additional 8-10 minutes.

Cool on wire rack.

Store in airtight container.
Want More Red Velvet?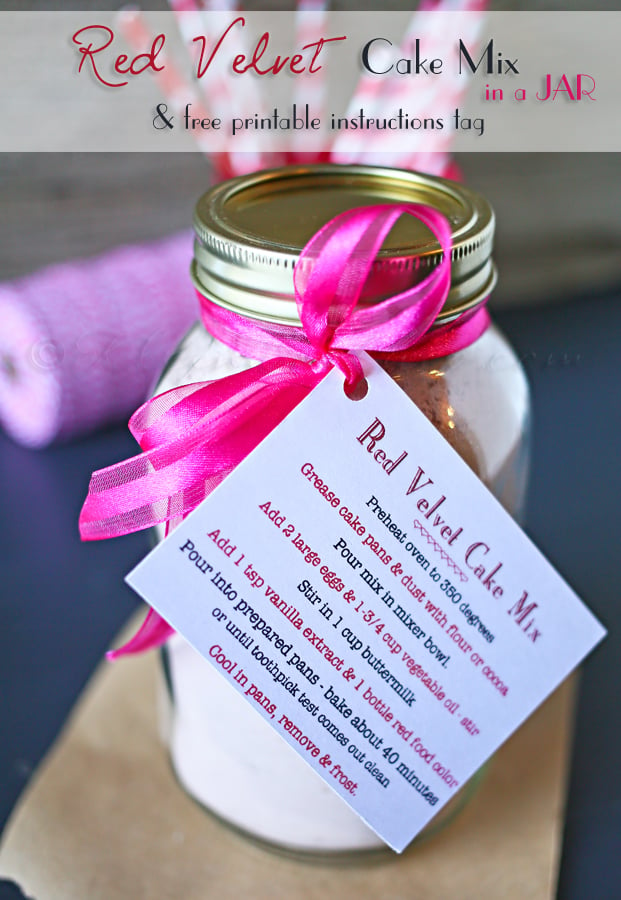 You can make this Homemade Red Velvet Cake Mix & print the instructions tag for a great gift.
To see where I am linking today- visit HERE
[include id="1″ title="Footer Ad"]