Sponsored by Sauder // With just a couple new accent pieces it can be easy to do a quick Master Bedroom Update like we did here for this "Prepare to Entertain" Design Challenge from Sauder.
Master Bedroom Update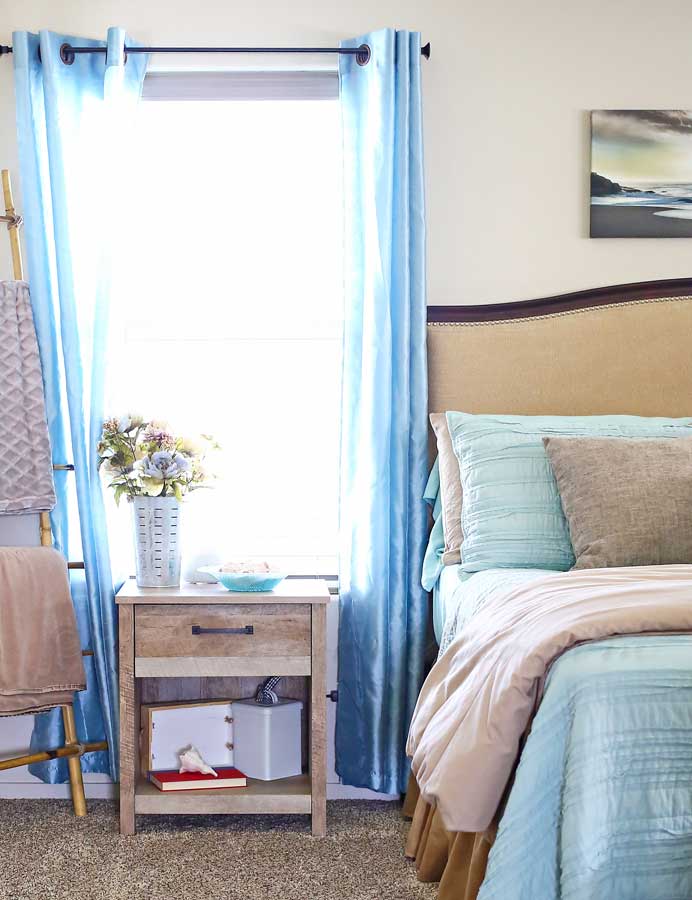 This past June we celebrated our first year in our new home. It's been a wild ride & so much fun. We have spent this past year slowly working on little things in our space to make it more personal & give it more character. I had the opportunity to work with the wonderful people at Sauder Furniture again & decided that we would finally get our master bedroom presentable.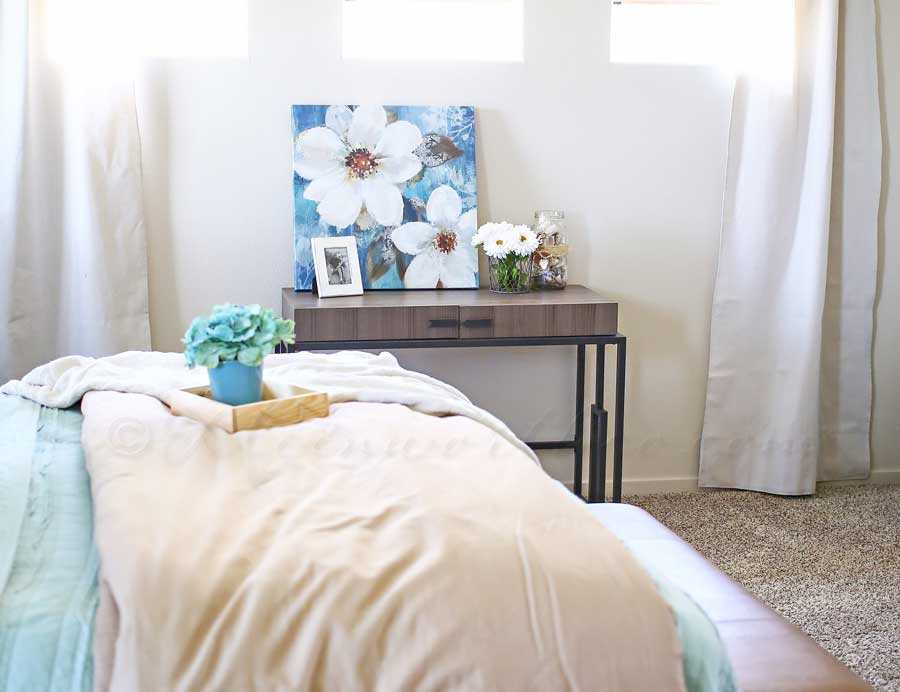 You see, the master bedroom has always been the catch-all space where we would add any furniture that didn't fit elsewhere. Nothing matched, nothing reflected our current style or taste. It was dated, uncomfortable & just Ugghh. So bad, I'm not even sharing a before shot. Because I just dreaded being in there. For the last 20 years the master bedroom has been the one place that never had any focus & I swore when we moved in to this house that we would change that. So when given the opportunity this time- I jumped at the chance.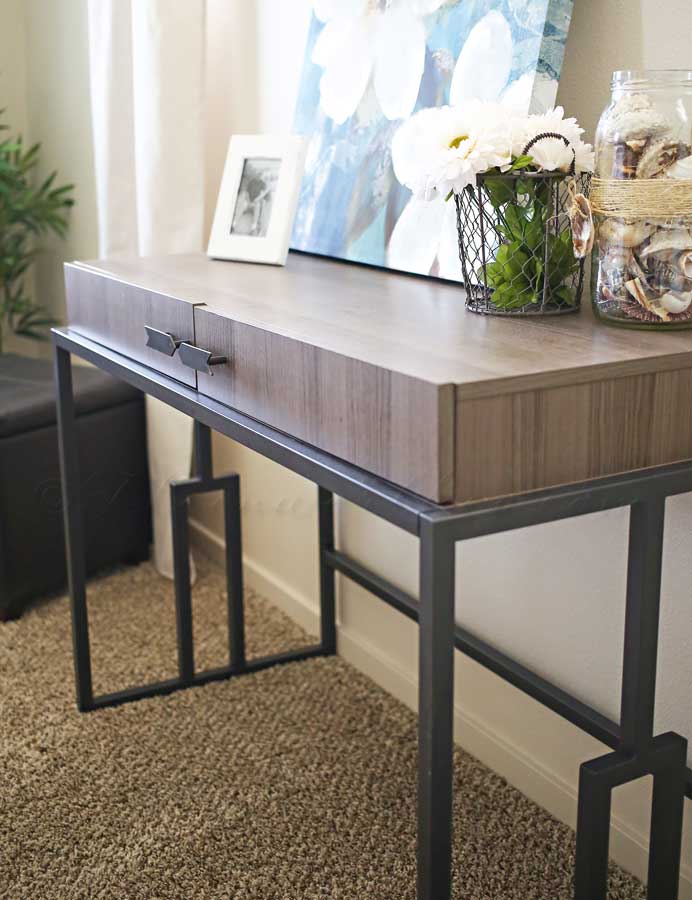 One thing I wanted to do was remove the flat screen from the bedroom altogether. I just don't like having a TV in the sleeping space. So we moved it on out, moved the sofa in it's place – leaving this area under these windows for this writing table from Sauder Furniture. I decided that I would use it as a console for everyday. But I love that because it's a writing table I can pull up a chair & use it as such if I need to.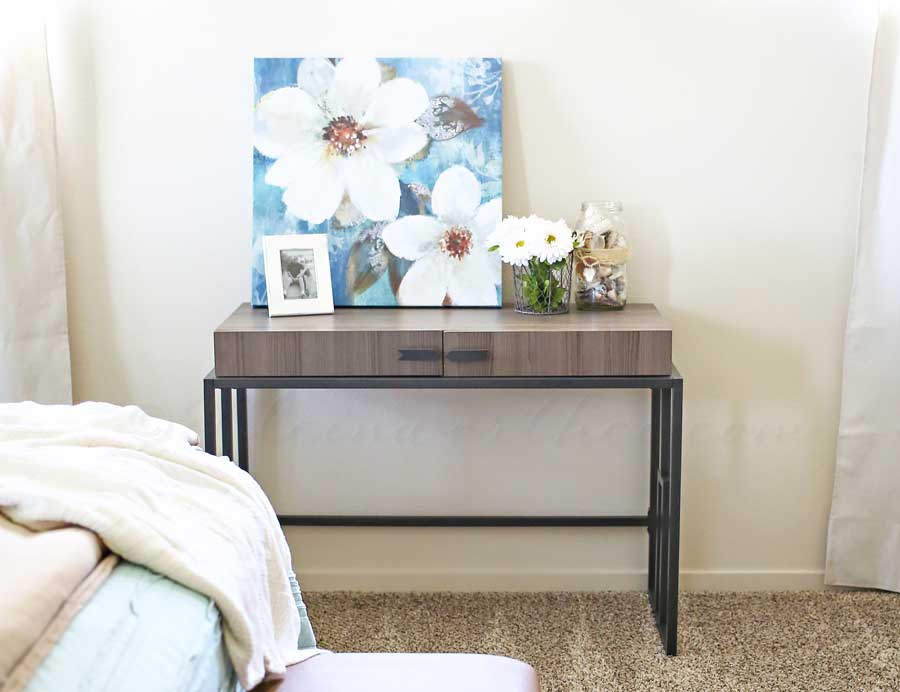 I love the driftwood color that matches perfectly with our blinds throughout the house.
(International Lux Writing Desk)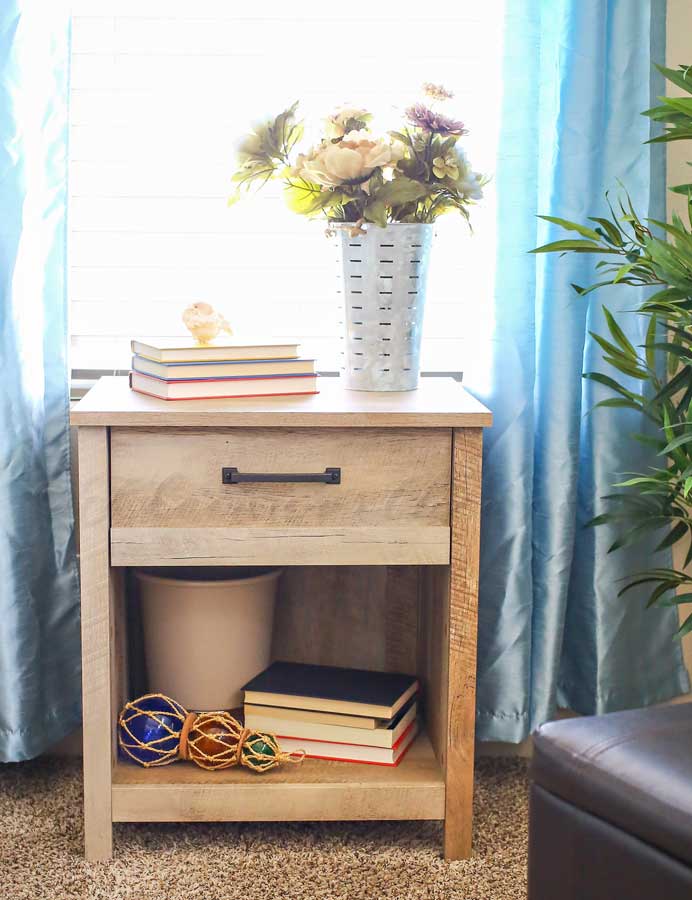 The other thing we added – two nightstands. (Cannery Bridge Collection night stands) I know it seems simple – but honestly, we have never had actual nightstands before. We always used a dresser, stool or other random table to fit the purpose. We never had anything that was meant to be used as a nightstand, let alone matching ones on each side. So I really can't express in words just how excited I was to have actual nightstands on each side of the bed. Ones with drawers – even better.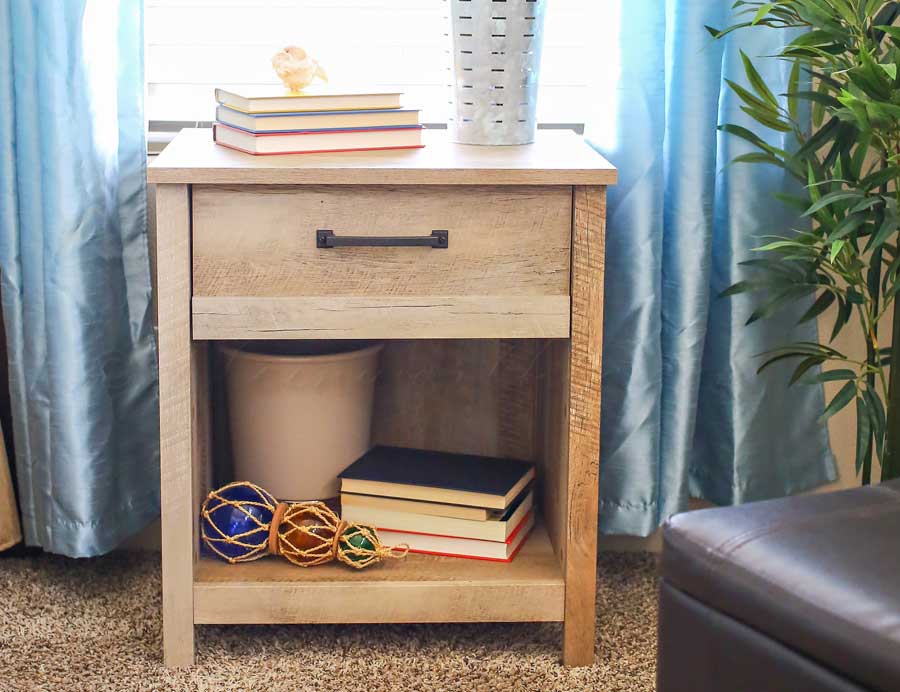 We chose these ones because they are raised slightly off the floor. You see we have registers right under these windows. We needed something that was somewhat open at the bottom to not restrict airflow. These work perfectly.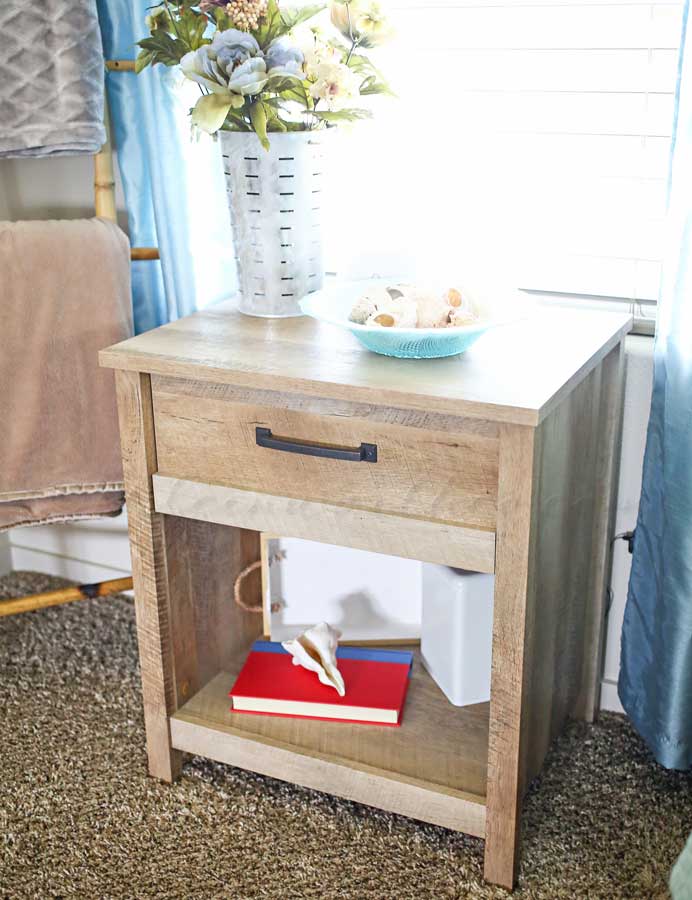 I love the finish – it compliments our beachy decor so perfectly.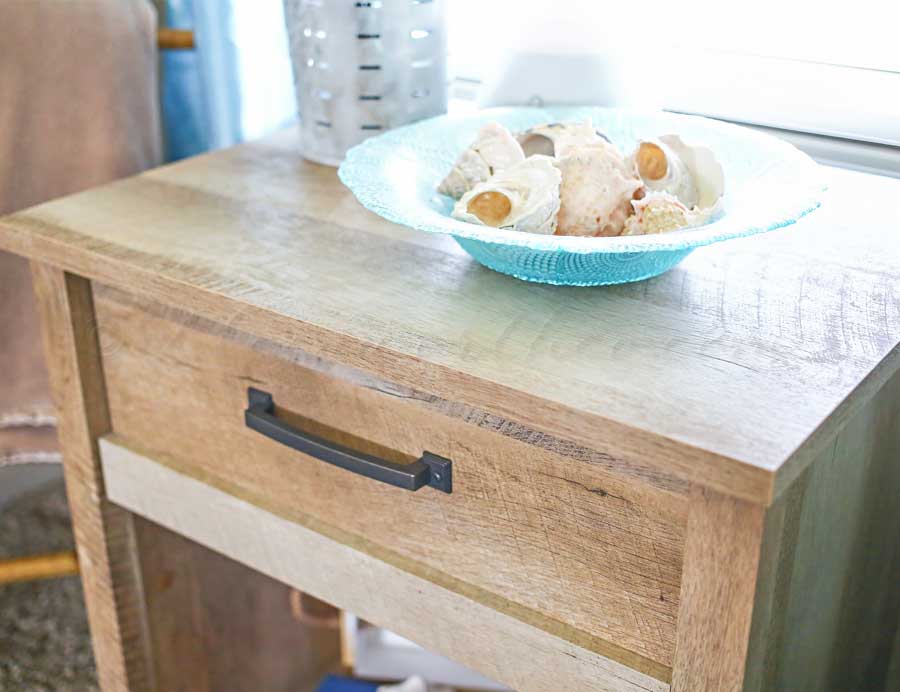 These drawers are super large too. You would not believe the things I am able to store in here. They glide so nicely too, I'm so in love.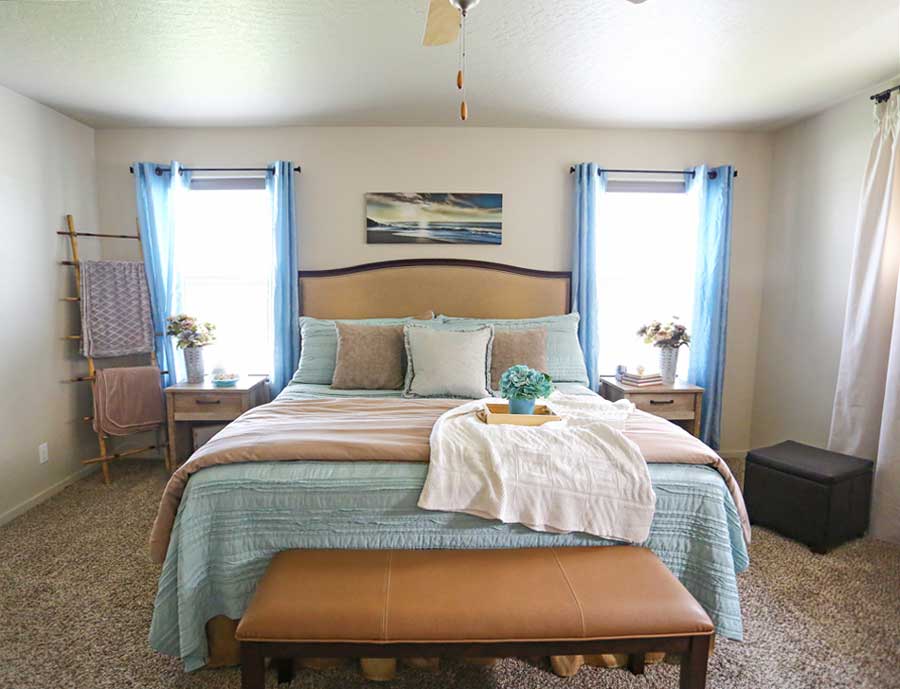 While I have some other projects in mind for this space in the future, that are on a larger & more in depth scale. We have at least made this space calm & serine. It's not the place I dread anymore. I love being in here & no longer have to try to keep people from entering. What a nice feeling just in time for the holidays when we will be having friends & family here who are looking forward to seeing our new home.
For more info be sure to visit Sauder's website, on Facebook, Twitter & Pinterest.
You can also view all the great ideas from other bloggers in Sauder's Put Together Lookbook
Looking for more ideas from our home?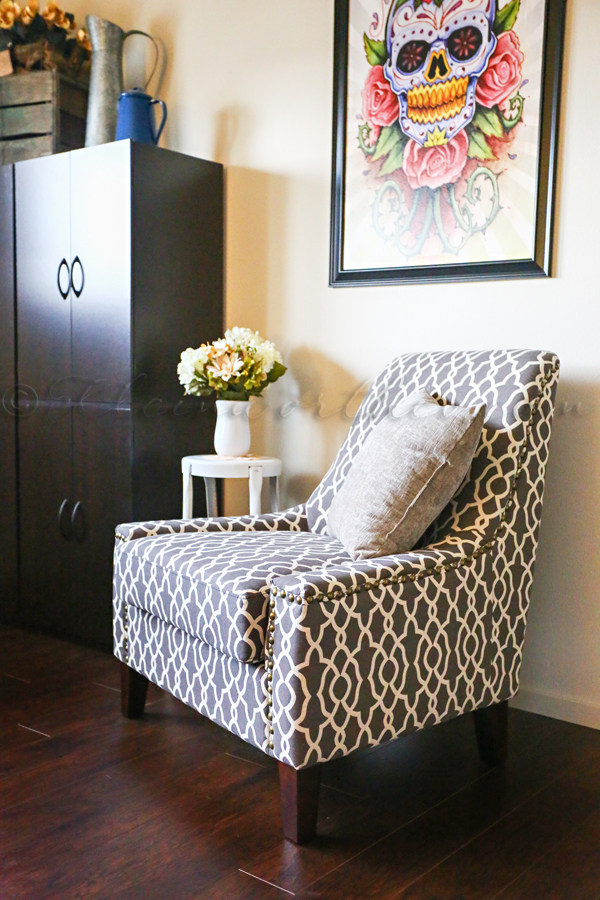 Studio Retreat : Venice Beach Style ~ Artist's Loft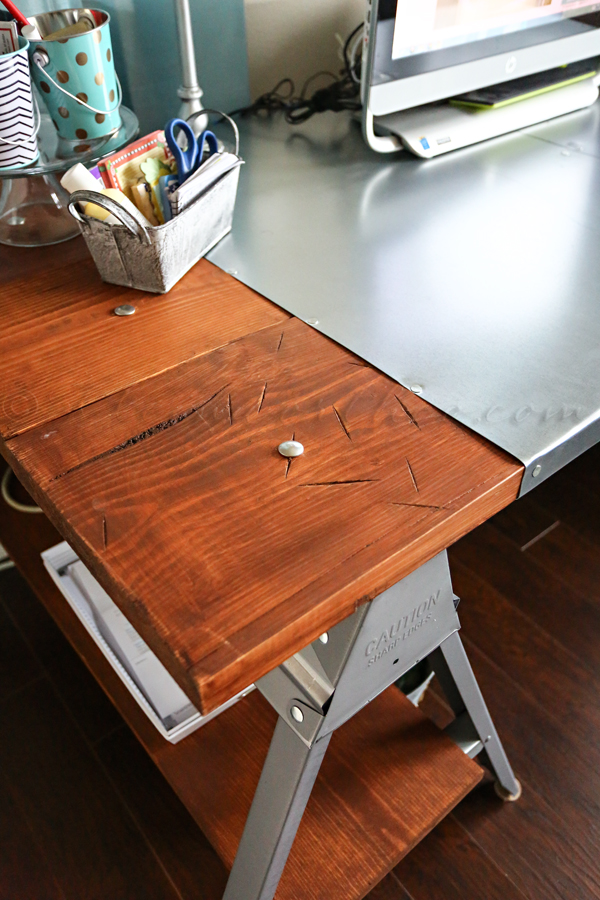 One Desk Three Great Uses
Don't miss these great ideas from these bloggers….
A Kitchen Storage and Display Bookcase from Setting for Four
Multi-purpose Entryway Storage from Love Grows Wild
This is a sponsored conversation written by me on behalf of Sauder. The opinions and text are all mine.
To see where I am linking today- visit HERE