This shop has been compensated by Collective Bias, Inc. and its advertiser. All opinions are mine alone. #CleanWithMrsMeyers #CollectiveBias
How to Clean in Just a Few Minutes a Day with these helpful tips. You CAN have a sparkling home with little time & effort if you have a plan & stick to it. Check out how I do it, even with 3 kids & 3 pets in the house.
How to Clean in Just a Few Minutes a Day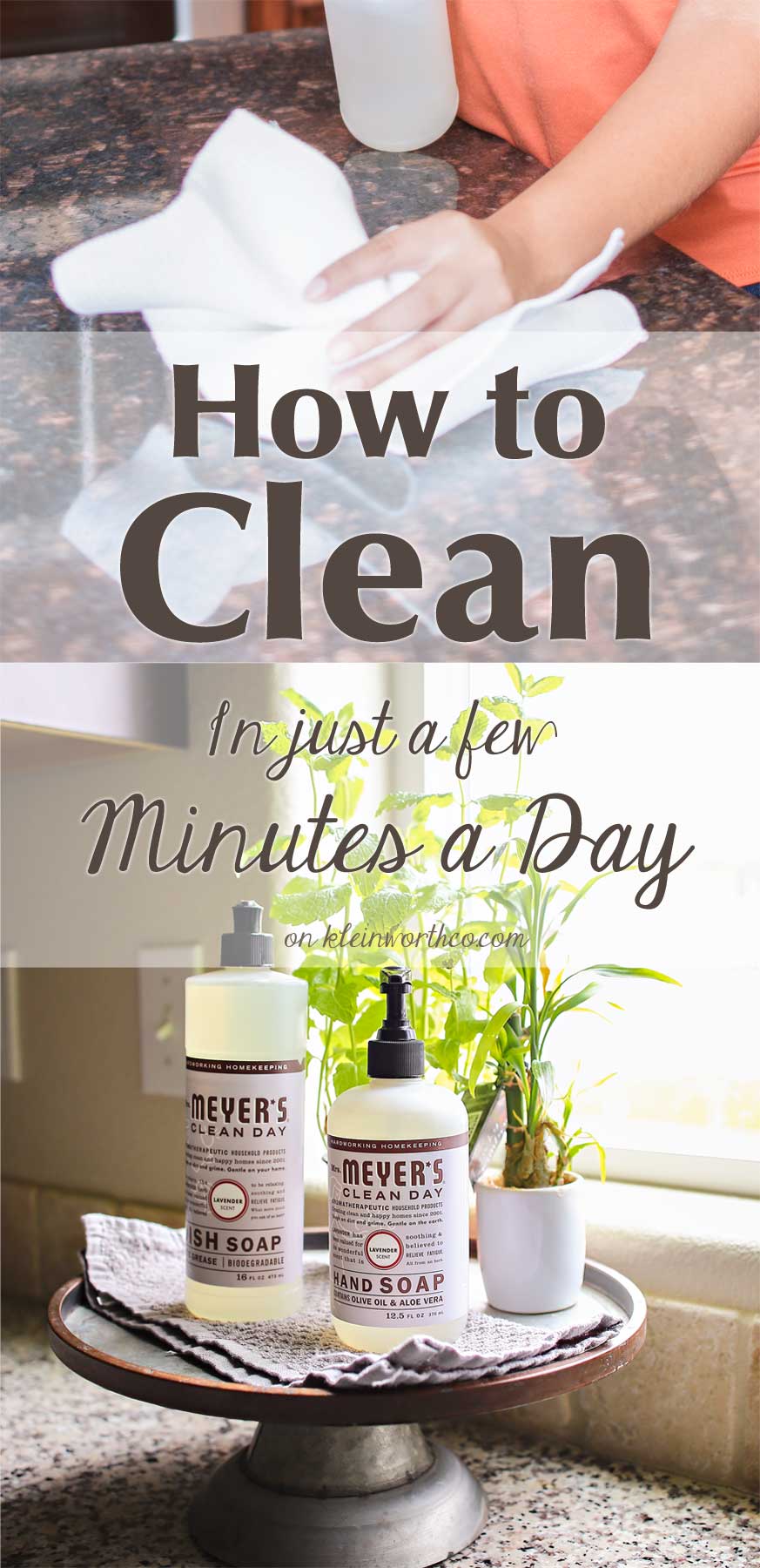 Cleaning- I would be hard pressed to find anyone that truly enjoys it. I mean, I love organizing, but that is a whole different animal. But the actual cleaning has to be done, right? Both my hubs & I grew up in sparkling clean homes & we picked up some great methods from our moms on how to keep our space neat, clean & tidy even when you have kids & pets in the house. Most people comment when they visit about how clean the house is & honestly, it's just normal for us. It's part of our daily routine. So I figured it might really help if I shared some of the things we have built in to our daily habits that help us maintain a clean home with very little time & effort.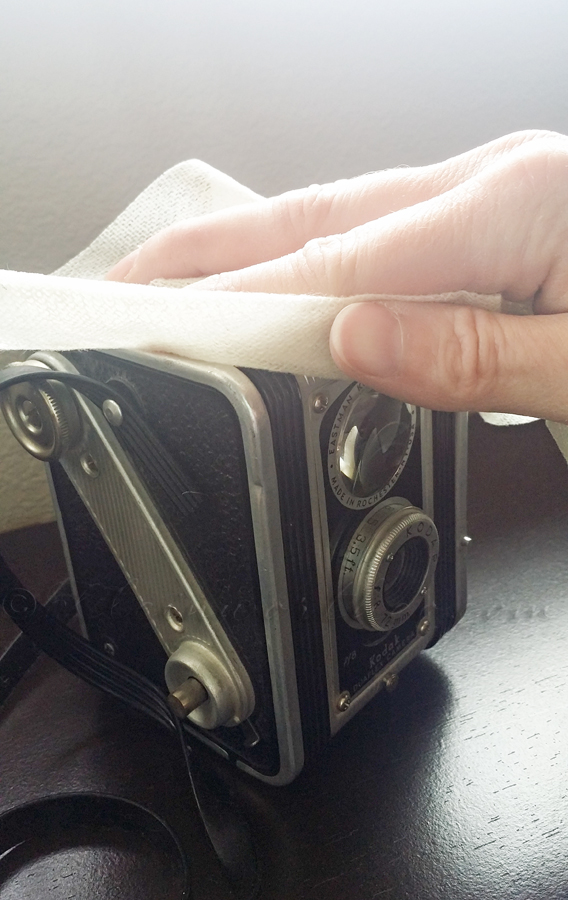 Dust Daily! It's so important for keeping the pollen at bay, especially when we have the windows open through spring & summer. Armed with a few dust rags and some Mrs. Meyer's Clean Day® MultiSurface Everyday Cleaner, I can do 2-3 rooms a day & it takes less than 10 minutes.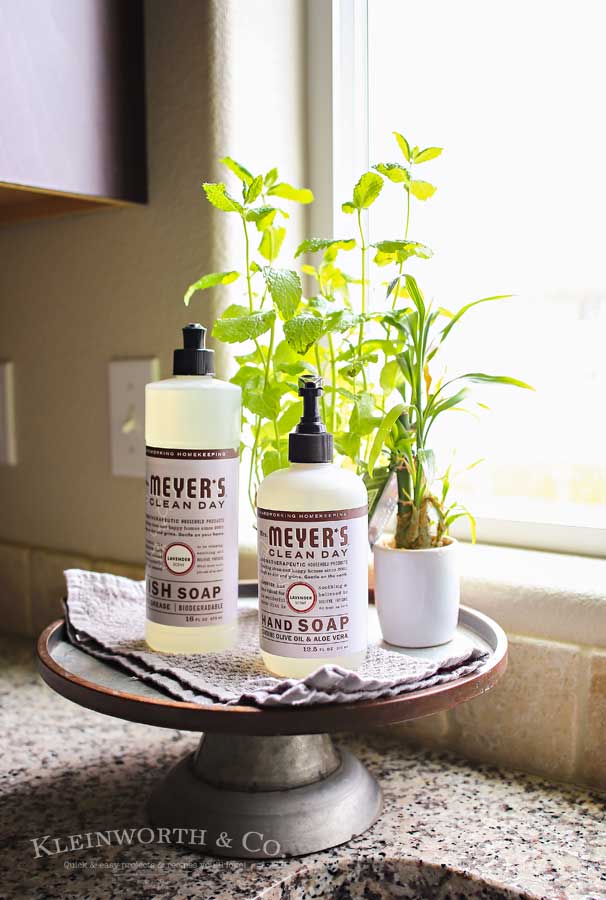 Always keep good hand soap at every sink. The surfaces you touch will stay cleaner if your hands are clean. We wash our hands so many times a day. The obvious & not so obvious times: before/during/after meal prep, after touching the animals, after the restroom, after gardening, after taking out the trash, before leaving the house & immediately again once returning, after sorting laundry & mail & so many other times. You would be surprised what your hands can collect from touching everyday items. Those germs, oils & dirt get tracked through the house & added to other surfaces so easily. By keeping hands clean it reduces the transfer & keeps your house cleaner.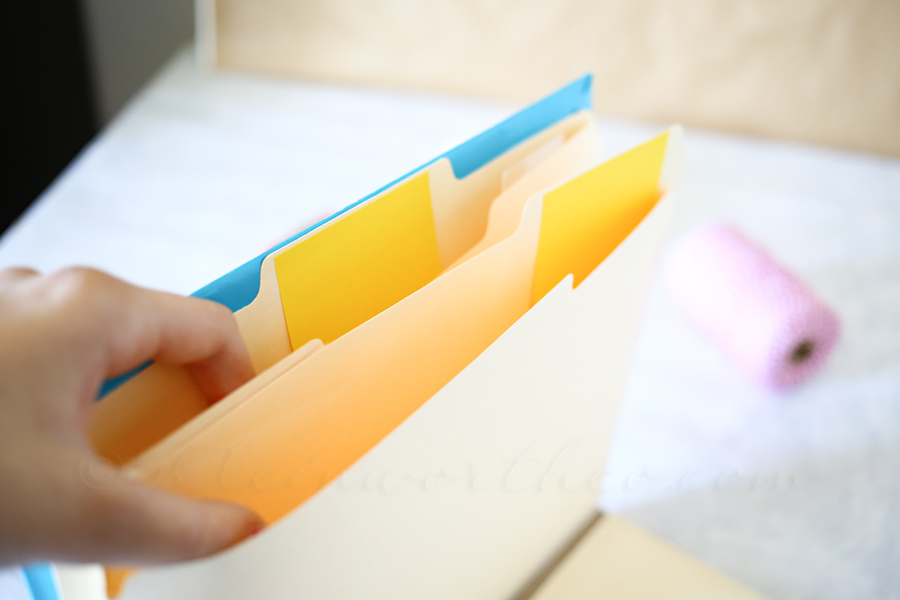 Pick up & deal with clutter as you touch it. Don't pick up something only to move it to another place, unless that other place is where it's supposed to stay. Mail, jackets, shoes, backpacks, whatever it is, take a moment to just put it back where it goes. It can take as little as 30 seconds to just PUT IT AWAY & not let it pile up all over the place. Plus, if everyone in the house is picking up after themselves, they are more likely to make less of a mess to begin with knowing they are responsible for the clean up.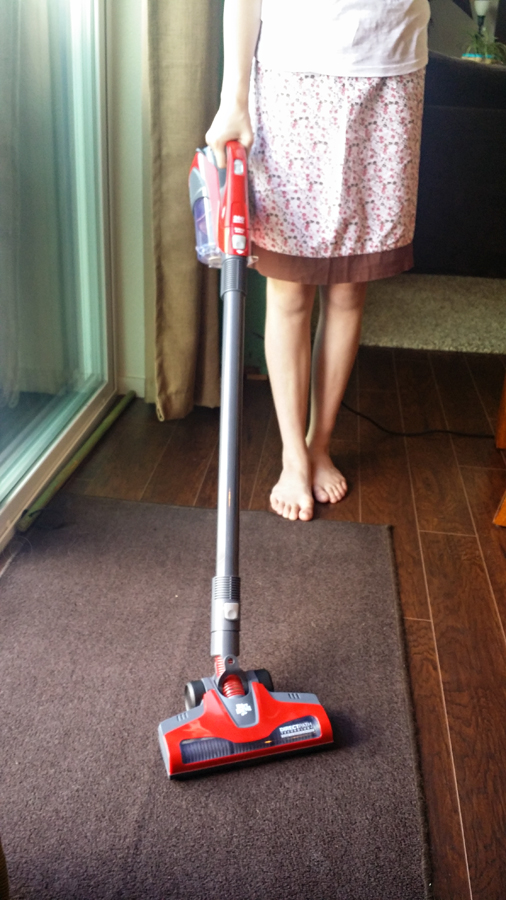 Floors– we vacuum the hard floors daily, carpets twice a week. Mopping happens on the main floor daily & the upstairs weekly. We have dark hardwood floors on the main level & they show EVERYTHING. So since the dog's pillow is in the entryway & the last thing I want people to see is dog hair all over, this is the place we spend the most time cleaning on a weekly basis. Honestly, it doesn't take more than 5 minutes to vacuum that area & another 5 to mop it. It's quick & keeps the house looking really nice.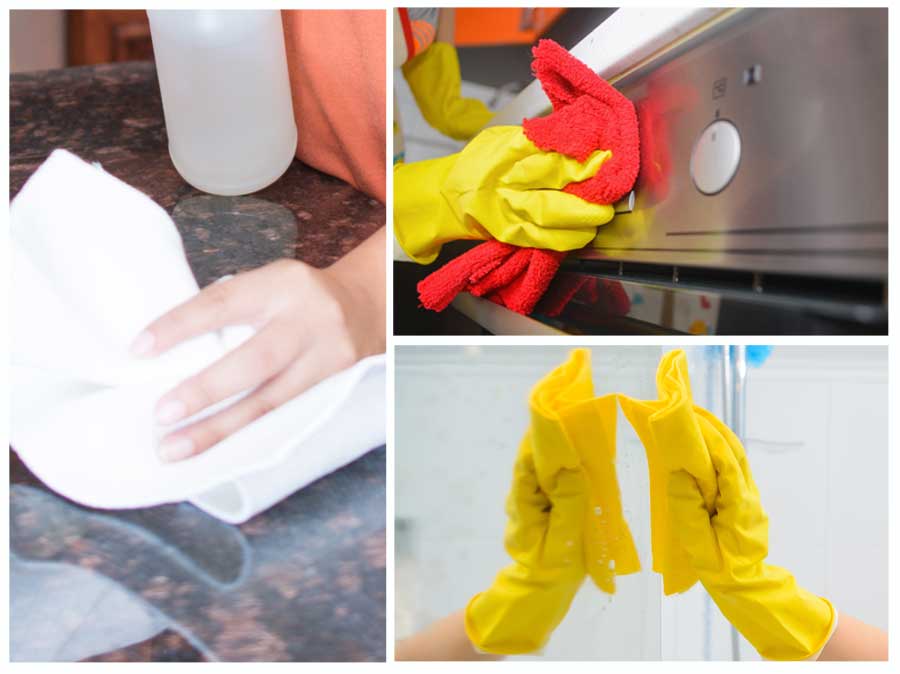 Kitchen & Bathrooms – they get wiped daily, scrubbed weekly. I have a designated rag in each bathroom & another that hangs over the sink in the kitchen when I do dishes. We all wipe the sink & counter after EACH USE. This helps cut down on anything building up & keeps the water spots at bay too. My daughters & I each take a bathroom on the scrub days & we knock it out in no time. Because we are all wiping up on an every-use basis, it doesn't take long to give a wipe down with cleaner on those spots & focus our time on the showers & water closets. This really is a huge time saver, which leads me to my final tip….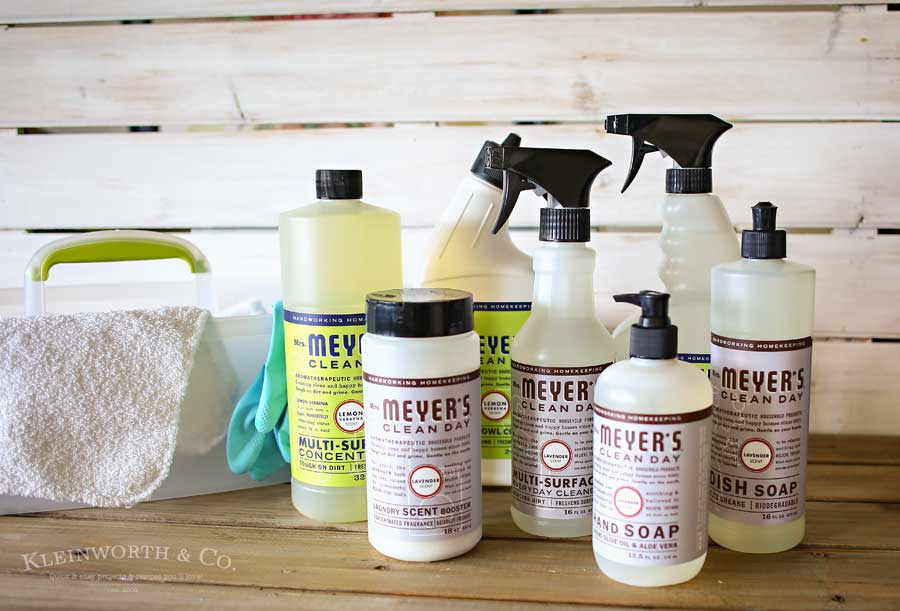 Keep your supplies in an easy to use tote!! Seriously! One of the main sources of lost time is going back & forth to retrieve cleaning supplies as you move from room to room. I like to keep them all corralled in a caddy so I can move to each room I'm working on quickly & easily. AND- now this is a big one…… it keeps those cleaning supplies from dripping on your floor or carpet. The cleaning crew that prepped our house before we got our keys must have set a bottle of SOMETHING on the landing of our stairwell. Well there is a lovely bleached out spot in the shape of a bottle on our carpet. Unfortunately, the builder wouldn't take responsibility for it & now we are faced with replacing that area of carpet for about $500. Ouch! So we vowed to never transport chemicals or cleaning supplies around the house without it being in a caddy to protect from drips.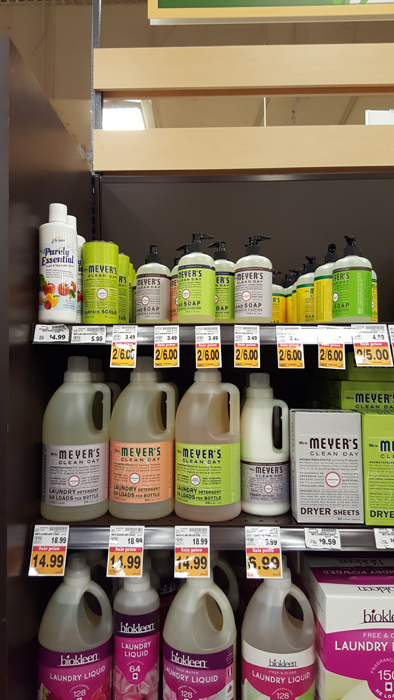 I pick up my favorite Mrs. Meyer's Clean Day® products like my favorite Lemon Verbena or Lavender Dish Soap, Hand Soap & Multi-Surface Everyday Cleaner & more from my local Kroger family store, Fred Meyer. They make something for every area in your home so you are never asking yourself how to clean something. It's all there & available for you.
So what are you waiting for? Put these tips into action & your house will be sparkling in NO TIME!
If you liked this How to Clean post- check out more ways to stay clean & organized?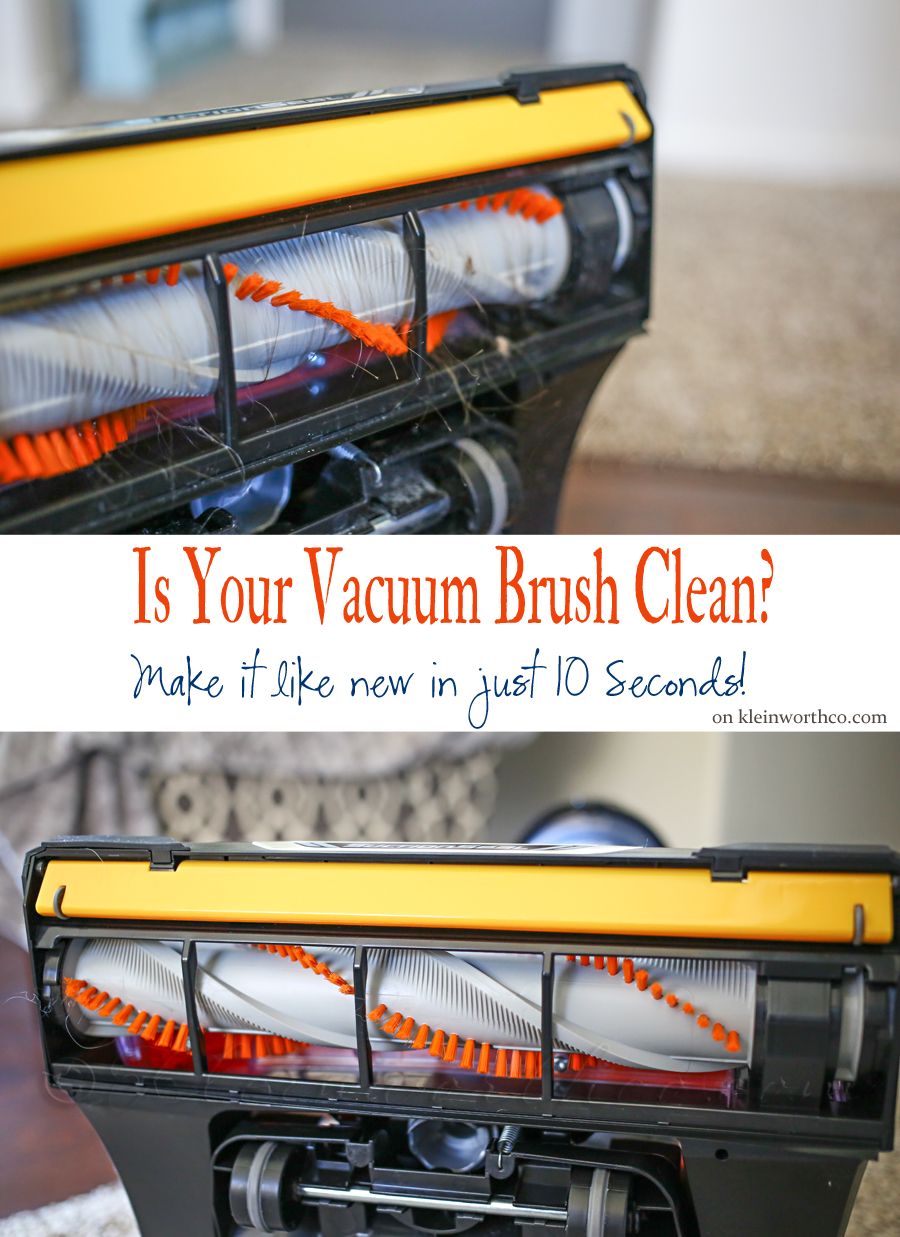 Is Your Vacuum Brush Clean?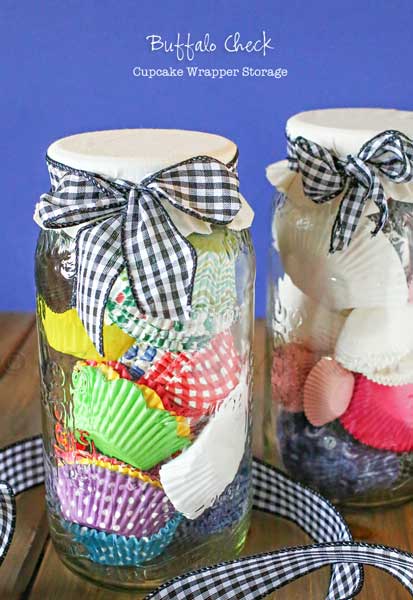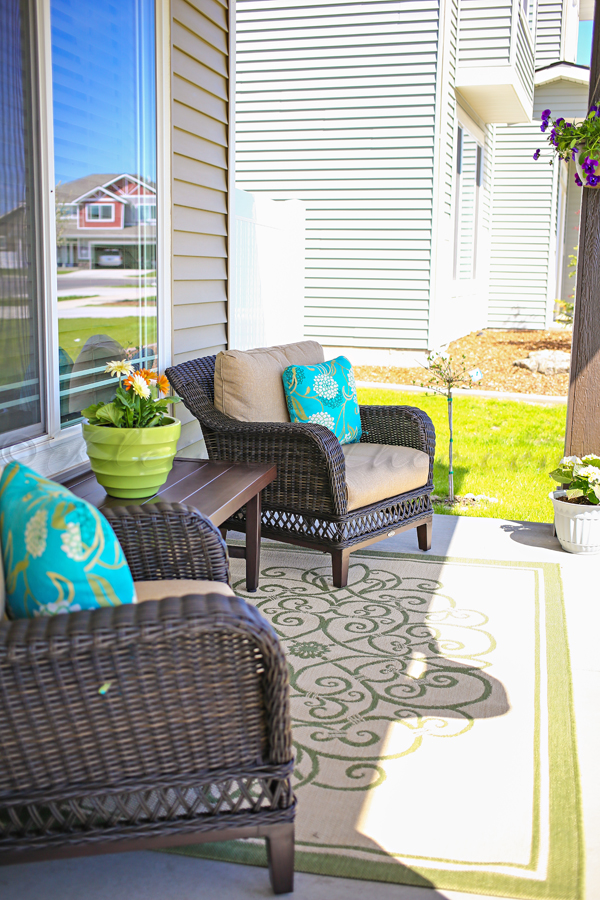 Don't miss these great How to Clean ideas from these bloggers….
Sprinkle Some Fun – DIY Blind Cleaning Tool (Quick and Easy Way to Clean Blinds)
One Good Thing by Jillee – Fizzy "Toilet Freshener Bombs"
To see where I am linking today- visit HERE