Looking for the Best Hot Dogs around? Check out these Gourmet Hot Dogs that are perfect for any summer backyard bbq, game day or tailgating party.
One thing I may have shared before is that the hubs is CRAZY for hot dogs. We take them very seriously in this house & try to come up with all sorts of fun new twists to create the perfect hot dog. For us Gourmet Hot Dogs isn't just a fad – it's something we have always been passionate about.
With grilling season here I thought I would share with you all some of our MOST FAVORITE Grilling Recipes & hot dog ideas & ways we like to top our dogs. So let's get cookin'! (Don't miss our easy Air Fryer Hot Dogs recipe!)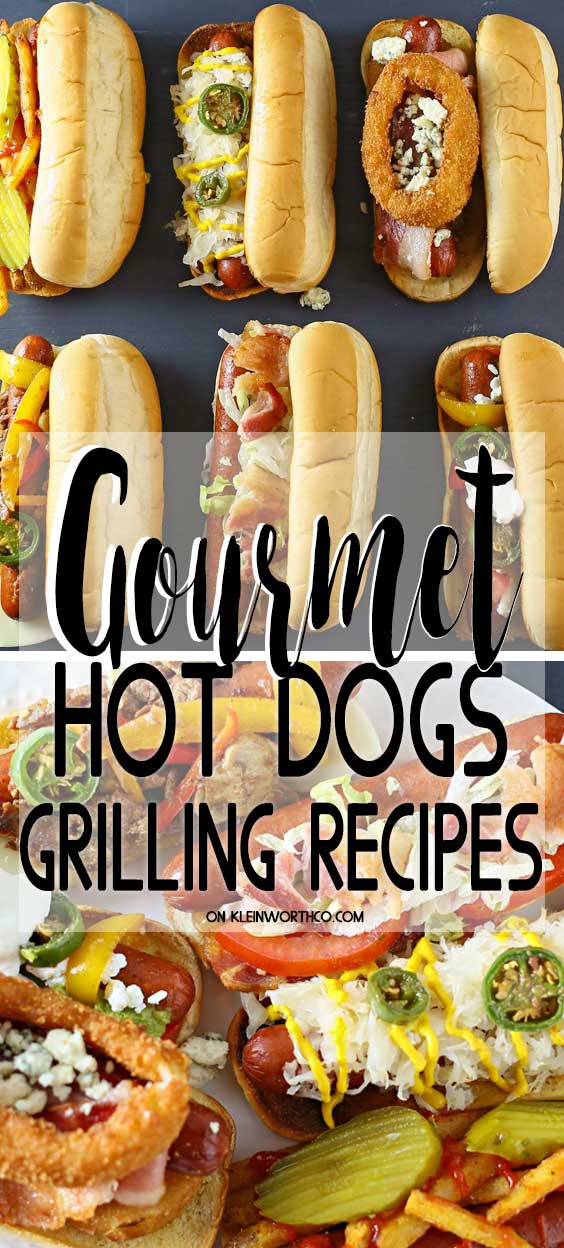 We like to go beyond ketchup & mustard & even beyond the standard chili dog. For us having hot dogs for our gatherings should be an experience. Why let the hot dog go unnoticed? It definitely can be the star of the show with these fancy hot dogs & with these recipes they will be just that.
If you love easy hot dog recipes – you don't want to miss our Pretzel Dogs recipe that includes standard and keto-friendly versions and how to make them in the oven and air fryer.
how to cook hot dogs
This post contains some affiliate links. Click here to read my full disclosure policy.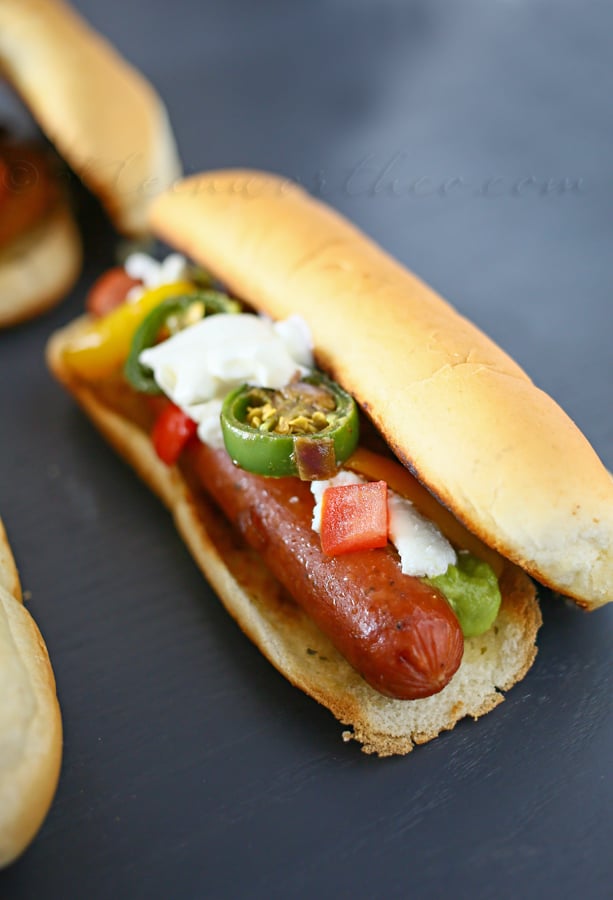 Did you know that during Hot Dog Season, which is between Memorial Day through Labor Day, Americans eat about 7 billion hot dogs, according to the National Hot Dog & Sausage Council. That's about 818 hot dogs consumed every second during that season!! I think they underestimate how many just our family consumes ?
ABSOLUTE MUST is creative hot dog recipes like this premium dog. This is KEY people!!! Specialty hot dogs like the Onion/Blue Cheese Dog & the California Dog too. So GOOD! The Cheese Steak & Baja Dogs are incredible. I know you'll love these gourmet hot dog recipes.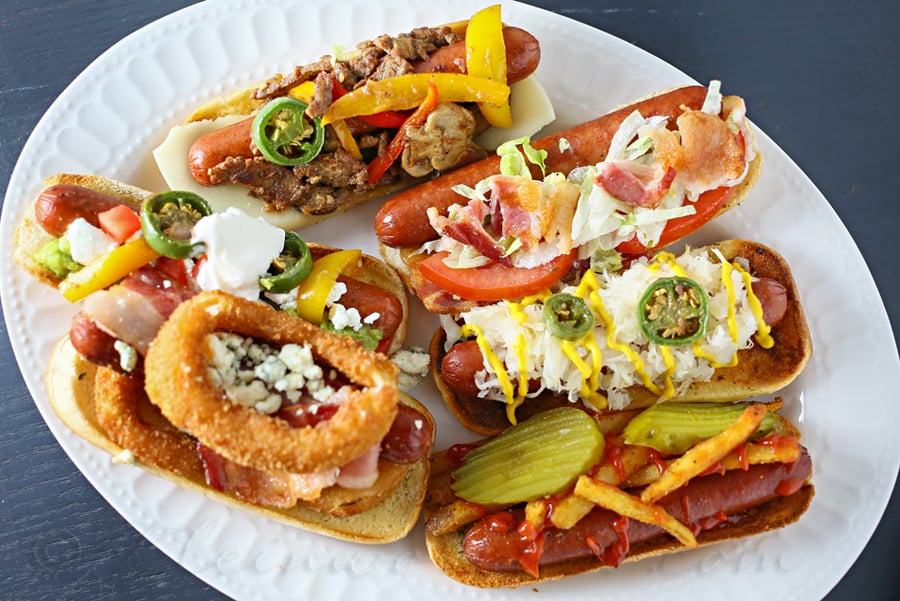 Here are some commonly asked questions about these hot dog recipes
How long to boil hot dogs?
While I love my hot dogs either grilled or steamed in a skillet, boiling hot dogs is definitely an easy way to prep hot dogs when you are cooking indoors. In just a few minutes they are ready to enjoy. Just fill a medium-sized saucepan halfway with water & bring to a boil over high heat. Once it's boiling, add in as many dogs as you need for your meal. Allow the hot dogs boil for about 5 minutes until plump.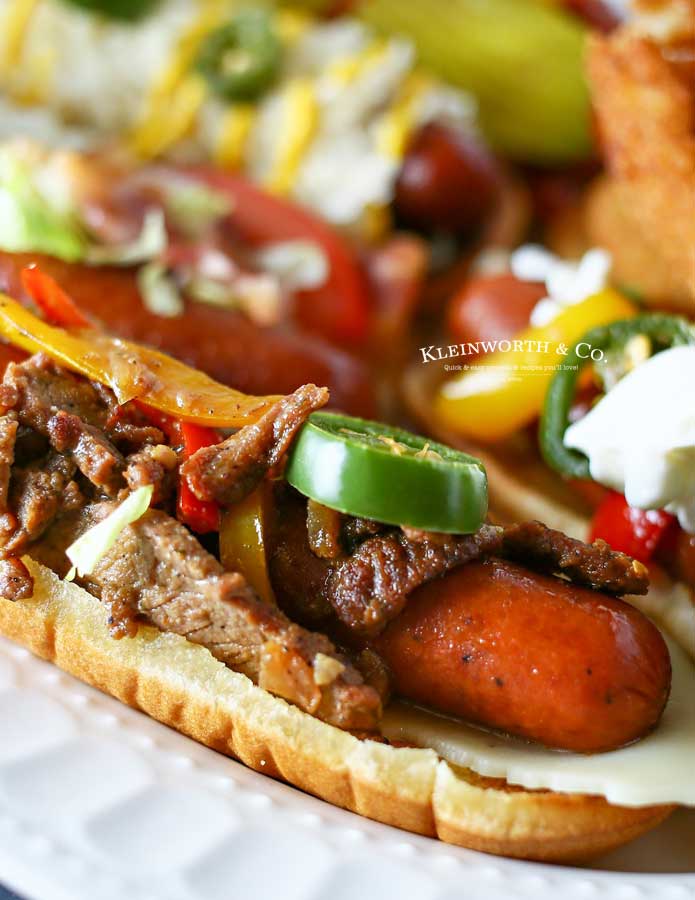 What is the best way to store leftover hot dogs?
Place any leftover hot dogs in an airtight container, label with the date & refrigerate for up to 3 days. Be sure to get those dogs in the refrigerator within 1 hour after cooking them to prevent bacteria growth as much as possible.
What are hot dogs made of?
Pork & beef are the traditional meats used in hot dogs. Not only will you find some of the less expensive hot dogs made from chicken or turkey, but these are also marketed to those that don't eat pork or beef. Often times hot dogs contain sodium, saturated fat and nitrite, so like anything you eat, moderation is key.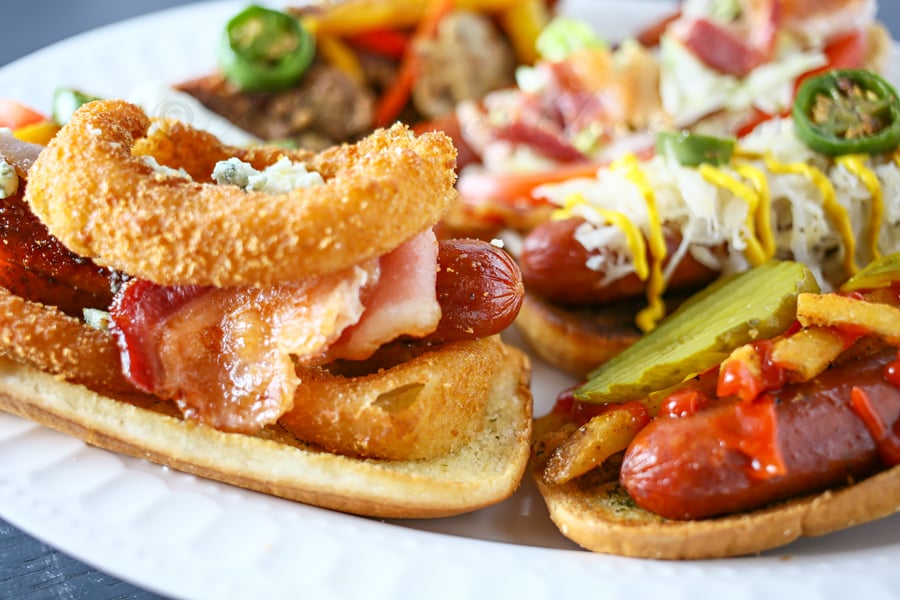 How do you cook hot dogs?
Spray it before you lay it: Before laying hot dogs on the grill, be sure to spray the grill with vegetable oil or cooking spray to ensure the food doesn't stick to the grates as it's cooked.
Don't lose the juice: Use tongs rather than a fork to gently turn franks and handle as little as possible. Do not cut or pierce the hot dogs while they are grilling or those delicious juices may be lost.
Get the "smoky" flavor – If you prefer your hot dogs to have a smoky taste, keep the grill completely covered while cooking.
HOW DO YOU MAKE these Gourmet Hot Dogs?
Grill your dogs.
While grilling – prepare your buns by brushing with garlic butter & broiling for a couple minutes.
Prepare your spread of toppings for your dog of choice.
Once buns & & dogs are ready – top, top, top.
Get creative & ENJOY!!
Hot Dog Recipes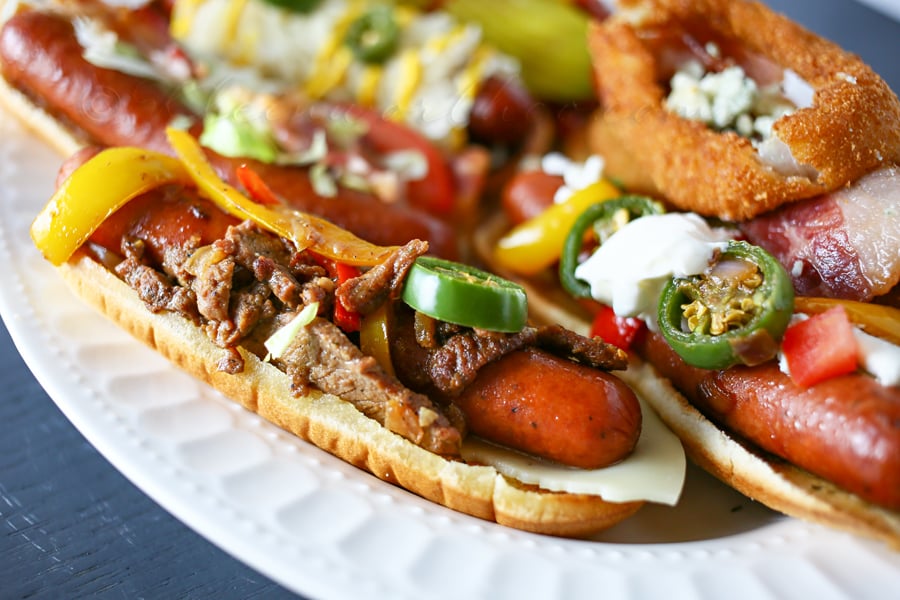 Are there any other ways to cook hot dogs?
One of my favorite ways is to place them in a skillet with a splash of water. I then add my seasonings & cover the pan. Occasionally lift the lid & turn them as they cook & then cover again. This allows for them to steam but keeps the outer skin firm.
You can also use a hot dog roller machine, which in my opinion, yields a superior hot dog in the end. We once had this mini hot dog cart that we used on our countertop. I loved how it made the hot dogs taste but it took longer to cook them, resulting in us not using it as much as I had hoped.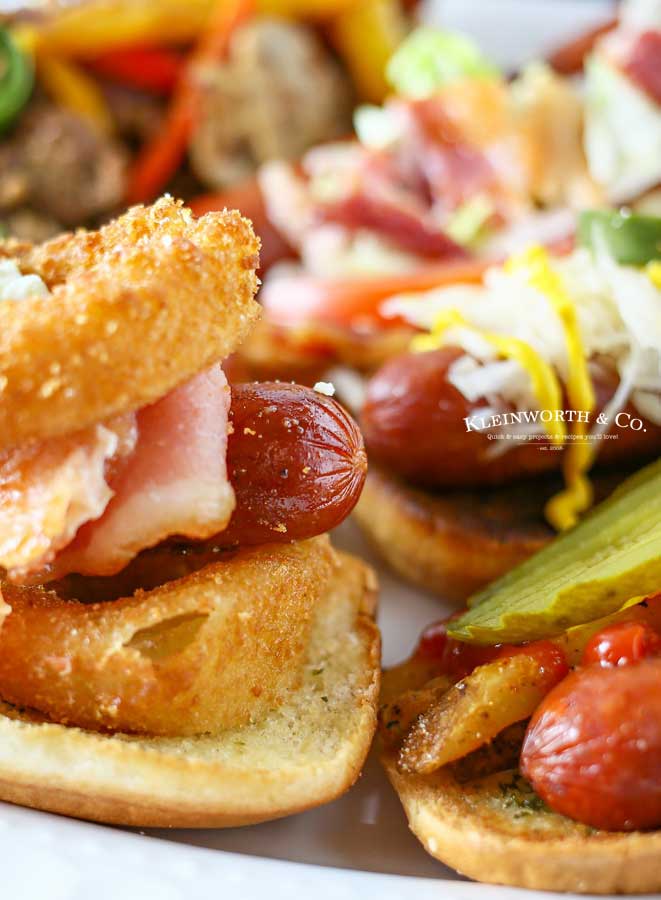 Can hot dogs be microwaved?
Yes, but if not done right, they will split & sometimes explode. That is not good. The key is to keep the moisture around the dog. So what we like to do is wrap the hot dogs individually in wet paper towels & place them on a paper plate before microwaving in 30-second intervals. Check them after every 30 seconds to make sure they aren't overheating but reaching the desired temperature you want before eating.
Make sure the hot dogs reach & maintain 140°F or warmer to keep them out of the "Danger Zone," the range of temperatures where bacteria grows quickly. As I mentioned before, make sure to get that cooked food into the refrigerator within 1 hour of cooking.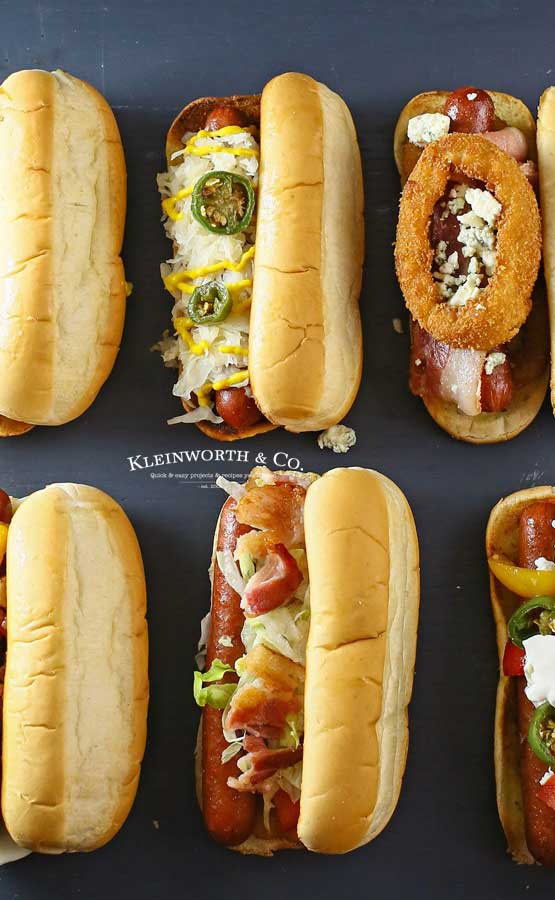 Are hot dogs already cooked?
That is actually a myth. According to the FDA, it's important to always reheat hot dogs until they're steaming hot. Some ready-to-eat foods, such as hot dogs, can become contaminated with Listeria monocytogenes after they have been processed and packaged at the plant. So treat your hot dogs like you would any other type of meat you are cooking.
What is your favorite brand of hot dog?
Now, I know that often times this can be a regional thing. I live in the Pacific/Inland Northwest, so we aren't exactly known for our dogs up here. I personally prefer Nathan's Hot Dogs because I like the crisp outer skin. My kids don't like the skin, so I either buy them a skinless version from Nathan's or I pick up a less-expensive brand for them. My hubs more often than not, skips the actual dogs altogether & goes right for the bratwurst.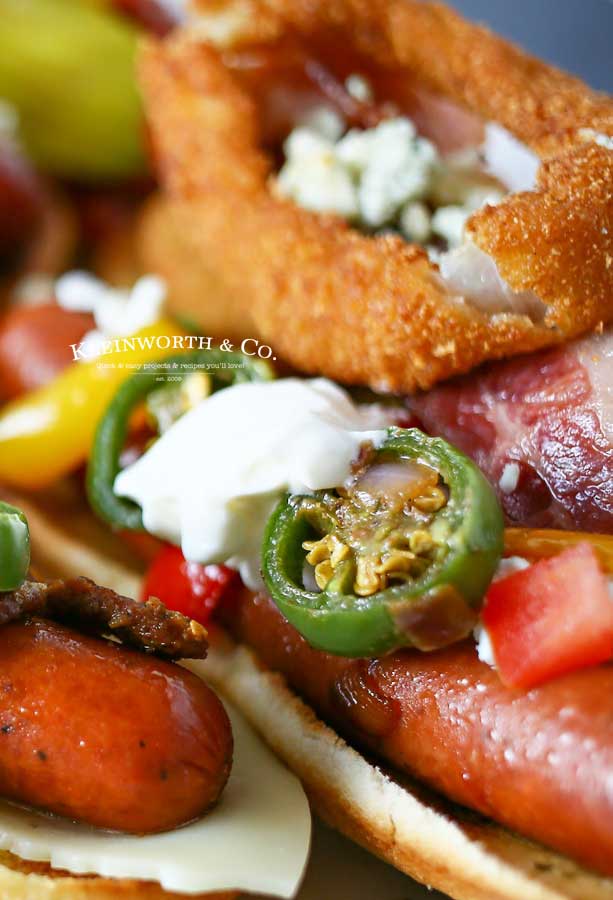 What are different types of hot dogs?
A basic hot dog typically comes with relish, mustard & ketchup. Cross-section of a bagel dog which is a hot dog wrapped in a bagel. Various cheese dogs, which should be self-explanatory. Load up that cheese however you like.
Chicago-style hot dog is basically topped with yellow mustard, chopped white onions, bright green sweet pickle relish, a dill pickle spear, tomato slices or wedges, pickled sport peppers & a dash of celery salt all loaded on a poppy seed bun.
Corn dogs are just that – a hot dog fried in a cornmeal batter.
A Dodger Dog is a hot dog named after the Major League Baseball franchise (the Los Angeles Dodgers) that sells them. It is a 10-inch pork wiener wrapped in a steamed bun. Being a SoCal native, this is my favorite way to enjoy a dog when I'm not at home to make my own.
Montreal hot dogs are top loading (New England style) hot dog like you would traditionally find throughout the US, rather than the side loading hot dog buns generally used in other parts of Canada. Montreal hot dogs are smaller than the average dog & often topped with coleslaw, fresh cabbage or kraut.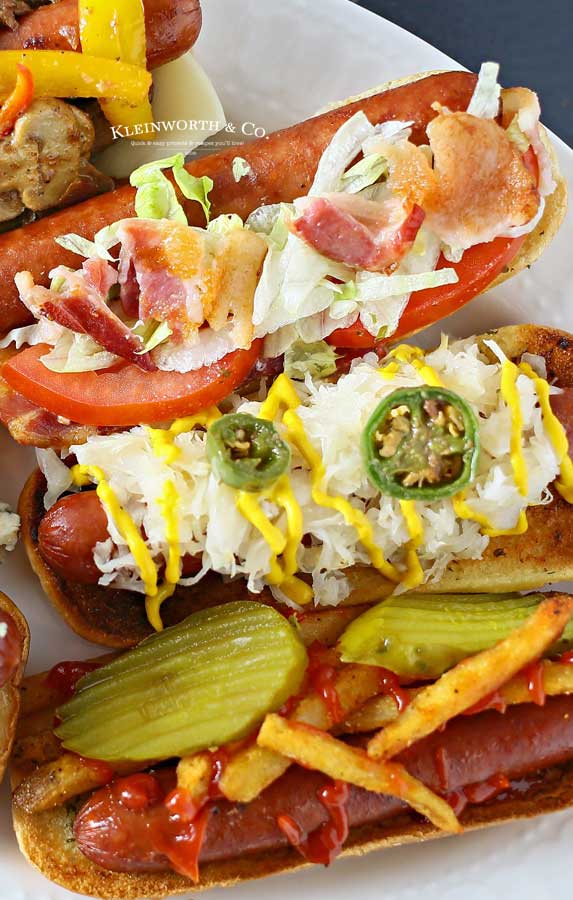 To make these hot dog menu ideas you will need…
Favorite hot dogs
Stadium Buns
Prepared Cheese Steak
Provolone Cheese
Grilled Jalapeno Slices
sauerkraut
mustard
Grilled Jalapeno Slices
cooked & crisp bacon
lettuce
tomato
blue cheese crumbles
onion rings
blue cheese crumbles
guacamole
tomatoes – diced
goat cheese crumbles
Grilled Jalapeno Slices
sour cream
french fries
pickles
ketchup
Products I love when making Gourmet Hot Dogs…
These Gourmet Hot Dogs are so easy and delicious – and you probably already have many of these items on hand like I do this time of year! OR If you've never made homemade hot dogs before, you might be a bit nervous – but you're going to love this classic snack. I have made a list below of the things I absolutely can't live without when it comes to making these delicious hot dog recipes.
These Gourmet Hot Dogs will be your new favorite meal all summer.
Scroll to the bottom for the Printable Recipe
HOT DOG TOPPINGS
If you love this GOURMET HOT DOG recipe, you're going to love these other easy meal recipes too. Please click each link below to find the easy, printable recipe!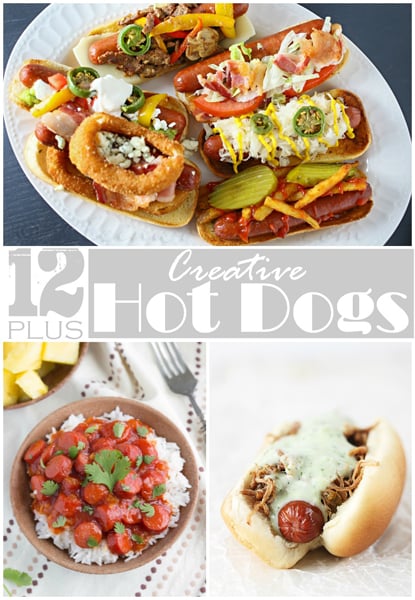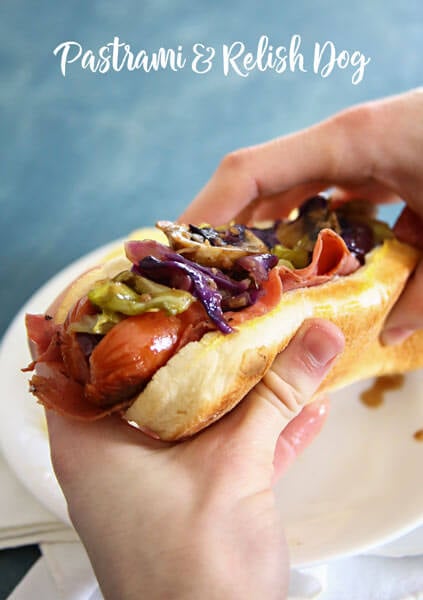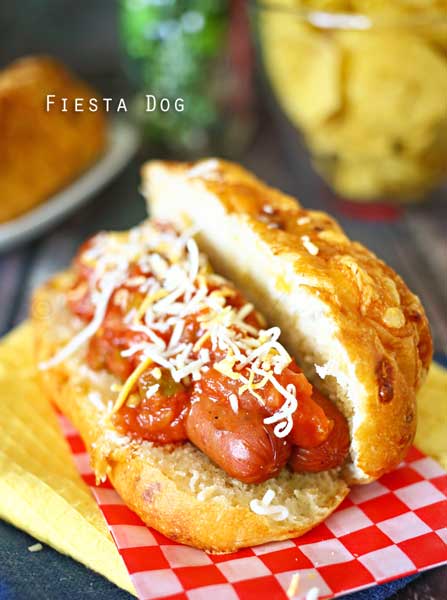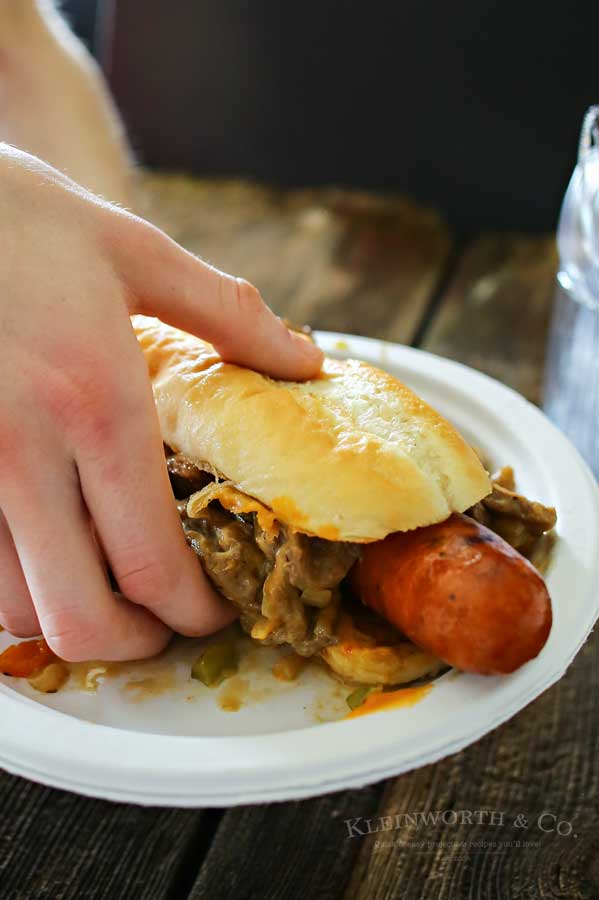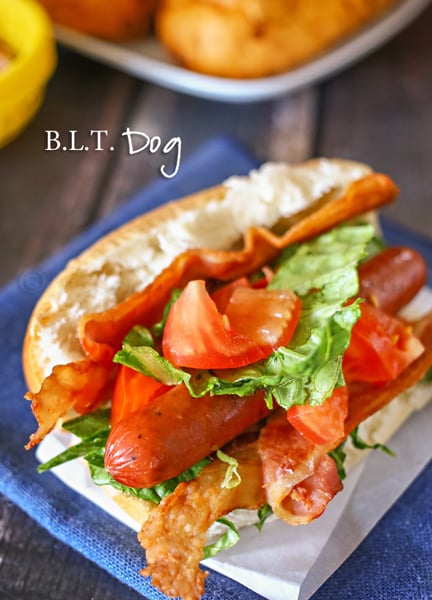 hot diggity dog
If you love this Gourmet Hot Dogs recipe as much as I do, please write a five star review, and be sure to help me share on facebook and pinterest!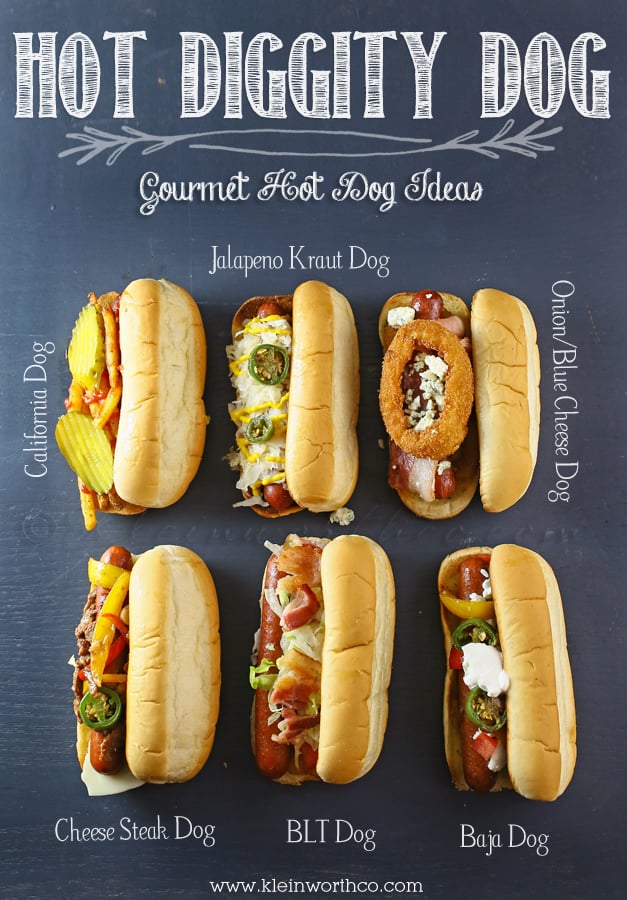 CONNECT WITH KLEINWORTH & CO!
Be sure to follow me on my social media, so you never miss a post!
FB, Pinterest, IG, Email Subscription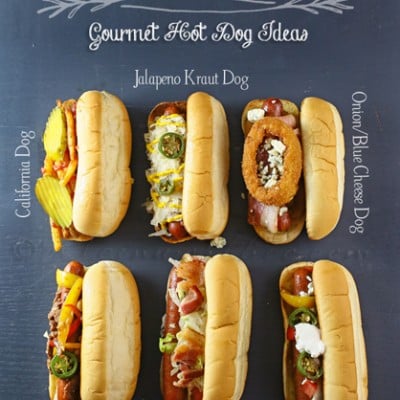 Rate this Recipe
Gourmet Hot Dogs
Looking for the Best Hot Dogs around? Check out these Gourmet Hot Dogs that are perfect for any summer backyard bbq, game day or tailgating party.
Ingredients
12

favorite hot dogs

12

Stadium Buns
Cheese Steak Dog
1/2

cup

Prepared Cheese Steak

1

slice

Provolone Cheese

4

Grilled Jalapeno Slices
Jalapeno Kraut Dog
1

can

sauerkraut

mustard

Grilled Jalapeno Slices
BLT Dog
3

slices

cooked & crisp bacon

1

leaf

lettuce

1

slice

tomato

1

tbsp

blue cheese crumbles
Onion/Blue Cheese Dog
3

slices

cooked & crisp bacon

2

onion rings

1

tbsp

blue cheese crumbles
Baja Dog
1

tbsp

guacamole

2

slices

tomatoes - diced

1

tbsp

goat cheese crumbles

Grilled Jalapeno Slices

3

slices

cooked & crisp bacon

1/2

tbsp

sour cream
California Dog
1/2

cup

french fries

pickles

ketchup
Instructions
While grilling - prepare your buns by brushing with garlic butter & broiling for a couple of minutes.

Prepare your spread of toppings for your dog of choice.

Once buns & & dogs are ready - top, top, top.

Get creative & ENJOY!!
Nutritional information for the recipe is provided as a courtesy and is approximate. Please double-check with your own dietary calculator for the best accuracy. We at Taste of the Frontier cannot guarantee the accuracy of the nutritional information given for any recipe on this site. Erythritol carbs are not included in carb counts as it has been shown not to impact blood sugar. Net carbs are the total carbs minus fiber.
Love this recipe?
Follow @KleinworthCo for even more tasty recipes!
Reader Interactions