Bringing the Comforts From Home to those that miss it most through heartwarming feelings, flavors & favorites of home is now easier than ever.
Comforts From Home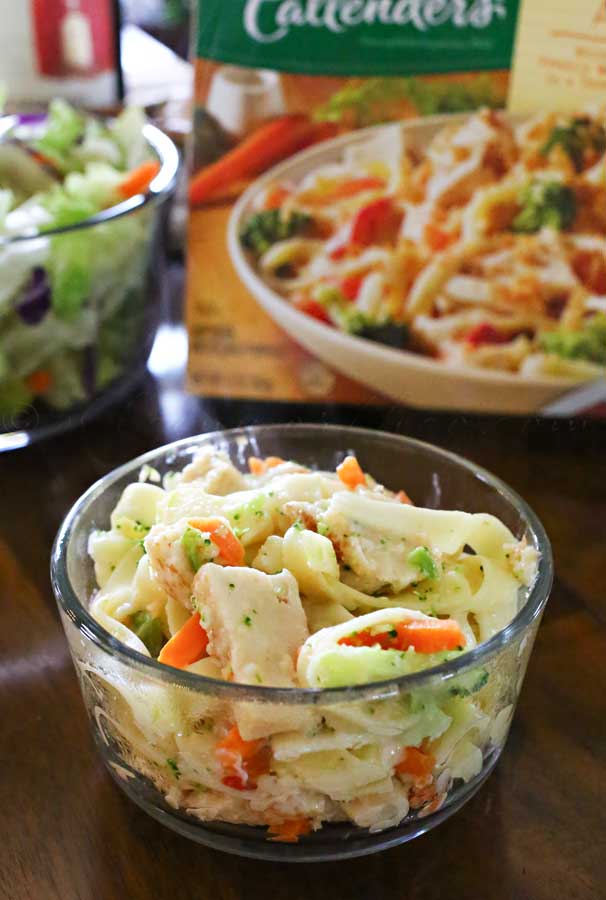 Comforts from home. That phrase means a lot to someone that hasn't been home in a real long time, like our troops. The sacrifices they make are INCREDIBLE! This time of year can be the most difficult. Away from family & friends in a place that is nothing like home. It's hard! When our troops get to come home it's so special. My favorite trip home about 5 years ago was when my brother was able to come home for Thanksgiving from Afghanistan. It was so great to see him & spend the holiday together as one big family. I loved the time spent watching football together, feasting & just being with him. He's so inspiring & I'm so proud of what he does & all he has accomplished. Now he's living in Virginia. Sooo far from our home of So Cal. But I hope that we can coordinate our families to all get back home to So Cal someday. We miss them & the cousins definitely need some time together.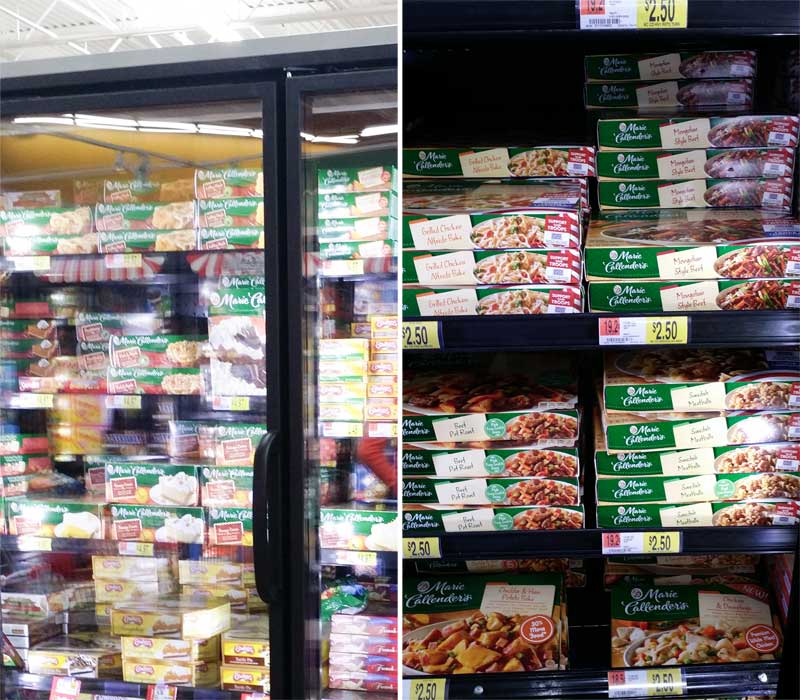 The reason I'm telling you all this is because this time of year we all get so wrapped up in the business of the holidays that it can be easy to forget the troops & the sacrifices they make for the rest of us. Unless you are living that sacrifice everyday, it can be taken for granted. So when I found these specialy marked boxes of Marie Callender's meals while doing my weekly shopping I was super excited. Marie Callender's & the United Services Organization (USO) have partnered together again for the Conforts From Home Project.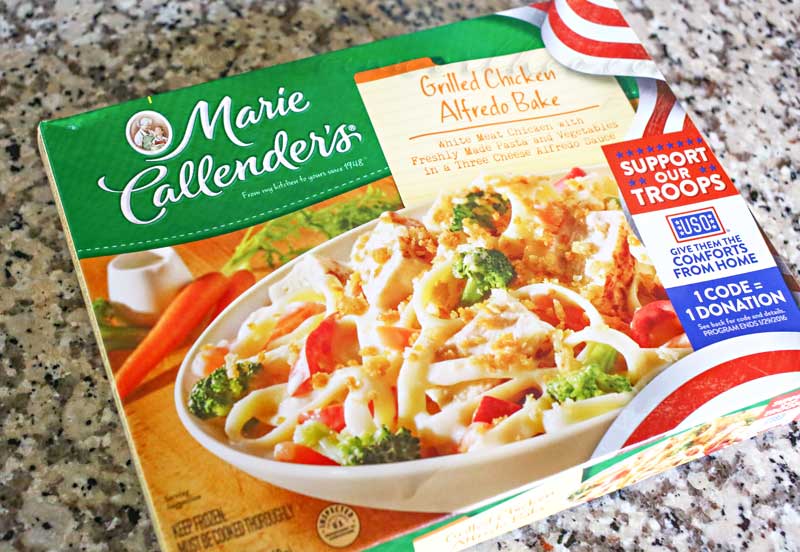 Just look for the box marked USO Comforts From Home Project. When you buy these meals & desserts you can go online & enter the code on the back of the box. Marie Callender's will make a $0.50 donation to the USO Operation Celebration program for each code entered – up to $300,000. The USO Operation Celebration program is dedicated to providing a "home away from home" for our deployed troops stationed around the world to make sure every holiday, small or large, is celebrated.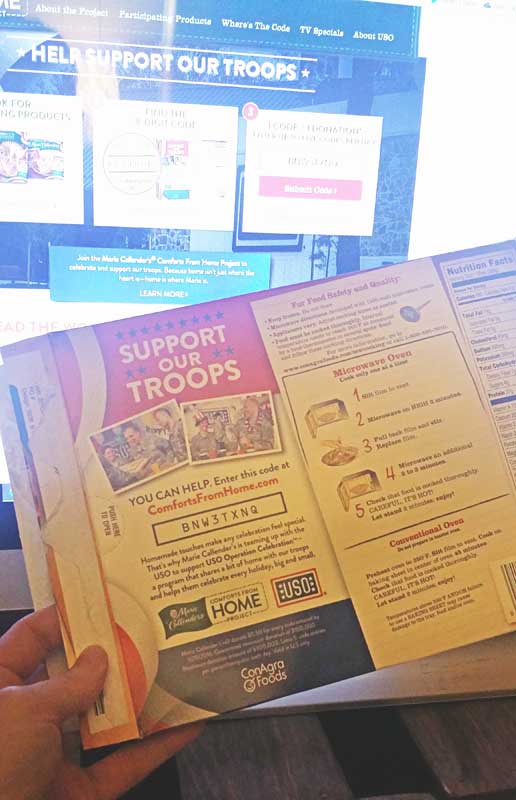 I love this program because it ensures that our troops have a place to celebrate every holiday, with or without their families, bringing the comforts of home that can often be taken for granted, such as seasonal meals, company, entertainment and a chance to relax away from the stress of active service. Last year, with the overwhelming support of those who purchased these products, Marie Callender's brought care packages to a very deserving group of servicemen and women stationed overseas through a $250,000 donation to the USO2GO program.
It's super easy to enter your code found on the back of the box. Just go to ComfortsFromHome.com, enter your code from the box & you have made a donation to the troops! So simple! That's all it takes.
Details on how to participate
**From September 1, 2015 through January 29, 2016, you can help give to the USO Operation Celebration program by entering the on-pack code from one of the more than 51 million specially-marked Marie Callender's frozen meals or desserts at https://clvr.li/1Ga3OXC. Each code entered online equals a $0.50 donation to the USO.
– Visit Marie Callender's to join in helping to bring a little bit of home sweet home to our U.S. servicemen and women overseas.
For every entry by 1/29/2016 of an 8-digit code found on participating products, Marie Callender's will donate $.50 to the USO Operation Celebration program. Guaranteed minimum donation: $100,000. Maximum donation: $300,000. Limit 5 code entries per person/computer each day. Valid in U.S. Only.

You can find a list of participating Marie Callender's products and see how many codes have been entered to date with the real-time code tracker at: https://clvr.li/1Ga3OXC
Connect with Marie Callender's on Facebook & Pinterest.
I was selected for this opportunity as a member of Clever Girls and the content and opinions expressed here are all my own.
To see where I am linking today- visit HERE