I have partnered with McCormick® to share this recipe & bring smiles to your holiday!
Chocolate Chip Snickerdoodle Bars are an easy chocolate chip cookie bar recipe loaded with cinnamon & topped with a crisp cinnamon & sugar crust. Delicious!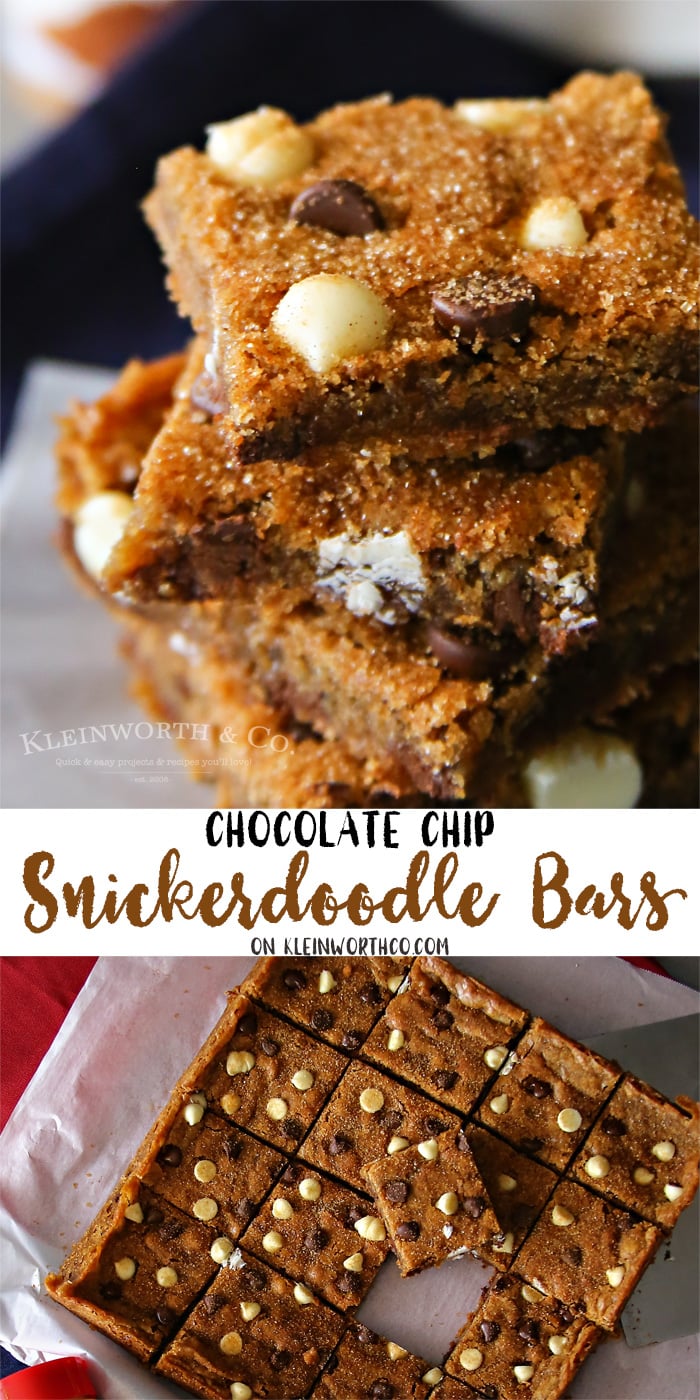 If you are a regular here, you know that this family is a lover of holiday spices. The mere mention of anything holiday spice related makes my son's eyes light up & I instantly have his attention. I think it was all the goodies I ate when I was pregnant with him. It's his absolute favorite & we all sure love it too. So whenever I want to make a treat my mind instantly thinks of what I can create that would include this favorite ingredient.
Chocolate Chip Snickerdoodle Bars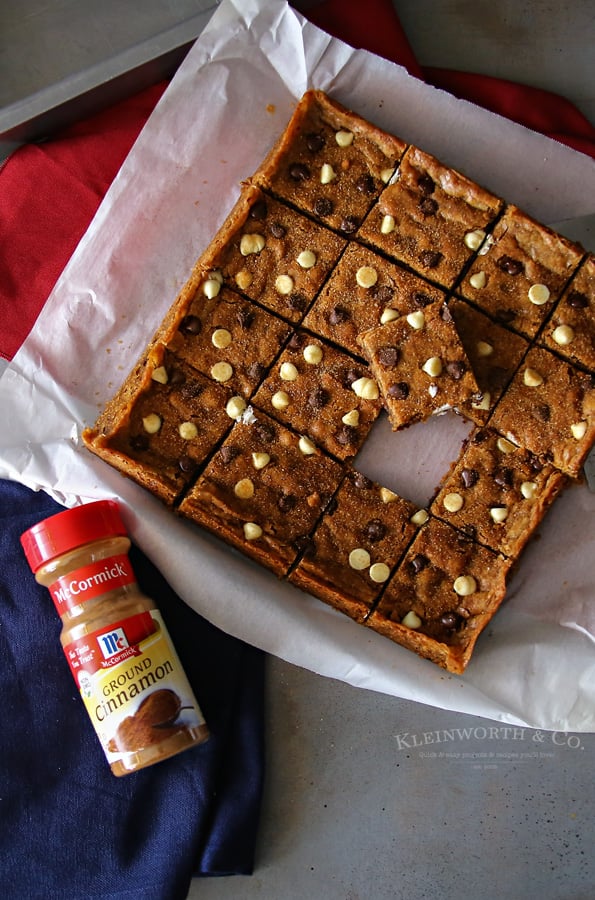 I was really torn between our secret family recipe for chocolate chip cookies & making snickerdoodles out of the old family cookbook we inherited from the hub's grandmother. After doing some thinking I decided that we had never really combined the two & certainly never transformed either of the recipes into cookie bars. So I now had a plan, combine our favorite chocolate chip cookies & snickerdoodles into one incredible dessert.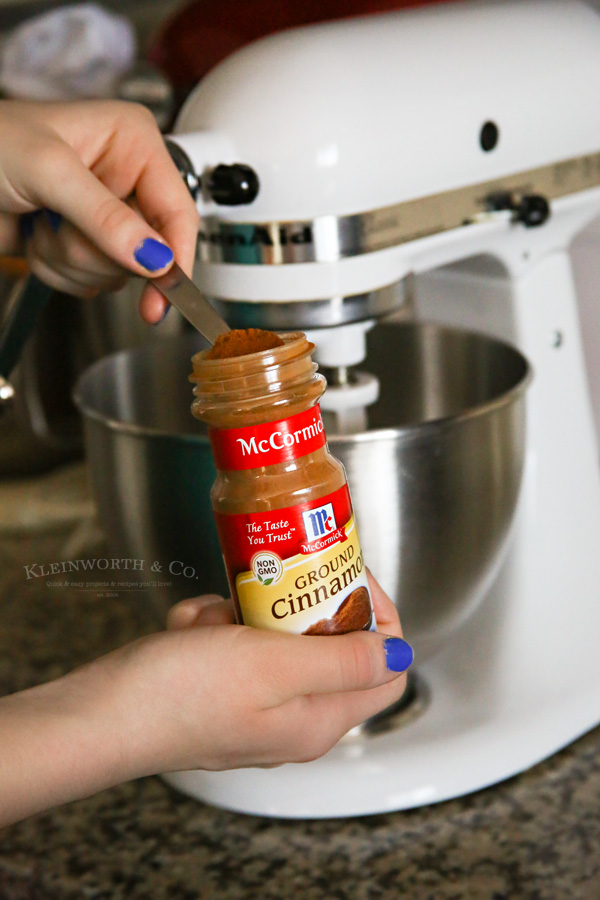 Unlike regular snickerdoodles, I added a hefty teaspoon of McCormick® Ground Cinnamon into the batter. That really gave the bars a deeper holiday flavor since it's so fitting for this time of year. These aromas & flavors such as McCormick Ground Cinnamon or McCormick Ground Nutmeg have the power to transport you back in time to some of your favorite holiday memories.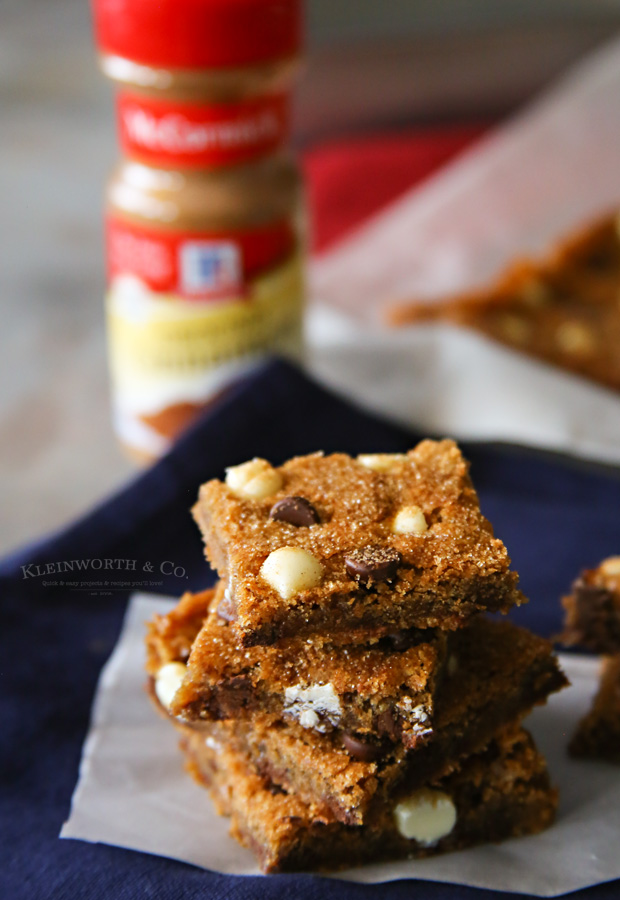 After I transferred the batter to the pan I gave the whole thing I nice liberal coating of McCormick Ground Cinnamon/sugar mixture before baking. Then once I pulled them out of the oven I sprinkled again while hot after I added the additional chocolate chips & then for a third time when they were just a little warm still. I did this because the first coating bakes in like it would on a snickerdoodle cookie. The second coat sort of melts in while the bars are hot which gives them that nice crisp outer crust, also just like a traditional snickerdoodle. I could have stopped there, but I am really visual with my food & I love that sparkle of the coating that is so delicious sprinkled on just about everything.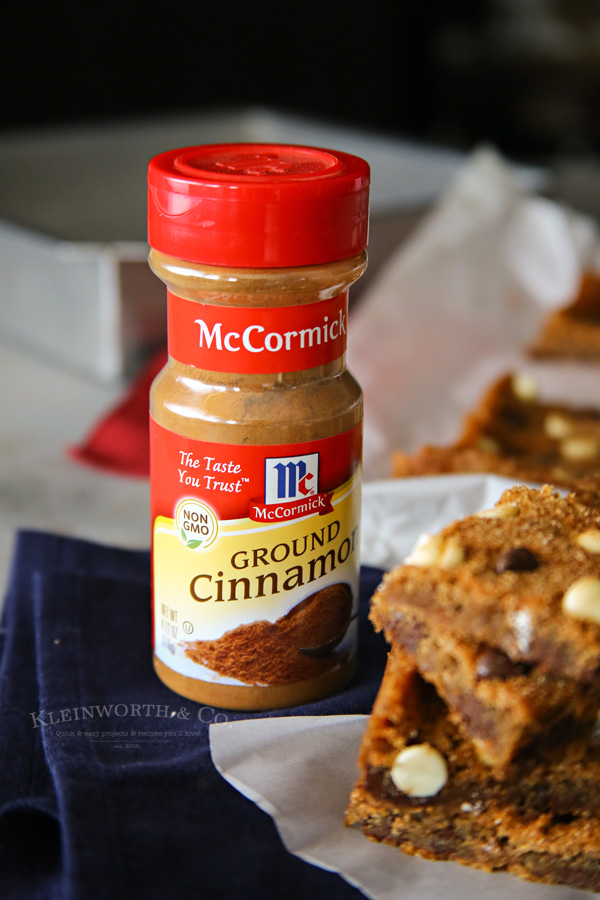 McCormick has been our pantry staple all my life. I grew up baking with McCormick with my mom & grandmothers. It really helps us add a little something special to all our holiday recipes.
Chocolate Chip Snickerdoodle Bars
Chocolate Chip Snickerdoodle Bars
Simple chocolate chip cookie bars collide with snickerdoodles for a chewy cookie bar with a crisp cinnamon crust.
Servings: 16
Ingredients
1/2 cup butter 1 stick
1 cup light brown sugar- firmly packed
1 egg
1 tsp McCormick Pure Vanilla Extract
1 cup all-purpose flour spooned & leveled- not scooped
1/2 tsp baking powder
1/2 tsp salt
1 tsp McCormick Ground Cinnamon
1/8 tsp baking soda
1 cup semi-sweet chocolate chips - divided
1/4 cup white chocolate chips
3 tbsp McCormick Ground Cinnamon/sugar mixture at a 4:1 ratio sugar to spice
Instructions
Preheat oven to 350 degrees

Line a 9x9 pan with parchment & spray lightly with cooking spray

In a large, microwave-safe bowl, melt butter & allow to cool to room temperature

Add in brown sugar, McCormick Pure Vanilla Extract & egg - mix well until smooth

Stir in flour, baking powder, salt, baking soda & McCormick Ground Cinnamon

Fold in 3/4 cup of the semi-sweet chocolate chips

Transfer batter to prepared pan & spread out

Dust the top with 1 tbsp of the McCormick Ground Cinnamon/sugar mixture

Bake 20-25 minutes

Remove & immediately sprinkle with 1 more tbsp of the McCormick Ground Cinnamon/sugar mix, remaining semi-sweet chocolate chips & white chocolate chips

Once bars are just slightly warm, sprinkle with final tbsp of the McCormick Ground Cinnamon/sugar mix

Allow to continue cooling before cutting
What's your favorite family recipe during the holidays?
These chewy chocolate chip snickerdoodle bars will sure be a hit!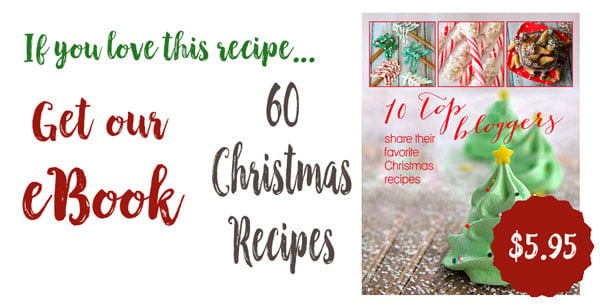 If you make this recipe- please leave a link or tag me on Instagram @KleinworthCo
This is a sponsored post written by me on behalf of McCormick®.
Looking for more yummy bar recipes like these Chocolate Chip Snickerdoodle Bars?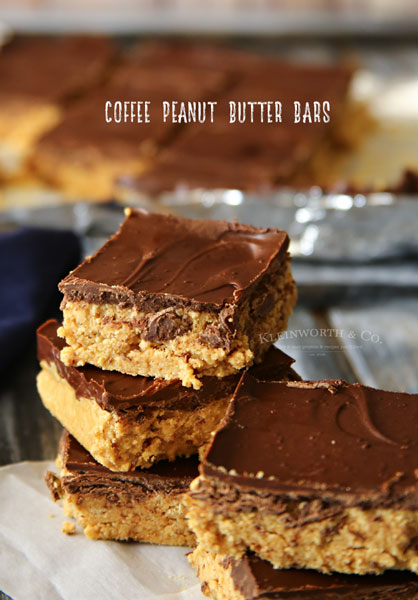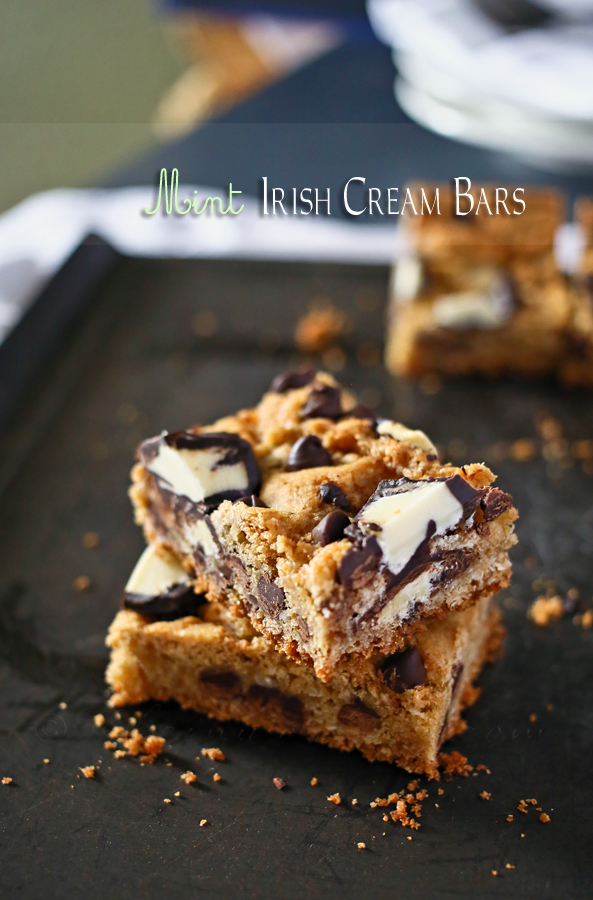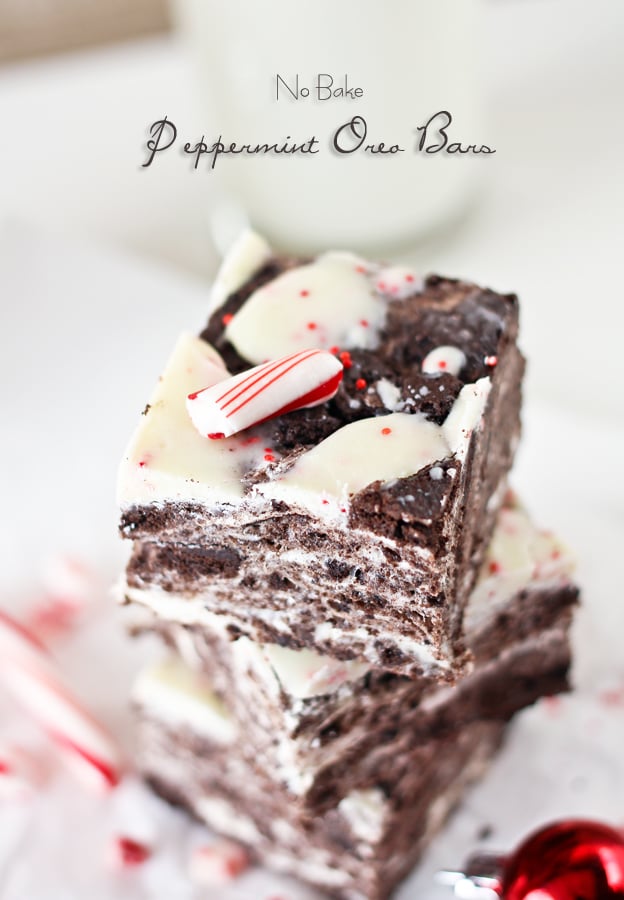 Don't miss these great ideas from these bloggers….
Gingerbread Whoopie Pies from Carlsbad Cravings
Peppermint Bark Pretzels from The First Year
To see where I am linking today- visit HERE