The great taste of caramel apples is easy with wedges. Add bacon to make Bacon Caramel Apple Wedges & you have the best caramel apple recipe ever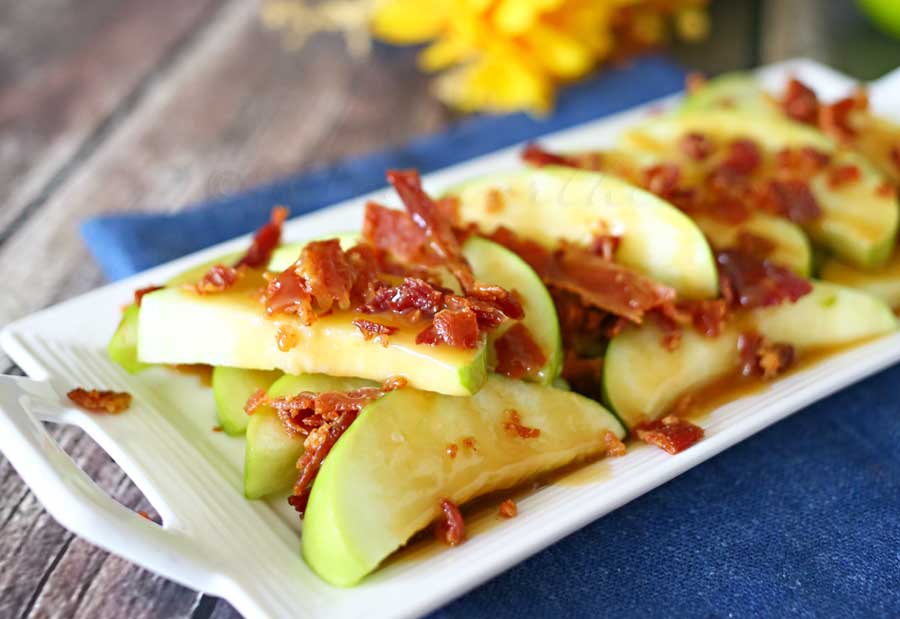 One thing I love about this wonderful season of fall is caramel apples. I used to not be such a caramel lover as I am now. However a good caramel apple is where my weakness was. When we lived near Virginia City we would go up on the weekends & walk the boardwalk & stop in the shops. One shop we always made a point to stop in was the fudge shop because they had these huge, over the top caramel apples. I always bought one & it took a fork, knife & 2 sittings to get through one. These days I'm looking to scale back on that a bit – as much as I would love to enjoy that every single day, I really can't anymore. So I came up with a slightly lighter version of that with these Bacon Caramel Apple Wedges for our last post of bacon month.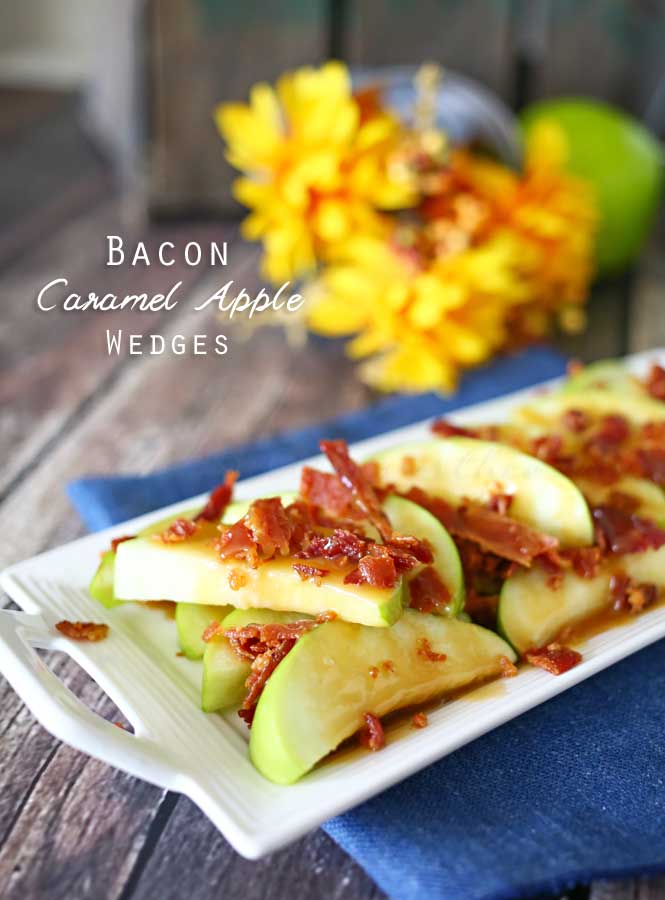 You see – by cutting the apples into wedges it's so much easier to share. Using a thin caramel sauce instead of coating a whole apple with thick & chewy caramel & all the other additions gives the flavor of a caramel apple with far less heaviness. Then I added bacon. Instead of chocolate or nuts or anything else – adding bacon gave the perfect amount of chewy & salty perfection to these. Oh my – simple & absolutely delicious. I love this snack.
Bacon Caramel Apple Wedges
Ingredients
2-3 large apples -I like granny smith for this
3-4 tbsp Caramel Sauce
3-5 pieces cooked bacon- crumbled
Instructions
Core & cut apples into wedges & arrange on platter

Sprinkle with bacon crumbles

Liberally drizzle with caramel sauce so there is enough for each piece

Enjoy!
Don't miss all these other great bacon recipes by my bacon loving blogging friends!
Loaded Potato and Chicken Casserole
BBQ Pulled Chicken BLT Sandwich
Wedge Salad with Bacon & Bleu Cheese
Looking for more great bacon recipes from our bacon month celebration?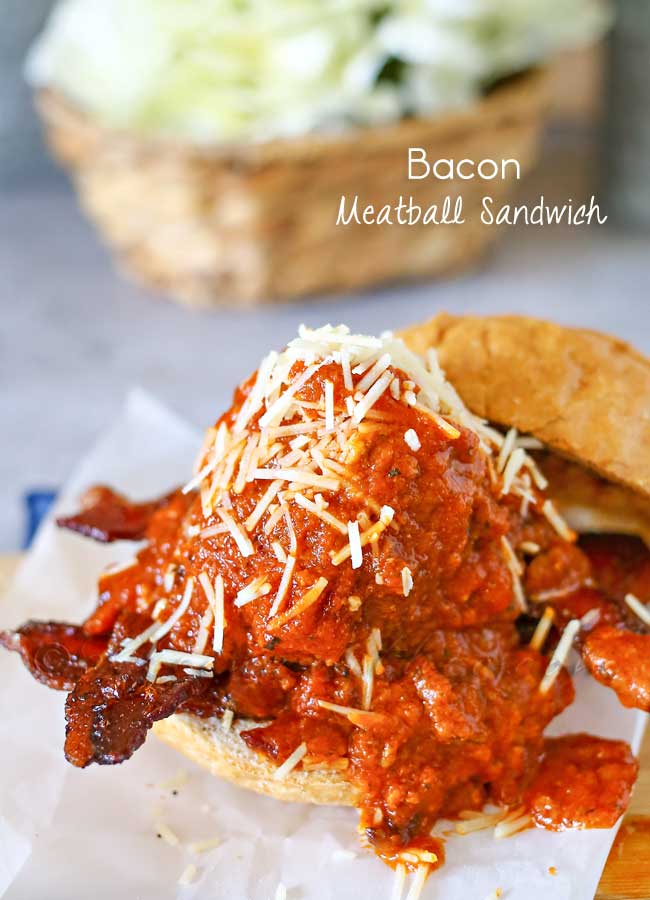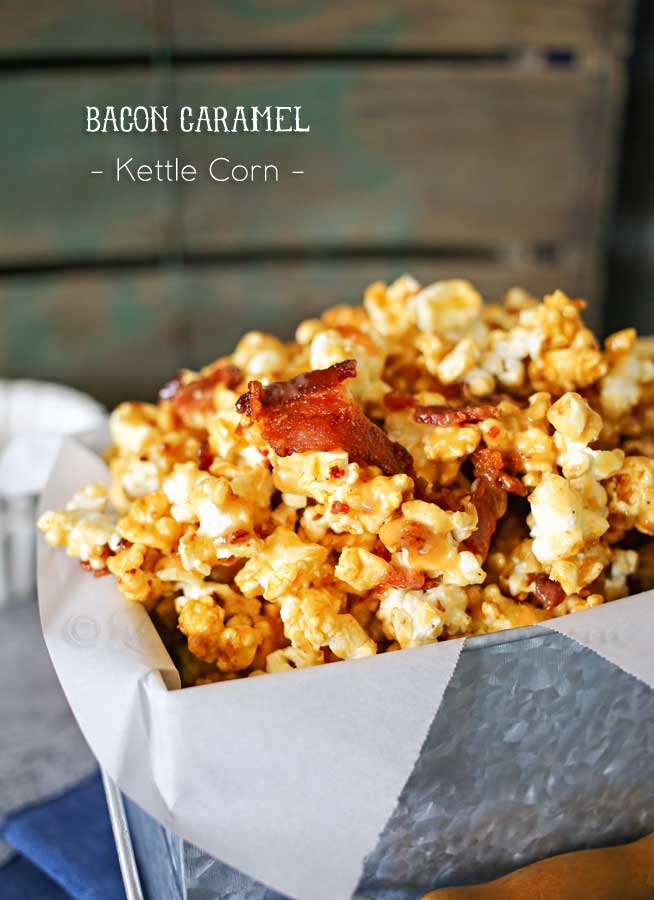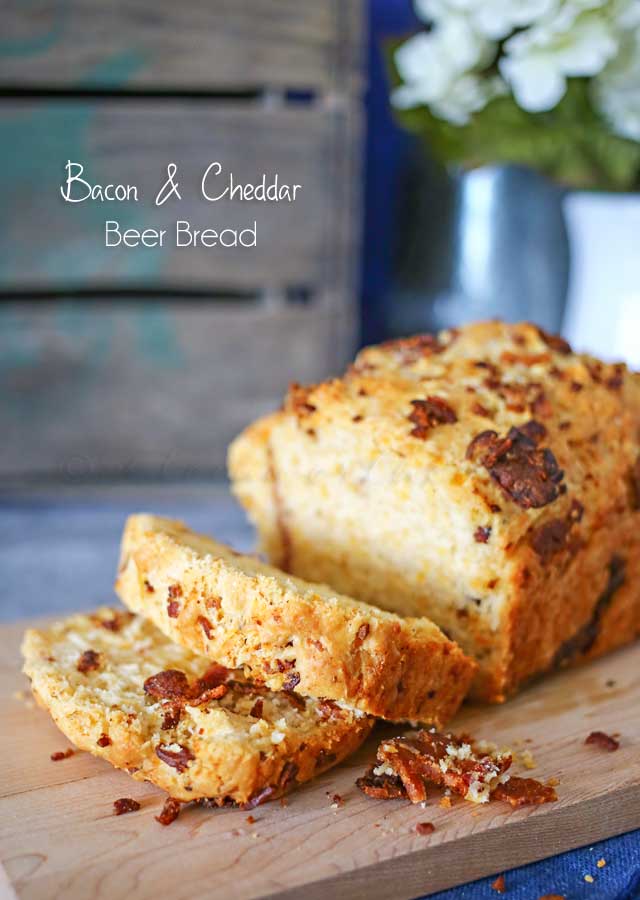 To see where I am linking today- visit HERE