Kick off game day with these Air Fried Philly Cheesesteak Taquitos. Easy slow cooker cheesesteak rolled into crispy air fried taquitos makes these a WIN!
Do you love Philly Cheesesteak? We sure do – especially when we take all that wonderful flavor & create these crispy, crunchy Air Fried Philly Cheesesteak Taquitos made with Mission® Super Soft Corn Tortillas that are perfect for game day!
Scroll to the bottom for the Printable Recipe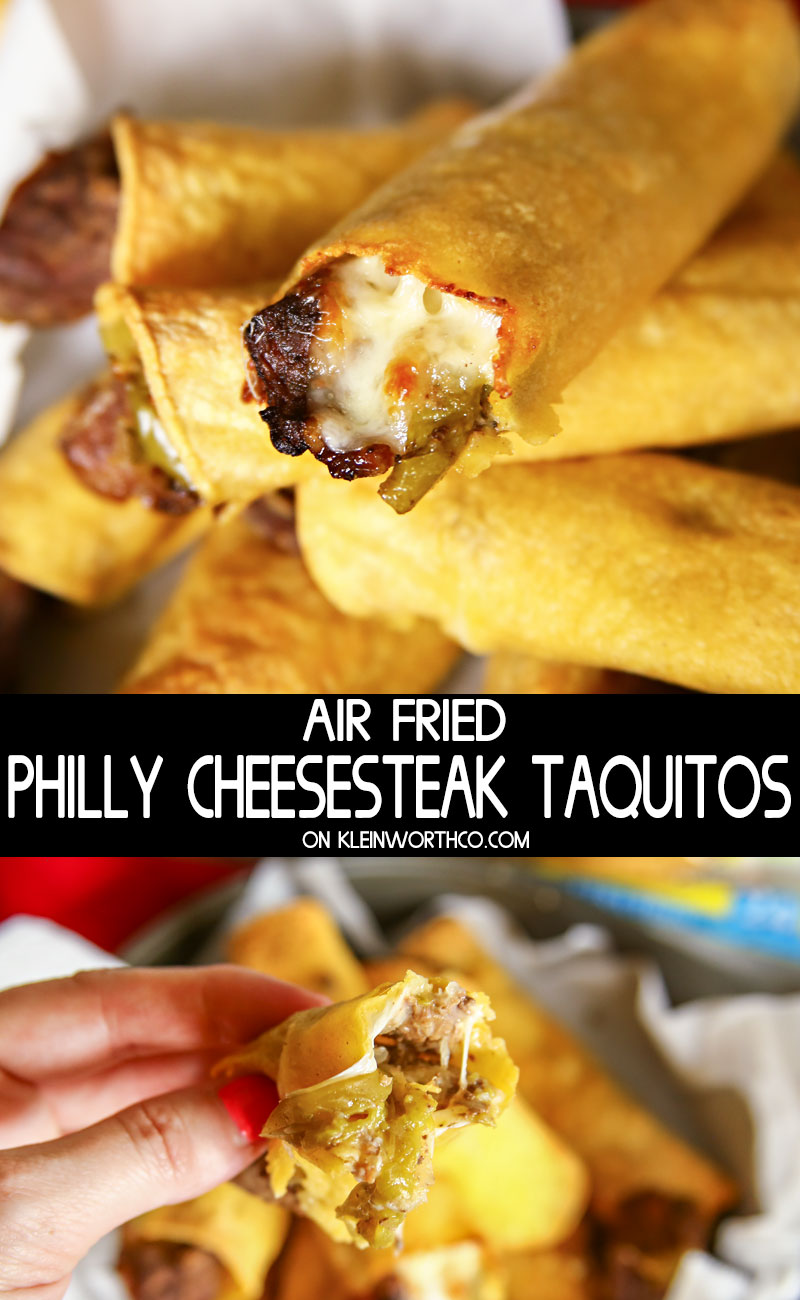 This is a sponsored post written by me on behalf of Mission®. All opinions are entirely my own.
Now that fall has arrived it is time to make all our favorite recipes. We really love pulling out all the stops when it comes to our game day spread.
Our friends always come over to enjoy the games with us & these cheesesteak taquitos are one of our most requested recipes from them.
Philly Cheesesteak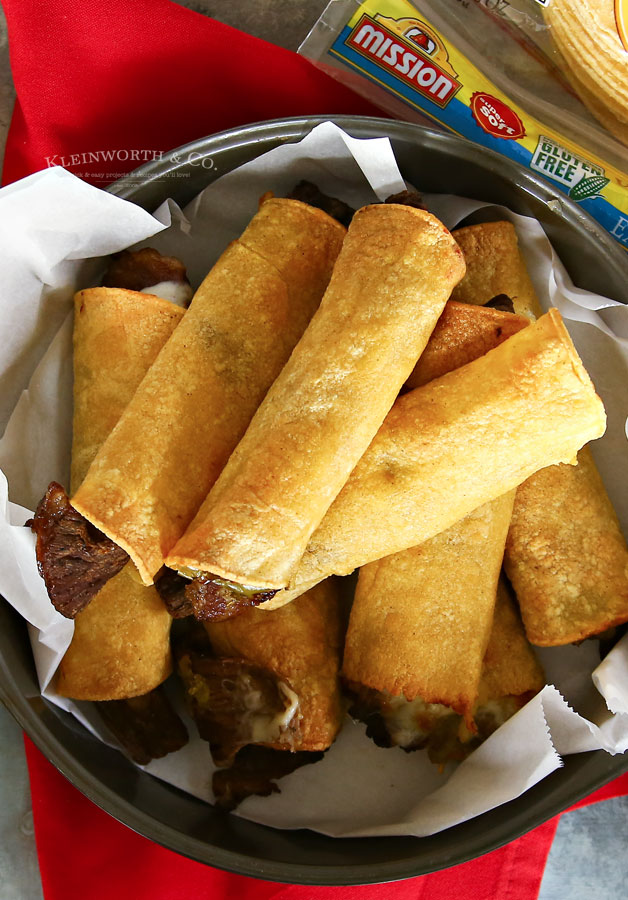 To prep for game day, one of our favorite things to do is get in the kitchen together as a family to create all of our game day snacks. To be honest, I really appreciate all the extra helping hands.
I also really love the extra family time together while the kids are getting some great experience in the kitchen too.
One thing we ALWAYS start with is Mission Super Soft Corn Tortillas. It all began with these homemade tortilla chips that we have been making since before the kids came along. We all love them, so we make them often.
These Mission Super Soft Corn Tortillas are absolutely amazing. Their softness is perfect for burrito or quesadilla recipes. You really can't go wrong with any recipe as long as Mission Super Soft Tortillas is there.
The tortillas are made with the highest quality corn flour available, versatile for any dishes, and have low-fat content, no lard, and no cholesterol. It's even gluten-free, how great is that?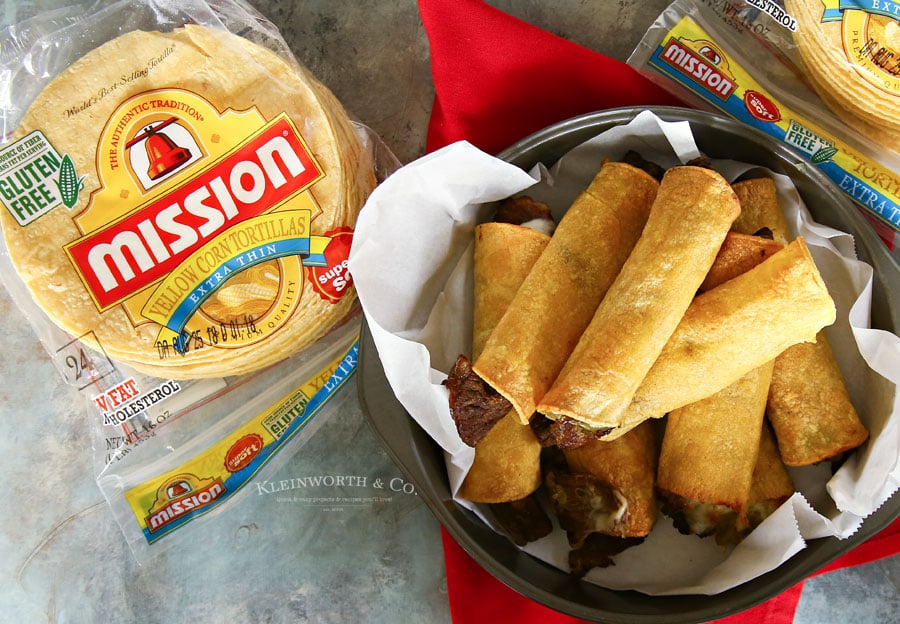 But since we already have the tortillas out we tend to get a little innovative with what else to make with them. With 5 hungry people in the kitchen, all sorts of things get created, like these cheesesteak taquitos. I absolutely love recipes that are born out of cravings & imagination.
Plus – with Philly winning the big game last season, it's only appropriate to make some awesome Philly Cheesesteak snacks, right?
Here are some commonly asked questions
CAN THESE TAQUITOS BE BAKED?
Yes, absolutely. If you don't happen to have an air fryer, you can bake these taquitos. I like this method over traditional frying because not only is it easier than frying, but it tastes better too. Just increase your cook time to about 12-15 minutes.
WHERE CAN FIND MISSION SUPER SOFT CORN TORTILLAS?
I have found these in the bread or tortilla aisle at most grocery retailers I shop at, which makes it so convenient when planning out our game day recipes. You can visit Mission Super Soft and check out their store locator. They also have great recipes for inspiration if you're not sure what to make for dinner.
HOW DO YOU MAKE PHILLY CHEESESTEAK
Add beef, onion, bell pepper, seasonings & stock to the slow cooker.
Cover & cook on low 6-8 hrs.
Heat tortillas in tortilla warmer for 1-2 minutes in microwave.
Spoon 2-3 tbsp of cooked cheesesteak in the center of the tortilla- lengthwise across the tortilla
Add cheese
Roll tortilla tightly & place in air fryer basket
Repeat with all tortillas
Brush lightly with oil or spray with cooking spray
Cook in a preheated air fryer at 350 degrees for 6-8 minutes, or until lightly browned (flip half way through & add more oil)
Air Fried Philly Cheesesteak Taquitos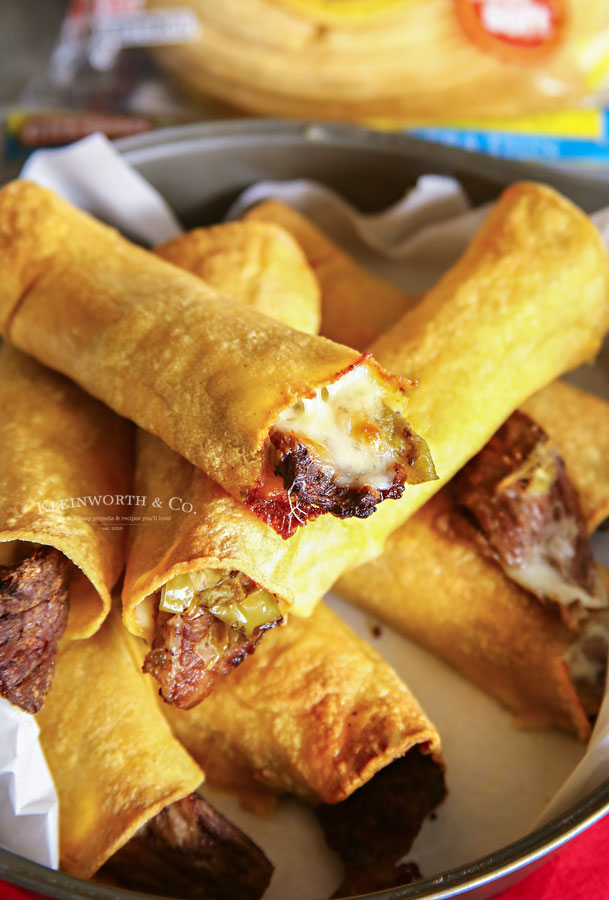 To make this recipe you will need…
Mission Super Soft Corn Tortillas
beef steak strips
green peppers
onion
dry Italian dressing mix
beef stock
Provolone cheese slices
Cooking spray or olive oil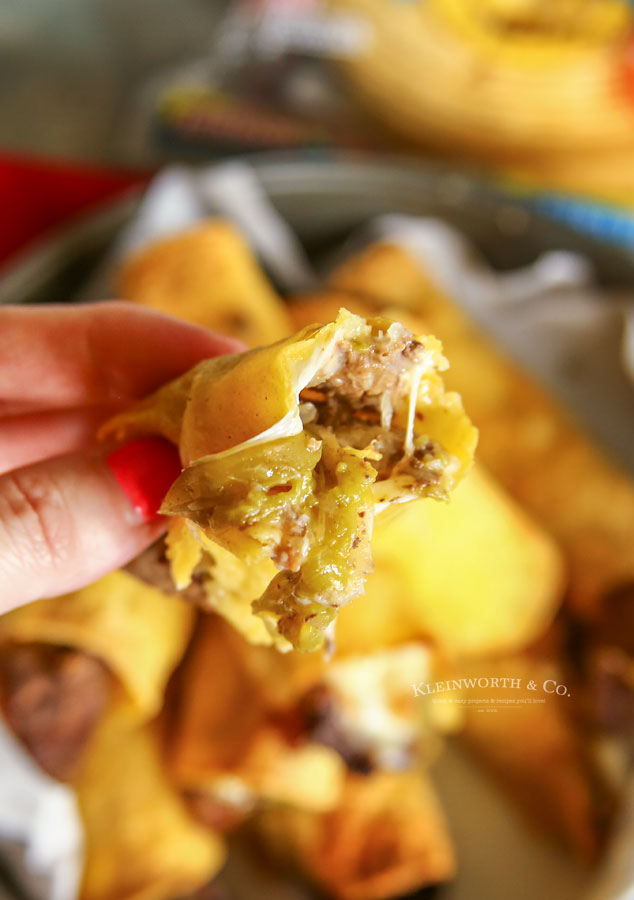 If you love this recipe – you can find it AND 100+ MORE like it in my LATEST cookbook.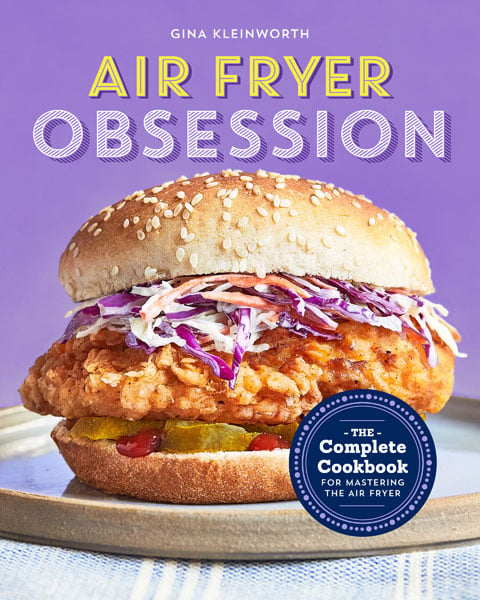 120+ Recipes to take your love of air frying to new heights
If you're a fan of air frying, you already know that it's an easy way to whip up tasty, crispy favorites that are healthier than deep-fried foods. This air fryer cookbook helps you take your air-frying skills up a notch with 129 recipes that range from fresh takes on the classics to more adventurous fare.
From Jalapeño Poppers to Everything Bagel Brussels Sprouts, the recipes in this air fryer cookbook can be made quickly using ingredients found at your local supermarket. Get the most out of your air fryer with fun and simple recipes the whole family will love.
This ultimate air fryer cookbook offers:
Can you air fry that?―Discover an air fryer cookbook full of foods you might never imagine air frying―like pancakes or lobster tails.
Get creative―Find charts to determine the cooking time for dozens of ingredients, plus air-frying tips and hacks so you can try out recipes of your own.
Helpful recipe labels―This air fryer cookbook helps you easily locate recipes that are vegetarian, extra fast, or perfect for a group.
Take air frying to the next level with Air Fryer Obsession.
You might also love my first air frying cookbook too!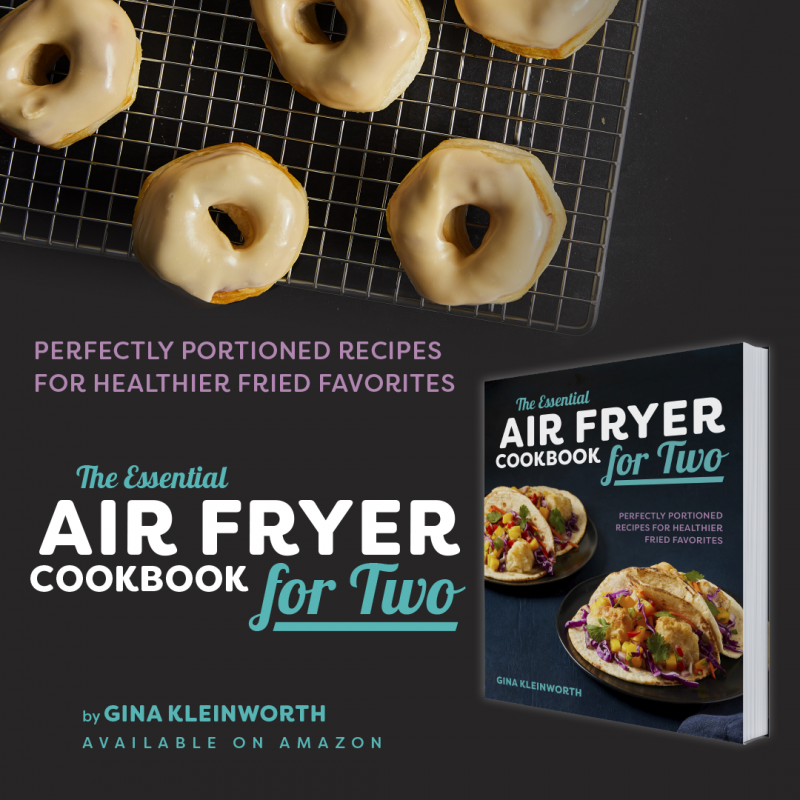 The Essential Air Fryer Cookbook for Two
Perfectly Portioned Recipes for Healthier Fried Favorites
The Essential Air Fryer Cookbook for Two also makes everything fast and easy. Most recipes take 30 minutes or less and they're designed with simple prep and minimal clean-up in mind. Nutritional information, serving size descriptions, and recipes for vegetarians, vegans and the gluten-free are also included. There's so much to savor.

These Air Fried Philly Cheesesteak Taquitos are not only delicious but are perfect for family time on game day!
Air Fried Taquitos Recipe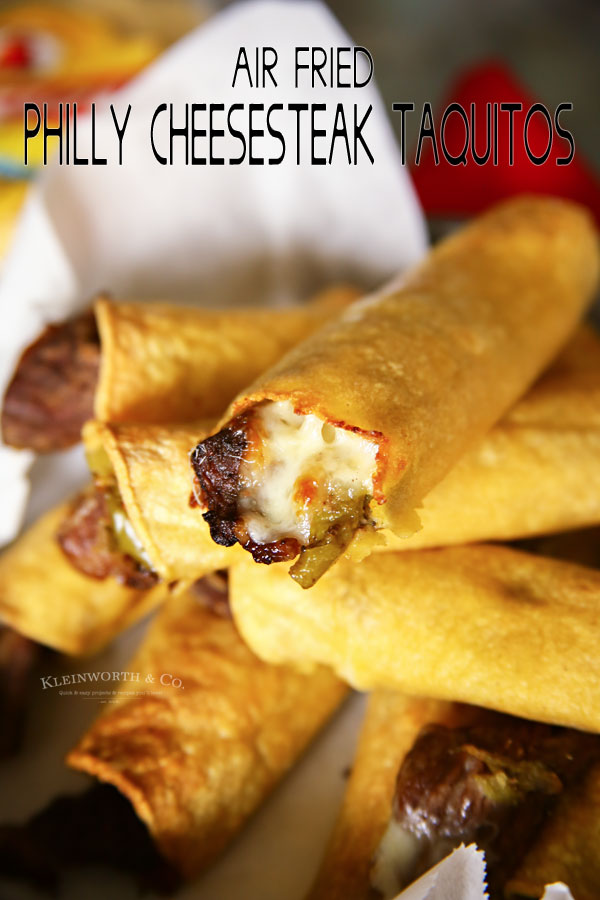 Air Fried Philly Cheesesteak Taquitos
Kick off game day with these Air Fried Philly Cheesesteak Taquitos. Easy slow cooker cheesesteak rolled into crispy air fried taquitos makes these a WIN!
Servings: 6
Ingredients
1 pack Mission® Super Soft Corn Tortillas
3 lbs beef steak strips
2 green peppers sliced
1 white onion finely chopped
1 pkg dry Italian dressing mix
2 cups beef stock
10 slices Provolone cheese
Cooking spray or olive oil
Instructions
Add beef, onion, bell pepper, seasonings & stock to the slow cooker.

Cover & cook on low 6-8 hrs.

Heat tortillas in a tortilla warmer for 1-2 minutes in the microwave.

Once cooked, spoon 2-3 tbsp of cooked cheesesteak in the center of the tortilla- lengthwise across the tortilla

Add a little cheese (amount is a personal preference, but I like to use about 1/4 of a slice per taquito)

Roll tortilla tightly & place in air fryer basket

Repeat with all tortillas

Brush lightly with oil or spray with cooking spray

Cook in a preheated air fryer at 350 degrees for 6-8 minutes, or until lightly browned (flip halfway through & add more oil)